Singer/songwriter Lizzy McAlpine sits down with Atwood Magazine to discuss her second album 'Five Seconds Flat' in all its triumphs, trials, and tribulations.
Stream: 'Five Seconds Flat' – Lizzy McAlpine
---
Writer's block is a common struggle for artists, but Lizzy McAlpine doesn't seem to have this problem.
McAlpine burst onto the scene quickly, with an exact date that is difficult to pinpoint. Gaining success on multiple platforms, her first album, Give Me A Minute, came along soon thereafter, in 2020. Two years later, McAlpine is releasing five seconds flat (out April 8, 2022, via AWAL), and tells Atwood Magazine that she is working on the third as well.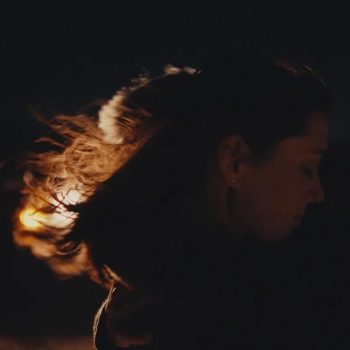 The 22-year-old singer/songwriter has claimed hearts with her lovely voice and trusty guitar. She builds every song from the ground up and spares no details. From passion to pen to paper, feelings flow out of her with an ease that is impossible to fake. five seconds flat is a stark shift from earlier projects – McAlpine looks back with an all-knowing smile and a shaking head, wondering, "What was she thinking?"
McAlpine has traded the soft folk glow of her first album for a darker indie twilight.
Some moments are huge – take the quick key-change ending of "Reckless Driving" and the harmonies of "Erase Me" for example. But McAlpine's lyricism keeps its finger on the pulse. Heartbreak has bruised her once again, unwelcome and unexpected. McAlpine sings,  "What a shame, I can see it all now that we're through." Older and wiser, McAlpine has gathered her reflections and piled them onto the record player.
Lizzy McAlpine is a flower in bloom. What kind of flower, no one, not even herself, knows. Atwood Magazine sits down with the singer/songwriter to discuss five seconds flat and all of its triumphs, trials, and tribulations.
— —
Watch: 'five seconds flat, the film' – Lizzy McAlpine
A CONVERSATION WITH LIZZY McALPINE
Atwood Magazine: How are you and how has this past year of touring and recording been?
Lizzy McAlpine: I'm good! Touring has been a learning experience. It's pretty draining but also very rewarding.
Congratulations on five seconds flat! I really enjoyed it. Your past projects have felt homegrown, more intimate and pastel in their sound. This record feels deeper and richer. How did this evolution come about?
Lizzy McAlpine: I definitely made the conscious decision to go as far away from Give Me A Minute as possibly, especially sound-wise. When I was making that record, that's who I was as an artist, which the album reflects. Obviously we grow and evolve as humans, and I wanted to reflect that in this album.
There's been so much growth in these two years! Were you aiming to get an album out so quickly?
Lizzy McAlpine: I definitely wanted it to be this soon. I feel like I work around albums did an EP last April, and I wanted this album to come out much sooner. To bide people over, we put an EP out while we were finishing up this project. But I think this is a good time, after tour. I'm glad with where we ended up. I'm very impatient!
Watch: "all my ghosts" – Lizzy McAlpine
In the past you've mentioned influences like Tori Kelly and Dodie. This album is a bit more indie/alternative, even jazz in its progressions. Who were your influences this time around?
Lizzy McAlpine: We listened to a lot of Holly Humberstone, Del Water Gap. Phoebe Bridgers, Ethan Gruska, and Bon Iver as well.
Your songs go through multiple movements. For example, "Erase Me" feels like a classical piece altogether. Was this on purpose?
Lizzy McAlpine: I don't really think about that when I'm writing, but maybe a little as I'm producing. In the production phase, we make the songs sound like what we think they should sound like. All of these songs start as me and my guitar, and then we figure them out together.
I want to talk about your writing style. It's very vulnerable. Did it start that way?
Lizzy McAlpine: No (laughs). I wrote my first song in the sixth grade, and there were definitely a lot of metaphors that didn't make sense. You get better as you do it more, and eventually I started putting more personal imagery and more details in my song because I thought it was cool. I was going through all these things and people found them relatable! Early college, my freshman or sophomore year, I was still writing these weird metaphors that didn't really make sense, but being surrounded by other songwriters influenced me and I grew as a person a lot. I think that was when I really started to trust myself to be more vulnerable in my songs.
Watch: "Doomsday" – Lizzy McAlpine
The new record is extremely personal. Songs like 'Firearm' and 'What A Shame' come to mind. Do you get nervous to put these songs out?
Lizzy McAlpine: I'm nervous about "Firearm" and "Nobody Likes A Secret," Especially "Nobody Likes A Secret." It's so specific, and the person it's about is gonna know it's about him!
I don't want to call you a social media star. Correct me if I'm wrong, but TikTok wasn't your start.
Lizzy McAlpine: I find it really interesting when people say, "She got her start on TikTok," because I feel like that's not true. It's also invalidating, because I was putting my stuff on Soundcloud and Spotify before them. I feel like I didn't start on TikTok, it was a stepping stone but not where I began. It was hard because everyone wanted me to release that song, and I was about to put out Give Me A Minute. I was worried that no one would want the album I have been working on for so long, they would just want that song. But I'm at the place now where I don't care, I'll never release that song. I wrote it and I thought it was cool, but I had no plans to record or finish it.
How is your relationship with your social media presence now?
Lizzy McAlpine: It's interesting, because it's difficult to toe the line between life and work, because social media is where both of those things live for me. It's hard to know how much to share, and there was a point where I felt I was sharing too much. I was nervous and felt like I had no privacy. Lots of people were telling me what to do with my life because they feel they know me. I am starting to learn the balance in that, but it's nice to be transparent with my audience because I think it helps them to connect more. I like to be seen as a human being, but how much of that do I show.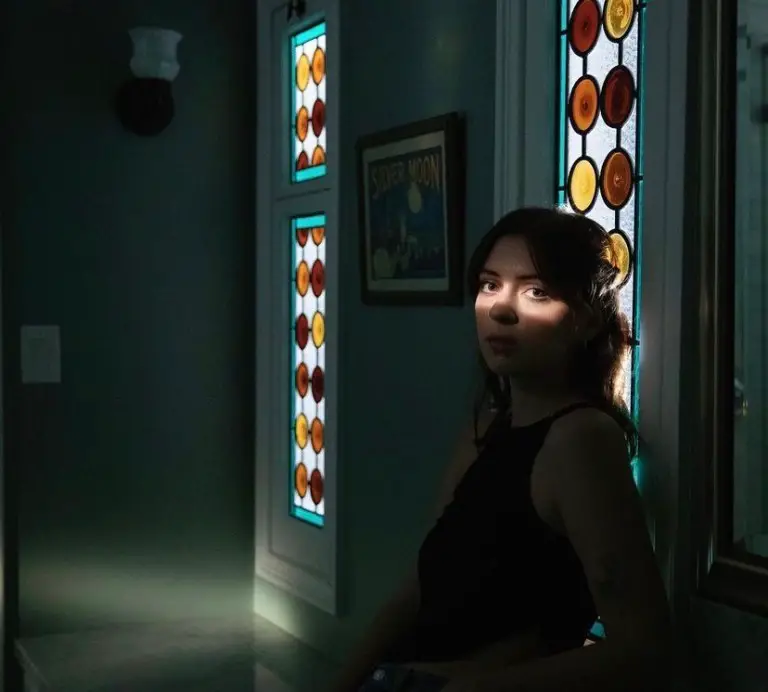 Can we talk about your collaborations? This record has some very talented individuals - Jacob Collier, FINNEAS, and more. How does working with another artist challenge you?
Lizzy McAlpine: They're both amazing. Jacob and I were friends before this, so I reached out and asked if he wants to do BGBs on my song. He is so talented, and the way that he thinks about music is so interesting. Having his voice on "Erase Me" elevated his voice so much. We wanted to use his voice as an instrument, and he sent us like 180 vocal stems, which were a masterclass. I was nervous to reach out to Finneas, but I just DM'ed him, which is how I contact everybody. He said yes and he's been so supportive of the song and the release.
What are you most proud of on this album? Is there something you learned that stuck with you?
Lizzy McAlpine: We started recording this album in Oregon, in an AirBnB. We were working nonstop for two months, it was very hard for me to be creative in that environment. I felt very burnt out, and learned that I get burnt out very easily. I think I learned about what I need to effectively make a record and about myself as a person as well as an artist.
How do you combat burn out?
Lizzy McAlpine: Taking space from whatever it is. I physically left Oregon and went back home to Philly to do two weeks of nothing. It was a reset I needed.
Watch: "erase me" – Lizzy McAlpine
You have experience as an actor! We get to see a bit of it with the short film you're assembling for the album.
Lizzy McAlpine: Yeah I was dead set on going to college for acting. I got into Berk lee first, and I don't know who I would be if I got into school for acting. I wrote the script and came up with the concept for the music videos. I had pinterest boards, google slides, and ten pages of writing for these videos. I also co-directed and edited – I like to be involved (laughs).
Were you a theater kid?
Lizzy McAlpine: Oh yeah. I make it known, but also try and keep it low-key. I only let it come out on certain occasions.
Les Mis or Phantom?
Lizzy McAlpine: Les Mis (laughs).
Watch: "hate to be lame" – Lizzy McAlpine
We already discussed the difference in sound, but can you touch on your difference in lyricism with five seconds flat? There's a bit more angst with tracks like ''Ceilings'' and ''Called You Again''?
Lizzy McAlpine: I think the theme of both albums is heartbreak. The lyrics for the first album were naive and childlike in the way that I thought about love. This album feels more mature and more angry.
How did the anger work into your healing process from the heartbreak?
Lizzy McAlpine: It definitely helped. I went through a breakup while we were recording in Oregon. I was recording these songs that were so nice, and I didn't feel that anymore. Specifically, with "Hate To Be Lame," that song was written before the breakup, and I didn't have a bridge. The overall song is nice, but the bridge is a "Why was I in love with him?" moment. Aaron and Phillip wanted me to write something, but I didn't want to until after the breakup. It was a lot of weird juxtaposition.
What part of yourself do you hope to explore on your next project?
Lizzy McAlpine: I don't know, I'll just have to wait and see (laughs). I've already written a lot of the songs for the next album. I didn't know what this album was about until I was done. I'm sure that'll happen that with the next project.
— —
— —
 © Gus Black
:: Stream Lizzy McAlpine ::