Sydney's The Lazy Eyes open up about their intoxicating debut album SongBook, a kaleidoscopic feast for the ears whose colorful, psychedelic sonic wonder promises to whisk listeners into a radiant, groovy daydream.
for fans of Led Zeppelin, Tame Impala, King Gizzard & the Lizard Wizard
Stream: "Fuzz Jam" – The Lazy Eyes
---
It's an intro for the ages: Fiery drums pulse a heavy beat and sweeping guitars churn out searing riffs as The Lazy Eyes' debut album gets underway. Passion and wonder coalesce in dazzling waves of immersive, sweaty sound, and a sense of limitless possibility permeates the air: Catharsis and euphoria are within reach. An intoxicating, kaleidoscopic feast for the ears, The Lazy Eyes' SongBook is everything one could want from the Australian four-piece: An enchanting tapestry of colorful, psychedelic sonic wonder ready to whisk us into a radiant, groovy daydream.
Maybe you'd love me if I told you how I felt
How I needed help
What would've happened if at long last I lost you?
Care to inform me that your love for me has grown
Well, I should've known
Darling, just show me or else I'll drop the phone
Maybe I'm perfect but I know that's just not true
And neither are you
'Cause nobody's perfect and that's just the cold hard truth
– "Cheesy Love Song," The Lazy Eyes
Released April 21, 2022, SongBook is a gift to psych rock lovers everywhere and a massive step forward for Sydney's The Lazy Eyes. Comprised of Harvey Geraghty (vocals, guitar, keyboard), Itay Sasha (vocals, guitar), Leon Karagic (bass) and Noah Martin (drums), the Australian band – started as a 3-piece busking act – have made a quick name for themselves over the past two years as harbingers of captivating sun-soaked psychedelia: 2020's fittingly-titled EP1 and 2021's (also) fittingly-titled EP2 invited listeners to bask in the unadulterated glow of high-flying, carefully crafted solos, tastefully effected instruments, and enveloping songs that feel at once ethereal and slightly mysterious, yet nonetheless grounded and readily accessible.
"There's something to be said about a band with an ear for detail and a discerning approach to songwriting," wrote Atwood Magazine's Nick Matthopoulos in April 2020, around the release of The Lazy Eyes' second single. "That being said, maybe a bit extra can be said about a band, all under the age of twenty, that has been diligently working on refining their sound since they were in their mid-teenage years. While age is hardly a reliable system to measure how capable an artist is, The Lazy Eyes demonstrate how they have been able to put their abilities to good use from an early age."
Years of hard work, dedication, and creativity pay off in SongBook, a tantalizing psychedelic affair with a flare.
"Boy has it been a long time coming," band member Itay Sasha tells Atwood Magazine. "This record for us captures the entire journey of our formative years as a band until the present moment. It's an album packed full of firsts, and captures that nostalgic energy of being young and really loving music. We started recording the very first pieces of this album in the middle of high school, before we even knew it would turn into an album. During the making of the album we learnt so many things from scratch; how to record, mix audio, make album art, the list goes on! We were learning how to record our songs, how to condense the energy of playing live into the recordings and just becoming closer as friends along the way. And here we are years later with our first project fully realized. SongBook is our first baby and it encapsulates the first era of The Lazy Eyes."
"We never had a vision for an "album" per se going into things, he adds. "We just had this motto, 'Once school finishes, let's take a gap year and try and work our butts off for the band.' Now it's three years later," he laughs. "Things take time but it's been an incredible ride nevertheless. Eventually, we envisioned collecting all the songs we wrote in high school into a sort of chapter book of our lives back then, hence SongBook was born."
Not only does SongBook date back to the band's early days, but it also tracks their growth, development, and a kind of linear progression as they came into their own, especially over these more recent years. "We never try to do something that we are not, and I think that shines through on this album for better or for worse," Sasha remarks. "Sometimes, we wear our hearts on our sleeves and don't hide what we were inspired by or what we were aiming for. In a nutshell, we were trying to be as authentic and as "us" as possible. And, I guess we're really proud of that! SongBook is a really transparent look into who we are as artists and friends."
As for the title, Sasha says it is what it is: "We don't have a knack for coming up with creative names, do we?" he smirks. "We just thought, well, that's what it is. It's our little book of songs detailing the journey we've taken together since the inception of the band until now."
Highlights abound from that cinematic intro through to the band's heartwarming "Cheesy Love Song" – a Beatles-esque finale that shines with an intimate vulnerability and musical tenderness. SongBook compiles the six songs from the band's two EPs with six new tracks, and while previously released songs like "The Seaside" and "The Island" remain standouts on the LP, additions like the smoldering "Hippo," the hypnotizing and charged (and very apropos) "Fuzz Jam," and the sweetly lilting "Imaginary Girl" (an outpouring of truly dreamy warmth reminiscent of The Zombies and Pet Sounds era The Beach Boys) succeed at expanding The Lazy Eyes' universe into fresh, new, and exciting terrains.
I didn't know if you were real, the signs you gave me didn't feel right
'Cause in my mind there's lots of mist, the times we spent did not exist
Ah, it means we never kissed
The people that I thought I knew, they didn't know just what to do, honey
'Cause when they said the coast was clear, I didn't know she'd disappear
No ordinary girl
Imaginary girl
'Cause if you ever were to leave, I'm not sure if I could sleep
But if I asked if you could stay, I wonder just what you would say
No, Honey, don't leave me alone
I live my life in so much fear, the fear that you will disappear
The moment that you leave my head, I will stop taking my meds
---
"I think we've all ended up liking different elements of the record," Sasha reflects. "A track like 'Hippo' is cool because it was one of the few songs the band recorded as a real band. Usually it's just Harvey and I sitting in the studio and adding things one by one, but with the instrumentals on the album we wanted to capture the chemistry we have from playing live. It's got a different effect to it and it gives the listener a bit of light and shade in that way. All of us really dig Harvey's song, 'Imaginary Girl,' too. I have super fond memories of recording from around that time."
As for the band's lyrics? "Lyrics can go one of a few ways in our songs," he says. "Sometimes, we touch on themes like love and escapism and other times we write pure nonsense or just give the music a vessel through the words. I like the lyrics for 'Tangerine' in that way. There's a few interesting strings of words in there and the thing was written purely for the mouthfeel and to keep the rhythm of the melody really bouncy and light. I love Harvey's lyrics in 'The Island,' because they paint a picture and take you on a journey to a made-up place."
Tangerine quarantine my breakfast club's waiting for me
They'll do it without me
Marmalade Kool-Aid grade my test testing stung by a bee
Oh no no not me
Wait, wait around for me, it'll be a breeze
Don't go, oh no, without me
Butterscotch butterfingers hopscotch round Enmore Theatre
They're having a show
Your invite is also mine it depends in the deep end
Bring your friends
Wait, wait around for me, it'll be a breeze
Don't go, oh no, without me
– "Tangerine," The Lazy Eyes
---
From end to end, SongBook is a tantalizing adventure through layers of radiant sonic seduction and impassioned emotional release.
A truly explosive, colorful, and nostalgic world unto itself (as Sasha lovingly calls it), The Lazy Eyes' first full length succeeds at bringing all their bits and bobs together, building upon the promising foundations of their previous releases. Beyond holding listeners' attention throughout, the album delivers an invigorating, impressively expansive and equally cohesive performance from a beacon of light in the psychedelic music world.
The Lazy Eyes' world is limitless, weightless, wondrous, and utterly spellbinding.
Up on a hill, I can see a figure wandering
He's down on a beach, does he know that I am watching him?
Does he know, all the places you can go, on this island that I know
All the caves and all the snow, on the mountains there are goats
On this island I call home, (home)
– "The Island," The Lazy Eyes
"We really hope that it can inspire people and spark your imagination," Sasha shares. "For us, this album reminds us of all the good times we shared together and it's rewarding to have a memento there when you want to look back on things. We hope you enjoy it!"
Experience the full record via our below stream, and peek inside The Lazy Eyes' SongBook with Atwood Magazine as Itay Sasha goes track-by-track through the music and lyrics of the band's debut album!
— —
Stream: 'SongBook' – The Lazy Eyes
:: Inside SongBook ::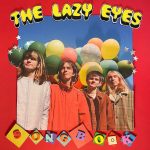 — —
Intro
The bombastic drums at the start of the album signify how we've started our live shows for many years. That feeling of trying to capture something grandiose and larger than life, and shocking people into listening and turning their heads! The sound of "Intro" encapsulates the 'Lazy Eyes' sound, and even has a bit of a formula to it that can be found in our other songs. The structure is one big crescendo which grows and grows and slowly releases more and more energy until it climaxes with a soaring high melody. An overly indulgent guitar solo to kick things off? Why not 😉
The Seaside
After the climactic end of "Intro" you are left stranded, washed up on the deserted seaside of a magical and forgotten Island. You start to wonder about and explore the sights and sounds and listen to the water "swelling like a potion". There's something strange in there, but you are too terrified and your guard is too high to let you find out. The song takes you on a long and sprawling adventure through the outer perimeters of this strange Island and you become one with your surroundings and float into "the eyes of the ocean."
The Island
As you gain some confidence, your curiosity overcomes you and you are determined to decipher what's what "on this Island I call home". You embark wearily into the depths of the Island on a quest to face it's mystical and dark inner workings. Similar to the previous song, you were naive to explore and "The Island" laughs at you and takes you on countless twists and turns through the hallucinogenic scenery. Caves, hills, the sound of bombs and imaginary people engulf you before "The Island" takes you on one last adventure as you eat a psychedelic tangerine and ascend through space and time.
Tangerine
"Tangerine" describes a nonsensical world that you face where the breeze is salty and the rhythms are bouncy and effervescent. The psychedelic Tangerine you regrettably consumed earlier is playing tricks on your psyche and you "Hopscotch with butterfingers" through the countless shores and riverbanks of the Island. As is expected, "Tangerine" doesn't play nice and before you know it, whiplashes you into a rock n' roll freak jam you weren't prepared to partake in. The climax of the song approaches and you hear the sirens of "Tangerine" permeate through your skull as it knocks you out and you fall sound asleep.
Hippo
Lying on the banks of the Seaside, as you awake from your deep slumber you can't believe your eyes as a universally conscious Hippo trudges towards you. Unaware of what emotion to feel, a sudden burst of euphoria washes over you as you both accept your fate as one in the same and you and the Hippo dance together to the sound of a… hip hop beat? Eh, whatever. Similar to "Intro", the track is a never-ending crescendo that unleashes new shades and colours as it evolves towards a galavanting bundle of energy and then lifelessly falls back down.
Starting Over
"Starting Over" is a grounding love song on the album that has a more simplistic pop song structure. It is the end of side A on the vinyl so the listener is literally "starting over" and beginning the second half of the album. A funny memory of recording this song was secretly recording the harpsichord solo in a piano store while assuring the owner that we were "just having a look."
Fuzz Jam
"Fuzz Jam" is the most danceable song on the album due to its straight ahead beat and repetitive bassline. The song spawned from Harvey beatboxing to himself in the bathroom mirror. That's how the main bass line was written and the rest of the song was written in the demoing stages. The song was primarily written to include a heavier song to play during the piano segment of the live set. Hence, the original name of the demo was "pianet fuzz jam". The lyrics are short and sweet only including four lines which gives it a mantra-like quality.
Nobody Taught Me
"Nobody Taught Me" is another love song that has more of a simple structure on the album similar to Starting Over. It was written about Harvey's experiences while visiting his grandparents in England. Harvey had friends in England who he would play out on the street with all the time. One trip he realised that all his friends had moved house and he missed them very much. 'Nobody Taught Me' encapsulates the good and the sad times experienced in England, from the excitement of playing on the street to the heartbreak of being left alone.
Trance
"Trance" is the last of three instrumental transitions on the album (after Intro and Hippo). Itay sometimes mentions how he has no memory of writing this song. The recording starts with a big epic intro and then leads into the big crescendoing structure that all the instrumentals share. Trance signals that the end of the album is close.
Where's My Brain???
"Where's My Brain???" is the song to lose your mind to. It's an almost 7 min long freakout jam packed with everlasting dual guitar solos and dynamics that reach 0 to 100. The song was written to have a heavier mosh out moment in the live set so be sure to get up and dance around the room for this one.
Imaginary Girl
Being one of the more emotional songs on the album "Imaginary Girl" is a story about someone who is falling in love with an imaginary figure. The song's chord progression has the never ending descending pattern which creates a feeling of falling endlessly deeper and deeper.
Cheesy Love Song
Ah, congratulations. You've made it to the end. "Cheesy Love Song" is a full circle moment as the song is wholesome in a few ways. It was the first single the band ever put out, it's one of the few songs that Harvey and Itay actually wrote together in the same room from scratch, and it was written in the band's high school where the band met and formed. Starting with a ballad intro and ending in a full blast finale, the song takes you on a journey similar to the album as a whole, reaching the highest highs and lowest lows. Thank you for listening, we hope you have enjoyed 'SongBook'.
— —
— — — —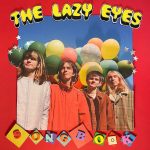 ? © Jack Moran
:: Stream The Lazy Eyes ::
---