There is something precious about music's great crooners. Perhaps it's due to the fact that many of them have left us too soon: Amy Winehouse, Johnny Cash, Janis Joplin, all known for their voices that could effortlessly silence a packed room. When that kind of glowing rarity does present itself, it doesn't take long before the music scene huddles around that familiar spark.
Listen: "Pool Party" – Julia Jacklin
---
Aussie newcomer Julia Jacklin wields that same weapon as the legends before her have, offering a heady cocktail of soulful sweetness and lyrics that hit you like a punch to the gut. Drawing comparisons to Angel Olson, Joni Mitchell, and Fiona Apple, the artist's recent success performing at SXSW has come as no surprise. "Pool Party," the first single off her debut album, Don't Let the Kids Win, finds Jacklin in peak performance.
Filmed in the artist's birthplace of Australia's Blue Mountains, the "Pool Party" music video follows Jacklin, swaying gently, playing the role of the partner whose poolside addictions she sings about. Encased in wood-paneling, ruddy carpeting, and floor-to-ceiling shelves stacked with Dick Francis mystery novels, the setting appears untouched from its heyday as the cornerstone of 1970's interior style. Much like her surroundings, Julia's character has no intentions of stepping out of her trance, and remains fixated on emulating the ballroom dancers that glide across her TV screen.
Watch: "Pool Party" – Julia Jacklin
---
Jacklin's drummer and co-star Tom Stephens joins her to exercise in the living room, giving Jacklin nothing but a stoic passing glance. Later on, Tom draws himself what is supposed to be a relaxing bath. However, his serenity is quickly interrupted and juxtaposed with Julia's, who dances absently on the other side of the window Tom stares out of. The contrast between them perfectly captures the feelings of intoxicated detachment that listeners continue to ponder long after Jacklin sings her last note.
I want to give you all of my love
But I watch you sink as they swam above
You are the man and I am the dove
My heart is heavy when you're high
So for me why won't you try
Possibly the most compelling moment of the otherwise purposefully mundane video is at the very end, in the flicker of recognition between the two characters as they face each other in the pool. It doesn't last long, but it speaks volumes about how the connections between people endure despite sometimes obvious flaws. In an interview with Something You Said, Jacklin described the relationship as doomed because the two characters "can't seem to meet in the middle." Whether it's an obsession with mastering the Waltz or with getting the next dose, the priority the obsession takes in the relationship ultimately leaves the other partner invisible.
Julia writes from the coveted position of the observer, disconnected from her partner and even herself, as she quietly takes note of the effect the relationship has had on her. In her disappointed, weary drawl, she remarks on the lessons she has learned through witnessing her perceptions reveal themselves to be much darker realities. While it may have been a tough pill to swallow, this revelation is how she learned that "height don't make a man."
As a lyricist, Jacklin stands out for her honest, vulnerable storytelling that doesn't shy away from the all-too-human conflicts between the head and the heart. As that last look shared between the two characters in the pool suggests, it's never quite clear whether Jacklin is completely through with her partner and his bad habits. Rather than take one side or succumb to giving up entirely, she is rightfully confused, navigating muddy waters that are warm one minute and frigid the next. It's a disarming portrayal of the very real struggle of loving someone at their lowest lows, even loving them at those times when you wish you didn't.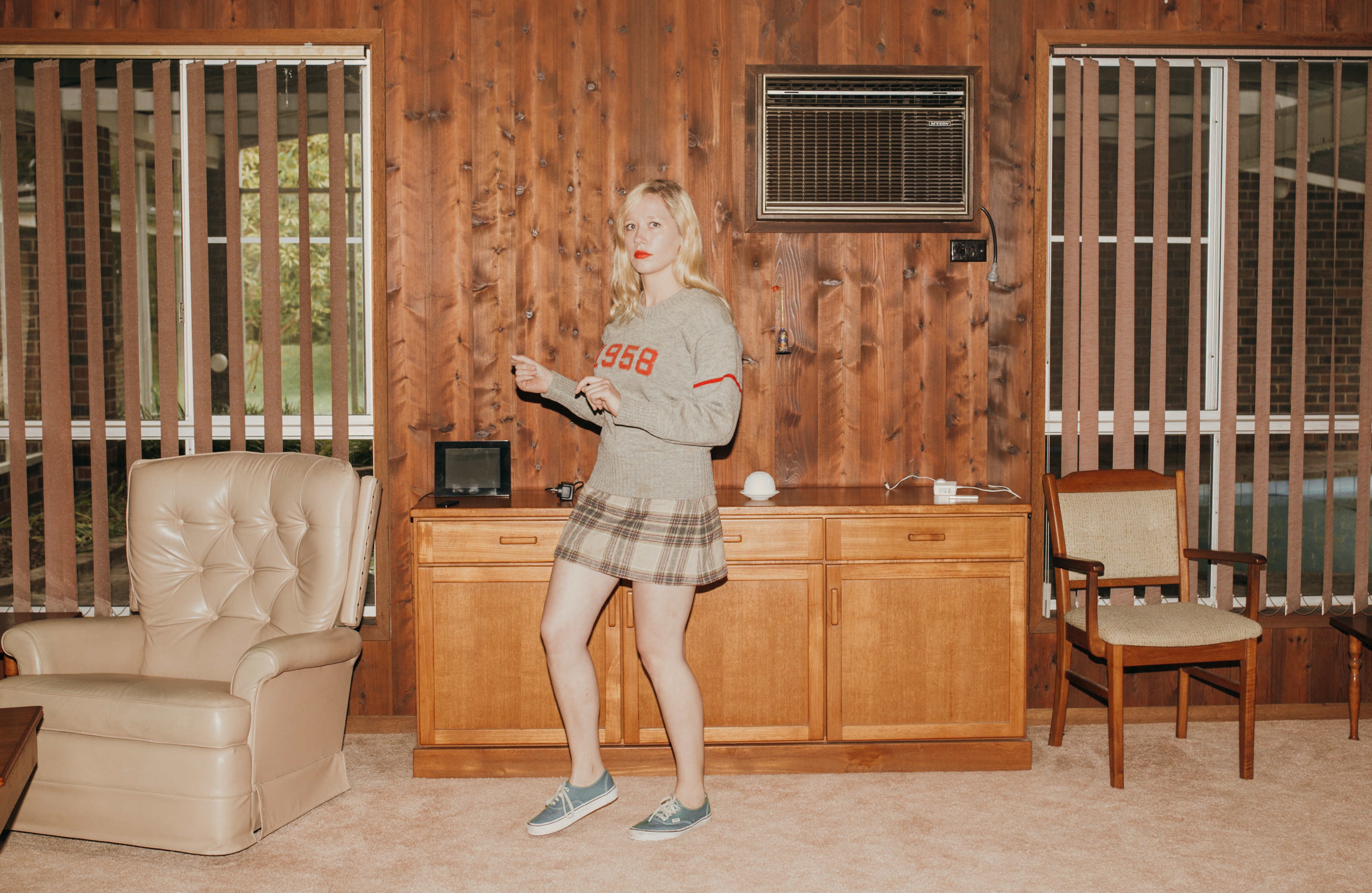 "Pool Party" is a tough ride, but cradled in Jacklin's lilting melodies, it lets you down easy. Look out for her debut album, Don't Let the Kids Win, coming soon.