Manatee Commune's single "Famous" featuring Cassandra Violet captures the innocent joy and hope of our childhood dreamers and fantasies.
"Famous" – Manatee Commune ft. Cassandra Violet
[soundcloud url="https://api.soundcloud.com/tracks/579021318?secret_token=s-UVMwu" params="color=ff5500&auto_play=true&visual=true&hide_related=false&show_comments=true&show_user=true&show_reposts=false" width="100%" height="300″ iframe="true" /]
---
Do you remember that fantasy of being famous from when you were a kid? Maybe you were pretending to be a rockstar, athlete or blockbuster hit actor. No matter the specifics, the concept is a daydream shared by youngsters everywhere. That innocent joy and hopefulness is captured beautifully on Manatee Commune's latest single.
Atwood Magazine is proud to premiere "Famous," the third single from Manatee Commune's forthcoming album PDA, featuring vocals from Cassandra Violet.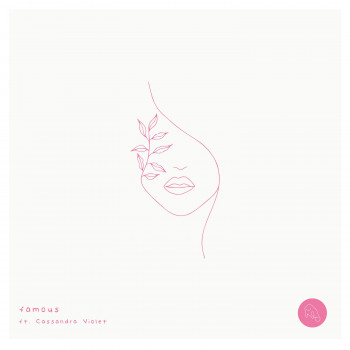 Riding comfortably in the lane of glittery, ethereal and euphoric electronic pop, "Famous" is a daydream come to life. The shiny synths and cozy bass encapsulate the youthful emotion perfectly. Adding in Violet's bright, delicate vocals takes it all to the next level as she sings:
Hiding so long
I need the spotlight on me
It feels so right
Living my fantasy
The shiny production and euphoric execution on "Famous" juxtapose the inevitable and inescapable trappings of fame. As much as we all fantasize about being rich and famous, the value of privacy and autonomy shouldn't be underestimated. The track captures wide eyed, boyish yearning and sets it against grown up responsibilities of success and what it really means. It forces us to remember that every blessing likely comes with sacrifice. 
"I wanted to capture the feeling every young, naive dreamer has about the seduction of fame," Manatee Commune (real name Grant Eadie) told Atwood Magazine. "How that 'feeling' is misunderstood and pans out if and when you actually achieve a modicum of success."
I wanna be famous
I wanna be hated
For being the greatest
I wanna be, wanna be, wanna be
"Famous" reminds us of fame's reality, but it doesn't strip us of our fascination or childhood fervor. In fact, Manatee Commune finds a way to validate and preserve that young fantasy each of us held. He portrays our school kid daydreams and late night pretendings without judgement, primarily through his expert production on the track.
The song is lyrically simple, echoing any kid's internal monologue surrounding the subject. Technically, "Famous" is a work of art delivering nostalgia and pure fantasy. It seamlessly delivers the vibrant, spacious and precise soundscape we've come to expect from Manatee Commune. Similarly, it proves his skill in working with vocalists in a way that maximizes the energy set forth by his work.
It's clear that Eadie takes his craft seriously, but not too seriously that it lacks enjoyment and genuine emotion. Having landed tour slots with the likes of Odesza, Slow Magic and Emancipator, it's clear the industry has taken notice. For an artist who made his debut three short years ago, Manatee Commune shows real and exciting promise. If "Famous" is any indication, he's sure to turn even more heads in 2019.
"Famous" – Manatee Commune ft. Cassandra Violet
[soundcloud url="https://api.soundcloud.com/tracks/579021318?secret_token=s-UVMwu" params="color=ff5500&auto_play=false&visual=true&hide_related=false&show_comments=true&show_user=true&show_reposts=false" width="100%" height="300″ iframe="true" /]

— —

— — — —
? © Adam Daniel
:: Stream Manatee Commune ::