Listening to music is more than just an auditory experience. Atwood Magazine's Tunes & Tumblers column explores the way our senses mingle by pairing new and classic albums with cocktail recipes. We invite you to bring out your inner mixologist as we approach the music we love from a unique, immersive, and thoroughly delicious perspective. Put up your feet and enjoy a cold one on us.
 
New York rock outfit The Last Internationale know how to hit 'em with their blues. We have a cocktail that hits just as hard.
   
Music to me is a lot like wine. I'm not just talking the ninety dollar Napa Valley vintage that you need a gilded tongue or a PHD in BS to appreciate. No, it's sometimes a Trader Joe's red you picked up for six bucks. Other times it's the Franzia you sneaked into a soda can to be discreet at your nephew's band recital. It's a sensory experience that is constantly shifting. Are you pumping yourself up for a girls' night out in Vegas? Are you chilling out with some lo-fi hip-hop beats to relax/study to after a week from hell? Or are you nostalgic for some early aughts rap rock in the same way that picking a scab can be so satisfying?
Music enhances our experiences like the right drink — an overpriced PBR fits a dive bar show, while a hot sake goes down smooth after a sushi roll. Our senses shift with the moment and finding the right pairing can send them over the top. That's what Tunes & Tumblers is all about.
With this new column, I'm all about sending you on a voyage. Sit down with an album, cocktail in hand, and let both take you on an experiential trip. Every month, I'll be pairing a new or classic record with the perfect aperitif carefully chosen by our master mixologist (Spoiler Alert: it's my friend who owns a bar cart and more than one novelty Urban Outfitters recipe book). But don't let our lack of diplomas from bartending college fool you. We are lifelong students of the human experience. We know that each moment can be improved with the right drink and the right song.
So stock your liquor cabinet, hook up your new sound system, and put your phone on silent. Let's take our senses on a whirlwind journey from the comfort of your couch. Please enjoy responsibly.
THE DRINK
Rusty Nail
1 1/2 oz Scotch
3/4 oz Dramuie
lemon twist
For our first little excursion, we need something to put a little hair on our chests. Break out the Scotch, dress it up with a dash of Drambuie (a Scotch liqueur infused with honey and spices), and we've got ourselves a proper kick in the mouth. Legend has it the Rusty Nail got its name because the Scots would literally use old nails to stir it. I only recommend doing the same if you're current on your tetanus shots.
You'll taste the leather, the smoke, the sticky, rotten sweetness of a basement bar and a stage that can barely fit a band of three, let alone their instruments. The Rusty Nail does all this and more. It's a quick, easy concoction to mix, but don't let that fool you. It's tough as old boots, yet sweet enough to go down smooth. It'll put a fire in your belly worthy of our audio pairing.
THE ALBUM
Soul on Fire
The Last Internationale
---
Keep that image of the basement dive in mind. Try not to let your Rusty Nail spill as several leather-clad bodies jostle against you trying to get a good view of the stage. It's a tiny space and it's about to get very loud.
The first track off New York rock duo The Last Internationale's Soul on Fire (released earlier this month) opens like a band thundering into the room, a battle cry of fuzz and kick calling us to attention. It isn't difficult to place yourself in the room, feeling a blast of air knock into your chest with each urgent beat of the drum. When lead singer Delila Paz' voice erupts over a long, distorted warble of guitar, it calls out like a manifesto.
Oh yeah, livin' ain't easy
What can make it easy?
Hard times
Hard times
How to get outta this hard time?
A lone guitar echoes her lament, staggering through mournful blues like a wail of unspeakable loss. We're not here for forty-two minutes of bubblegum bliss. This is capital "R" rawk announcing itself boldly and viciously. It was meant to be heard among this mass of humanity, channeling collective frustration into gritted teeth and stomping feet. Raise your glass and knock it back.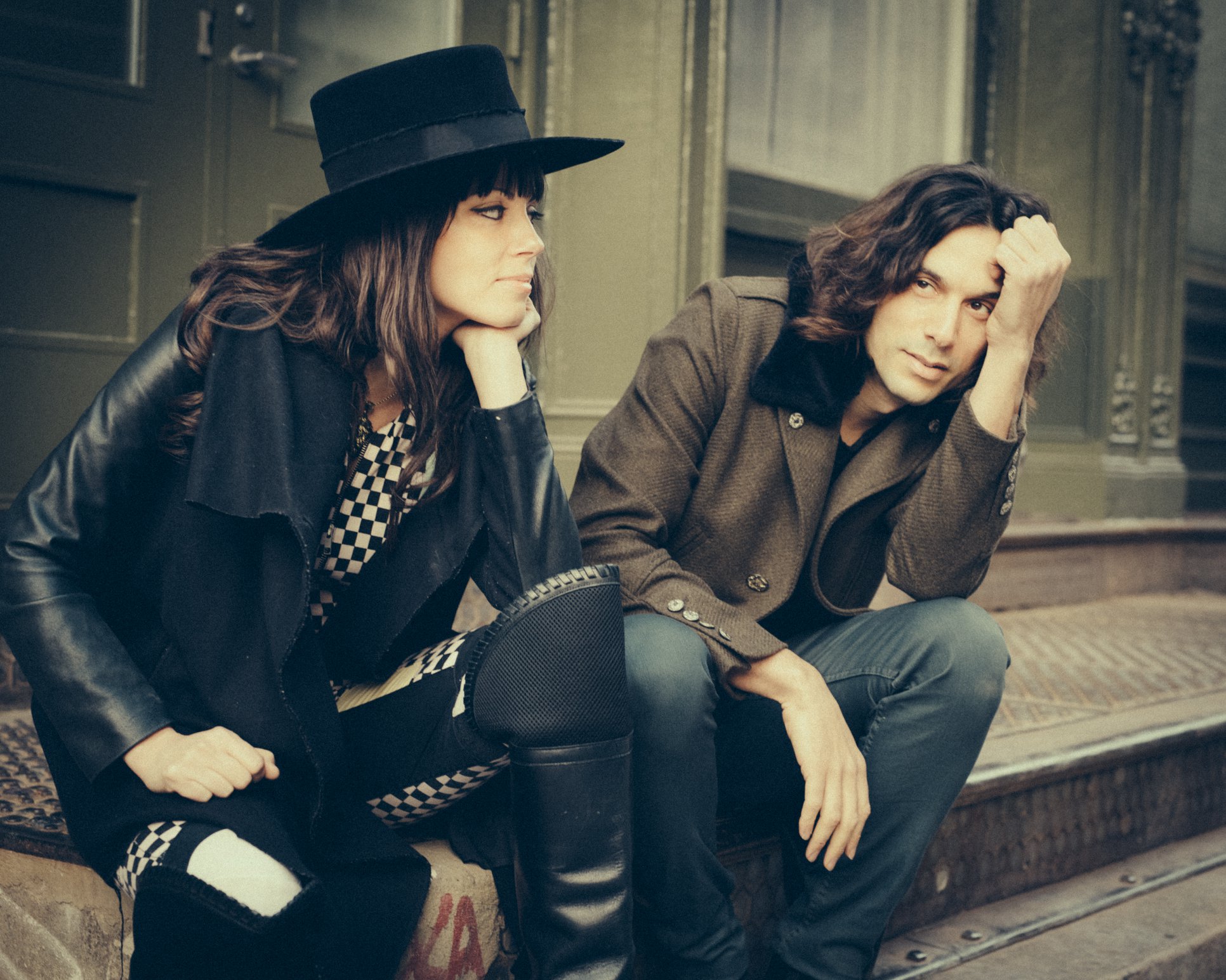 The Last Internationale is the brainchild of singer/bassist Delila Paz and guitarist Edgey Pires. Since 2008, they've take the stage like soldiers marching into battle, wielding their blues like battleaxes for the downtrodden. Think of them as the heirs apparent to Rage Against the Machine, but with the bad bitch teeth of Dorothy and the garage rock simplicity of the Kills. Their discography is bursting with more political statements than the Woodstock bill, putting a spotlight on such issues as the plight of Native Americans, working class poverty, war, and inequality.
"I think the whole purpose of being an artist, or a human being in general, is that if you have an opinion, don't be afraid to say it," says Pires in an interview with Rockblade. "Most artists today live in a culture of fear. They are scared of losing endorsements or not being liked by their fans… It's the most insane thing I could possibly think of. Just be yourself!"
Paz and Pires take that "just be yourself" mantra seriously on Soul on Fire. They produced the album on their own — lending it the raw, almost live atmosphere that makes it so immediately transportative. It's a runaway train in twelve tracks, the perfect setlist for a headlining slot in a grungy club before the bartender rings the bell or for rallying the sun-drunk masses at Coachella. "Rise up," chants Paz at the tail end of "Hard Times" and we're all but compelled to obey.
I'm going to level with you here. I've gone through three or four of my own Rusty Nails just penning this piece, and the Last Internationale's brand of high octane, stand-up-and-fight garage rock gets more vivd with every bittersweet sip. From the clatterbox stop of "Mind Ain't Free" to the 70's rock nostalgia of the title track, to the breakaway punk ferocity of "Hit Em with Your Blues," it's an unforgettable show that swims into view before your eyes. If you end up thrashing in your living room, I don't blame you.
Go, hit em with your fists
Throw your rocks and sticks
Hit em with your blues
It's a mission statement that resounds through every second of this urgent release. Get up, join the fight, and weaponize your pain. And don't forget to chase it with something just as tough.
 
Have your own idea for a Tunes & Tumblers pairing? Let us know in the comments, or cut out the middleman and find me on Twitter.
   
:: The Last Internationale ::