Best recognized as Noah Kahan's touring drummer, Marcos Valles has shifted focus in the wake of the pandemic to bilingual music education for kids in his hometown of Boston, MA.

written by guest writer Hayden Godfrey
•• •• •• ••
It was approaching midnight on Oct. 13, 2019 when Marcos Valles stepped outside Toronto's Danforth Music Hall and into the crisp air. He'd just finished playing a thrilling show with Noah Kahan in the middle of the singer-songwriter's Busyhead Tour, the likes of which would see Kahan and his band travel from Texas to Québec to California over the course of six weeks.
That night, an electric crowd of almost 1,400 packed into the midtown theatre—one of the most iconic indie venues in Toronto—and enjoyed an energetic and passionate performance. On the slanted concrete floor in front of the stage, deafening screams from fans nearly shook the ground below for the entire set.
At one point, Kahan sent the crowd into utter hysteria when he announced that the show had been just five tickets short of being sold out. Then, he pulled a line of tickets out of his pocket, showed them to the audience and said, "I bought those five tickets and we sold this motherf****** out".
Valles was Kahan's drummer, having accompanied him live since 2017. Throughout the tour, he set up his drum kit behind Kahan and right of center-stage. There, he'd modestly sing backup along with his drumming duties, forming an unobtrusively solid ensemble along with his bandmates. This dependability wasn't lost on Kahan, who, in typically sardonic fashion, acknowledged his band near the end of the show.
"I'd like to thank my band," Kahan said over the roar of the crowd. "Because without them, I'd just be the depressed Jason Mraz."
When I approached Valles on the swanky north side of Danforth Ave. after the show, he was incredibly friendly yet composed, almost as if the post-show high was wearing off slightly, but still lingered as he mingled. As fans and tour staff mulled about in front of Kahan's tour bus, we talked about singing drummers, his experience touring with LP—Valles had accompanied Kahan at a show supporting her at the same venue just a year and a half prior—and the remaining dates on their sprawling tour.
"Not to sound cheesy, but it was kind of like a dream come true," he later told me, reflecting on the tour that was. "If it ends there for me—if that's the pinnacle—I'm happy with it."
At 38, Valles is a little bit older than the other musicians with whom he shared the stage. Unlike the Vermont-bred Kahan, Valles was born in Río Piedras, Puerto Rico, a suburb of San Juan, and moved to Stoneham, Mass. when he was seven. A '90s kid at heart, he learned to play drums by playing along with the songs of Everclear, Nirvana, The Offspring, and, true to his roots, legendary Dominican singer Juan Luis Guerra.
He earned a degree in theatre studies and music from Boston's Emerson College in 2004 and toured with Parker House and Theory—a locally popular funk-pop band he'd formed with some friends at Emerson—for five years after graduating.
In the summer of 2017, Valles was driving for Uber in between jobs when he got a call from Drew Simmons, who managed Parker House and Theory before joining Foundations Artist Management in 2011. Simmons told him that Kahan, a rising star who was heading out on tour, needed a drummer, and fast. Kahan's existing drummer wasn't working out and Simmons, eager to get Kahan's first national tour started, reached out to someone he hadn't spoken to since Parker House and Theory broke up nearly 13 years prior.
"I knew he was a rock solid person," Simmons said of his choice to introduce Valles to Kahan for the tour. "I would do it a thousand times over," he added.
To this day, Simmons considers Valles to be a dear friend. Beyond that though, he knew that he could depend on Valles' professionalism, patience, and, most importantly, his musicianship.
"I thought Marcos was instrumental to the landscape that the band was built on," Simmons remarked.
Seeing it as somewhat of a sign, Valles flew to Nashville, Tenn. to audition for Kahan and his band. A week later, he was on tour with Kahan supporting The Strumbellas on 20 American dates. In almost an instant, he was living a dream that he knew he wanted, but never had the means to achieve.
On stage, Valles' drumming and friendship was well received by Kahan, who enjoyed having a steady backbeat behind his easygoing blend of indie folk.
"Marcos and I are definitely kindred spirits," Kahan told me from his home in Strafford, Vt., where he's been staying since the pandemic erupted. "He's someone that's become really close to me as a friend and as a mentor, both musically and personally."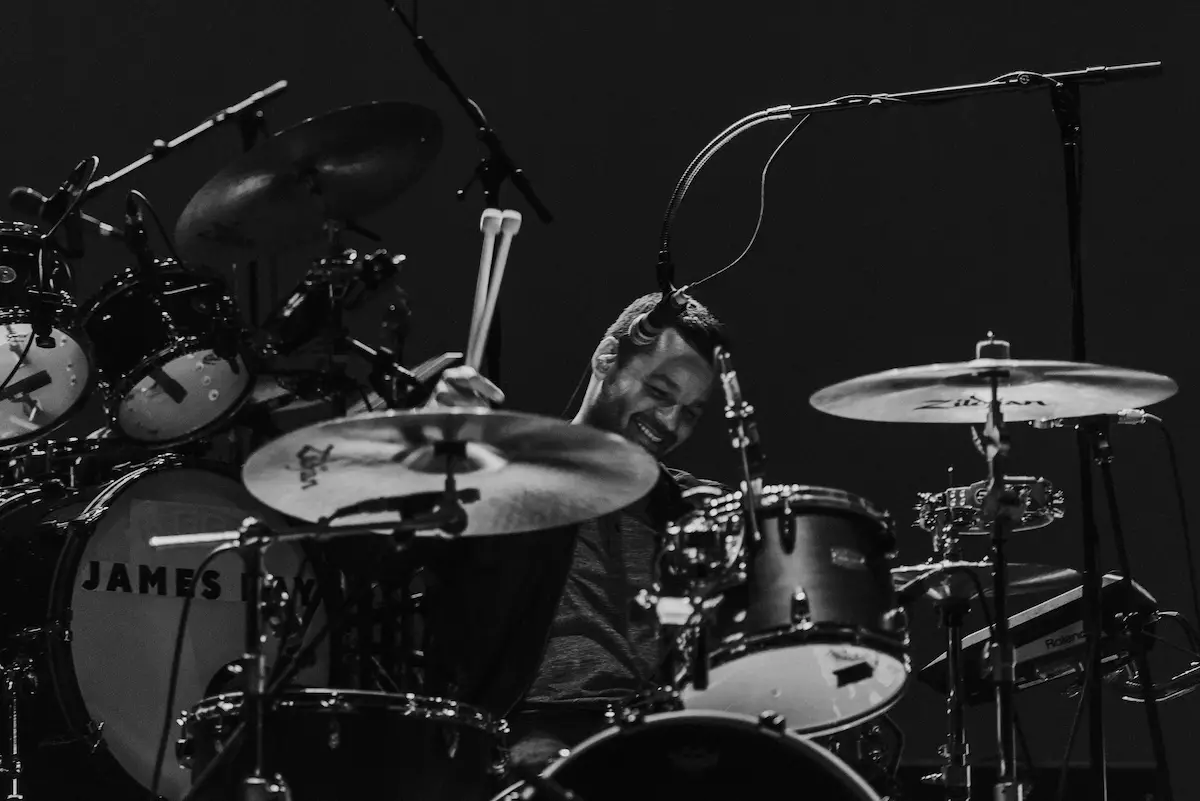 Accompanied by Valles, guitarist Alex Bachari, and multi-instrumentalist Dylan Jones, Kahan toured in support of Leon Bridges, George Ezra, Dean Lewis, and James Bay between 2017 and 2019.
Overall, Valles has played over 100 shows with Kahan in nearly a dozen countries.
"It was just a great experience," Valles remembered. "It was so much fun, every night, having people cheer for you," he added.
But, like almost every touring musician in 2020, Valles' livelihood was put in serious jeopardy due to the COVID-19 pandemic. Not only did he actually contract coronavirus in March, but plans to go out on tour with Kahan again in the spring were halted, further complicating his future.
"It was a big blow," Valles told me solemnly. "It was a tough transition. Those first two months of COVID were tough."
Assuming he'd be on the road for more than half of each year, Valles had given up his apartment in Massachusetts and planned on staying with family whenever back in town between tours. Though it may only be temporary, his dream had more or less vanished.
"You come back home and, well, you're just a normal dude," he told me of returning home after a tour. "You're a normal guy and nobody's cheering for you."
Without mincing words, he was in an incredibly tough spot. He still kept in touch with his bandmates—Kahan's tour manager Rande Kamolz set up bi-weekly Zoom hangouts for them when the pandemic first erupted—but was looking at an uphill climb to steady employment.
In order to keep himself afloat during a perpetually ambiguous time, Valles turned to a business idea he'd been throwing around for a few years, but couldn't commit to given his hectic and unpredictable touring schedule; he wanted to start writing songs and teaching kids through music.
Alongside his songwriting partner and weekend bandmate Shon Gordon, Valles founded Rockabye Beats, a music education program that, in their words, aims to "create the foundation for music appreciation". Using Valles' bilingualism as an asset, all classes feature "a sprinkle of Spanish" to try and enhance their students' vocabulary. The program can perhaps best be summed up by their rather adorable mission statement, which reads: "Come sing, dance, and get a little loco!"
While Rockabye Beats was conceived and initially put in motion during Valles' touring breaks in 2017, it didn't really get off the ground until 2020, when the pandemic forced him to get creative. And so, Valles improvised, creating Zoom music lessons and shooting music videos to be posted on YouTube. While some videos and songs are simple, some feature animal sidekicks and his nephew, Deacon.
"Something that COVID has taught us is to not expect anything, but to hope," Valles said of the serendipitous nature of the business' growth.
For Gordon, Valles' frequent co-host, the classes have likewise become his main gig in the absence of session work. A native of Northern California and a graduate of Berklee College of Music, Gordon said he thinks that Rockabye Beats could return to children's libraries once COVID-19 settles down to the point where that's possible.
"I think it's going to keep growing, I have faith in it," Gordon related, a pinch of California twang slipping in. "We really put a lot into these classes," he added.
The two originally started recording videos in Valles' brother's basement with a green screen, but have since expanded to a small studio space at The Conservatory at Highlands in Newton, Mass. Now, they run 10 classes a week of 10 kids each between the ages of three and five. Using exclusively word-of-mouth to generate interest, they have students from all across the country.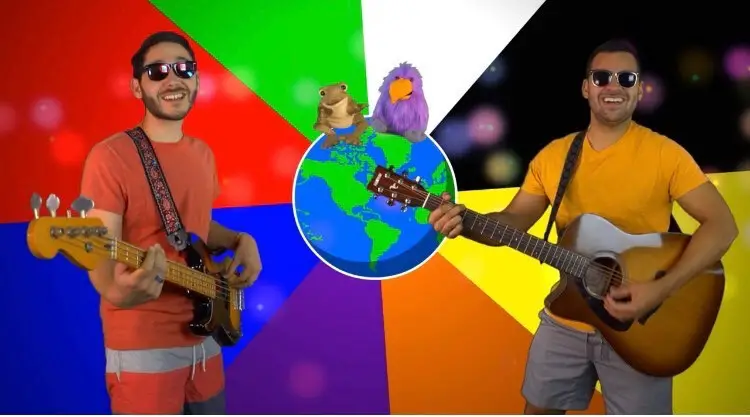 The classes do have set structures, but can be spontaneously driven by the enthusiasm of the kids taking part. Every class, Valles said, starts with stretches and vocal warmups, which then lead into a good morning song and a singalong with a featured character. Partially inspired by Reading Rainbow and Mister Rogers' Neighborhood, his main goal is to create an inclusive, active, and informative environment that gets kids interested in music.
"It's amazing to meet all these kids at the beginning of the pandemic and now they're a part of your life," Valles remarked. "They're so sweet and they're so willing to try new things. It's great."
"It's a great thing that I, won't say fallen into, but that has developed because of this year."
Valles always considered himself a "kid person"—his father is a retired paediatrician and his brother works at the Boston Children's Hospital—but never seriously considered kids being such a large part of his life. Now, he said, it's hard to imagine his 2020 without it.
"The kids saved me, in a way," he said reverently and reflectively.
In his own words, he strives to create a safe and welcoming space, similar to the musical and dramatic environments he was welcomed into as a kid.
Of course, this isn't to say that Valles' pivot to Rockabye Beats hasn't been difficult, because it surely has. Not only has it been financially strenuous—he admits to only have made a fraction of his 2019 earnings in 2020—but also emotionally. After almost four years of being constantly on the move, it seems weird to be static and homebound.
Not only that, but the future of the company seems even more ambiguous than its present. When we talked in retrospect about his globetrotting tours with Kahan, Valles wondered aloud whether or not his business would be able to successfully continue if he weren't able to write, record, produce, and deliver children's music with consistency and efficiency.
"Do I do shows from the tour bus?," he laughed. "I can only imagine how the guys would feel about that. I guess we'll see."
Though he seems to be taking it all in stride, the concern is very real. It also, needless to say, isn't an overly uncommon one.
The dynamic of being a touring or session musician has always interested me within the context of the music industry. After all, those individuals are often the backbone of live performances, but don't get a lot of credit, given they often don't write songs or produce records. As a result, it can sometimes be difficult for them to earn a living playing live.
As Dr. Anna Lisa Ramella, a postdoctoral research fellow at The University of Cologne who specializes in mobility studies and digital ethnography, put it to me, "being at home this much, even though it might be relaxing and refreshing…is a quite unsettling experience for some, especially those who loved touring".
Ramella authored a paper in 2018 that discussed how touring musicians perceived the concepts of home and belonging given their constantly mobile lifestyles. In it, she accompanied folk duo Two Gallants as they embarked on a sprawling tour and chronicled how they dealt with senses of self-identity and routine while on the road.
"For a lot of musicians, this is a quite unique time of coming down and having time to contemplate one's life," Ramella noted. "This can bring about all sorts of doubts on one hand and reconfigurations of one's own values on the other."
Valles has, in a way, had to busy himself without the pomp and circumstance of touring, an experience that Ramella said "definitely [produces] a nostalgia for touring and traveling, probably amplified by the restrictions on a social level". Unlike some other touring musicians though, he's lucky that his new endeavour has provided him with a distraction from what may have been an existential process of self-reflection.
As the fog of the pandemic slowly lifts, the future of Rockabye Beats will soon come into question, even if it maintains its momentum beyond the Zoom-confined parameters of 2020.
Kahan, who mentioned to me that he has "so much music that's been recorded and so much music that needs to be recorded", will likely hit the road in support of whatever record comes next. With a tour looming, Valles might need to pick up and leave at moment's notice. With Kahan more popular than ever—he has over 5 million monthly listeners on Spotify and his most recent single, "Pride", racked up over 4.9 million streams—one can easily surmise that this next tour will be his biggest to date.
Obviously, this all depends on whether or not Valles will be asked to play drums for Kahan on his next tour. Personnel changes and substitutions are common in the industry, making consistent work in a touring capacity far from a sure thing.
So, will Kahan invite Valles back on tour?
"It's totally up to him," Kahan said. "I would have him be my absolute first choice," he added with conviction.
"I'm not anyone to step in the way of that," he said softly, addressing Valles' current ventures. "I will be there for him if he wants to join me on tour again."
Naturally, with Kahan willing to have Valles back on tour and a business operating at a modestly successful rate, the drummer-turned-small-business-owner will have a decision to make: Does he hit the road and continue pursuing his dream? Or, does he stay in New England and attempt to grow his brand?
Whatever the future holds, Valles remains cautiously optimistic that everything will work out. As he answered almost immediately when I asked him if he'll be back on stage at some point in the near future, he just has to wait and see.
"Fingers crossed," Valles said simply.
Like many touring musicians suspended in ambivalence, he'll have to wait to find out what his life will look like when mask-wearing is but a long-forgotten practice. While it may be a slightly precarious position to be in, Valles has the kids he met through Rockabye Beats—and the prospect of going back on tour—to keep him going.
— —
Hayden Godfrey is a writer and journalist based in Toronto, Ont. He is a contributing critic to Under the Radar and Flood Magazine, where he writes primarily about folk and rock music. Follow him on Twitter at @byHayden.
— — — —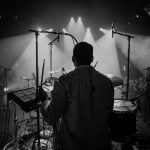 Connect to Marcos Valles on Instagram
Learn about Rockabye Beats here
? © Nolan Knight