RIYL: Chance The Rapper, Pell, Aesop Rock, Isaiah Rashad, Arctic Monkeys
Having a place to call home allows one to plant their roots and develop into the kind of person he or she plans on becoming. For Abhi The Nomad, he had no initial intention of getting to where he is now. Like his name suggests, he is a wanderer. He has taken full advantage of the nomadic lifestyle thrust upon him, learning to go with the flow and take advantage of each opportunity that he encounters.
Abhi's musical sound wraps the best of indie and the best of hip-hop into a fresh and radio-ready package of catchy grooves and effortless swagger. Dynamic and exciting, his songs play with tempo, but they seem to just flow. His most recent track, "Guacamole," portrays him in today's era, where talent alone doesn't seem to pay the bills. He wonders if the real Abhi has a place in the cutthroat music industry or if he really belongs at all.
Listen: "Guacamole" – Abhi the Nomad
---
Coincidentally enough, the juxtaposition of this release right before his recent signing to Tommy Boy Records seems to prove that he is on the right track. Now on the same roster as some of the greats like De La Soul and Ghostface Killah, it seems Abhi's nice-guy demeanor has taken him to places he never would have foreseen.
Atwood Magazine recently chatted with Abhi The Nomad about his journey to becoming a successful self-starter in the hip-hop scene.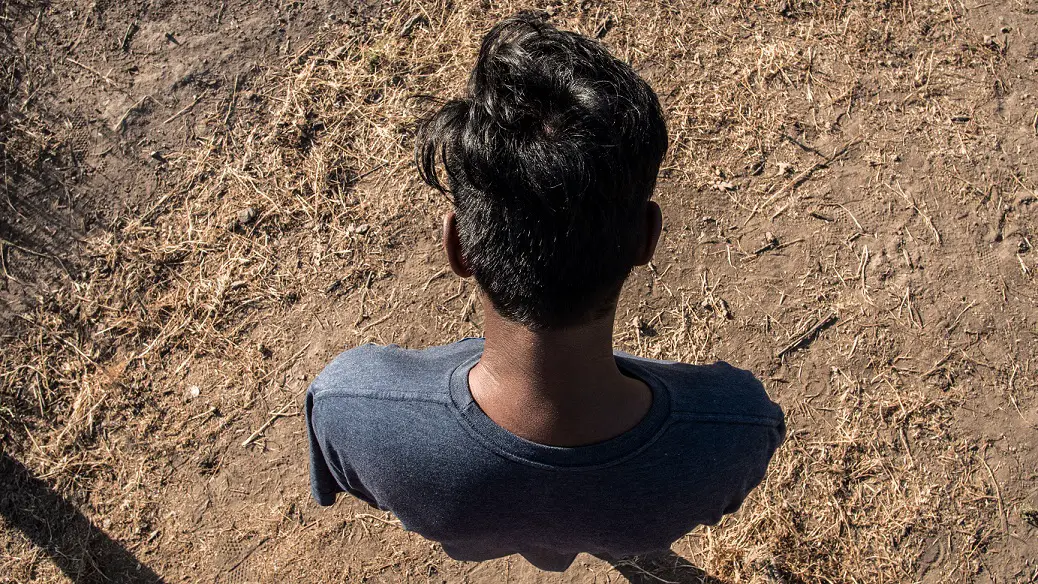 Atwood Magazine: So let's start with the name. Where did the Nomad part of it come from?
Abhi the Nomad: Well, I've been moving my whole life, so that's where it comes from. I was born in India, and then when I was around four years old, we moved to Beijing. Then we moved to Hong Kong after three years and stayed there for three more years. And then we moved back to India and I hated it because I was too used to being pampered — and India was super hood — and we went back and forth between China and India and then to the Fiji Islands for three years, back to India, and then I came here to California to study at Cal Lutheran in Thousand Oaks.
Did you start pursuing music when you got to Thousand Oaks or was that beforehand?
Abhi the Nomad: When I was twelve, I got my first iBook back when they weren't good at all. I started messing with GarageBand and making some music. It was really bad music, but I did it because it was fun and I wasn't good at anything else like socializing or talking to girls.
Have you had some sort of formal musical training?
Abhi the Nomad: For a little bit, I had some guitar lessons. But they used to yell at me and I was such a brat that my parents had to fire them.
I hear a lot of instruments in your music. Are those all computer-programmed sounds or is that you actually playing them?
Abhi the Nomad: I hire people for bass, trumpet, and backing vocals. If it's guitar, keyboard, or anything that sounds synthetic like the drums, it's usually done by me on my keyboard. 
There are a ton of collaborations with other artists in your music. What makes someone the kind of artist you want to collaborate with?
Abhi the Nomad: A lot of the time, I happen to stumble upon people on SoundCloud after hearing about them from friends. And as long as they're doing something that isn't exactly like what everyone else is doing and they're kind of good at it, then I'm interested in making some sort of music with them. A lot of the time, people try to mimic whatever is trendy — which works sometimes — but I don't wanna work with people who all do the same stuff.
Yeah, because that's really short-term thinking and won't allow you to have an extensive creative career.
Abhi the Nomad: Exactly.
Who is your dream collaboration?
Abhi the Nomad: Probably Jay-Z. That would be my pinnacle of existence.
So don't get me wrong, Thousand Oaks is a fantastic place to grow up. But in a quiet town that's so uniform and full of very like-minded people, do you find it challenging at all to pursue your passion in hip-hop music?
Abhi the Nomad: Dude, I love this question! Yeah, it is difficult to find anything hip-hop related in T.O. I was looking in all the peripheral cities like Simi Valley, Oxnard, Ventura.
Ventura has a pretty artsy community.
Abhi the Nomad: Yeah, and they have the Majestic Ventura Theater that I've been to a couple times.
Have you performed anywhere in Thousand Oaks?
Abhi the Nomad: I've performed in Rock City Studios in Agoura and The Rabbit Hole in Simi Valley.
What's the dynamic like at your live shows?
Abhi the Nomad: We try to mix it up. Usually I have my buddy Foster on stage with me until I do some solo stuff. But usually it's just me, a DJ, a drummer, Harrison Sands doing backup, and I usually play guitar on stage as well. Some of our songs use slide guitar, so I'll play it with a beer bottle.
Are you all self-managed or do you have a team that helps you out?
Abhi the Nomad: I have people who advise me on stuff for legal reasons. For deals like these, I gotta know if there are any restrictions and stipulations. This industry is so horrific and there have been people who have managed me who really didn't do anything, so I had to cut ties.
Trust me, I know about that. But business matters aside, walk me through your creative process. Do you sit down and say, "It's crunch time," and try to whip out some new songs or is it more of a sporadic thing where you just come up with a beat and later on add different elements as you think of them?
Abhi the Nomad: I do sometimes make stuff and then leave it and come back to it, but usually the ones that click with me are the ones that I produce and write within the same frame of time. I take like six to eight hours to crack something out. Then, I refine it and make it as perfect as it can be, and that's my favorite way doing it. I never write lyrics first. If I come up with a sick groove or a new beat, I vibe off of it right then and there because the same emotion that I had when I made the music is still there, and i just have to write to it. Capturing while it's there is the best because that gives the most genuine outcome, and then after a day, it'll take about a month to finish it if I maybe need to change the hook or add or remove something. I still enjoy the process, and that's why I can sit there for hours and just do it.
What was your first song where you stepped back and were like, "Wow, this is the one where I know I can start taking music seriously."
Abhi the Nomad: The first song that I actually felt like, "This one bangs," and pushed me in the direction where I am now would be "Adderall," if you've heard that one. When I made that song, I was in the phase of just getting to know the girl who is now my girlfriend, and that was probably the point where I was like, "This is it."
Talk to me about one of your more recent releases, "The Last Supper." What's the story behind that?
Abhi the Nomad: It's actually kind of depressing. This last summer, I went back to India to visit my relatives. And my uncle who had been in bad health for a little bit had made us this bomb dinner — varieties of fried chicken and curried chicken — and then a week later, he just passed away kind of unexpectedly. None of us saw it coming, so it was pretty much the feeling I had knowing that that was the last meal I had with him, and the whole thing is dedicated to his legacy as my uncle. It's some sad boy shit!
Aside from the personal aspect of your life that goes into your music, there's clearly a ton of political and social chaos going on, and amidst it all, artists are the ones that people call on to be a voice that pieces things together. Do you have a mission as an artist — or, in other words — is there something you stand for that you want to convey through your music?
Abhi the Nomad: I think I've recently come to an understanding of what that is, and I'm glad you asked me that. Beforehand, I was always anti-establishment and anti-government and wanted to do this whole power-to-the-people thing. But I've kind of matured since then and with no pretension at all, my message tends to stray away from politics. I'm more about how people should focus on their own lives and better themselves before they start to deal with things that concern other people. Personally, I don't think I'm fit to give my advice or give strong opinions on anything so controversial as the political system. I find a lot of joy in exactly what I do, and I get a lot of joy from building my own repertoire and being productive building my own career path. A lot of our generation stray away from that, from cultivating their own interests. Especially with social media and drowning in the immediate news of today.
I respect that. Speaking of social media, are there steps that you are consciously taking to grow your fanbase and cultivate the ones you already have?
Abhi the Nomad: Yeah, I think so. The next step for us to take is merchandise. A lot of the more reciprocal things have to happen between fans and me. I have to be touring more and selling merchandise so people can be engaged on a physical level. Thank God for the Internet, though. It's how I pay my bills. Spotify royalties are paying my bills.
You have some impressive numbers on Spotify for an independent artist so far. At what point did you start seeing the success?
Abhi the Nomad: I think "Adderall" did pretty well at first. When I put out my first ever EP, Beginning, "Song3" and "About Girls" really started picking up traction out of nowhere. I never paid for any sort of promotion, so I really cannot tell you where it came from.
Were your numbers doing better on SoundCloud before you migrated to Spotify?
Abhi the Nomad: Yeah, I was doing better on SoundCloud! But I have to make money now, and Spotify is so streamlined — you can get thrown into some massive playlists with big followings that easily — so I've just been putting a lot of my stuff up there. SoundCloud actually contacted me recently about a premiere, and now I can be annoying and only give people a 30-second preview of my music. But paying for SoundCloud just kind of watered it down for me as a platform.
Well, I think they kind of missed the point with why people were using SoundCloud and just hopped on the bandwagon with the other paid streaming services because they needed to monetize too.
Abhi the Nomad: Exactly.
Did you ever find any of your songs up on those big Spotify playlists?
Abhi the Nomad: Well, Tyler Oakley put my song in one of his playlists and then Tweeted at me and my sister told me how big of a deal he is.
Yeah, he's got a huge YouTube following, so that's awesome. I'm gonna be a little blunt with this next question, but let's talk a little bit about how I've never heard of an Indian rapper, and now here you are. Obviously that has nothing to do with the quality of the music or anything like that, but it's something that definitely sets you apart, and I've personally heard how people feel like it's even cooler! Are you choosing to identify with that at all and use it to your advantage for personal branding, or are you deciding to leave that be and keep the music separate from the image?
Abhi the Nomad: That's a really good question. I just accept it because its weird. It's weird for everyone in the room, man. There's a big elephant in the room when I step in and in meetings with record executives, there's a silence — and I don't feel racially segregated against — but I sit down and explain to them the reason why I look like this because it's so random!
So is there anything you want to say to your fans and any potential listeners out there?
Abhi the Nomad: My new EP is coming out; it's called Marbled. I'm hoping it goes places because it's my debut with this label and it's all brand new, undercover content, so I'm excited to see what happens!
Well good luck with everything, and I'll be keeping an eye out for some big time music stuff coming out of Thousand Oaks!
— — — —