Emily Vaughn is not here to deal with drama. "That's kind of where I am in my life right now," She says. "Just actually enjoying not caring about anybody's negative opinions."
Her newest single "Mood," out today on all streaming platforms, acutely epitomizes this exact sentiment. The song, similar to her 2015 single "Better Off," embodies empowerment, freedom, and total autonomy over oneself. Unlike her previous release, however, "Mood" veers away from reminiscing about the past, and instead treks forward with unique prominence and power. Vaughn utilizes her creative outlet as a way to liberate herself, cementing her place in music with total power and self-sufficiency. Her music is unapologetic and freeing, and she knows the importance of owning independence.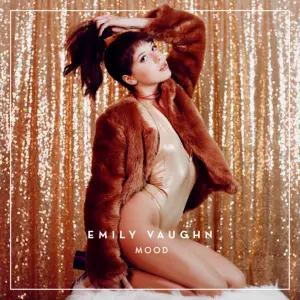 "Mood" maintains Vaughn's trademark bubbly, pop sound, coupled with cognizant lyricism. The track beautifully highlights Vaughn's mesmerizing lilt, and her distinctive, sirenic vocals drive the song with an extra eff-you punch. The effervescent instrumentals take the song to another biting level, making the empowered narrative feel that much stronger.
The song definitively declared independence, embarking listeners on a journey of self-discovery, self-worth, and self-efficacy. Vaughn croons,
You don't like how I live
But it's not up to you
You love to hate me
But I've got better things to do
Ignorance is empowerment — you can never give the power to the naysayers. The things you do aren't meant to be up to others; you are the master of your own domain, the god or goddess of your own temple. Vaughn says, simply, "I just want it [her music] to feel empowering."
Well, she nailed it.
Listen: "Mood" – Emily Vaughn
A CONVERSATION WITH EMILY VAUGHN
Atwood Magazine: Tell me a little bit about the new song; I love it, I think it's such a cool sound, and I think that it very much sticks to stuff that you've done in the past, but not too closely - you can definitely notice a growth.
Emily Vaughn: I wrote this song kind of coming from a different place. It's less about complaining about a toxic relationship, and more about just kind of owning independence when it's presented to you, and just not being in the mood for anybody's bullshit. That's kind of where I am in my life right now, just actually enjoying not caring about anybody's negative opinions.
Nice. And you've yet to put out any EP, or album, or anything; it's just been a couple of singles here and there. Are you excited to finally get the EP out, and what should we expect from the EP?
Emily: Oh my gosh, yes. I've been working on the EP for about a year now, and everything has just kind of been coming together in the last couple of months, and I am so excited to just start getting it out there. "Mood" is going to be the first single on the EP. I'm not putting any exact strategy or plan on it yet, but the music is there, and it's done. I just want to see how people react, and what they like, before I start putting out the rest of the music.
How many songs are going to be on the EP?
Emily: I'm thinking 5, but I might narrow it down.
So what sort of things or inspirations really get you in the mood (no pun intended, I promise) when you're songwriting? Do you feel like you have to be in a certain headspace when you write, or can you just be inspired by anything?
Emily: It kind of comes from anything. Like, when I actually sit down and write, it's kind of surprising sometimes how I didn't really realize that there might have been some things that I needed to get out, that I needed to vent about, until I'm doing it in melodies. I don't know. A lot of the time, I'm not sitting down with a subject, ready to vent to myself about it; I usually just write, and then, I guess, the first thing that's on my mind will usually come out of that.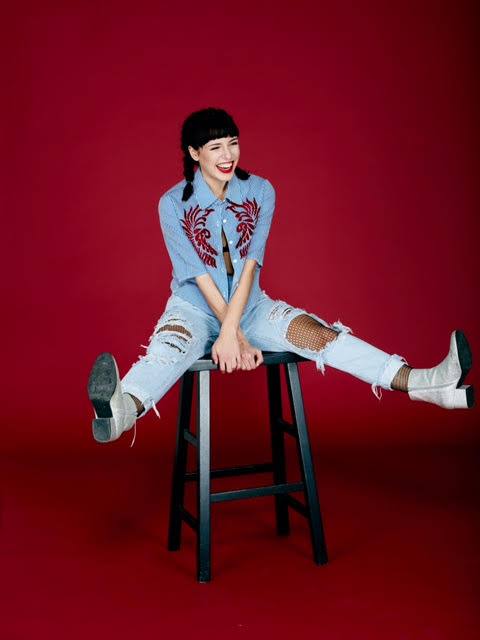 Do you feel like you write about the same things, or do you think it kind of varies?
Emily: Yeah, it just kind of depends. There have been times when I've written songs about some things that I've watched other people go through. Like, I'll get off the phone with one of my friends who's going through something, and I'll kind of relate it to my own situations, and a lot of the time I'll pull inspirations from other people, and write about that. There's only so much I can get from myself.
Who would be an inspiration that you have that might be surprising to people, based on the stuff that you write, and the stuff you've released, and what people know you as?
Emily: I guess, maybe John Mayer? I grew up listening to him, and I actually know every lyric that he has every written, by heart. He might be one of the artists that I can honestly say that about. I know that our music is completely different, but I just think his musicianship, and his lyrics, and his writing, and everything that he does is genius. He's actually a big reason as to why I started writing songs when I was like, 12. So, yeah, I just feel like he's kind of been there through the whole journey for me, even though he literally hasn't been, and has no idea that I exist. I just absolutely love him.
That's totally fine! And are you still in Nashville, or are you elsewhere now?
Emily: I'm transitioning to L.A. right now. I spent a year in Nashville, and I adore Nashville. I can see myself being back there someday, but L.A. just seems like it's the best place for me right now, and a lot of my producers and my team are out there. Also, I was born and raised in Florida, so I'm used to the sun, and bright colors, and the ocean; that's just how I thrive. I love Nashville, and if you put Nashville next to an ocean and gave it some color, I'd be set there forever. Also, no winters; I don't know how to deal with winters. So I'm going to do L.A., and I think it's probably healthy
Are you excited to see what the music scene will be like in L.A., in comparison to Nashville? Do you think it'll be any different, or do you think that they're going to be kind of the same?
Emily: I think it's going to be pretty different, just like, because there's not a whole lot of pop artists or producers in Nashville, and there's just like, such a cool variety of them in L.A.
[At this point, we raved about PHANGS together for about 5 minutes, and how wonderful of a person Jake Germany is.]
As somebody who's only ever done pop music, and being younger, do you think it's been hard to be a pop musician not only in Nashville, but in general in the music world now?
Emily: I guess in retrospect, if I'm looking at it, and how quickly I'm seeing success or judging it by "success," then maybe, but I'm just kind of doing what I love, and what I want to do. I didn't even realize I was doing pop music when I started. When I first went out to L.A., I had just written a bunch of songs that I'd never heard fully produced. I had this idea of this dark pop thing that I wanted to bring to life, and I started doing it, and I realized that I'm just so drawn to pop music and pop melodies. So I started doing that, and I just honestly loved it. It hasn't seemed hard to me, even though I know it's a hard industry, and I'm sure I'll get there; but for right now, still kind of being a new artist, it's just been awesome to create things that I want to be creating, and not worrying about it.
Do you think you'll stay in the world of pop music, or do you want to shift and maybe write something a little bit different sometime in the future?
Emily: I'm always down to write anything really for other people. But for myself, right now, I'm definitely not restricting myself from playing around with genres on the EP. It definitely fluctuates a little bit between darker pop and brighter, happier feeling pop music, but I'll definitely be in the lane of pop music. It's never going to be like, "Hey, I'm Emily, I'm a country artist now!"
Well, I really love the new song, and the new sound. I think the lyrics in the new song are really, really thoughtful, and really well-done. To wrap up, do you have a certain lyric from "Mood" that really sticks out to you, that you're most proud of?
Emily: I think the whole pre-chorus, the, "I don't care if I make you stop and stare, if you question who I am / I'm so gone, there's no need to prove me wrong." I think that's the number one thing I wanted to portray in this song: just not caring what someone who has a negative opinion about you has to say, or what they think about you, or what they do regarding it. Just not being in the mood for it, and genuinely acting on that.
I love it. I love how empowering this whole thing is; it's amazing.
Emily: I hope the whole EP feels like that! I just want it to feel empowering.
Emily Vaughn is young, yes, but she is full of so much inspiring promise. She has distinctly and firmly planted herself into an industry that can often eat people alive, but Vaughn seems unfazed. She is simply doing what she thinks is best for her, and does not care about outsiders' perceptions, as long as she is doing what makes her happy. And at the end of the day, she's not in the mood for it anyway.
— — — —