Danish artist and multi-instrumentalist Mont Jake creates a sultry mix of hip-hop, jazz, and R&B in his new single "Come Closer."
— —
The young artist known as Mont Jake effortlessly blends together vintage Hip Hop and R&B with classic Soul and modern Pop. Originally from Copenhagen, Denmark, the artist was uninspired by the music scene in his hometown and eventually moved to London where the city's vast array of genres influenced his newfound creativity. Mont Jake's name is representative of just how boundless he considers his sound, having developed it from the concept that his head is a mountain of ideas. In his newest track, "Come Closer," featuring BADBADNOTGOOD member Leland Whitty and Houston rapper Gene Fisher (released February 16, 2018 via Island Records), Jake reveals some of those thoughts that swirl around in his head.
Listen: "Come Closer" – Mont Jake
[soundcloud url="https://api.soundcloud.com/tracks/385757315?secret_token=s-NtYEg" params="color=ff5500&auto_play=true&hide_related=false&show_comments=true&show_user=true&show_reposts=false" width="100%" height="150″ iframe="true" /]
---
"Come Closer" is seductive in both it's production and lyricism. The backing vocal that sings the phrase "come closer get down" is repeated throughout the song with the intention of persuading the listener. The lyrics that follow are even more enticing:
I know you're in there somewhere
I wanna make love to you
It's been a while, tell me, why did I fight it?
You gotta set me free from my mind

Mont Jake's mind is held hostage by his urges as he pleads for the person he can't stop thinking about to release them. His velvet vocal tones and fresh melodic highs flow over silky synths and glossy beats. Even more impressive, these intricate layers are all created by him. The multi-instrumentalist writes, sings, and produces the track and his accompanying music video shows off his wide-ranging talents.
---
Mont Jake is seen singing and playing the keyboard, guitar, and drums in a neon glowing glass box that encapsulates his bedroom studio. His process of creating the song is combined with the mundane, everyday tasks such as making coffee, eating breakfast, shaving, and sleeping. His diligence in constructing his music keeps him from leaving his creative bubble until the very end when the song's complete and he's free from its confines.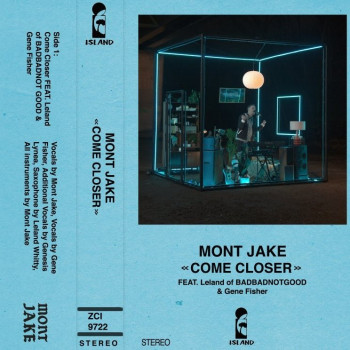 Collaborators Gene Fisher and BADBADNOTGOOD's Leland Whitty join in the middle of the track, Fisher rapping over Jake's sultry "oohs" and Whitty's saxophone adding a smooth jazz element that also closes out the track. This hasn't been the first time Jake's has collaborated with a significant artist. He amazingly made is solo debut with Masta Killa of the Wu-Tang Clan, a partnership made from Jake sending a random email to their site that resulted in him flying out to New York to record with them a week later. On the same EP, he collaborated with Chicago rapper Noname. t's no wonder these artists were quick to jump on tracks with the up-and-coming artist. Jake's soulful production is like an irresistible warm hug that you never want to let go of. And in "Come Closer," he wants the same closeness from his listeners.  
Now put your hands on me
let me heat up, let me heat up
and explode it to the music
put your hands on me
I'll stop thinking so much
At the end of the video, Jake leaves us with a short, surprise track that isn't featured on the original song. He croons "Surely we'll be fine, tonight" over a slow, stripped down, piano heavy melody. Based off the handful of song's he's already released, we'll surely be keeping our ears open for more of his music.
— —
— — — —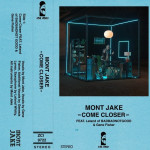 :: Stream Mont Jake ::