Every Friday, Atwood Magazine's staff share what they've been listening to that week – a song, an album, an artist – whatever's been having an impact on them, in the moment.
This week's weekly roundup features music by Arctic Monkeys, Wild Pink ft. Julien Baker, Derek Ted, Anna Thoresen, LØLØ, The Front Bottoms, Better Strangers, Hallie, & J. Graves!
•• •• •• ••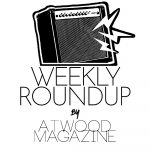 ---
:: "There'd Better Be a Mirrorball – Arctic Monkeys ::
"Don't get emotional, that ain't like you," Alex Turner sings softly, a tender, loving lilt in his voice. "Yesterday's still leaking through the roof, that's nothing new." One could have expected the follow-up to 2018's Tranquility Base Hotel & Casino to have a dreamy elegance to it, but "There'd Better Be a Mirrorball" is so much more than that: Released August 30th, 2022, Arctic Monkeys' first song in four years is heartache personified – a beautiful, bittersweet, and deeply romantic parting song, replete with graceful orchestrations and an intimate vocal performance that sweeps us off our feet, and into the British band's arms one last time.
I know I promised this is what I wouldn't do
Somehow giving it the old romantic fool
Seems to better suit the mood
So if you wanna walk me to the car
You oughta know I'll have a heavy heart
So can we please be absolutely sure
That there's a mirrorball?
We're still not used to Arctic Monkeys' music being characterized as gentle, but few words better express the care with which Turner and his bandmates approach this song. "There'd Better Be a Mirrorball" is slow, methodical, and subtle, with heavy emotion pouring out of every note – be it the quick, sharp piano hits, the swirling synths deep in the background, or the strings that flourish with aching nuance and effortless finesse. At the heart of this song lies Turner's ever-charming narrative voice, trying his best to stay composed (for both parties) and end a loving relationship with the dignity and respect it deserves.
A lightning rod of feeling, Turner is more like Dean Martin and Frank Sinatra here than he is a modern day rock n' roll star – but that's exactly what this song, and its respective situation, calls for. If you had to be broken up with, isn't this how you'd want your soon-to-be ex-lover to go about it; with the same love they've shown you all along? Always a romantic, Turner sings goodbye with happy tears in the eyes, inviting us to celebrate what was rather than lament what will never be. Live and let live; love and let go.
Breakups and goodbyes can never be fairytale endings, but even still, there's something about "There'd Better Be a Mirrorball" that fills the air – and our hearts – with a sense of magic, warmth, and wonder.
You're getting cynical and that won't do
I'd throw the rose tint back on the exploded view
Darling, if I were you
And how's that insatiable appetite?
For the moment whеn you look them in the eyеs
And say, "Baby, it's been nice"
So do you wanna walk me to the car?
I'm sure to have a heavy heart
So can we please be absolutely sure
That there's a mirrorball for me?
Oh, there'd better be a mirrorball for me
:: "Hold My Hand" – Wild Pink Ft. Julien Baker ::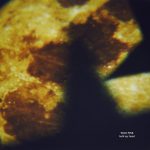 Just when you think the music of Wild Pink couldn't get any more nuanced, gorgeous or thoughtful, lead singer and band founder John Ross and co. go and do it again. The quiet yet instantly striking "Hold My Hand" is our second look at Wild Pink's hotly anticipated fourth LP, ILYSM, and if it's a sign of things to come, the record very well might be one of the year's best.
The track itself hails from Ross' tumultuous past year and calls back to a surgical procedure he underwent for cancer treatment. Ross remembers someone on his surgical team holding his hand before going under, and the song captures the poignant moment perfectly. Rolling drums and delicate piano intertwine quite literally hand-in-hand with Ross' plaintive refrain: "Will you be there when I come around again/to hold my hand?" and there's an even more notable, memorable element to the song.
That element? The addition of indie rock virtuoso Julien Baker, who herself has gone from singing solo, backed only by an acoustic guitar and piano, to delivering some of the most heart-wrenching, sonically powerful music in the business. Baker falls right in perfect lockstep with the song, harmonizing delicately with Ross and delivering maximum emotional power in a song so lovely, you'll want to listen on repeat this fall.
:: "party girl's lament" – Anna Thoresen ::
You heard it here first: Anna Thoresen is so tired of being a party girl.
The novelty of glamorous nights spent out on the town has worn off on this young singer-songwriter; week-long benders are no longer enjoyable, and any pre-party excitement quickly spirals into an overwhelming frenzy of anxiety. These sentiments come directly expressed in Thoresen's newest single, "party girl's lament," in which she expresses her overt dissatisfaction with the unnecessary rigor of the partying lifestyle.
A reverbed guitar loop greets listeners at the top of the song right before Thoresen's sultry voice enters the mix. Her soulful vocal range takes the lead on this somber track, communicating how trapped she feels within this 'party girl' image she has carefully curated for herself. "My anxiety is telling me / No one takes me seriously / My addiction's killing me / There it goes, all of my dreams," she sings, acknowledging that she is ultimately losing parts of herself and all of her dreams of the future to substance abuse. She confesses, "I don't know how to say no," over and over, calling out for someone — anyone — to send help.
Thoresen tells Celeb Mix in a recent interview that the track "comes from a very vulnerable, personal place that I don't speak about often, but screams through my music. It's about addiction, anxiety, and being in a dark place […]. Addiction is way more common than we think, especially with underage high school and college kids, and nobody talks about it without feeling shame or guilt. I'd like to break the stigma by speaking on my own experiences." Thoresen's commentary on the consequences of a non-stop partying lifestyle serves as a comforting message, telling listeners that it's okay to feel lost, and that it's perfectly okay to reach out for a helping hand when they need it.
:: "u turn me on (but u give me depression)" – LØLØ ::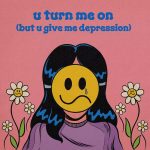 You (probably) can't see all 170 artists at the Lollapalooza Music Festival in one go… but you can find ways to make up for it afterwards! Thus, although LØLØ was sadly not one of the many acts I crossed during my combined 11 hours at the 'fest during the last weekend of July, I still am honored to have eventually come across her music and to be giving it some limelight in the Weekly Roundup all the same!
Whereas Britney once sang, "I'm addicted to you, don't you know that you're toxic?" LØLØ has taken that same sentiment and made it even darker: "I wish I fell for an ax murderer instead of you— He'd kill me, too, but at least he'd make it quick." Thus begins "u turn me on (but u give me depression)," the Toronto artist's fifth official single release of 2022 (surely these are all about to be strung together into a cohesive record, right?! We'll have to keep an eye out).
The rest of the song elaborates on this bad romance the two of them are writing together: "You take control of my body, putting bad thoughts in my mind as soon as I look in your eyes." And then: "I might just be a masochist. I let you eat me alive. You'd call me up, I can't resist." LØLØ has herself confirmed that romantic experiences on par with those of Ms. Spears are what inspired this latest single: "I fell in love with a 6-foot-2, walking-talking pile of toxicity. So instead of being dead, I live in a constant state of purgatory – flip-flopping from happiness to sadness. I love him, I hate him. He turns me on. He gives me depression. But most importantly, he helps me write the best songs." Problem solved, it seems!
:: "Stick & Poke" – Derek Ted ::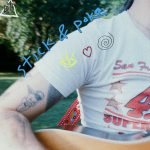 Sometimes it still feels like we're in that 2020 lockdown state: Despite everyone trying our best to get back to normal, things haven't gone back to the way they once were. "Normal" is a state of mind, more than anything, and however much we long for it, we're just not there anymore; who knows?! We may never know that kind of normalcy again.
All up in his own head, West Coast singer/songwriter Derek Ted reflects on this loss of normalcy, and the comfort it brings, in his second single of the year. Tender, warm, and caked in waves of dreamy nostalgia, "Stick & Poke" gets its name from the chorus line, "life cuts like the sharpest knife, stick and poke broken dotted line." The path we expected our lives to take has made a permanent detour; our journeys have been altered by the past few years' grave, strange reality. In a light, sweet indie folk environment brimming with gentle guitars and buoyant melodies, Ted laments the loss of the routine and the status quo. Though his outlook is bittersweet at best, his music is uplifting and effusive:
"It's a sun kissed indie folk tune about the simultaneous hopelessness and hopefulness of being caught in a paralyzing nostalgia loop," Ted says of 'Stick & Poke.' "I wrote this song in the middle of lockdown, walking around my neighborhood one night. I had a head full of shrooms, just thinking about everything that's ever happened in my life and seeing all the imagery of the lyrics just floating by me. This song was co-produced with Jon Joseph (Mini Trees, LANY) and lends itself to a new bigger and refined soundscape."
Can we get back to the way we were? Is there hope for a "new" normal? We don't know, and neither does Derek Ted – but here's to all the dreamers out there; may we all eventually find what we're looking for, and get back "to a time when we could relax." Following April's standalone single "someday soon," "Stick & Poke" is the lead single taken from Ted's forthcoming third album, Times Have Changed, set for release November 3rd via Anxiety Blanket Records. Considering the raw bluntness of this album title, "Stick & Poke" feels like a great introduction to a record reckoning with the realities of the present day. Of course, we have to ask ourselves: Was life really going to go in a dotted line? Disruption is endemic to existence; if not for the COVID-19 pandemic, surely something else would have come along and interrupted the ebb and flow…
But I digress.
:: "Hello World" – The Front Bottoms ::
The Front Bottoms are a staple band for anyone who grew up with their Tumblr dashboards flooded with American traditional tattoos, band tapestries bordered in fairy lights, and Vans stickers plastered in the most random places. Popularized for their relatable, colloquial lyrics and less-than-polished sound, vocalist/guitarist Brian Sella and drummer Matt Uychich have stayed true to their roots amidst ever-so-different times in the musical world and the real world.
Released last Friday, August 26th, "Hello World" is not actually a stranger to The Front Bottoms and their long-time fans; rather, the August 26th release is a re-recording of a track from the band's never-released 2009 album, "My Grandma vs. Pneumonia." With Sella's matured voice and production, the lyrics "But we were younger and it was easy/And now it goes question and then question/Question, answers don't come so easy" weirdly feel both bygone and prevailing. Characterized by a twinkly guitar and vocals that vacillate between breathy and harsh, the track at its core is unadulterated midwest emo at its finest.
Nostalgia factor aside, the track itself has gotten immense praise from newer fans who mistook it as a new release, proving it to be surprisingly timeless despite the twelve or so years that have passed since its soft debut. In light of their latest EP, Theresa, The Front Bottoms are preparing for a headline North American tour in the coming weeks, and there couldn't be a more perfect time to dig up the red-black flannels and Vans Old Skools than now.
:: "Nicotine Dreams" – Better Strangers ::
I'm not usually one to name drop, but hot damn can Phil Collins' son rock out! Miami's Better Strangers only have two songs to their name, and those two tracks are all we need to see the raw potential of this band. Comprised of music royalty Nic Collins on drums, mononymous deCasa on vocals, Joey Rodriguez on guitar, and Yang Waingarten on bass, Better Strangers debuted with the passionate and hard-hitting "But I Don't Know Your Name" this April, emulating the raw fervor and uncompromising charge of '90s alternative greats like Pearl Jam, Foo Fighters, The Smashing Pumpkins, Soundgarden, and Stone Temple Pilots.
Better Strangers' stunning sophomore single is sure to build even more momentum around them. Released August 26 via Pink Mustang Records, "Nicotine Dreams" is unapologetically dark, feverish, and heavy. "This new release is very exciting for us as a band," the band tells Atwood Magazine. "Because our debut single was so well received, we sought out to take everything that made that song great and elevate it to the next level. We got more psychedelic sonically and visually, and our storytelling really shines through, uncovering a new side of our band and sound."
Heading for the lighter again
Oh I still remember it…
Feeling like I'm losing a friend
Oh will they remember him…
And it burns. So cold…
And it burns. So slow…
Dwelling in the depths of substance abuse, alienation, loss, and more, "Nicotine Dreams" is as raw as it gets. As the band explain, the song was inspired by real life events. "One of us had a friend that was the emergency dispatcher at a university," they explain. "She received a call from a group of friends who had just found one of their friends hanging after committing suicide in their dorm. She had to walk them through the entire process of how to cut them down and perform CPR while they were giving her vivid descriptions and details of what they were seeing. This traumatic event stuck with her in the following weeks. After the event, she couldn't sleep and spent the time she was up chain smoking cigarettes causing the nicotine to be a substitute for sleep itself. Hence the title, 'Nicotine Dreams.'"
"Nicotine Dreams" rises from an agitated whisper into a fierce and fiery roar, growing angstier, tense, and more agitated until at last, Better Strangers let out their steam in a resounding, emotionally charged cathartic release.
I'm looking like a ghost that you see in the night
My lips a shade of blue, 'cause I'm barely alive
I'm going on my 6th bar, dimming the lights
and it burns, it burns, it burns again
Going for a walk in the dead of the night
Trying to decide if you put up a fight
I try to change your mind when you're walking the line but
You turn you turn away
Why scream at me when I'm doing my part
You try to leave but what you're leaving behind
All the tears on me, you're dropping all your bombs
and you leave it to be
Why come to me, when I'm feeling alive
You hold the keys, boy you can ruin a heart
Hope your kin stays clean, I'm burning up my hope,
when I light up my dream
"Nicotine Dreams" does resolve, but its form of resolution is not absolute; Better Strangers leave us yearning for more of that raw, hard rock that, if only for a few minutes, takes away all our problems and gives us the space to feel whole, free, and complete.
:: "Do It" – Hallie ::
Australian singer Hallie may be relatively new to music, but she's got plenty of experience in the area that gives lots of musicians their lyrical fodder: The ups and downs of romantic life.
"I wrote 'Do It' about trying to get into the swing of dating again and the child-like nerves of flirting," she says. "I was experiencing loneliness while simultaneously wanting to explore my sexuality and make new connections. I find that stage just as exciting as it is scary and confronting, and this song is me being honest with how I was feeling and giving myself a push toward exploring those crushes."
This much provides the key narrative thrust for "Do It," her lucky seventh single, which is also buoyed by some vibrant power-pop production and a neon light-drenched music video. Just as the beat builds in volume throughout the track, Hallie's lyrics detail how her lustful desires are becoming all the more tantalizing: "What is it that draws me to you?" she asks. "[I'm] losing all control I once had. I wanna be held, too. Baby, I dare you, do it." Based on the last moments of the clip, it seems like she gets her way in the end… but it's definitely a process!
:: "Ass U Me" / "Bested" – J. Graves ::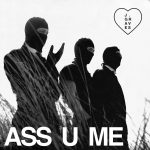 As a massive fan of '00s post-punk/indie rock – from The Strokes and Yeah Yeah Yeahs, to Sleater-Kinney, Jonathan Fire*Eater, and The White Stripes – I was immediately taken with J. Graves' music. The Portland, Oregon band's passion is instant and undeniable; their songs are biting and raw, yet composed; intense and unapologetic, yet never over-the-top. Some bands just command the stage, and the trio of Jessa Graves, Aaron MacDonald, and Kelly Clifton have a sonically and emotionally charged, churning presence about everything they release.
2019's debut album Marathon is, true to its name, a powerhouse record meant to be listened to in full (i.e., it's no sprint), and this year's sophomore follow-up Fortress of Fun (out September 30th) is stacking up to be just as electric. A slew of singles ("Valentine," "Go It Alone," and "Marauder") teased this spring had already set the stage for what's to come, and the band's latest songs only serve to further reaffirm their preeminence. Released in mid-August, "Ass U Me" and "Bested" are tight, searing outpourings of attitude-laced post-punk. Each track reflects the band's high-octane energy, their unabating, spirited drive, and bandleader Jessa Graves' radiant charisma.
You were ready for the worst
She was steady for the first time I saw you
You were ready for the worst
She was steady for the first time I saw you
She was ready for the worst
You were steady for the first time I saw you
She was ready for the worst
You were steady for the first time I saw you
Hold on tight I'm coming out
Get it right I'm coming now
Why oh why why would I mind
Try oh try why would I try
"'You were ready for the worst,' says the first line from 'Bested,'" Graves says, in conversation about these two new songs. "Catastrophizing is my least favorite pastime, but I'm always ready for the worst, or at least I think I am. I often send Kelly and Aaron videos of me playing ridiculous chords that I would never know the names of. They oblige and tell me what kind of strange augmented something or other I'm holding with my fingers. I send them faces of satisfaction, hooks, melodies, and if I'm lucky, songs that just pour out of me. "Bested" was one of these songs and the last song written for Fortress of Fun. Kelly's bassline is the star of the show coupled with Aaron's drumming attitude, they run hands held with my vision. 'Bested' would have a very specific attitude, a scolding song."
"Conversely, 'Ass u Me,' the first song written for this record, even before we knew there would be a record, feels much lighter, almost playful, and we did our own clapping stunts (long live the "calps")! This was the first song we received mixes back from Sylvia Massy and used it to calibrate our process. Don't let the light fool you, it's just as dark as the rest of the adventure."
Fortress of Fun is shaping up to be one of the most exhilarating indie rock releases of the year, with songs that hit hard and leave a lasting mark. Listen to "Bested" and "Ass U Me" out now, and stay tuned for this thrill ride of a record, out at September's end.
— — — —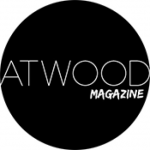 :: Weekly Roundup ::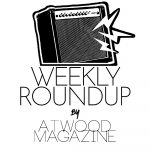 ---
:: This Week's Features ::
---