On their latest EP 'monochrome blue,' Modernlove. explore nostalgia and heartache with unmatched glam, and Atwood Magazine spoke with the group to gain insight on its creation.
•• •• •• ••
Puberty, high school, growing up – it all sucks. For the most part. These woes of youth are no foreign force to adults worldwide, but within those woes can exist incomparable joy. First loves, first losses, and the journeys that lead one through it all. These are the stories locked within memory vaults, but Modernlove. is opening up, and the result is bustling soundscapes that take listeners on an adventure of shared highs and lows.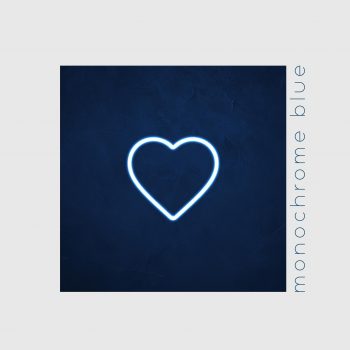 monochrome blue separates itself from other pop EPs with the storytelling that is present, aided by varied sounds that elevate the experience. This instrumentation is incorporated to great effect, making the connection-building even stronger. "2 Missed Calls" is the perfect starter with its bright melody that shows listeners that the trip down memory lane being embarked on won't be a forlorn trip. Rather, it's a look back at the moments that build who people are and seeing just how far they've come.
That same shine is carried over into tracks like "Liqourice." The energy present here will make listeners eager to get on their feet and move, a feeling that the EP is surrounded by. Even with tracks like "I know it's tearing you apart," with its slowed approach at the start, the drive to move and embrace the memories never stops. The end of the trip, though, is a lush one. "come over x" offers a vast sound that swells and builds into onrushes of instrumentation, acting as the perfect finale to this auditory picture book of memories.
It's not uncommon to want to revisit far-off days, and there's no better way to do so than with the right soundtrack. Modernlove. has blended nostalgia, devastation, embarrassment, and unrivaled bliss into one with monochrome blue, and Atwood Magazine spoke with the band to dive into the details on how the EP came to be.
— —
Listen: 'monochrome blue' – Modernlove.
A CONVERSATION WITH MODERNLOVE.
Atwood Magazine: monochrome blue is here! How has the release been so far – how does it feel finally having it out?
Modernlove.: It feels great to finally have it out after so much time was put into it. We've been writing it pretty much since we started the band in 2015 so it's been quite a cathartic experience to finally let it go.
With the EP's theme of an exploration into your teenage years, what was the process like for creating the soundscapes to your lives?
Modernlove.: I don't think we consciously thought about what we were doing. Every song on the EP is a snapshot in time. We didn't overthink how we wrote the songs or how we decorated them sonically, it was a very organic process. I think when you're writing music for no one but yourself and a few of your friends, you're at your most creatively free.
In the same vein, what made these 6 tracks stand out as the ones to fully embrace those formative years?
Modernlove.: Musically and lyrically the 6 songs on the EP stood out to us because they were the first time we felt that we had written something good in each genre. For example, when we wrote "LMK" it was the first we really felt like we had written an electronic glitchy song that was truly unique to us. The same applies to songs like "come over x" and "2 Missed Calls". These songs were the catalyst for our band becoming what it is today.
Watch: "2 Missed Calls" – Modernlove.
With the stories themselves, they are pretty open tales, revealing sometimes less than flattering situations. When embarking on these honest stories, are there ever moments of uncertainty, thoughts such as ''am I comfortable sharing this?''
Modernlove.: Of course that's a question you ask yourself when writing a song showing an uglier side of yourself but I think when it comes down to it, if the band is to be an honest and true expression of our lives it would be disingenuous to omit these kinds of stories from the narrative of the band. We can't pretend we all live morally perfect lives. I think when approaching these topics you've got to be sincere and wear your heart on your sleeve and just hope that people will relate to and understand both the good and the bad.
There is a sparkle in your sound that shines uniquely, something that isn't an easy achievement in the pop landscape. With the pop sphere being as crowded as it is currently, how do you navigate this space while ensuring your sound is always uniquely yours?
Modernlove.: It's tough because we always want to keep expanding our sound and trying different things, but we also know that we love writing pop music. So it can be tough for us to ride the line between going off and becoming some weird ambient electronic act and being a straight-up pop band. I think we're at our best when we're somewhere in the middle of those two ways of writing. I think in between those two styles is where our style and sound have come from.
With these stories of young love, adventures, and late-night romps, the lyrics deftly aid in painting a vivid image for listeners. You've nailed inviting listeners in. When it comes to creating these lyrics, which comes first – the melodies or the words?
Modernlove.: It depends on the song. Sometimes you'll go into a song with a very clear picture of what you want to say, other times you want to make sure that everything in the song is as catchy as possible.
Watch: "come over x" – Modernlove.
With monochrome blue now out, what are you hoping fans will get out of it?
Modernlove.: Hopefully people who hear it will relate to us in some way. It's all about just trying to figure yourself out at a very vulnerable age, I think that's something that hopefully everyone listening can relate to.
What does the future look like for Modernlove.? Will it be a moment of enjoying the fruits of your labor or is work already starting on new music and projects?
Modernlove.: We're always working on the next thing. I don't think you can sit around and rest on your laurels when you're in the music business. We're always writing and working on new things to keep ourselves excited. Hopefully, we can just keep releasing music and start gigging heavily once things are fully opened up. We're going to be playing at Live at Leeds on the 16th of October then we'll be playing the Workman's in Dublin on the 5th of November and in the London Social on the 11th of November.
— —
? © Marc Shelly
:: Stream Modernlove. ::