Intimate and heartfelt, The Franklin Electric's beautifully vulnerable 'This Time I See It' weaves through songs of acceptance and self-reflection to create a journey of self-discovery and renewal for all who need it.
Stream: "Ten Steps Back" – The Franklin Electric
---
Sometimes the best versions of ourselves come out when we stop trying so hard; when we relax, let our guards down, let love in, and just live in and for the moment. Arriving in the wake of a dark and trying year for all of us, The Franklin Electric's new album is a beautifully vulnerable record: Intimate and heartfelt, This Time I See It weaves through songs of acceptance and self-reflection to create a journey of self-discovery and renewal for all who need it.
You got the message from the bottom
Like a treasure that's forgotten
The basis of what everybody needs
They got there hands down in the garden
Trying to take away the fallen
As they follow steps through everything they've been
It was the realest dream I've ever seen
will it follow me tomorrow?
It's the hardest pill to swallow after everything I've seen
And the sun came through, leaving a trace of light
to follow showing the emptiness and hallways
As I'm tracing back my dream
Ten steps back
The hardest pill to swallow
Lost in what I believe
Ten steps back
Forwards in all directions
Lost in what I believe
I believe
Released September 24, 2021 via Nettwerk Music Group, This Time I See It is a heart-on-sleeve outpouring of sweetly stirring folk rock and alt-folk wonder. The Franklin Electric's third full length LP sees founder and frontman Jon Matte delving deep into himself without abandon, reckoning with topics of purpose and place, connection and meaning, and more. Following the past few years' EPs In Your Head (2019), In Your Heart (2020), and Never Look Back (2020), This Time I See It is uncompromisingly honest, achingly raw, and resonant through and through: The richness of The Franklin Electric's folk music shines through moments of darkness and light alike as he invites his audience to join him on this stripped exploration of the human state and psyche.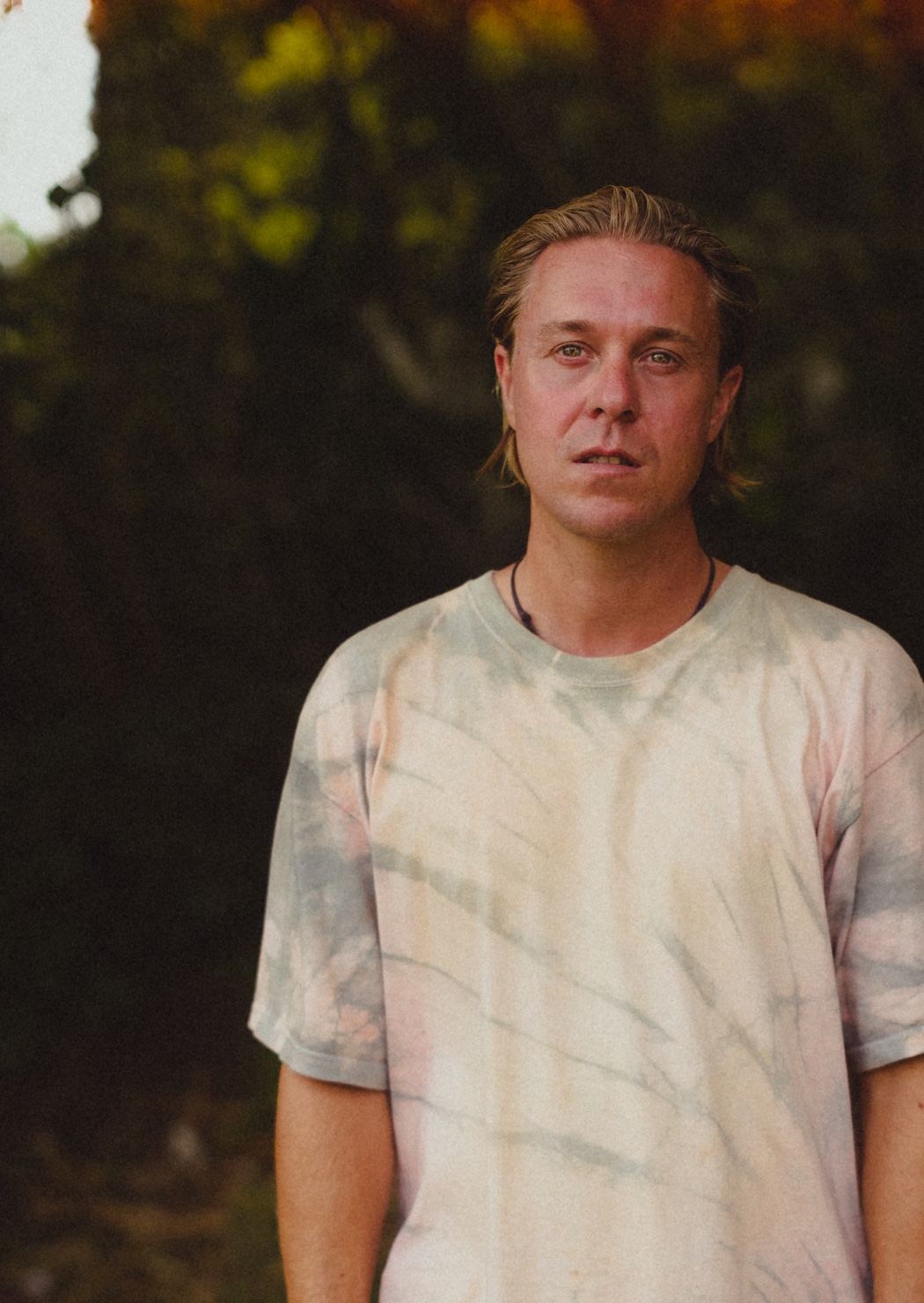 "I never really had a specific plan or vision; I had a pile of songs I thought to be honest, and as we recorded them I got to see see them take on new personalities and I got to see them grow into what they are now," Jon Matte tells Atwood Magazine. "In a sense that's what the songs were about anyway – not planning or trying too hard. I made the record in Vancouver, BC with a friend, John Raham, then left to Mexico for 6 months. While I was there, I had the chance to finish up the production with Miro Mackie in LA, doing a few online sessions and even recorded some violins in Mexico at a friend's place. The right people were appearing in my life, and it was really nice to make music while being in a super creative small town in Nayarit called San Pancho with a beautiful and strong sense of community. I also got to learn to surf!
"In terms of sound, we went very analog with really old tube mics and tape machines, which made things really warm and fuzzy," he adds. "This record was a photograph of a moment in time for me, and I feel really good with these songs and how they turned out. I think they really do capture that moment or period of time with honesty and do justice to the feelings I was trying to let out and share on this record. After the strange year we've had, it seems that I am not the only one who's been questioning things, needed a bit of healing. Instead of adding to the fear and worry, this was about going inward and looking at yourself – all ego aside – and seeing what was really going on in me, that narrative or movie that I've been used to, and get past that and make some edits to that narrative and allow for some changes."
"'This Time I See It': There's something we all are searching for and try and have tried over time and time again to reach that place or state of mind through lifestyle, love, money, and lots of things, and I've done that and seen various versions of self dissipate. I think those are the best and most vulnerable times, when we look at what's really inside – the director to our own movie or narrative. It's not about effort or trying; it's more about accepting and seeing the reasons we create all these versions and ideas of our own story and life. Healing all that you thought and all that you carry inside the subconscious, so that story can be edited, and we can tap into the things that feel good to us. This album was never forced, and I worked with really great humans and talented people who helped bring these songs to life."
'This Time I See It' was a phrase that stuck with me. Not only is the title of a track off the record, but also it seems to sum up the overall themes on the record.
In so many ways, This Time I See It is a letting go. For Matte, it's a confessional collection dealing with both big and small moments in life: The questions of who, what, and why, and the daily question of how. Songs like opener "After All" and "Ten Steps Back" take a look at how we define ourselves based on our experiences, and how we are constantly growing and evolving. Elsewhere in songs like "Greatest Love of All" and "You and I," he explores our relationships and the impact of our relationships on our world. Throughout it all, The Franklin Electric ensures his listeners enjoy a spellbinding set of acoustic-driven ballads and anthems, sweeping highs and moving lows.
---
Early highlights and fan favorites have included the soft solitude introspection of "Always Alone," the glistening plea for connection "Understand It," and the pulsing, percussive drive and rising tension and release that embodies "Why You Gotta Be." Matte says the latter is one of his personal favorites as well – "specifically the bridge section! I think the band would agree it's a fun one to play live."
"Lots of the lyrics are pretty special to me," he adds, going on to cite the song "You and I" as a particularly meaningful high point for him on this record. "It's not the way you are, the faces or the places, not the days that went by leaving memories of you and I, it's not pieces of the pie, the secrets or the lies, not the reasons you justify; it's just you and I."
"It's a folk song about detaching," he says. "It's about simple connections and not getting lost in the details."
---
While we'd be well advised to not lose ourselves in any relationship or single moment, we can readily and willingly lose ourselves in This Time I See It's ten immersive songs. The Franklin Electric invites us to join him as we indulge in our own reveries; and whether we're in a place of celebration, mourning, growth, healing, or something else entirely, we can find moments of beauty and light, empathy and inspiration in his intimately expressive, deeply human songs.
"I hope people get whatever they need out if this record, and that could be different for everyone," Matte shares. "But mainly, if there's a lyric or a song that helps someone get through something or just allow them to see life from a different side, then I'd feel really good. But the beauty is that I'll never really know that."
Experience the full record via our below stream, and peek inside The Franklin Electric's This Time I See It with Atwood Magazine as Jon Matte goes track-by-track through the music and lyrics of his third album!
— —
Stream: 'This Time I See It' – The Franklin Electric
:: Inside This Time I See It ::
— —
After All
It's a traveling song, about moving forward despite the things you've been through and not being defined by them. I think we all like to escape a bit and have at one point or another pictured ourselves escaping to someplace warm and nice. But the grass is always greener.
Ten Steps Back
It's about being lost in a world of ideas and stories and waking up from it all, feeling like starting again. How mysteriously things can change as the things we believe change too.
Why You Gotta Be
It's a song about learning to not be so hard on ourselves, with all the rising pressures of being great, successful and having the life we want.
This Time I See It
A song that came to me playing piano in my living room. It's about clarity and confusion. Inside of us is a world of reflections and mirrors of the outside and its easy to focus on the outside but this specific period of time for me, was about healing inside and what rises up. Its easy to place blame on things in our lives, other people, the government or whatever else could be your yoga class was cancelled or your your plans got changed in some way or another,  but looking inside to see whatever is rising up in you. With all that's going on in the world it's getting tricky to see things for real or know how we really feel .
Greatest Love of All
It's about failing at love and how the idea of love has been changing to me. Almost a question song What is the greatest love of all?
You and I
It's a folk song about detaching, a friend called it the  "it's the not this, not that" song, which he used in his yoga practice. i liked that. It's about simple connections and not getting lost in the details.
Understand It
It's getting more and more complex to understand life and ourselves in a world of strategy and games. We've been conditioned to want to try to understand everything from here to the moon and really I got a bit tired of trying to understand.
Always Alone
Is about being alone inside ourselves in our own little universe that no one else will ever really know.  I see more and more people stalling on doing what they really wanna do, burying feelings and holding on  trying so hard.
Everything I Had Ever Known
When everything you thought you knew is changing. The ideas we hold onto and defend no longer serve us and how that always leads to something great. Learning to welcome change and not hold to old ideas or ways. Letting go of control and finding the flow.
Call It What You Want
Another one about the game of life, gaining or letting go of perspective, but it's like a circle. It's an infinite game and gets quite confusing.
— —
— — — —
? © Levi Zortman
:: Stream The Franklin Electric ::
---