The Big Moon could not have chosen a better band name. From their addictive and powerful music, well-crafted lyrics, and unbelievable onstage chemistry, this band is really out of this world. Hearing their music makes you want to dance, sing at the top of your lungs, and, quite honestly, thank songwriter and frontwoman Juliette Jackson for understanding you so well. The London band, made up of Juliette Jackson (songwriter, vocals, guitar), Celia Archer (bass, vocals), Soph Nathan (guitar, vocals), and Fern Ford (drums), is the epitome of girl power and fun – watch them perform live and you'll see just that.
Listen: "Cupid" – The Big Moon
---
With an EP and two singles released, the band has consolidated its spot as everybody's favourite new artist. These girls are destined for great things, having recently been named one of Vevo DSCVR's Artists of 2017, and already having a tour lined up and their debut album, Love in the 4th Dimension, set for release in April 2017.
Atwood Magazine caught up with frontwoman Jules Jackson while The Big Moon were on tour with The Japanese House in North America – their first North American tour! – and talked about what's to come, their funny music videos, their relationship with fans, and much more. Check out our conversation below!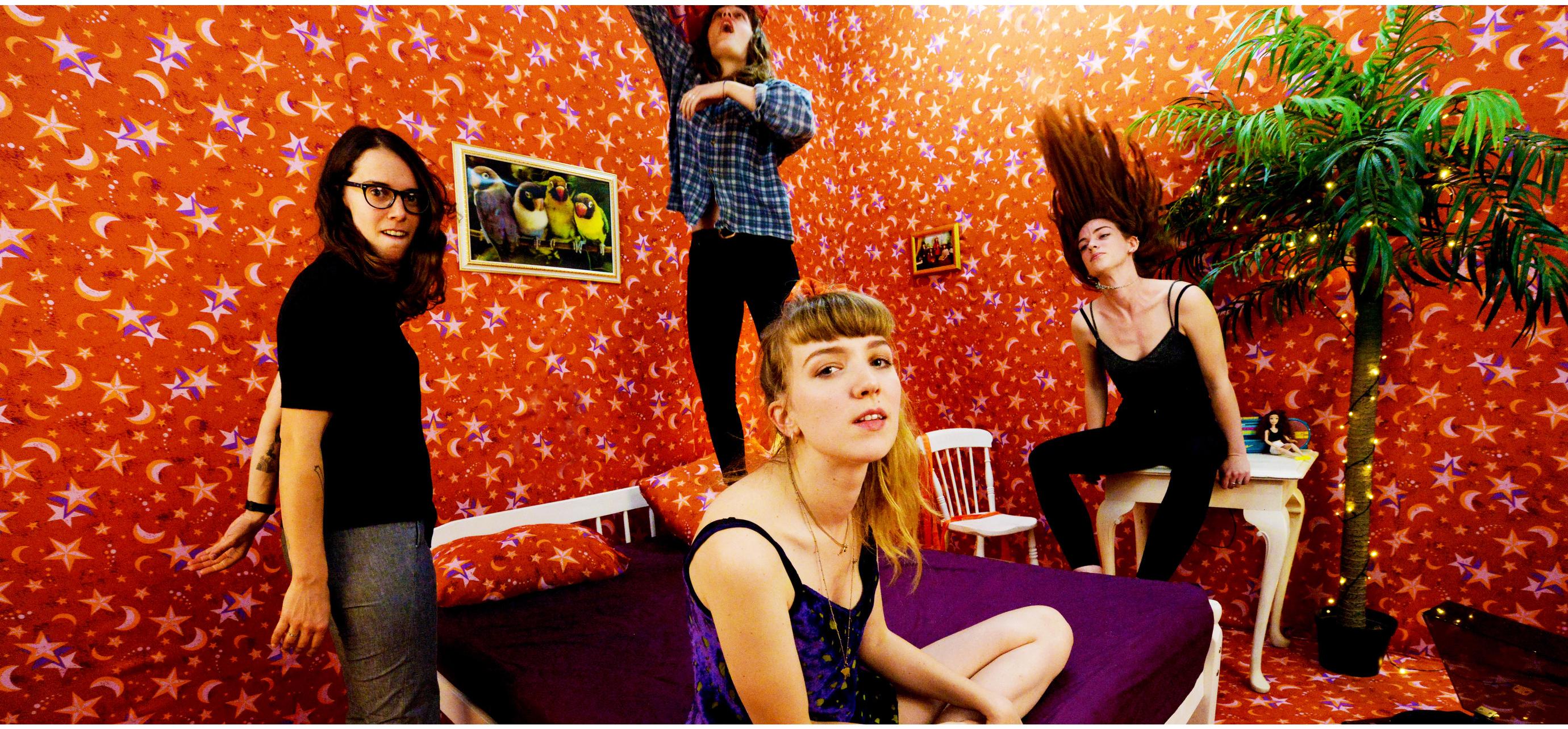 A CONVERSATION WITH THE BIG MOON
Atwood Magazine: You're currently on tour with The Japanese House in North America and on another interview you said that you were excited for this tour because it was going to be "unforgettable". Has it been unforgettable so far?
The Big Moon: (laughs) Yeah, I'd say so. We've never toured America before, so this is amazing for us, our first time doing all of this stuff. We'd been to New York before but not places like Washington DC, Philadelphia, and we're in Seattle now, which is pretty cool. And it's nice to be on tour, it's just the four of us and our manager Louise, so there's no crew or anything we're just driving ourselves around, it feels more like a holiday to be honest. Like a big road trip.
That's cool! How are the American audiences treating you?
The Big Moon: Very well! This tour has been good for us because a lot of The Japanese House's shows have been sold out and people have been coming early to the shows to see us which is really nice. We've been playing in cool rooms, and I feel like people are into it.
You've just been named one of Vevo's DSCVR artists of 2017, and have your debut album and a tour already lined up for that year. What are a few words you would use to describe the year that's to come for The Big Moon?
The Big Moon: Yeah, that's right. Oooh… Busy (laughs), crazy, probably. I don't know, this is like predicting the future, how would I know? Although I did, actually, buy a crystal ball in Toronto so maybe I'll look into that and see the future (laughs).
Yeah, do that and let me know! So kind of speaking of the supernatural, I think, your debut album is called Love in the 4th Dimension. Why did you choose this title?
The Big Moon: It's the name of one of the songs on the album, Love in the 4th Dimension, and it's about being so in love that you feel like you've gotten into another dimension or another kind of reality, you know? And being in another world. And it just seemed like a good title for the album because music can transport you to another world in the same way, and a lot of the songs are about love, and it just seemed very applicable.
I saw you live a few times on this tour and was always taken aback by your onstage chemistry is undeniable and so impressive. It looks like you were born to play together, though you haven't been a band for too long. What do you think made you all connect so well?
The Big Moon: Oh, thanks! I don't know! I think it's just like when you meet someone and you know you're going to be friends, you can't really explain what that is, you're just on the same wavelength. But very soon after we all met we knew that it was going to work out, just knew that we were all feeling the same things and make the same kind of music, and had the same energy to do all that.
And so do you think that this connection is the essence of The Big Moon and the reason why you're so successful?
The Big Moon: Yeah, definitely! I think being friends and having a good time onstage and enjoying playing music together is more important than how well you play your instrument (laughs). It's the whole passion and soul behind the music is half of it isn't it?
You also interact a lot with the crowd, you connect with your audience and I can speak from experience that it's great being a part of the receiving end of that. How important is your relationship with your fans for you?
The Big Moon: Oh, it's so important. We play a song called "Bonfire" and I recently decided to take off my guitar and just sing it as if I'm doing karaoke. And for the first time ever onstage I can lean down and look at people's eyes and shout at them (laughs). It's really nice to be that close to the audience.
At Baby's All Right I think you sang that at a father who was in the first row. It was so funny!
The Big Moon: Yeah! (laughs). But obviously the fans are the most important thing because that's who the show is for, it's for all of us together, isn't it? Playing live, you're there to be together and hear all the same music, and hear it really loud, and dance together and get sweaty all at the same time, and no one else in the world is doing that at the same time that you're doing it then, I think it's pretty exciting.
I think that's exactly the spirit behind gigs and music, and how special the how experience is. Is there a specific message you try to transmit to your fans through your music and live shows?
The Big Moon: Hmm… No, there's no specific message. The songs are all about real-life things and things that have happened to me, and it's me trying to articulate that is flipping around your brain in a really messy way and trying to boil it down to something that makes sense. And sometimes those things then make sense to other people too, and other people take songs to heart and that's really important, that music can really help you make sense of a lot. But we don't have a manifesto or anything, we just want to have fun!
"Formidable" is your latest single, and just yesterday you premiered the video for it. What's the story behind that song?
The Big Moon: "Formidable" is about being there for someone, helping someone who's having a hard time and saying "share it with me, I can help, let me soak it up, and I'll be strong because you can't be strong right now". It's about being there for people and looking after each other, something that I think we all need to do at the moment.
And the idea for the video, how did it come about?
The Big Moon: Hmm… Well our friend Louis Bhose who directed the video, he's done most of our videos and we love working with him, he was just like "You know what, let's do it in the van" because we'd been on tour for three months solidly and we had one day off, and we were like "let's make a video!" and where are we going to do it? "Let's do it in the van because that's all we've got!". But it actually turned into something really nice and I think it represents us as a band at the moment because that is what we're doing, we're driving around in the van all day and singing songs, and it's nice because it's a big serious, proper song and we didn't want to make a silly video with old gags in it – and a lot of our videos have been funny – but it just wouldn't have been appropriate in this case. So we just wanted to have a really good performance and something that backs up the music.
Speaking of funny videos: The Silent Movie Susie music video is very interesting. I was reading its comments on Youtube and one of them was: "What a depressing story for a toy meant for little girls! I love it. A+". So could you tell me a little about the story behind the video and the song and how they speak to each other?
The Big Moon: (laughs) The comments on that Youtube video are hilarious, I'd recommend that you read all of them. Most people just really love it but most people just find it really offensive, which I find really strange because I think it's really quite realistic. I mean, it can be slightly controversial, there is a little tiny plasticine dildo in it, but there are dildos everywhere in your life! We're surrounded by dildos! So for the people who don't like it, I just think "get a life". It drives me crazy when people do these things, like I recently put a picture of my bum on Instagram and nobody minded apart from my dad who sent me an email (laughs) he was like "Juliette, I can't believe you've put your bum on the internet! Is it too late to take it down?" and I was just like "Oh, shut up Dad it's just a bum".
An email! Such a dad thing!
The Big Moon: (laughs) I know! But yeah, that video – the Silent Movie Susie video – was also done by Louis and a brilliant team of people making those little sets, it looks amazing. We basically just sat around with him and talked about Susie and what would happen to her and all things that she could do. I love that video.
It's so funny. It's also nice because at the end, when she's finally happy, it's like the salvation comes at your gig.
The Big Moon: Yeah!
Your cover of Madonna's Beautiful Stranger is amazing. It's incredible how much of The Big Moon's fingerprint is all over the song, especially since you're covering someone like Madonna who's iconic already. Why did you choose to cover that song specifically?
The Big Moon: Oh, thanks! We play that because a couple of years ago, just when we started touring, I had an encounter with a beautiful stranger! I was at a festival in England and I was walking through the woods, and this guy was also walking through the woods, we didn't know each other at all and just looked at each other and made eye contact and started kissing! Like properly kissing. And then actually we ended up going out and he's still my boyfriend for two and a half years now. It's one of the most romantic things that has ever happened to me in my life, and it was ridiculous and amazing, so I obviously came home from the festival and was like "How can I include in my band?! I have to tell the world about my encounter!" and I just thought of that song and thought "That's it".
Listen: "Beautiful Stranger" – The Big Moon
Seeing you live and hearing your songs, all I can think about is girl power. Which makes sense, since you're an all-female band in a male-dominated industry. Is that a message you purposefully want to get across?
The Big Moon: I think it's a good message to get across, definitely. It's nice being onstage and doing well as women means that other women can believe that they can do it too, and that's great. But there is no agenda, I never really think of it as a big deal, we are just a band, just ourselves, there's no big "Ta da!!!!" thing. I think if you want to inspire people what you need to do is do what you're doing really well and not attach any gimmick to it.
You close off your EP, The Road, with a song called "Eureka Moment". What was your Eureka Moment?
The Big Moon: Ooh… Well that song is actually about saying goodbye to Eureka moments because you're too distracted to have a Eureka moment (laughs). But I guess our Eureka moment was probably when we released that song – that was the first single we ever put out and we put it online on Soundcloud and it got loads of attention and we started getting offered loads of gigs, and everything blew up after that. So our Eureka moment was probably "Eureka Moment".
On "Cupid" you talk about shooting the perfect bullseye. What does shooting the perfect bullseye mean for The Big Moon?
The Big Moon: Ooh… I think, to me anyway, I would just really hope that we have made an album that people can really love and take to their hearts and get as much out of as I did from albums that I've always love, you know? I just want to be part of that whole thing. I'm not explaining it very well (laughs) but just to make music that means something to people, it sounds so lame but it's true (laughs).
No, I mean, I guess it's everybody's goal - to reach and touch other people?
The Big Moon: Yeah. And making things worthwhile and making things easier for other people and also having fun.
— — — — —
cover photo: The Big Moon © Charlotte Patmore
The Road – The Big Moon
Watch: "The Road" – The Big Moon