"Yellow Jacket" offers a bold first step for newcomers moa moa, already cementing them as a powerhouse of a band through their tale of romantic envy.
Listen: "Yellow Jacket" – moa moa
---
In 2019, housemates Dan Byrne, Connor James, Matt Taylor, and James Ratcliffe shared a unified vision: a band whose sound is as unpredictable as it is intoxicating. The result is moa moa, and their first step into the music scene comes in the shape of "Yellow Jacket." The opening riff is deep and viscous, reminiscent of The Arctic Monkeys' AM or named influence Tame Impala. Whilst the guitars drip their distortion onto the tight, plodding drums, moa moa's vocals introduce us to half of a conversation that has already begun. It is immediately interesting.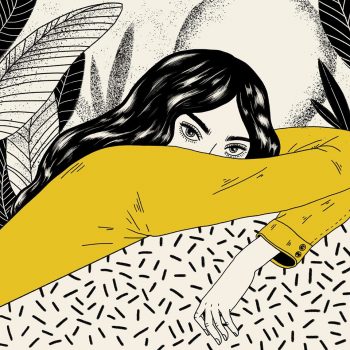 Songwriter and producer James Ratcliffe revealed that "Yellow Jacket" is a two-person tale of romantic envy. Indeed, the words of the first verse are suspicious and curt, and the murky melody further clouds his dialogue. The song is paranoid, a verbal game of cat and mouse played out against the discovery of a name on a phone which shouldn't be there. Truth and trust, one suspects, are lost somewhere in the thumping haze of the instrumentation.
Are those big, blue eyes
Only for me?
As if clearing the air, lofty electric organs see out the end of the verse, before the track is delightfully re-muddied by the directness of its signature guitar riff.
My yellow jacket looked better on you, when
Your heart still beated for me
Every now and then
In the second verse, the counterpart returns fire. Ratcliffe stated that the song describes an intentionally dysfunctional scene, and it shows. The lead vocals, Ratcliffe's own, are laced with doubt and drag over the interrogative lyrics in a manner that befits the fissured relationship. Amidst the alleged betrayal and failed affection, there is also a sense of one-upmanship, a petty insincerity which Ratcliffe and moa moa suggest is all too prevalent in emotional discourse.
Underneath the unerring guitars and drum beats, "Yellow Jacket" is a mature, sideways look at the clumsiness of failing romance. It is very deferential to its creative inspirations, but "Yellow Jacket" harbours lyrical nous and instrumental patience and showcases the promise that 2020 undoubtedly holds for moa moa. If yellow is supposedly the brightest, happiest colour, we can't wait to see what moa moa does with the rest of the rainbow.
Listen: "Yellow Jacket" – moa moa
— —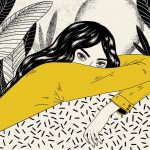 ? © 2020
:: Today's Song(s) ::
:: Stream moa moa ::