Rebecca Black reflects on turning "Friday" into a song for the 23-year-old artist.
Stream: "Friday (Remix)"-Rebecca Black
---
There have been 520 Fridays since Rebecca Black first released "Friday" on February 10, 2011, a viral song that she released when she was 13-years-old which catapulted her into the public consciousness. While the song initially received backlash, it's grown into something of a nostalgic relic of the early 2010's and a little bit of a meme.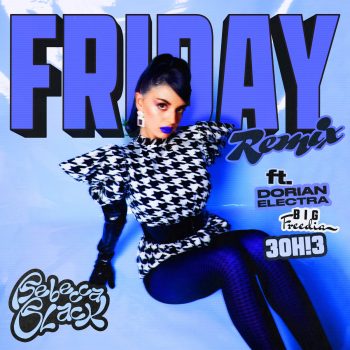 Seven a.m., waking up in the morning
Gotta be fresh, gotta go downstairs
Gotta have my bowl, gotta have cereal
Seein' everything, the time is goin'
Tickin' on and on, everybody's rushin'
Gotta get down to the bus stop
Gotta catch my bus, I see my friends
Kickin' in the front seat
Sittin' in the back seat
Gotta make my mind up
Which seat can I take?
Ten years later, Black has embraced the song that forced her into the limelight with an incredibly amped up remix of the song produced by 100gecs' Dylan Brady, featuring Dorian Electra, 3OH!3, and Big Freedia.
The remix features the original vocals, pitch-shifted to the heavens and a bouncy, flamboyant hyperpop instrumental taking listeners on a carnival ride from 2011 straight into the future. 
While the remix makes Black's original hit "fucking campier," as she put it to Atwood, the 23-year-old singer has been steadily releasing music for the past decade, most recently with her single "Girlfriend" in January. A straightforward, sugary, romantic pop song, Black shows that not only is she willing to push boundaries with off-the-wall remixes but can also excel as a pop star.
Both to celebrate the 10th anniversary of "Friday" and look to the future, Atwood spoke to Rebecca Black.
It's Friday, Friday
Gotta get down on Friday
Everybody's lookin' forward to the weekend, weekend
Friday, Friday
Gettin' down on Friday
Everybody's lookin' forward to the weekend
Partyin', partyin'
Partyin', partyin'
Fun, fun, fun, fun
Lookin' forward to the weekend
A CONVERSATION WITH REBECCA BLACK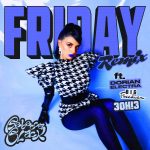 Atwood Magazine: You've looked back on "Friday" a few times throughout your career – as early as two years after it originally came out – how has your perception of the song changed from when it was first released and went viral to now?
Rebecca Black: It's been a road, and for a while, I think I was  just trying to run as far away as I could from the song out of insecurity of being only defined by it forever but through the years—especially the last couple years—I have done a lot of inner-work, as they say, and I think enough time has passed, and I've grown. The tone around "Friday" has really begun to shift over the past couple of years in the sense that it's not so much this like dark weird cloud that happened. It's more so this strangely nostalgic thing that we all remember, and some people still use on their Fridays to like celebrate at work or with their friends or whatever it is. I definitely feel a lot differently now and it just feels like a moment I couldn't not make the most of and just have fun with, honestly.
What do you hope people who haven't kept up with your career take away from the remix?
Rebecca Black: I think this remix is starting to reach a group of people that—yeah hasn't totally caught up with what I've been up to and that's okay. I hope for them that it gives them a little spark of joy, honestly, that it feels like we don't get too much of this year. It was really genuinely such a fun project to be a part of, and I wanted it to be as wild as it could possibly be: as crazy, as referential to meme culture as it could possibly be so hopefully people spot something that maybe they haven't thought of in a while and, [it] makes them smile. Whether they like the song or anything else, that's cool too, and I love that people love it, but even if it's not for them, I'm not so worried about that as much as I used to be. It's more that I'm just here doing my thing.
With the music video, there's an obvious subversion of the track's original child friendly intent, in what ways were you trying to alter the song's original meaning?
Rebecca Black: I think it was more so, how can we take this video that is so childlike because it was made for a 13-year-old at the time and make it for Rebecca Black now? I mean I'm 23. So, I hadn't touched a sip of alcohol at the time back then; I think I had one boyfriend. That was a relationship that was two days old, and I broke up with him, because I was too scared to even talk to him at school, whereas now, I'm someone who is learning how to embrace not only her own sexuality, but her sensuality – and I'm so proud to have Dorian on this track, who's an incredible queer artist and other artists too who are part of it: 3OH!3, Big Freedia, [and] Dylan from 100 Gecs. They're just all people who I really admire, and I really admire the statements that they make. I knew that Weston Allen, who directed the video, would be able to approach with the same kind of wild and fearless mindset of balancing between referencing what was then and turning it into this like crazy 2021 version.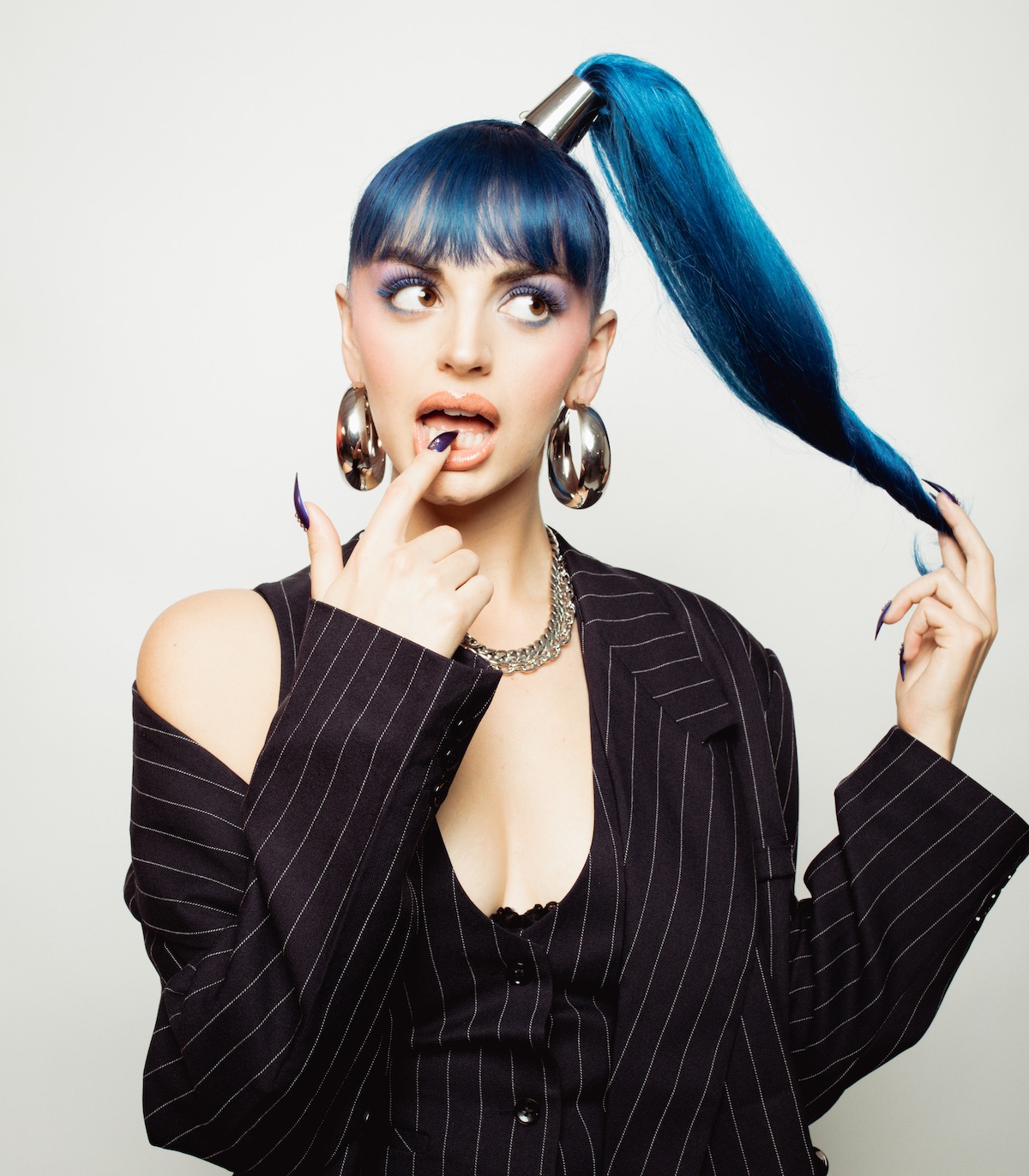 How did the collaboration with Dylan Brady from 100 gecs, 3OH!3, Big Freedia, and Dorian Electra for the remix come about? Did you have creative input? Had you re-recorded vocals?
Rebecca Black: The vocals are actually the originals, and I made it Dylan's choice if he wanted to use new vocals or old ones. I haven't talked about this yet anywhere, but I recorded new vocals, and then I also sent him the old ones, and I was like, "I want you to decide what will be best." So he went with the originals. I personally love it, because I love the way that—I mean the song is fucking campy, and this remix is fucking campier. So I wanted it to really feel like it could embrace that. I think that the even higher pitched, even more compressed vocals, just fit it perfectly.
It all came about by just reaching out to artists I love. I mean Dorian has become a dear friend of mine, and so has Nat from 3OH!3, we've worked together over the past year [or] year and a half, quite a bit. With Dylan—I mean—with so many people, the way that I meet them – same with Nat and Dorian – it's through a Twitter DM or an Instagram DM and just saying, "Hey, I don't know if you're gonna want to do this but here's a cool idea, thoughts?" Either people say yes, or they don't respond, and Dylan was super into it, and same goes with Freedia too. It came from everyone being stoked about this potential moment we could have together.
When "Friday" was released, there were a few singers that faced similar backlash – Jenna Rose comes to mind as the most notable contemporary, but it seemed like every few weeks there was "This is the next Friday" headlines. It seems like most of those singers have kind of faded. What do you think has been key to your staying power?
Rebecca Black: I don't know. I don't know their stories, and I don't know what has driven them, but I do know that I am here because I really love what I do, and I really believe in the same – I think – dream that I had when I was a little kid. While I didn't think that "Friday" would be the thing that got me that dream… It kind of was and [it] wasn't, I guess.  If I didn't love what I do, I wouldn't do this, and I wouldn't fight for myself in the way that I do. I don't know. I'd love to sit down, and have a conversation with any or all of these other kind of similar experiences people have had with with that.
I am here because I really love what I do, and I really believe in the same – I think – dream that I had when I was a little kid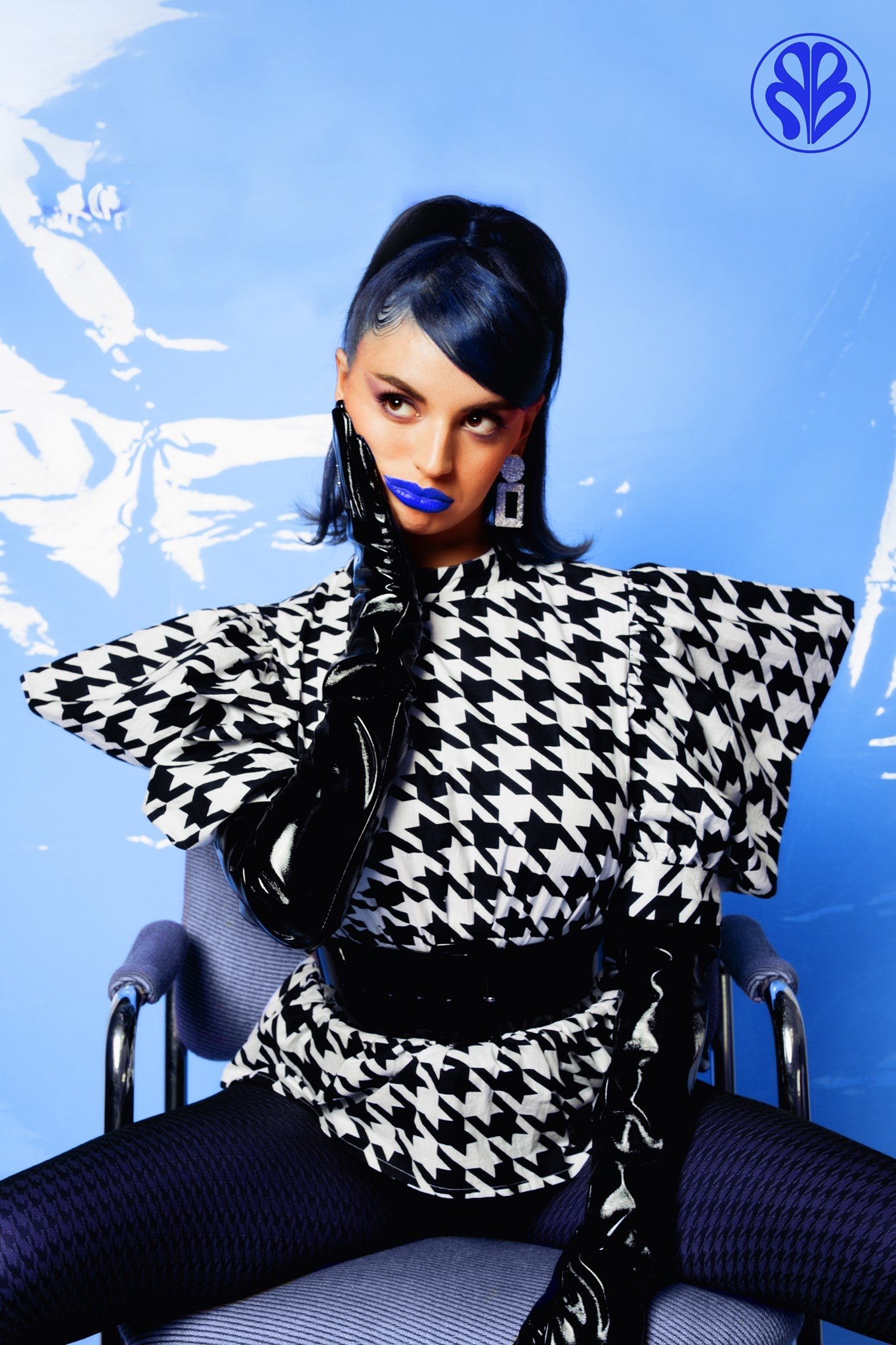 Can you tell me about writing "Girlfriend"?
Rebecca Black: I wrote it with Prince DCF, who's an incredible songwriter, and it was produced by Micah Jasper. We wrote it over Zoom in the summer of last year. It was one of those kinds of songs that was written literally as I was going through it. I think the only reason that I wrote about it was because it was the only thing that I could about on that day. [I] was like, "Oh my god. I can't believe I'm in this situation, and these are two people that are friends of mine in the session and so I just have to figure out what's going on."
So we put it quite bluntly in the song and it's become really important to me to make it a point to write music that isn't afraid to be super queer, or super gay, because as a queer person myself, I love having that music, because there's still not enough of it out there. I just hope that other queer people—and people in general—relate to it and resonate with it and it feels like some people have so it's really cool.
Was "Girlfriend" the first song you wrote after you came out last year?
Rebecca Black: Not the first song! I was writing furiously last year and have been over the past year, but as soon as it was written, it was very clear that it was going to be the first song that came out.
Is it important to you to release a song where you're more unapologetically yourself?
Rebecca Black: Yeah, because as you hear more and more of the new music, you're going to hear more and more she/her pronouns, You're going to hear more honest queer experiences and, I think, while this wasn't the only reason that "Girlfriend" was the first single, I wanted to make it quite clear what's going on here, and I'm not here to make a spectacle out of it. But, if you're looking for queer music, here you go. That was really important to me.
Told you I needed time, a little space
I packed up everything, all the stuff you left at my place
Moved back in with my mom, just had to get away
Tried to get used to it, waking up not seeing your face
I went out
Trying to forget about
Killed some time on the rebound
Where are you now?
'Cause nothing really feels like you
I'm getting back with my girlfriend
Ready to dive in the deep end
This time it's gonna be different
I'm getting back with my girlfriend
I'm gonna call her, drive on over
Wanna see her, wanna hold her
It hit me all of a sudden
I'm getting back with my girlfriend
You've spoken about having more outsider influences than standard pop fare, and it's made evident with the remix, but you've spoken about artists like Nine Inch Nails and 100gecs as influences. How do those influences come into play when writing a song like "Girlfriend?"
Rebecca Black: I mean I'm inspired by so many different things, and I think that that'll be quite evident in the music that continues to come out. You'll have a song like "Girlfriend" that is so sweet and poppy and pure in a way, which stems from a different set of influences I was feeling that day, or sometimes there's not necessarily a set influence in one specific session. I think you'll maybe hear more of the gecs-type, I guess—I don't even know if I want to call it that. I think you'll hear different references and different influences in each song, because I am truly inspired by so many different things. I think also, if I say I'm inspired by one particular artist that doesn't mean I'm necessarily going to make their music. There's just something about it, whether it's even just the essence of them that inspires me, rather than just a sonic influence if that makes sense.
@msrebeccablack

#duet with @spotify girl how'd u hack into the spotify acc @dorianelectraofficial @bigfreediaofficial @3oh3official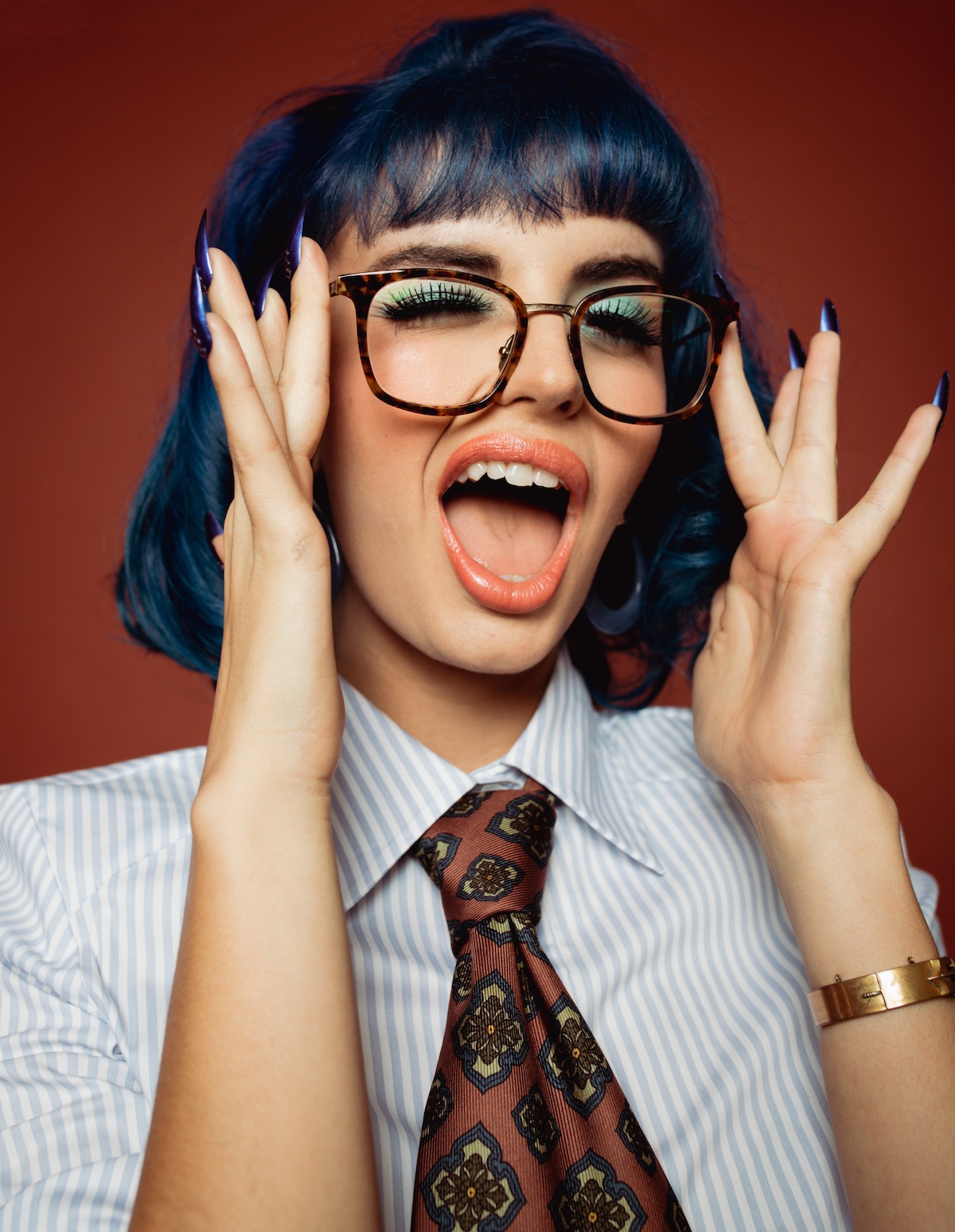 Besides music, you've been a YouTuber for years and more recently you've been making TikToks. Do you see yourself venturing into other avenues besides music?
Rebecca Black: Music is definitely the focus right now, and it's been the focus for me for a long time. I'm super aware that I have an audience that I've built through, through things like TikTok and back in the day when I was really using my YouTube platform. But the endgame has always been music, and now, I feel really confident about what I have to come, and I have a lot of material that's about to come. That's the stuff that I put all of my energy into. I love things like TikTok as a way to make the stupid jokes that I only think are funny and my audience will think is funny and go from there. It's me having fun on the internet like I would be if I didn't do what I do. But I'm always, I'm always open to what will come in the future, whether it's a totally different avenue where or anything else.
Do you have any plans for a full-length, EP, or larger release later this year?
Rebecca Black: Yeah, "Girlfriend" was the first single that's a part of a larger project that'll come in the summer. That is pretty for certain. As we get closer and more music comes, I'll keep talking about it a little bit more, but this is all part of something I've been working on for quite some time.
Can you hint at what people might be able to expect?
Rebecca Black: People will be surprised. You know, it's not just a project full of "Girlfriends." It's also not a project full of "Friday" remixes. I don't think the "Friday" remix is really even necessarily a part of it. It's something that I have really felt like I can take some risks on, but again, whilst also embracing being a pop artist. So I hope people hear a new sound maybe that they haven't heard before – not just from me but maybe in generally then.
— —
— — — —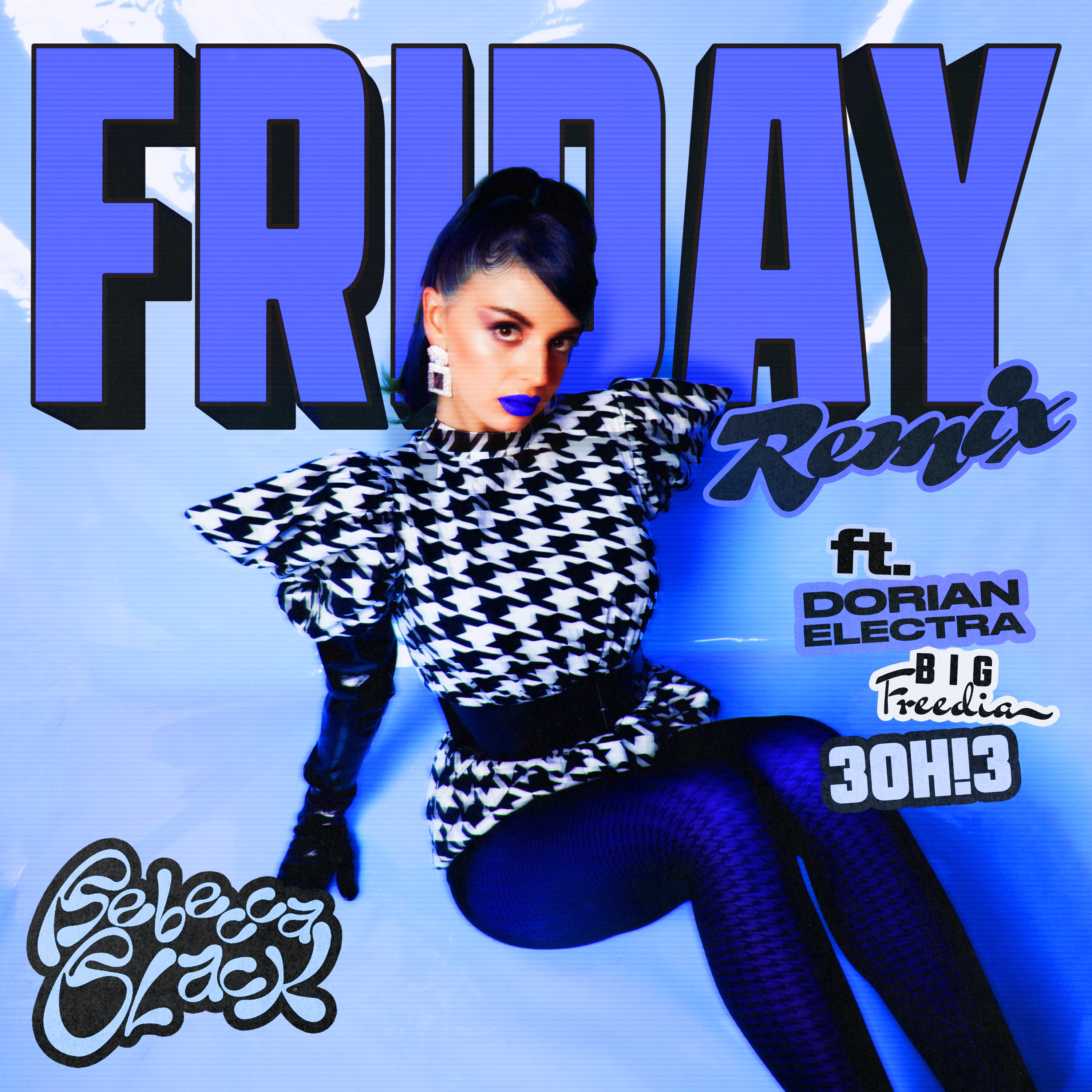 ? © Jade DeRose 
:: Rebecca Black ::
---