Recommended If You Like: Fleet Foxes, Simon & Garfunkel,
Warm, intimate guitar vibrations envelop our ears as Toronto singer/songwriter Dante Matas embarks upon his latest journey. Out June 2nd via Akashic Rekords, Matas' Midnight Sun EP opens in a powerful moment of nostalgia. "On the rock beach, down by the shore, I'll be seventeen again," he sings wistful on the introductory title track. "Like the reach of the summer before, life will never end." Diving into his dreams, Dante Matas offers a captivating escape from the everyday through thoughtful, introspective lyricism backed by an incredibly rich tapestry of acoustic guitar and piano.
When I'm used to the place I'm in
I think of things now overdue
But in the warm midnight sun as it breaks through
All will be renewed
Listen: Midnight Sun [EP] – Dante Matas
---
Atwood Magazine is proud to be premiering Dante Matas' Midnight Sun EP. The 24-year-old singer/songwriter is a natural poet bursting with creative energies, all of which he harnesses to their full potential on his new effort. Melodies and words, timbres and textures fuse together as Matas crafts an attractive and cohesive body of work. "Midnight Sun is about conflicts and resolutions between people," Matas notes. "It's about fully embracing one side of human emotion while trying to understand its opposite from that perspective. In other words, the songs that sound hopeless come from a place that's hopeful, and vice versa."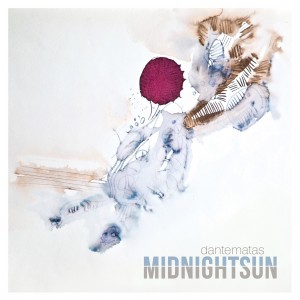 Midnight Sun opens with the hopeful "Midnight Sun" and closes with the nakedly profound "Daylight Moon." Matas' inspired observations bookend his record with deep philosophical thought, inviting us to contemplate the nature of our existence and our societal and individual outlooks on life, love, work, study, people, and more.
Why do we keep all these secrets
when the first thing we teach children
is that they don't have to be afraid?
Well it's no wonder so many of us
have trouble believing this world
we've made
I'm just a man with a temper.
I won't pretend to have an answer, but
I'm not gonna turn away
Much of Midnight Sun calls to mind the likes of Simon & Garfunkel and Fleet Foxes – smart acoustic music, if you will. Matas doesn't sugarcoat emotions, and he refuses to play dumb: His lyrics come in the form of provocative conversations and lengthy expositions. He's very aware of this strength, so much so that he pared down the EP from what was once a heavily instrumental soundtrack "overloaded with melodicas, glockenspiels, synths and bass ukuleles." Instead, the raw reverberations of guitar and an occasional piano allows Dante Matas, the thinker, the lyrical intellectual, to shine through.
Matas previously told idobi that the song "Every Other Conversation" is "a conversation between two people where neither person is really listening to the other. Both people think they know what is best for the other person and they act like they know them more than they know themselves."
I know that you didn't want it to show
But when nobody came to your aid
You felt betrayed
Clearly it's been anything but easy
When I suddenly get out of hand
I understand
But I'm not quite sure what you mean
Telling me I've released the guillotine
When you're the one
Talking up a storm and then some
It's a race to a red light
and we jumped the starting gun
I get ahead of myself,
you break into a run
It's a song for the midnight
and we're singing to the sun
But the favour of dawn, so it seems,
like a race to a red light, can't be won
Emotions come in the form of complex, yet forever relatable situations. Whether he's pondering old memories or playing a third party to familiar interactions, Dante Matas forces us to stop and listen. He weaves warm aural lullabyes on the guitar, and the hypnosis is such that we inevitably stop to hear the songwriter speak. Midnight Sun is as gorgeously vibrant as it is passionately reflective, finding Dante Matas emerging as an exceptional singer/songwriter with an immersive point-of-view and a genuine voice.
— — — —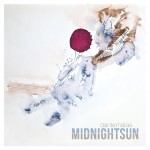 cover © 2017
:: Listen to More Dante Matas ::