It's the gayest time of the year again, and by that we mean Pride Month! A beautiful time all about celebrating the love, individuality and progress of the LGBTQ+ community. Queer artists have been making incredible strides within the music world, and we're jumping at the opportunity to highlight them in honor of Pride. Whether you want to shake your booty, cry a little, dance with a potential bae or just jump around to a great song, there's no shortage of musical options and we're here to humbly present our favorites. Without further ado, we present Atwood Magazine's Pride Playlist!
???????????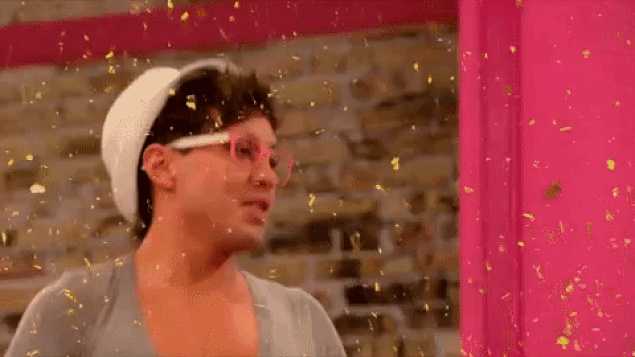 :: "Show Me" – SAKIMA ::
SAKIMA is the openly gay artist you didn't know you needed, and he's got the sexy, summer tunes you crave. A beacon for queer art since his earliest releases, he continues to make music that is completely and unapologetically gay. His latest single is a shimmering, sweet anthem about those intimate, exciting moments of body language and sexual tension.
---
:: "Come Over" – The Internet ::
One of my personal favorite releases so far this year, "Come Over" showcases everything we love about The Internet. From the honest, relatable songwriting to the undeniably groovy bass and guitar solos, it's the whole package. Swoon over your crush to the track, and maybe work up the courage to ask them if you can come over. Oh and did we mention Syd directed the absolutely killer and refreshingly fun video?
---
:: "Make Me Feel" – Janelle Monáe ::
Vibrant, punchy, Prince-inspired. Janelle Monáe's anthem to having all the feels is just what we need bumping at our Pride parties while we make eyes across the dance floor. Get that booty moving and find your bae, cause this cut is ready for action.
---
:: "Tongue" – MNEK ::
With powerhouse vocals and addictive club beats, MNEK tries to keep his feelings to himself in "Tongue." His razor sharp delivery is seductive, while the video is a celebration of queer love and dance that's hard to tear your eyes from. And why would you want to? We wanna be at that dinner party.
---
:: "Girlfriend" – Christine and the Queens ::
Christine and the Queens brings her tantalizing, slightly melancholic energy to her latest single, the subdued but terribly funky 80's-esque jam "Girlfriend." It's a commentary on the image of the "macho man," portrayed by a feminine figure, and it shows all the boundary pushing and gender norm questioning we love from Christine.
---
:: "1950" – King Princess ::
Delicate and heartbreakingly sweet, King Princess paints a picture of taboo love in "1950." Through religious symbolism and parallels drawn between unrequited love and hidden queer relationships, it's a track that's as nuanced as it is lovable. More than anything, it's a song that'll have you seriously craving some cozy cuddles and sweet kisses. 
---
:: "If You're Over Me" – Years & Years ::
Tired of a hot and cold relationship, Olly Alexander from Years & Years sings his silky falsetto over a light, poppy beat perfect for a sunny morning. If you're single for the summer and not about to be mad about it, this is the tune for you. Plus, it's video is shiny, shimmering and absolutely mesmerizing in a glitzy, sci-fi way. 
---
:: "Playinwitme" feat. Kehlani – KYLE ::
We affectionately refer to KYLE as the happiest boy in hip-hop, and we love him for it. His latest single features one of our queer favorites, Kehlani, singing a coy verse aimed at the girl flirting indecisively her way. The whole track is bright, fun, and just what you need to help you ask your crush if they're ready for a summer fling.
---
:: "Bloom" – Troye Sivan ::
Take a trip into Troye Sivan's garden with "Bloom." The track is alluring, confident and sexy, portraying a portrait of young and euphoric love. We can't wait to see what Troye has in store for the rest of his upcoming album, but we'll be dancing to "Bloom" all summer long and swooning over his color splashed video for who knows how long. 
---
:: "Flowers and Rope" – Princess Nokia ::
Princess Nokia's emo-inspired EP came out of left field when it was released earlier this year, but we can't help but love the throwback feels and its imaginative packaging. Flowers and Rope is a song you'd expect to hear on the radio in 2007, and we totally dig it. While this might not be the track to play when you're holding the party AUX, it's definitely an after party cut or a solo listen while you're getting ready to hit the town.
— —