Baltimore quartet Future Islands, down drummer Mike Lowry, didn't disappoint in a hyped afternoon festival set at Governors Ball 2021.
by guest writer Beau Hayhoe
•• •• •• ••
"Seasons (Waiting on You)" [live] – Future Islands
---
For a band as road-tested as Future Islands, hitting the stage to the tune of well over 1,000 shows across the past decade-plus, 2020 was a highly unusual year. The Baltimore post-wave, synth pop band played just one show, a virtual outing (sans crowd) to celebrate the release of 2020's As Long As You Are.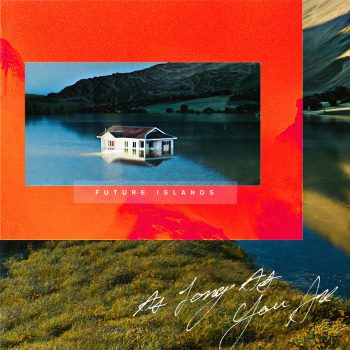 As passionate as that virtual show was, even through a laptop screen, the true Future Islands experience isn't complete without a lot of sweat and some tears of joy in a packed crowd. If you've missed live music and being onstage as much as high-energy, high-intensity frontman Sam Herring, you were in for a real treat on Friday afternoon at the 2021 Governors Ball Music Festival at Citi Field in Queens.
It was a return to form for both the road warrior band and the festival itself, debuting for the first time with a round, multi-stage set-up in the Astroturf-covered lots outside the home of the New York Mets. You'd be forgiven if you called Future Islands' nicely timed set (the opportune 5:30 p.m. "happy hour" slot on the festival's Honda Stage) a true home run.
This writer was especially curious how the hour-long set would go off without drummer Mike Lowry, a fixture of the band's live shows and now a permanent member as of last year. Lowry tested positive for the coronavirus late the week prior to the festival, remaining in Chicago as the band moved on through its "Calling Out In Space" Tour.
To say replacement Matt Ricchini (a Philly musician and the band's sound engineer) delivered in a true pinch-hit situation is an understatement, and he'll carry on with the band until Lowry can rejoin. It's a testament to the staying power and consistency of Future Islands that there wasn't a dropped beat in the set, which spanned fan favorites old and new.
Right from the get-go (the lead-off hitter, so to speak) Future Islands delivered a statement with the jumpstart that is "For Sure," the jaunty and breezy lead single off As Long As You Are. It was punctuated by Herring's fist pumps and the refrain "I will never keep you from an open door," and "I will never keep you from just who you are." It's empowering and optimistic, both emotions we could use a bit more of these days.
If there's a song that's the true mission statement of this band though, a group that's been around in some form since the early 2000s, it's the bittersweet "Beauty of the Road" (off 2017's epic The Far Field). It sounds just as resonant in front of a packed 2021 festival crowd as it did when this writer saw the band in New York City on Valentine's Day 2017 of all days; at that packed Bowery Ballroom show, Herring recalled the band's first-ever concert in 2006, and that's the kind of moment that sticks with you for a long time.
If you're looking for a brief respite or a chance to catch your breath, Future Islands shows don't exactly provide much time to recover. After a year and change without live music, it's actually a welcome change of pace.
As Long As You Are highlight "Plastic Beach," as it turns out, was also a huge highlight of the set as the band dove in.
---
If you had the chance to catch the group on a 2019 East Coast mini-tour, perhaps you were fortunate enough to hear it then. Consider it road-tested to perfection now, and a standout moment at Governors Ball.
It's a deeply personal track that, as Herring told a Massachusetts crowd in 2019, "is about learning to love yourself no matter what you believe you did, no matter who you believe you are," loving yourself for, fittingly enough, "the first thing you are."
That "Plastic Beach" led into exceptional and just-released August 2021 standalone track "Peach" is a further sign that Future Islands can craft a setlist, and they're not content to simply rest on laurels. The best Future Islands tracks balance a kind of quiet sadness with optimism, reflection and hope for the future: "Peach" is all of these things at once, buoyed by a rich, warm bass line from William Cashion.
"Waking," from As Long As You Are, fits that same mold, a recipe for success that never gets old in the world of Future Islands. On stage, Herring often seems to be looking to the sky, or out into the crowd or the middle distance, for answers — it's enough to make you wonder what he sees out there, and how you might gain a similar perspective.
If you listen closely though, answers are always close at hand with Future Islands.
Herring's energy is enough to make you beat your chest in time with the frontman himself, especially with his passionate delivery in "Waking": "To be yourself/To see yourself/To see the world is to wake brand new."
There's a Future Islands song for every era of your life, if only you answer the knock at the door.
The trio of songs following that underrated number were all nostalgia, all the time and in the best way possible, from 2014 standout "A Dream of You and Me" to the relentlessly energetic "Long Flight" (captured in its glory on YouTube by a devoted fan).
---
In between, Herring took time to dedicate "Balance," a decade-old throwback and fan favorite from 2011's On the Water, to "anyone who's going through a hard time out there." The adage "You can change your life/It just takes time/A little trust and your time" is perhaps more relevant now than ever.
Slingshotting back to the present day and another tour-ready track from As Long As You Are, things got ever-so-slightly heavier with the throbbing intensity of "The Painter," another sign that the Baltimore band isn't done mixing things up yet.
To keep you lively and light on your feet, Herring and co. have just what you need, following that track up with the sprightly "Ancient Water," another live staple from the sweeping story that is The Far Field. 
A restlessness, or perhaps a desire to keep the set from ending, always tends to sweep the crowd as you count the tracks and fill in the blanks, whether you've seen the band in Portland, Brooklyn or somewhere in between.
That means one thing at a Future Islands show: It must be time for the iconic 2014 gamechanger "Seasons (Waiting On You)" — if you mention the band to a casual listener, this track (for better or worse) very well might be the one that rings a bell.
It's all thanks to a soul-stirring, fun-as-can-be, Herring-led 2014 appearance on The Late Show with David Letterman, the kind of viral moment that indie bands just don't quite get anymore. The song remains as energetic and vibrant as ever, with an instantly recognizable opening that gave way to pandemonium in the crowd.
But Future Islands have always been so much more than "Seasons," and they followed up that smash hit with another crowd-pleasing song that drew at least as big of a reaction down in front.
You could make the case that 2010's In Evening Air, especially the zigzag, frenetic energy of "Tin Man," represents some of the band's strongest work, and that's particularly clear in a live setting. Herring's voice drops to a deep growl and he covers as much stage in just a few steps as any lead singer in the business.
---
Trying to keep up with him is a workout all its own. The power and passion of this veteran indie band doesn't let up from there.
Future Islands shows are all the better if you give yourself over to the music: Those moments when you look skyward, or close your eyes in quiet reverie, and feel the chaos and the swirl around you, if only briefly, before rejoining the fray.
"Vireo's Eye," long a closer at the band's headlining shows, sounds the way heartbreak feels, in an intensely memorable and acute way. It's a song that also has the power to rouse you and lift you up off the ground.
Feel the sweat on your brow, beat your chest, sing along with Sam Herring, because there's nothing quite like this deeply meaningful number. Words just aren't enough.
It's a wonder by this point in the show that the band, or its oft-rabid fans, have anything left in the tank. Heart-wrenching ballad "Little Dreamer," then, is an ideal closer for a show that's both a marathon and a sprint.
It reminds this writer of a fall 2017 Future Islands show in Brooklyn. Herring told the crowd the song dates back to when, at the age of 23, he thought he "had it all figured out." Herring and co. just get it. Life makes a lot more sense when viewed through the perspective of some of your favorite songs, right?
As far as that perspective is concerned, it's a song that rewards active listening: Don't head for the next stage just yet. Stay awhile and let the magic of Future Islands do its work.
Future Islands at Governors Ball represents everything that live music needs in its return: Emotion, passion, ambition, perhaps a cold happy hour beer and naturally, lots of sweat and tears of joy.
If you've never seen the band live, I guess you just had to be there: It's everything.
•• ••
Beau Hayhoe is a Brooklyn-based writer covering music, menswear, whiskey, craft beer and more. His writing has appeared at sites like Esquire, Maxim, InsideHook and The Line of Best Fit. His favorite band is The National. When not writing, he can be found enjoying a Brooklyn beer or poring over crate after crate of vinyl records.
— — — —
? © Beau Hayhoe
:: Stream Future Islands ::
---