Heartwarming indie rock comes to life with feverish energy and stirring emotion on Mumble Tide's debut mini-album 'Everything Ugly,' a record of intimacy, release, and inner reckoning.
Stream: "Sucker" – Mumble Tide
---
Isn't it nice how we love, despite everything ugly?
Expansive and insular, radiant and raw, Mumble Tide's debut mini-album is a beautiful upheaval ready to be our winter wonder. Heartwarming indie rock comes to life with feverish energy and stirring emotion on Everything Ugly, a record of intimacy, release, and inner reckoning.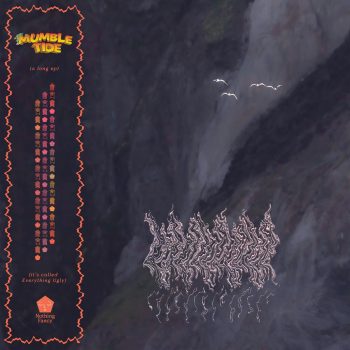 not sure I really wanna know
what you're scheming
you'd never really go out of your way
to see me in the flesh and
I bet I could kill another night
with the light from the screen
waiting for the four
not sure I really wanna know
what I'm leaving alone
always take another look
as if it's gonna grow…
but the dark is always lit up by your darkness
somehow I never hardened
on paper I'm a damn fool
Released December 9, 2021 via Nothing Fancy Records, Everything Ugly is as breathtaking as it is emotionally freeing. Mumble Tide's eight-track "mini-album" (clocking in at 29 minutes) is an evocative introduction to the Bristol-based duo-come-couple of Gina Leonard and Ryan Rogers, whose dazzling alternative rock-meets-pop sound has previously been compared to such artists as Maggie Rogers, Tennis, Wy, and Alaska Reid. Entirely DIY from their videos to the artwork, Mumble Tide are a world unto themselves – and their album, a tapestry in and of itself, showcases the band's many sides in a way that is both sweeping, and cohesive.
"This year was all about Mumble Tide taking the centre stage for us," Gina Leonard tells Atwood Magazine. "It had been the side project for a while, but we felt it was time to wheel it into the spotlight. We wanted to explore all the sides of Mumble Tide we could without any rules or boxes. I guess the vision was blurry, but the lack of edges was good for us. Making music is our favourite thing and we work really hard at it, but we also try not to take ourselves too seriously, which I hope comes across. Production wise, we hope it showcases how we're not afraid to stray into a bunch of genres. Nothing is out of bounds – it's all a bit wonky."
Making this album reminded us why we make music: The release and freedom we felt making it was really needed and helped us get some shit out of our systems.
Describing the record as "scrappy, honest, and frustrated," Leonard can't help but focus on the idea of release – a theme that comes in many shapes and forms throughout Everything Ugly. "I think every song lyrically expresses things I've not been able to say out loud or understand," she says. "I think both of us have felt very frustrated and disappointed by previous relationships, both romantically and professionally… This set of songs provided somewhere safe to set the ugly feelings free to swim like those weird fish at the bottom of the sea with too many eyes."
I'm not one for a face off
I'd rather run away intact, tatters
The twitches are getting
to the mirror's gonna shatter
The cliché pieces will break up
the picture never looked the same
on your eyelids
I'm sorry we're so intertwined
but isn't, isn't it nice
how we love, how we love despite
everything ugly
– "Everything Ugly," Mumble Tide
---
The album's title, taken from the song of the same name, is a cheeky and knowing nod to the record's process, as well as the tangle of emotions housed within. "'Everything Ugly' was the last song we wrote that went on the record and is probably the happiest sounding," Leonard explains. "It's about acceptance and resolution and finding the treasure in the trash. We felt it was a fitting title for the record as we just threw everything at the wall and some of it's a bit of a mess."
It turns out that messes can be quite beautiful: In the case of Mumble Tide's music, emotional disarray shines with alluring honesty, light, vulnerability, and unbridled abandon.
From the album's glistening, hypnotically churning opener "Good 4 Me" and the rip-roaring lead single "Sucker" (lovingly described by the band as a "big noisy casserole"), to the bittersweet confessional "Too Far Back," the heart-on-sleeve title track, and the wondrous and groovy finale, Everything Ugly tethers us not only to a world of kaleidoscopic sounds, but also one of vivid and visceral emotion.
Atwood Magazine previously praised the album closer, "On My Deathbed There's a Full Page (You Don't Get To Read It)," for bringing "a moment of emotional depth and self-empowerment to life in song"; in truth, that's much of what Mumble Tide have achieved eight times over on this record.
I know they aren't impressed not yet
I try so hard to prove I'm right
It's gonna work I'll make some money
They won't worry about my wasted time
To tell the truth the walls are always listening in
Art is meant to offend you
but I'll keep it sweet like cinnamon
Oh it always feels like there's something better
Am I too far back now, can't expect to catch up to it
Oh and it always feels like I should have got there somehow by now
I'm still walking around like I've got time to lose
How are you meant to ask yourself what kind of love is this?
When we're living in an apocalypse
I've got a license if nothing to big it up
when I'm shrunk and sunken in
– "Too Far Back," Mumble Tide
---
Both band members agree on their own shared personal favorite. "We both love 'Noodle,'" Leonard smiles. "It was such a fun track to make and it was just easy… it fell together really quickly. Also, I'm enjoying the fact my neck is finally receiving the attention it deserves." For context, the lyrics to this high-octane (and deceptively vulnerable) song read, "You joke my neck is long like a noodle, I can't get my head around much, I'm just tryna keep it up."
It's just one of the many highlights that ensure audiences will be coming back to Everything Ugly for months to come: As principal lyricist, Leonard also cites the chorus of the lilting, gentle acoustic track, "Bulls Eye" (which feels like a stark, deep sigh of relief when contrast against the album's previous track, "Noodle"): 'Those feathers in the grass didn't just fall out of the sky'.
"I guess feathers are often used in the context of freedom or prettiness and delicacy, but when I saw a bunch of feathers in the garden where a bird had been killed, I found the image was fitting for how I was feeling about ending a complicated relationship," Leonard says.
Whether they're singing their hearts out over heavy, unrelenting electric guitar strums, or singing sweetly against softer backdrops, Mumble Tide succeed at capturing our ears and our hearts.
Everything Ugly is a cathartic breath of fresh feelings dressed in impassioned sound. It's the calm before the storm, the storm, and the aftermath all at once.
"I hope listeners can feel some of that release we felt thrashing and yelping in our little home studio," Leonard shares. "We just enjoyed making it so much and sharing it has been so rewarding. It's reassured us that we don't need loads of money, fancy gear or massive teams of people to make music and get it out there – it was just us, furby and our small (but amazing) label Nothing Fancy Records."
Experience the full record via our below stream, and peek inside Mumble Tide's Everything Ugly with Atwood Magazine as the duo take us track-by-track through the music and lyrics of their mini-album!
— —
Stream: 'Everything Ugly' – Mumble Tide
:: Inside Everything Ugly ::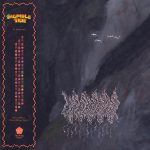 — —
Good 4 Me
This one's about guilt/going around in circles and a longing for excitement and the city. The lines in the chorus are broken up so the second and fourth line link up to ask if I can blame it on 'another organ' -something other than my heart… something less confusing.
Sucker
This one is just a super fun track we threw together. It's about feeling confident and free and moving on (or at least trying to). It's about throwing the baggage off your shoulders and strutting away…but also accepting that it's not that easy.
Breakfast
I'm bad at conflict. There has been a lot of fall out for us over the last year or so…bands and management teams falling apart, friendships strained and just a lot of stress, pressure and accusations thrown about. This song helped when I was feeling pretty caught up in it all.
Too Far Back
This one was inspired by the daily aimless walks around the same old fields, living back with my parents feeling like a useless pent-up kid. We wrote it during that bleak mid-winter lockdown and everything was grey and muddy. It's about stagnation and doubt but also about resignation.
'The ghosts are free to haunt the trees
are full of nests the birds left along time ago
I crack like bones still here'
Everything Ugly
Even though it's easy to get caught up in the struggle, there's always a good side too. Lyrically 'Everything Ugly' is definitely the cheesiest track on the record but we've got lots of crackers too so it's ok.
Noodle
This one's about Gina's neck…. but also self-doubt… 'You joke my neck is long like a noodle, I can't get my head around much, I'm just tryna keep it up'
Bulls Eye
This one's the most stripped back on the album. It's about acceptance and letting go of things that you've carried with you for a long time and how it takes an active effort to sever ties.
On My Deathbed There's a Full Page (You Don't Get to Read It)
It's mad what you can believe if you want something to be true. This one's about acknowledging that I'm an eegit for still thinking back like I do, over analyzing past relationships… and that maybe I don't actually want to go over it anymore. It's possibly the most uplifting track on the record, it feels like the moment you turn a corner and find a gap in the clouds.
— —
— — — —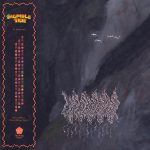 ? © 2021
:: Stream Mumble Tide ::
---