Newspoke create a deeply emotional Americana album with their debut, Faces.
— —
No one's about to start arguing that the line between fan and friend is eternally blurred. There are plenty of artists whose music we can take or leave, but they seem like good enough people in interviews or on a social media account, and we become a fan of that person, regardless of if we like the music. If we already like an artist's music, a great interview subject or Twitter-presence can make us like an artist even more. That's part of what makes Newspoke so intriguing. The New York duo's debut album Faces is packed with so much personality and is such a great album that it's shocking that the band chooses to remain anonymous.
Listen: 'Faces' – Newspoke
---
Atwood Magazine is proud to be premiering Newspoke's "Best" music video along with their debut album Faces, independently out 3/2/2018 (mixed/mastered by Larry Crane – Elliott Smith, Sleater-Kinney, The Decemberists). The most striking thing about Newspoke's anonymous demeanor is how life-affirming their music is. When it comes to artists that utilize anomaly to generate mystique, there's usually a cold, robotic feeling to them, but that's nowhere near the case for Newspoke. Their vocalist's punky yelp narrates soulful Americana. It's strange to not have the name of a songwriter to attribute these to, because every song sounds intensely personal. All we have to attribute the music and lyrics to are M and R. Whether it's the impassioned, harmonica-driving "Judas Tree" or the radio-rock of "Heather," these songs are like amping up the most popular folk songs of the past decade with a touch of Tom Waits.
What's most striking about this album are the intensely personal lyrics. From the Newspoke vocalist's delivery alone, the listener can tell that this is a record about pain, but taking the dive into his lyrics show an incredibly difficult passage in M's life. At the end of "Best," their vocalist sings: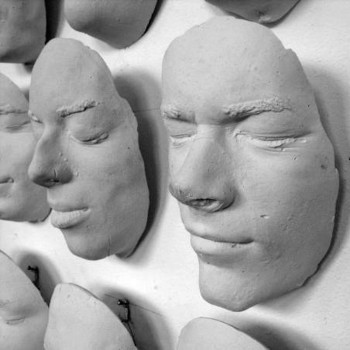 I wrote a letter, a draft and an autograph
To spark her mind before she turned her fitted back,
She sent a little eye, she kept on the light,
I guess that keeps open to keep up the fight.
Heartache comes up a number of times throughout Faces. Whether it's the catchy recent let-down of a fresh wound on "Heather" or the confusion on "Family Tree," M has a deep understanding of relationships ending.
Illness and death are the other major themes that poke their heads out most viciously on Faces. "Judas Tree" is about visiting someone terminally ill, and "I Apologize for Dying on Your Shoes" sees the vocalist narrating as the recently deceased. Even though "Dying on Your Shoes" is delivered in a rather jovial tone, it's perhaps the most grim on the album. M writes,
Tell me there's a reason,
I ain't got no pulse.
And tell me there's a reason,
Why anyone can go.
My party may be over,
But I still got a soul.
When your parties over,
There's no one at the show.
Well I got a reason,
To knock over that stone,
Got my eyes focused,
No beams, only on hope.
You close your pretty lids,
On the way to work.
Delivering your darkness,
To your mental stork.
Even though "Best" is delivered with an impassioned yelp, with the repeated phrase "I did my best," it does resonate as one of the album's most positive. It's perhaps the song that marries both heartache and death the easiest, and the unifying chorus of "I did my best" does show some positivity, making the simplistic smiley face video really work well. Newspoke said this of the video:
It's a conversation between an exhausted, beaten down boy and his Dad. The video is created by Director / Animator Dom Bloink who continues to be the visual peanut butter to our jelly.
Watch: "Best" – Newspoke
---
Newspoke's Faces is such a great record, that it's a shame the duo is anonymous. It's so intensely personal that you want to meet the people who made it. Newspoke said this about the album:
It's a collection of stories about people. "Faces" is just a cooler way to describe the collection than calling the album "People".
On the surface, the album appears to be about heartbreak, illness, and loneliness, but it's actually about redemption, fighting back and laughing it off. Our goal with this thing was to create melodic songs outside a typical pop construct. They always had to be grounded in real, live instruments – acoustic guitar, piano, drums – before adding any other synthetic, production or digital elements. More importantly, we never felt a need to create a verse chorus verse construct. If it happened, then happened. This is the beauty of the non-major label world of musical possibilities out there for bands like us. We had some brilliant musicians join for segments, large and small, and we will be forever grateful to create this snapshot together. This thing was a true journey over many cities, years, stories and faces.
Whoever these folks are, someone needs to tell them that they made a great, emotional record. Perhaps this amount of catharsis only exists due to the anonymity, and hopefully plenty of people can get a similar release from Faces.
— —
— — — —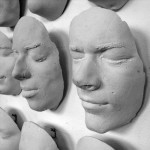 ? © Gabby Bullen
:: Stream Newspoke ::