Newcomer Isaac Stuart stuns in "Place for You in My Heart," his second single about love, loss and the ever-growing beauty of finding peace in one's grief.
Stream: "Place for You in My Heart" – Isaac Stuart
---
Clash Magazine described his music as "the start of something special", Chris Evans from The Chris Evans Breakfast Show titled him as "not one to watch, he's THE one to watch," and Wonderland Magazine described him as "one of the UK's hottest emerging talents."
Isaac Stuart, a British singer/songwriter who already stole our hearts with his debut single "Do you like it when we lay like this?" is now back with his second single "Place for You in My Heart." Despite the pandemic, 2020 was a hugely successful year for the newcomer, since his first single, which he released last October, already acquired over 200,000 streams, and he gathered commercial and BBC National radio support, which included National Radio playlisting. Even though live shows remain currently on hold, Stuart performed in an empty Wembley Arena and played live on the Chris Evans Breakfast Show.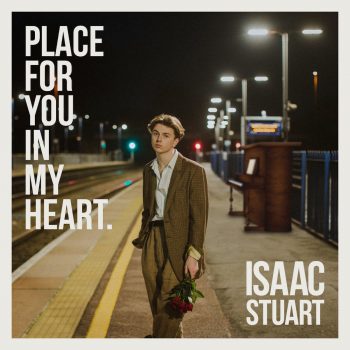 "Place For You in My Heart," premiering today on Atwood Magazine, is a beautiful farewell piano ballad, finding its way straight from the ear to the hearts of his listeners.
The track hits right in the feelings from the first second. When the melancholic piano in combination with Stuart's heart-warming voice sets in, it sets the tone for the rest of the song. As the title suggests, "Place For You in My Heart" is rather a beautiful farewell ballad to a gone by relationship, than an upsetting break up song. Even though there might be fury in someone's veins after losing someone who was so dear to them, there will be peace one day. The worst thing after a breakup is finding yourself in situations, where someone else used to be by your side, like in the first verse of the song:
settle down don't worry now
as I rest my head on my pillow
soft and light we'll say goodnight
when the sun surrenders
Staring at the ceiling, the thoughts are creeping in, from missing over grieving to simply accepting the fact that some bonds are not sustaining the meaning of the magical word "forever":
but how things change even though
I know we people don't just stay the same
surely there's a point when we stop making the same mistakes
Lovers change. Either alongside each other, being able to see each other's growth, getting to know every possible version of the other person, or they change into different directions, becoming different than who they used to be and who they have initially fallen for.
The chorus is a beautiful metaphor about finding the peace of mind one might be longing for after such a loss when their own troubled emotions are giving them nothing but sadness and pain:
one day we will find a peaceful state of mind
down the broken pavement under streetlights, we will walk
they'll be times when we forget the places
times when we won't talk but
even when there's thunder
in time the clouds will part
you know there will always be a place for you in my heart
The start of the chorus is a poetic metaphor, visualising with words, how one can even heal despite having the body's centre, the heart, broken. Healing is a journey that one goes slowly, just like walking down the broken pavement under the streetlights in the middle of the night. Life moves on, and under one's brokenness, it is easy to forget that what left oneself in a state of pain, used to the biggest luck for oneself before. Facing the truth can be a hard thing to do, and sometimes, you just wish nothing more than leaving that person in a chapter behind you.
in the night what do I do
when I miss the feeling of being next to you
easy now don't put me down
leave me like an old decoration
The background vocals set in at the crucial point of the verse, embedding the void that oneself can feel after a breakup. Sometimes it feels like former bonds could be ignored like an old decoration, standing in the corner, only waiting for the dust to settle on them. In this modern-day and age, it is beyond tempting to simply delete someone, whether that was a former lover or a former friend out of one's life, rather than giving oneself the time and space to find peace with one's emotions.
Then, just after the chorus is repeated for one last time, the background vocals go quiet, the piano goes slower, and Isaac Stuart's voice goes straight into one's heart, healing all the broken parts.
"Place For You In My Heart is my farewell letter to love…" Stuart explains. "I needed to find the light at the end of the tunnel and though it feels like a love song, at heart it's really about finding comfort in saying goodbye. It's me looking back at my first relationship with fondness and wonder but at the same letting it go…"
In premiering his demo song "Camden Town" last August, Atwood Magazine praised Isaac Stuart as graceful, optimistic romantic with golden vocals and "a talent for storytelling and emotional expression." With his official sophomore single "Place For You In My Heart," Stuart is providing us with what most of us need in those times: A real connection through a beautiful melody, paired with poetic lyrics and a message that hits the right nerve at the right time.
— —
Stream: "Place for You in My Heart" – Isaac Stuart
— — — —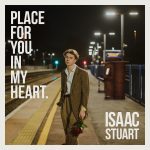 ? © Grace Bistro
art © Sam Bennett
:: Stream Isaac Stuart ::
---