NoMBe's showstopping debut They Might've Even Loved Me sets the highest bar possible, enveloping us in a fresh and sexy psychedelic soul rock fusion.
— —
There's no singular way to describe NoMBe's debut album: Ambitious in both scope and scale, the 18-track They Might've Even Loved Me is a multicolored tapestry of influence and inspiration. Emotionally, it's a record of connection – a collage of past and present relationships; of love; of sex; of familiarity and separation, seduction and reflection. NoMBe creates and deconstructs these intimate moments through vast, vibing soundscapes that defy any traditional understanding of genre. Establishing himself at the highest bar possible, NoMBe envelops his listeners in a psychedelic soul rock fusion that is as fresh as it is sexy – an inimitable signature sound, if ever there was one.
Out today, 3/23/2018 via Th3rd Brain Records, NoMBe's They Might've Even Loved Me is an easy frontrunner for album of the year – a memorable introduction to an artist of incredible promise and unparalleled talent.
'They Might've Even Loved Me' – NoMBe
---
The artist moniker for Los Angeles-based songwriter, multi-instrumentalist and producer Noah McBeth, NoMBe has been on Atwood Magazine's radar since 2015. He lit an entrancing fire with his singles "California Girls," "Miss Mirage" and "Kemosabe," mixing hearty poetry into mellow rhythms with syrupy beats that distilled fog of disillusion. While not on the album, these early favorites set the tone for NoMBe's later work and exemplify his abilities to seamlessly blend music and lyrics.
My baby is a freak like me
and she knows just what I like
She carries all the keys to the places
that no one dares to find
She won't tell nobody
what goes on in these walls
If they talked, they'd probably
tell you all about love
– "Freak Like Me," NoMBe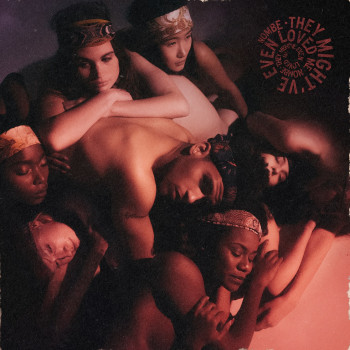 NoMBe began sharing songs from They Might've Even Loved Me in January 2017, announcing he would be releasing one single a month until he ran "out of love songs." Listeners slowly got a taste for NoMBe's passionate production, set around his distinctive guitar licks and suave singing voice. His hypnotic first single "Wait" professed a desire to "make the moment last forever," and while he was singing in the context of young crushes and temporary romance, his words set the stage for the next 15 months, which have consistently found him in someone's spotlight.
Described as a tribute to the women in McBeth's life, They Might've Even Loved Me is one man's tales of lessons learned – not a feminist record, as has been mistakenly reported, but rather a series vignettes that capture important situations and stories. It just so happens that, once you take a few steps back, each story happens to revolve around a woman. Many revolve around romance and intimacy, like the intoxicating "Do Whatchu Want to Me," "Freak Like Me," "Jump Right In" and the mesmerizingly poetic "Sex."
However, most of NoMBe's songs fail to fit into any single category; they're more complex than that. The hazy "Summer's Gone" is a lament of changing tides and a request to join hands and face the cold together ("you can be my winter love"). "Drama" is an existential reconciliation between an artist's stage persona and the actual person offstage, with NoMBe insisting that it "ain't nothin but Drama; I'm just playing a part."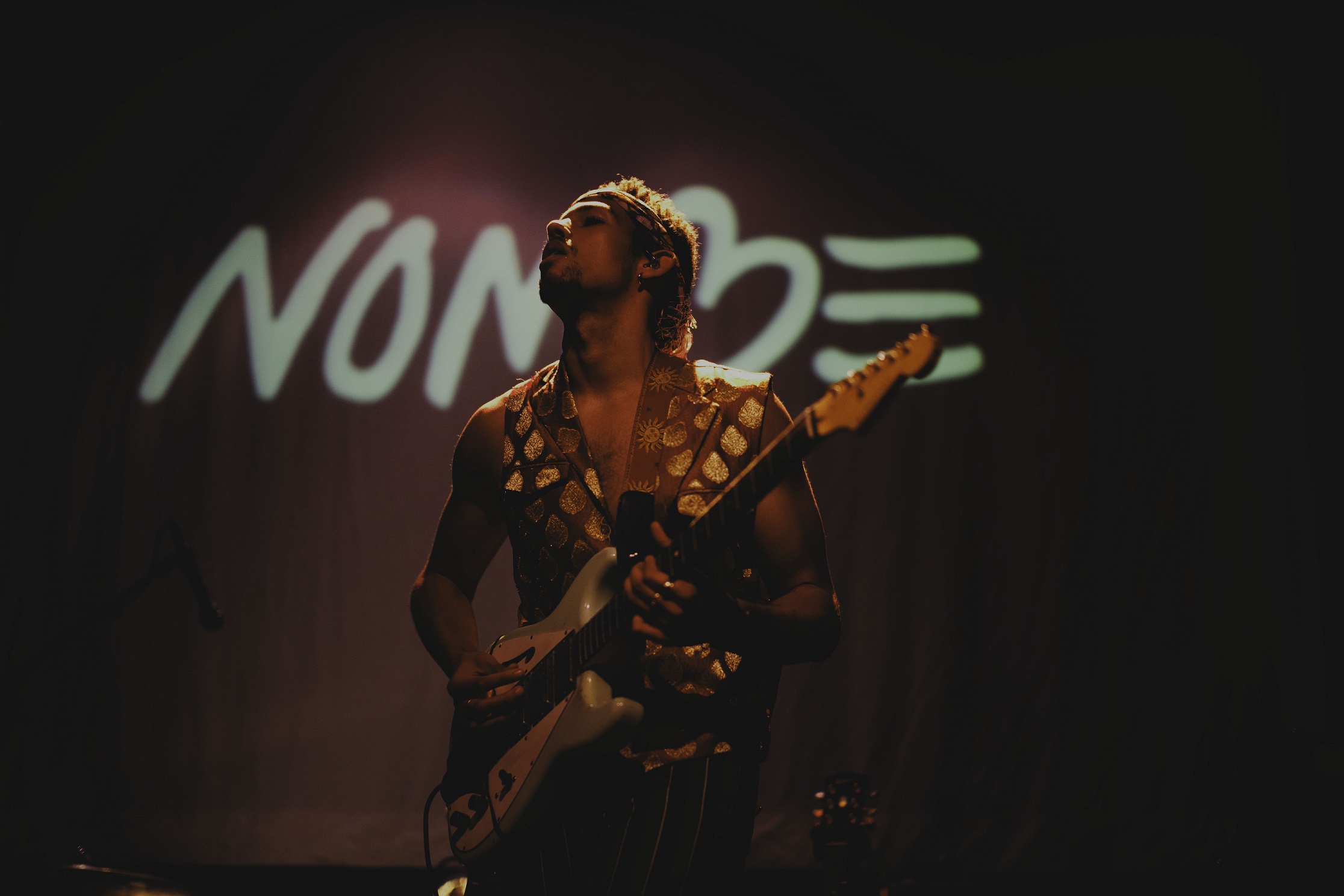 Among the album's many highlights is the giddy "Signs," one of the artist's personal favorites that rides an excitable guitar riff up and down scales as vocal harmonies call out a partner for her actions, while still expressing desire to be by her side:
You might finna get left out here
Better put that act on a leash
Ooh, this might sway way out of control
Your new strut A-list mentality,
your plan for the end of the week
Ooh, won't get no higher than low
Woo-ooh-ooh-ooh
You're blowin my mind
Don't know what to do
Hey, baby, way to wave those signs
Oh-oh, oh, oh
You already know
I can't let you go
Baby, I hate to disappoint
But you're making it hard to be loved
"Signs" has a Billy Joel-esque joviality to it, a special pop that hits the spot halfway through the album. But it's not the only high moment: Album opener "Man Up" is the record's feminist anthem, a psychedelic heat sweat that calls out men on their BS while giving women women the metaphorical microphone. It's the perfect entrance, setting the stage for what's to come with its heavy, pulsing beat and deep, grooving melodies. "Young Hearts" is another showstopper, alternating between dynamic highs and provocative lows as NoMBe surrenders himself to another, offering anything and everything for love.
---
They Might've Even Loved Me's quieter moments are thrilling in a different way. "Rocky Horror" is a humble, acoustic homage to NoMBe's mother that describes the hardships in her life through the lens of The Rocky Horror Picture Show. It's an incredibly subtle, definitive piece of writing for the artist – a song whose clever lyricism and emotional power hit all at once, every time. Combining fiction and nonfiction has always been one of NoMBe's strong suits – his stories have always had that larger-than-life element about them – but "Rocky Horror" goes well beyond that in its reflection of real life:
It's a rocky horror picture show
Tossed into an open road
Wondering if someone might be home
Taught to love these open doors
Can I stay for supper?
As I'm lost
– "Rocky Horror," NoMBe
They Might've Even Loved Me has a little bit of everything, tracking our highs and lows. A poem of intimacy ("A Million Miles from Crescent Skies") that flows straight into "Sex"; songs of love and familiarity, togetherness and knowing; songs of hardship and heartbreak; songs of mending and putting the piece back together again.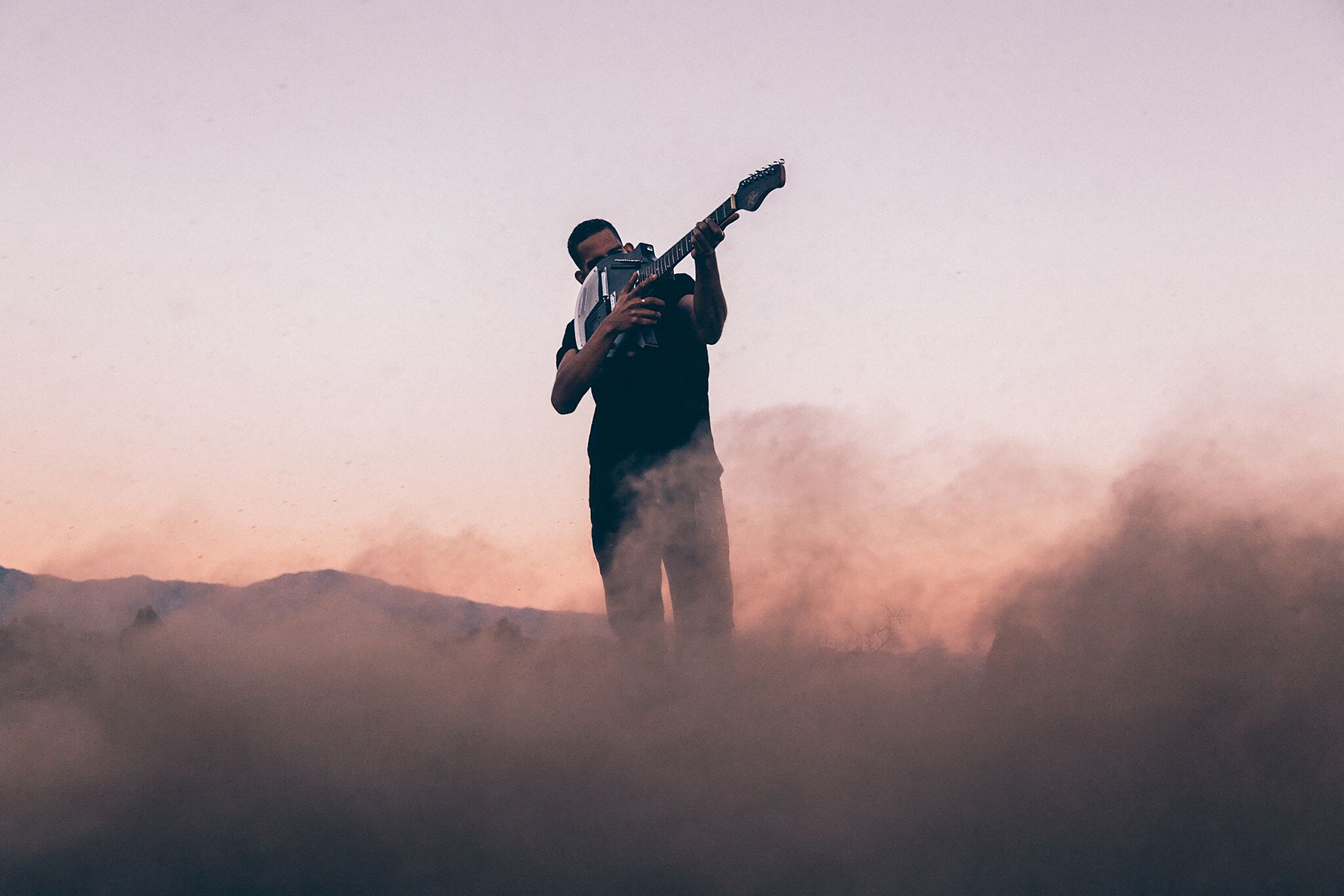 On his debut album, NoMBe shoots for the moon and touches the stars in the process, tapping into profoundly personal emotions and situations we can all understand on a deeply human level. They Might've Even Loved Me wraps us in a euphoric embrace as we embark on a journey unlike any other, with NoMBe serving both as our guide and entertainer. A magically breathtaking, showstopping experience, the hour-long record ends just in time for us to play it again.
They Might've Even Loved Me is out now on Th3rd Brain Records. Stay tuned for our exclusive, deep-diving interview with NoMBe out next week, and catch him on tour this spring – dates and more info below!
— — — —
? © TH3RD BRAIN Records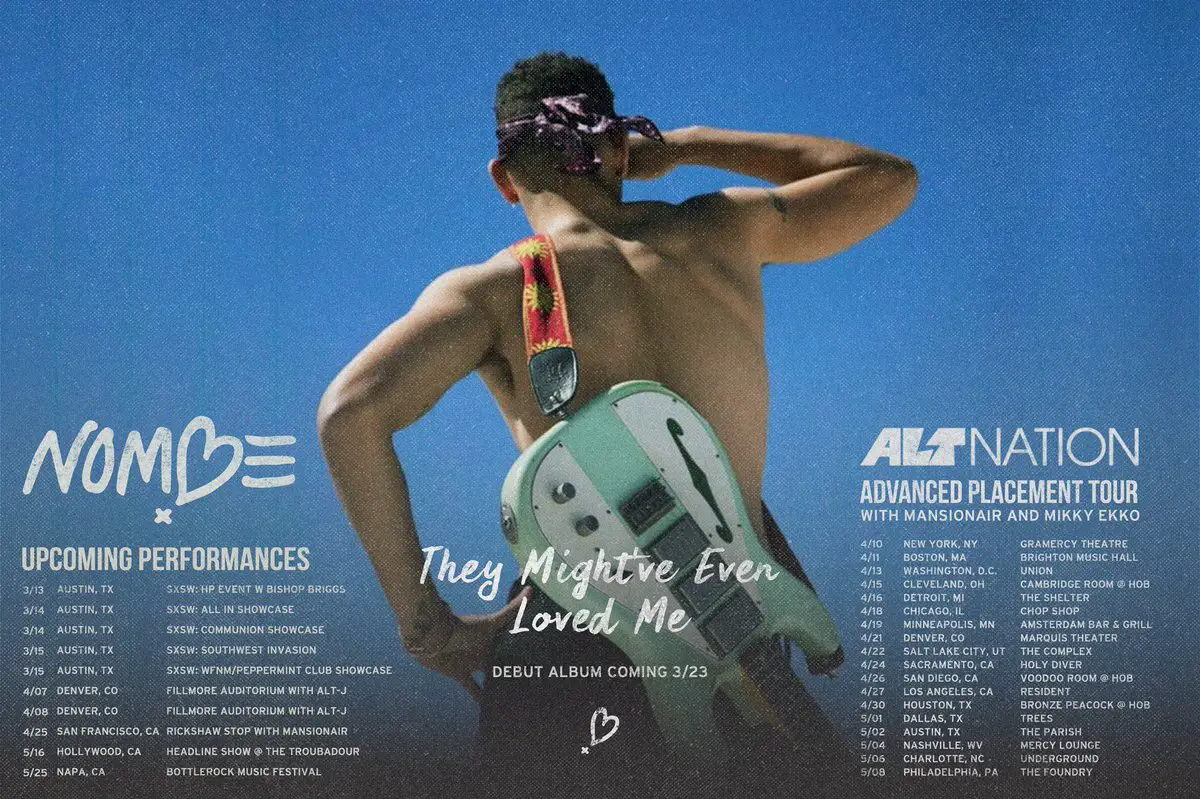 ---
:: NoMBe Tour Dates ::
Sat. April 7 / Denver, CO / Fillmore Auditorium^
Sun. April 8 / / Denver, CO / Fillmore Auditorium^
Tues. April 10 / New York, NY / Gramercy Theatre*
Wed, April 11 / Boston, MA / Brighton Music Hall*
Fri. April 13 / Washington, DC / Union Stage*
Sun. April 15 / Cleveland, OH / Cambridge Room at House of Blues*
Mon. April 16 / Detroit, MI / The Shelter*
Wed. April 18 / Chicago, IL / The Chop Shop*
Thurs. April 19 / Minneapolis, MN / Amsterdam Bar & Hall*
Sat. April 21 / Denver, CO / Marquis Theatre*
Sun. April 22 / Salt Lake City, UT / The Complex*
Tues. April 24 / Sacramento, CA / Holy Diver*
Thurs. April 26 / San Diego, CA / Voodoo Room at House of Blues*
Mon. April 30 / Houston, TX / Bronze Peacock at House of Blues*
Tues. May 1 / Dallas, TX / Trees*
Wed. May 2 / Austin, TX / The Parish*
Fri. May 4 / Nashville, TN / Mercy Lounge*
Sun. May 6 / Charlotte, NC / The Underground*
Tues. May 8 / Philadelphia, PA / The Foundry*
Wed. May 16 / Los Angeles, CA / Troubadour