Nightly's Jonathan Capeci talks to Atwood Magazine about the band's evolution, dreams, lasagna, and what we can expect from them soon.
— —
Last time Atwood Magazine talked to Nightly, the Nashville band were riding the wave of their debut EP, Honest. Almost two years after its release, Nightly have continued to evolve and develop their sentimental, dark pop sound. Lyrics about romance – the chase, the high, the excitement, and then the heartbreak – are Nightly's specialty, and they approach each track with a moving sincerity.
"S.T.A.Y.", Nightly's new single released today, is an infectious pop song that will have you moving from the first chorus. Pulsating bass lines make the song perfect for a club, while subtle guitar riffs give the single an additional level of complexity and surprise that is uniquely Nightly. Atwood Magazine caught up with Jonathan Capeci, one half of the duo, to talk about the band's evolution, tours, refined sound, and what we can expect to come from them soon.
Listen: "S.T.A.Y." – Nightly
A CONVERSATION WITH NIGHTLY
Atwood Magazine: Hey Jonathan!
Jonathan Capeci: Hey, how's it going Nicole?
Good, how are you?
Jonathan: Doing well!
You recently toured with NF and Colouring, how was that?
Jonathan: It was great, it was a lot of fun. We really like the Colouring guys, they're super nice, and we had been listening to their music for a while. It's always fun when you're on tour with someone whose music you enjoy and same with NF. We got really tight with Nate and the crew throughout touring and stuff. It was really great. Obviously the NF shows were much bigger than the ones we played with Colouring but it was nice, variety. Both were nice, super fun.
I love Colouring, they're the best, right?
Jonathan: Yeah, they're super cool.
Did you try out new music when you were on the road?
Jonathan: Yeah, I think we played two new songs on the road. One of them was "Phantom" which is obviously out now but wasn't back then. Then another song too, which I think will be the next one we release.
Do you normally do that? Test new songs to crowds you're playing to?
Jonathan: Yeah, we kind of have to because, especially at that point, we only had five songs out, I think we might have seven out now. Most times in the set we'd have to play seven or eight songs, so we'd always try one or two new ones. But we'll switch it up, we'll switch up which ones we try on what night.
You've teased a lot of exciting things on your Twitter - what do you have coming up for the rest of the year?
Jonathan: We're about to announce a headlining show in Nashville, which we're super excited about. Then we're going to do some more headlining stuff this fall, which nobody knows about yet, and we're releasing a bunch of music – I'm not going to say exactly how much or what yet – but we just have a lot of music coming out over the next six months, which we're super excited about. It feels like a good time to be in Nightly, finally getting to put out music and headline shows.
How have these past two years since you released your debut single been?
Jonathan: We had a clear vision of what we wanted to do, it's just taken us a while to come back to… I don't know how to explain it but we toured a lot after the first year and didn't put out as much music as we wanted to and now we're going back to putting out music. More than anything we just feel more comfortable and confident in who we are and what we want to do. That's probably the biggest difference, and the live show evolving as well with it.
I was reading your notes on "Phantom" on Genius, and you say the idea of the song kind of came in a dream. Do dreams usually inspire you like this?
Jonathan: No (laughs). That's the only time that that's happened, honestly.
Do you dream a lot?
Jonathan: I do dream a lot, yeah, but it's never been a subject of a song or anything like that. Joey always has some weird ass dreams. Usually the morning starts off with him telling us whatever crazy thing he dreamed about.
When the idea of a song comes in a dream what do you do? Did you wake up and write it down or was it in the middle of the night?
Jonathan: Honestly it was just the word phantom, it wasn't a specific dream but that word just popped into my head in the morning and I just wrote it down and then we wrote the song maybe two days later.
Watch: "Phantom" – Nightly
Now onto the "Holding On" Genius notes: "to have the production match the emotion of the lyrics" - can you talk me through how the song was originally and how you got to the final version?
Jonathan: The biggest thing was the part after the chorus, that part was hard for us to figure out. At times, when we were doing it, it felt too happy or something and the emotion of the song wasn't really happy so we just wanted it to be something that sounds good without it being pure dance or something. We had to try a bunch of different versions of that before we landed on what we have. It was more of a soaring guitar part originally but it just wasn't matching up, so we found that broody guitar tone that we ended with.
Do you often aim to match up emotion and production on your songs?
Jonathan: Hm… Yeah. I'd say 50/50 maybe. I think we generally try, but there's definitely times when, like the next song we're going to put out has more of groove but it is not necessarily a happy song. That one doesn't match up, but it still feels right within the context of the song.
Watch: "Holding On" – Nightly
How do you know when a song is finished?
Jonathan: (laughs) That's a great question. I don't know, I feel like we could probably tweak things forever but… I don't know, yeah, good question. Usually we'll work on it and take some space then go back and listen to stuff while I'm driving and just see how it feels, and when it's at the point where nothing's sticking out then that's usually the point where Joey and I feel good about it.
I saw in an interview that you said you like music that captures a certain vibe. What's the vibe of your upcoming music like?
Jonathan: I think what I mean by that is capturing a specific place and time, cataloguing, like a snapshot or basically. The music we're putting out now is just a snapshot, where we were and where I was emotionally at the time that I was writing and stuff. Something you'd listen to while you're driving to the beach on a Friday night or something.
What qualities do you hope people attribute to your music?
Jonathan: Everything that we're writing about is stuff that we feel. The most popular DM that we get is people saying that people really relate to a song because they went through the same situation, so I think it helps you express something you can't quite put into words. That's what a great song does, so I think that would be the best thing that they could say about our music, that they relate to it even though we're two people that could be living in two separate continents and have nothing in common we share this human experience.
What's the biggest difference between the songs on your debut EP and the singles you're releasing now, 2 years later?
Jonathan: I think it's more of a band feel, you know? We're more comfortable as a band. We made the first EP in our apartment on a laptop, now we're able to experiment a little bit more. That's where we were then, and these are snapshots of where we are now.
Your music is very cinematic, you can basically see the song play out in your head as a film while you listen. Do movies inspire you as a band at all?
Jonathan: Thank you! I don't know, to be honest I don't watch a ton of movies. I guess I don't really think of it like that. There are certain times when we're writing something and I'm like "I can picture this being in this kind of a scene in this type of a movie", so I guess it works the reverse way of that, but I won't sit down and watch The Garfield movie and feel inspired to write something.
If you watch The Garfield you have to write a song about lasagna.
Jonathan: (laughs) Actually, I love lasagna.
If you had to put Nightly's songs in a movie, what would the plot be and who would you cast?
Jonathan: That's a pretty good question, I don't know. I really dug the soundtrack to Stranger Things, so maybe if they let us do one season of Stranger Things. So sick at the end of the last season when that Police song came on, that was super tight.
You use something like the heart emoji on your music. If you had to describe your songs as an emoji, what would they be?
Jonathan: Wow. I'll say the red XO because that was our first song.
— —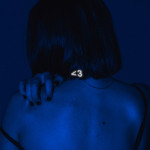 ? © Louis Browne


:: Stream Nightly ::