A catchy glimpse of pop perfection, Natalie Shay's sensational "Yesterday" turns an intimate breakup story into a universal lesson of growth and self-reflection.
— —
You would never stay forever, we would never be together…
Goodbyes are never easy, but as British pop artist Natalie Shay so vividly reminds us in her new song, we all deserve happiness and we can do better. We may be caught on "Yesterday," but it's in the future and right here in the present that we'll find surprise, wonder, and a world of potential.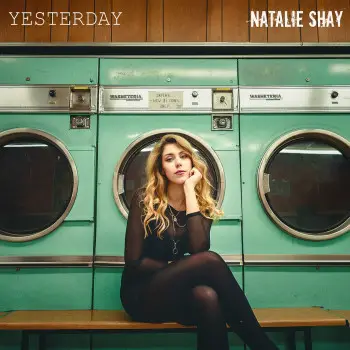 Moving straight, never fall
I've been down that road before
I came back but still want more
Basic slip to your gun
Made me think I was the one
Silly trip but now I'm down
And it fades so clearly
And then now I see it
Atwood Magazine is proud to be premiering the music video for Natalie Shay's sensational new single "Yesterday," a new pop classic that asserts her vocal abilities and songwriting talents while connecting us to our individual past, present, and future. Hailing from North London, 19-year-old Natalie Shay honed her skills at the famed BRIT school (home to Amy Winehouse and Adele, among others), and has amassed an extensive list of young and rising artist awards in just a few years' time. She emerged exactly a year ago with the song "This Feeling," sporting a finessed indie pop/rock sound. Her sophomore single "Perfume" blended a mix of old and new pop influences, simultaneously evoking ABBA and HAIM.
People say greatness comes in threes and that certainly holds true for "Yesterday." The new song has already earned tremendous acclaim since its January 11th release, amassing over 50,000 Spotify streams in one week's time and establishing Natalie Shay as an artist-to-watch from the top of this year, onward. "Yesterday" is Natalie Shay's Taylor Swift moment, for lack of a better phrase: It's a tight, engaging pop song that directly expresses its message, turning an intimate story into a universal lesson while taking us on a journey from start to finish.
You would never stay forever
we would never be together
There is something I couldn't say 
Coz I'm still caught on yesterday 
You would never be forever 
So whatever I'll do better and now 
There is something I'll never say 
Coz I'm still caught on yesterday
"'Yesterday' is a song about being in a one sided relationship," Natalie Shay tells Atwood Magazine. "The song is about realising you can do better and moving on, but reflecting on the relationship from a non-emotional point of view. The video basically demonstrates this; in the video Jake Fox plays the love interest. It features him gifting me a dress to apologise and then waiting for me to join him, however I walk out on him. The video shows me leaving with flashbacks to when it was a happy relationship, but showing the distance between us even when we were together."
Played a game
Under your thumb
What a shame you played it wrong
Guess I stayed way too long
And now you stand there saying I mean nothing
Though you're typically only needing one thing
And anything you get well you deserve it
---
Directed by longtime collaborator George O'Regan (who's worked four other videos with Shay) and filmed at Waterperry Gardens in Oxfordshire, the "Yesterday" music video highlights Shay's confidence and self-assurance, using her strong individual spirit as the backdrop for us to understand the song's themes of physical and emotional distance. Quite like T-Swift in so many of her songs, Shay comes off all the better for getting rid of her relationship, hard as it may have been – and even though she's "still caught on yesterday" and not quite through figuring things out, she knows she's going to be alright. There's nowhere to go from here but up – and up, she goes.
Whether you're down on your love life and in need of some hope, or just looking for a good old-fashioned pop anthem, "Yesterday" promises to inspire and delight. Stream Natalie Shay's new music video, exclusively on Atwood Magazine!
You would never stay forever
We would never be together
There is something I couldn't say
Coz I'm still caught on yesterday
You would never be forever
So whatever I'll do better and now
There is something I'll never say
Coz I'm still caught on yesterday
Stream: "Yesterday" – Natalie Shay
— —
— — — —
? © Max Giorgeschi
:: Stream Natalie Shay ::
---