Jubilant and tenacious Alfie Templeman creates rock-leaning bedroom pop that's breezy, electric, and grounded in the plain and simple.
RIYL: Yellow Days, Rex Orange County, No Vacation
---
Seventeen-year-old Alfie Templeman isn't quite sure what he's gotten himself into. The exuberant English teen launched into fame in 2018 with his lively EP Like An Animal, and the rocket remained in light-speed ever since. Jubilant and tenacious Templeman creates rock-leaning bedroom pop that's both breezy and electric. His varying releases include influences from every corner of the genre arena such as '80s pop, hip-hop, and alternative rock.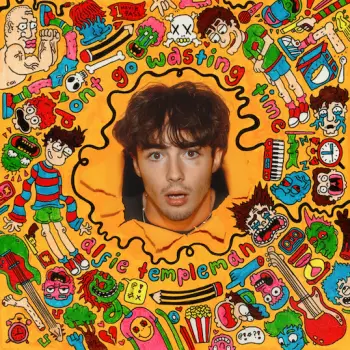 While his musical inspirations arrive from around the globe, he sings about the simple pleasures of life including movie dates, Sunday morning cereal, and pink lemonade. His upbringing in countryside England reflects in his grounded lyricism and delightful visuals. For example, his official video for "Yellow Flowers" shows clips of Templeman recording the tune in a modest home alongside a man watering a pot of chrysanthemums and a young lad scrolling on a cellphone. It's this everyday and carefree aura that draws listeners to Templeman.
His latest release, Don't Go Wasting Time, features the edgy electronic ditty "Lean On My Shoulder," the snappy serenade "Movies," and the disco dance number "Circles." The title track, "Don't Go Wasting Time," swims through wavy multi-layered guitar riffs and sensitive meditations. The versatile project serves as a proper introduction to the colorful multi-instrumentalist, and will undoubtedly leave you itching for more.
Watch: "Yellow Flowers" – Alfie Templeman
:: A CONVERSATION WITH ALFIE TEMPLEMAN ::
Atwood Magazine: Hey Alfie, how's it going today? How's New York City treating you?
Alfie Templeman: I've eaten too many cheeseburgers already and some pizza. It's vibey here. It's similar to London, but you can walk about better. I love it, it's such a cool place.
You titled your EP "Don't Go Wasting Time" and you certainly haven't with starting your music career at a very young age. What inspired that title?
Templeman: A lot of people at school were procrastinating, and I know everyone is really young, but still. The EP is about doing what you want to do. Not caring too much about what other people want you to do in life, what you want to with your life. Because for me when I'm on my death bed, I want to know that I did everything in my life that I wanted to. It's also about relationships and focusing on the present instead of looking back, moving on and focusing on the future.
How does it feel now to be fully focused on your music?
Templeman: So far, so good. I got out of school and finished the record. When I was writing and recording the album, it was a reflection on how school was and what my life had looked like up until then, but also a look forward. Here's how I'm gonna move forward, here's what my future is going to look like. I was writing out the start of something new, a whole new chapter of my life, it was like turning a page. I had seen what happened and I couldn't wait to see what was going to happen next. There was a big build up. I think it's a great lead up for the next record that I'm going to release in a few months. It prepares the listener and leaves them wanting more. It's also got a lot more disco and R&B influences, but also a pop orientation at the same time. It's really fun.
Templeman: Colton. It's really pretty and country, only 700 people live there. I make a lot of noise there in the village. There's not honestly much to do there and since you're in the country you can't always drive around to get somewhere. No public transport. So I think that's one of the main reasons I started making music; it was one of the ways I escaped being bored. It became the biggest hobby in the world, and eventually it started to take up so much time that when I got out of school, it became my job. I was very lucky to be in that position.
So these past couple a months you've been on tour? How did that go?
Templeman: Yeah that was great, it was with a band called Sports Team. I learned a lot about how touring works. It was nice because I wasn't ready to tour on my own yet, I was 16, so playing headlines when you've never toured before is too big of a leap. So it was great to go with a band who knew what they were doing and it was great, there were a mosh pits, crowdsurfing, it was absolutely perfect. Now I'm in the perfect place to do it myself and we're gonna do a ton of shows in May with other Chess Club artists. It just feels right because we're a little family and we'll be able to support one another.
I know you're a multi-instrumentalist - basically a one man band, but do you normally work with other people on music? Or work alone? Tell us more about that experience.
Templeman: The second record was still all me making everything, but for example I worked with Rob Milton from Easy Life and the band Dog is Death, he helped me finish off the tracks. We hopped into a studio for a long five hour session and polished everything up. For one of my tracks "Used to Love," I worked with Kid Hop – who's awesome. So now and then I do work with other people, but it's still mainly just me. I do like branching out and working with other producers now and then because it helps you learn new tricks and helps for the future – especially because I'm so young. I'm open to anything in a way and it's so fun.
So your first album you released completely independently, and your second album you released under a more traditional music industry machine. What was different about these two processes?
Templeman: When I started out with my first release "Like An Animal," that was just to show what I could do. I recorded it all in my bedroom and did all the production myself, all in a really short amount of time. Then awhile later I met Chess Club, my label, and they brought the tracks I released in the last half year and pointed to the ones that they thought were the best. It was easy because we agreed, which is always the most important thing, it's about being on the same track. While working on the second album, it was more of a partnership working with the label and myself to create something that we both wanted.
Your music is obviously very colorful and varied, so this question may be a tough one - but who are some of your musical influences and inspirations?
Templeman: It ranges from Todd Rungren, Big Star, Can, Bad Finger, then we go over to the Mac DeMarco's, throw in some 80's pop and Nirvana as well, grunge music, it's just a big melting pot of everything. The end result is something that's so different, that it's similar in a way? Everything glues together in a way that really works. The first time I've properly done that is with Don't Go Wasting Time. Each record to me is about branching out a little more. The first two EP's I put out were great, but they were only a few tracks. I've got about 1,000 songs in the bank now, so I'm just really looking forward to releasing more music and showing people more of what I can do.
If you could collaborate with one artist, dead or living, who would it be and what would be the title of your song or album?
Templeman: Ah, I never know what to properly say to this question, normally I'd just say Mac DeMarco, or I'll say a progressive rock band or something. You know what? I'm gonna go with Beethoven. If we wrote a symphony or something, that would be mega.
So maybe Alfie Templeman will put out a symphony soon?
Templeman: Ah yes, Alfie Templeman's First Symphony in A Minor. Why not? I'm gonna write that down.
What's planned for 2020?
Templeman: Definitely get out a few records and the tour. Apart from that it's just keep working in the studio and see more of the world. I'm in New York now, it's awesome, I'm going to see LA in a few days. But the more I get out, the more I learn about things. Exploring new cultures and new music seeing as my music taste is so diverse. It's nice seeing the world and this will be the first year I really do that seeing as I'm getting a bit older.
How old are you right now?
Templeman: I'm 17. So yeah I'm very young, but I'm ready to properly see the world now.
Best of luck!
— — — —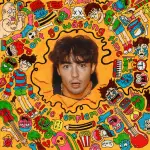 :: Stream Alfie Templeman ::