Atwood Magazine speaks to up-and-coming Def Jam artist Kaleb Mitchell about his new single "Get It," New Jersey, Billie Eilish, 8 Mile and more!
Stream: "Get It" – Kaleb Mitchell
---
When you score a shout-out on Instagram from Billie Eilish, 2019's hottest newcomer, you know your profile is about to rise a notch. Having the New York Jets use your latest single, "Get It," to motivate the crowd as they come sprinting out of the tunnel can't hurt matters much, either.
This outcome is entirely well-deserved for New Jersey native Kaleb Mitchell, who has been looking to establish himself in the music industry for quite some time now.  It has largely been a gradual process, with Mitchell recording a number of mixtapes back home in the Garden State and distributing them online. He performed at a handful of small-scale gigs before finally scoring a spot at the SWSW Festival in Texas earlier this year.
With a record deal from Def Jam now in hand — not to mention his own independent label and publishing company, BENCHWRMRS — the future looks bright for young Mitchell. Given all of these recent career advances, the time was ripe for Atwood to strike up a conversation with the hip-hop/R&B performer.
I been in the lab all day
Whippin', whippin', with the flambe
Team on my back like Lebron, aye
We go guerrilla, no Harambe
Got the call grandma died
I ain't really been the same since
Tryna to get like it right now
I ain't nothing you should play with
If you ain't with me, you just in the way
I ain't comin' in for second place
Rappers lookin' like some dinner plates
Don't believe me? Let me demonstrate
Only ascension, man I gotta climb
Putting the work in, you know I'ma grind
Someone tell them if the numbers lookin' funny
Better believe that I ain't gonna sign
They wasn't with me when I was in the kitchen
Now these people want a piece of the pie
Count it all joy, man I take it in stride
Feet on the ground, but my head in the sky
I gotta go out and get it
I cannot waste no more time, yeah
I got the light all inside of me
Better believe I'ma shine, yeah
MEET KALEB MITCHELL
Atwood Magazine: "I gotta go out and get it" is the hook to your new song "Get It," and this is a pretty recurrent sentiment in hip-hop music. Are there any artists whose hunger and ambition motivated you as you crafted your own material?
Kaleb Mitchell: Somebody whose hunger always inspired me is Meek Mill. I grew up during the DatPiff days, so his earlier tapes were always in rotation for me. Don't even ask me how many times I've listened to Dreams & Nightmares. I've always gravitated to people talking about music that makes you feel something, and you can definitely feel the hunger in every line Meek has every spit.
You hail from Morristown, New Jersey. How did your environment influence you as you were growing up? As a hip-hop artist, how do you think you benefit both from being in Northern New Jersey and from having New York City not too far off?
Kaleb Mitchell: I was born in Morristown, lived in Union, moved to Wharton, spent my summers in Paterson with my grandparents, and went to high school in Denville. So honestly, North Jersey as a whole had an impact on me. New Jersey is very diverse, so growing up I was exposed to a lot of different people, cultures, music, etc. which definitely made me more well-rounded as an individual.
To be honest, New York being so close didn't really affect me that much because my entire operation was off the laptop. I performed in New York a few times when I was much younger and visited the city on a few occasions, but it really didn't have any bearing on what I was building through the Internet. Before 2019, I wasn't on a major label or radio, so I honestly had no business in the city haha.
You've released a string of mixtapes by now. How do you feel you've grown as an artist with each release? Do you think you'd try to release a full-length album at some point and, if so, how might it build upon your mixtape output, musically and thematically?
Kaleb Mitchell: In my opinion, with each project I've become a better writer, a better vocalist, a better composer, and overall a better musician. I get joy from doing things like stacking 10 vocal runs together to make one insane harmony (I'm a studio rat haha). Every time I step behind the mic, I want to do better than whatever I did prior. On one hand, that's good to want to progress, but it can be a hindrance at times when you're constantly comparing yourself to yourself. Also, every project is tied together whether you notice it or not. And yes, there will definitely be a debut ALBUM album soon.
You describe "BENCHWRMRS" as "a multi-faceted business: a brand and a movement." How do those two labels interact to give the project its own distinct identity?
Kaleb Mitchell: BENCHWRMRS is my independent label, my publishing company, and the name of my supporters (I don't really like the term "fans"). The name came to me because, for a long time, I felt like I was sidelined from a lot of things in life, particularly the music industry. As an independent artist, it can feel as though you're yelling at the top of your lungs for somebody's help and nobody can hear you. You watch everyone else in the game while you're stuck on the bench. But, provided that chance to finally bully your way onto the court, there's going to be no more doubt about what you can do.
You have a decent amount of live performing experience by now. What's it like for you to be onstage? How do you get to connect to your audience while you're doing a concert for them?
Kaleb Mitchell: Being on stage is just as fun as creating records to me. There's no other feeling like watching somebody yell out and identify with lyrics that you wrote. Being in that pit when a song drops is an experience I wish everyone on Earth could feel. People can fake streams, people can buy followers, people can lie for the Internet, but there's no way to BS how your music translates live.
"Get It" was made in 2016 but is only just now getting released by Def Jam. How do you feel about a 3-year old song only now just reaching a widespread audience? Do you think its themes and messages are as pertinent now as when you first recorded the track?
Kaleb Mitchell: If there's one quality that I thank God I have, it's patience. I knew from the moment that song came out in 2016 that it would change the trajectory of my life. I just didn't know how or when. I do everything I possibly can, and then just fall back and let things sort themselves out. I think the message of "Get It" will forever be relevant, because it's a song telling people to make every last one of their dreams a reality. That's a timeless sentiment.
Billie Eilish has been giving you a hand lately. What is your friendship and creative partnership with her like? Any chance you guys might do a duet together?
Kaleb Mitchell: That's the homie! She posted one of my records on IG and played it on her radio show, which I'm extremely thankful for, shoutout to Billie. Hopefully, we can work on some music in the future.
8 Mile initially turned you to rap at age 8. Twelve years later, how would you describe your relationship with that film?
Kaleb Mitchell: Hip-hop has always been a part of my life. The first few albums I listened to and memorized were The Score, The Black Album, and The College Dropout. I was an avid fan, but never really wanted to pick up the pen myself until I saw 8 Mile. The intensity of the battle scenes just influenced me so much that I wanted to try this thing for myself, and look where it got me haha. In my eyes, 8 Mile is a classic to this very day and should be treated as such.
— — — —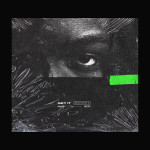 ? © 2019
:: Stream Kaleb Mitchell ::
---