Peach Pit's Neil Smith talks to Atwood Magazine about going viral, the dark side of having a designated stage outfit, and their 2018 European tour.
? ?
It's safe to say that 2017 has been one hell of a year, and while that's not necessarily a positive sentiment for a lot of people, for the members of Vancouver-based band Peach Pit, it's been an unforgettable year for all the right reasons.
The four-piece outfit, made up of Neil Smith on lead vocals and guitar, Chris Vanderkooy on guitar, Peter Wilton on bass, and Mikey Pascuzzi on drums, made their initial entrance into the Vancouver music scene in mid 2016 with their debut EP, Sweet F.A (or 'sweet fuck all' – a salute to Smith's love of 'the lazy life'). The title is an apt choice for the band's breed of indie slacker pop, but deadbeat isn't a term you hear associated with their stage presence. Still, word of their energetic live shows and Smith's affable stage banter isn't the only reason Peach Pit has gone from filling rooms at house shows to ringing in their 2018 to-do list with consecutive tours across Europe and Asia.
While the internet has created a community that's over saturated in music, Peach Pit is one of the rare bands who can attest only to the positive powers of the web. It's a justified perspective for a band whose self-titled track went YouTube viral in February (and has crept past three million views). What's transpired since is the band's first full-length record, along with management, a contract with Vancouver indie label Kingfisher Bluez, and a stacked year of touring ahead – so if you have any suggestions of weird roadside cuisine that shouldn't be missed, they want to know about it.
Atwood Magazine caught up with frontman Neil Smith to recap Peach Pit's whirlwind year and talk about the one ahead.
That's definitely been the best part of the past year: not knowing what the tour was going to look like and now being back home and being like, 'Holy shit ok. There are actually people listening to our music. More than like, fake numbers on Youtube.'
Listen: 'Being So Normal' – Peach Pit
A CONVERSATION WITH PEACH PIT
Atwood Magazine: You're at home right now for a few days before hitting the road again; what are you getting up to with your down time?
Neil Smith: Well, I didn't leave my house today and I didn't put pants on until like 4, and now I'm going to see Blade Runner. That's my plan.
Having just gotten home from a three week tour across the US and Canada, what was your favorite stop?
Neil Smith: Dang. I think probably the East Coast shows. The ones in the states were pretty cool, mostly because it was crazy to be in New York City or in Boston or Washington, D.C, and actually have people there to see us. That was pretty weird. I really like Chicago actually. Chicago was sweet and I'd never been there before. We had a day off and we had a really good time just hanging out. It's super cool – it kind of has a similar feeling to New York to me I guess, just because it's a big city, but it's fun to walk around and explore.
It's been such a big year for you guys; what's the best part been?
Neil Smith: The best part has been playing shows away from home and having people there singing along to the songs. Super wild. Still really hard to comprehend but it makes me super happy. That's definitely been the best part of the past year: not knowing what the tour was going to look like and now being back home and being like, 'Holy shit ok. There are actually people listening to our music. More than like, fake numbers on Youtube." So that makes me pretty happy.
You all grew up in Vancouver. What's it like being an up-and-coming band in the Vancouver music scene?
Neil Smith: It's good actually! So far everyone in Vancouver is very supportive of each other and tries to promote Vancouver music amongst each other's bands which is nice. The only thing that's maybe annoying about playing shows in Vancouver is it's a little bit cliquy. Like, you have the polished pop bands that kind of stick to themselves and then there's the cooler, sort of East Van-ey vibe bands that stick with themselves which I kind of wish wasn't the case, but I mean I guess that's normal.
I wonder…where does Victoria, BC fit in there?
Neil Smith: I think Victoria is a good city to look at because it feels less like that. It seems like you can go to see a show and it's a little bit less exclusive or something. I'm not really sure, but that's kind of what I've found or what I've heard from other Victoria musicians.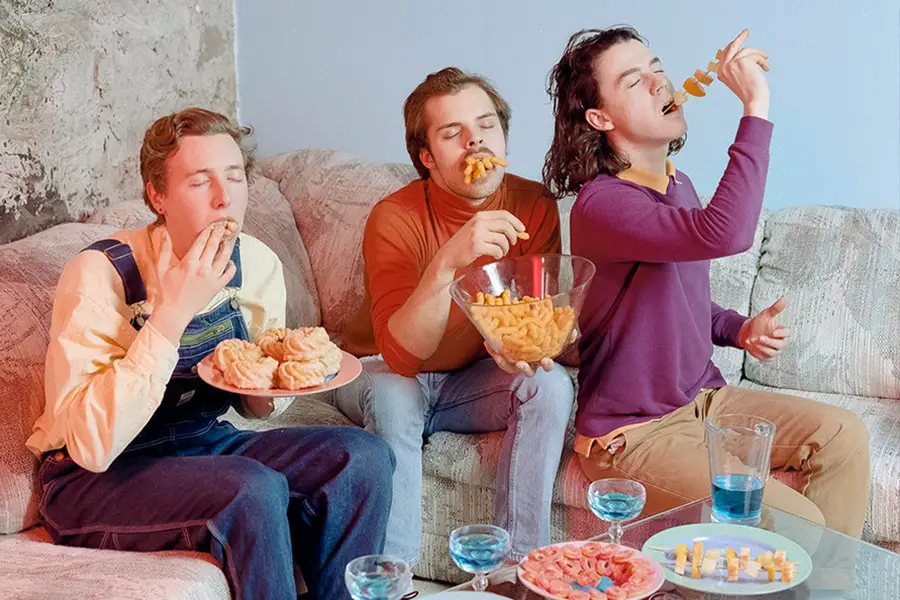 Your EP was released about a year and a half ago, how did your reception as a band change after the audio of "Peach Pit" went viral in February?
Neil Smith: Yeah that's the thing – before that we were just a Vancouver band that was doing pretty well as far as being a Vancouver band goes. We were able to fill rooms with people which was awesome, but once "Peach Pit" went viral that was really weird. I got home one day and we were getting so many Facebook likes from people in Japan and Brazil. I thought that maybe our page got fucked up and there were robots liking it or something.Then I found out that this Youtube video got shared. Actually, I owe my life to TheLazylazyme. She's my hero. She's my saviour.
Yeah! Have you guys been in contact?
Neil Smith: Yeah we have. We've emailed back and fourth and she actually put another one of our songs on her channel. She lives in the Philippines and she seems nice. I really want to meet her one day.
You're clearly an example of a band who's benefitted from the internet in an era when everyone has the opportunity to put their music online, but have you experienced any negative effects of having your music out there?
Neil Smith: Um, not really. That's one of the crazy things. We have a lot of Youtube videos up, and usually there are a lot of trolls on Youtube who just like to fuck with you, but honestly I read a lot of the comments and I used to reply to almost all of them, and no one's that mean to us which is really surprising. Negative effects? I don't know. Maybe I get a little overwhelmed by people messaging us which freaks me out a bit but nothing bad really. Nothing negative I would say.
Where did you record your debut album, Being So Normal?
Neil Smith: We recorded at a studio in East Van that's owned by Dan Klenner and this band The Star Captains. Dan plays in the Star Captains, or used to, and he also used to play in the band Hey Ocean. He also happens to be Chris' girlfriend's brother in law, so I think we get the family treatment.
Do you personally have a favorite track on the album or one that has special significance?
Neil Smith: Yeah, definitely. My favorite track is "Tommy's Party" because it's about a time in my life, kind of at the beginning of adulthood, where I was still figuring stuff out. I'm happy with how I captured one kind of shitty night at a party.
Hey there bud, how'd it go last night?
I saw you at the band stand looking pretty slammed
Did you see me feeding all my drinks to Cam?
Probably not I guess, you were quite the mess
---
Who are some of your influences as a band?
Neil Smith: As a band, it varies quite a bit, but Chris and Peter grew up with the same guitar teacher, this guy named Mark Woodyard who's a musician in Vancouver. He actually saw our show in Calgary which was cool to have him there. I think he influenced our music in a way because of how he taught Chris and Peter to play guitar. He would basically be like, "What band do you like right now?" And if they said, "The Strokes," he'd be like "Ok we're going to learn every song off that album." And I think in that sense, Chris' guitar playing reflects what albums he learned with Mark. A lot of people are will say, "Yeah, it kind of sounds like The Strokes, or it kind of sounds like Modest Mouse," and I think that's just because those are the first bands he learned to play on guitar.
That sounds like a genius way to teach guitar.
Neil Smith: Yeah, it kind of keeps it fun.
What are you most excited about for your first European tour in 2018?
Neil Smith: Well I've never been to Europe, so I'm really excited just to go over there since that will be completely new. One thing I'm excited about is the show we're playing in Sweden. A friend of mine lives in Sweden and there are couple of songs about her on the album. She hasn't had a chance to see us play them yet so I'm looking forward to playing them for her which should be fun. But other than that, just drinking cheap beer in public will be fun.
Are you making a stop in Amsterdam?
Neil Smith: Yeah we are. We're gonna have to try and not get too stoned before our set.
Let me know how that goes. Alright, this one's for me - what music have you been digging lately? Do you have time to listen to other music?
Neil Smith :Funny enough, I don't listen to that many Spotify playlists, just because – I don't know what it is – but I get stuck in ruts of listening to music that I already know I like and not listening to new stuff all the time which is obviously a mistake, because you know that rush you get when you hear a new song for the first time and you're like "holy shit this is an amazing song?" I think I miss out on that a lot. But I was actually taking a nap in the van the other day and i just put on some playlist. I'm not exactly sure what it was, but there were a couple songs that I really really liked and have been playing on repeat. Do you know a song by Chastity Belt called "Seattle Party"? Really good song. And the other song that I'm really into right now is a song by Big Thief called "Shark Smile." Do you know that one?
I don't know that song. I don't even know that band!
Neil Smith: Oh my god. Get excited because they're amazing.
Will do. So does Chris always perform in a red turtleneck?
Neil Smith: Yep. It's orange actually, but yes he does. We always wear the same outfits every show and actually the last three shows I didn't have a chance to wash mine and it smelled so bad. It smelled like a teenager's hockey equipment.
I bet. So you only have one copy of each outfit?
Neil Smith: Yeah, we only have one copy of each outfit and we wear them every show.
You should keep a blog about it and when it starts to disintegrate…
Neil Smith: It would be a good publicity stunt if we literally wore the same exact outfits every single day for a year or something and really committed to being cartoon characters.
You should start an Instagram of all the shit that happens to it when you're on the road. Is there anything else people should know about you?
Neil Smith: Just listen to our music and follow us on Snapchat. Our Snapchat's run by Mikey and Mikey's really fucking good at Snapchats. Primo snaps.
? ?
? ? ? ?
photo © Lester Lyons-Hookham
:: Listen to Peach Pit ::