Scottish singer/songwriter and streaming sensation Lewis Capaldi innovates and enthrals on emotional new single "Tough."
— —
Since releasing his debut track "Bruises" only last year, Lewis Capaldi's life has changed beyond belief. He's racked up a mindbogglingly 155 million streams, sold out three back to back headline tours and supported the likes of Sam Smith and Niall Horan. "Tough" (06/08/2018 via Capitol/Virgin) marks the Scottish singer's 6th song release, and it's his most excitingly adventurous track yet.
'Cause every night since you cut and run
I feel like the only one who's ever been the lonely one
Trying to mend a heart that keeps breaking
Listen: "Tough" – Lewis Capaldi
---
From the start, 'Tough' unquestionably marks itself as different to Capaldi's previous tracks. A riveting pulsating beat leads the track initially, replacing the predominant piano chords found on the singer's other tracks. As the chorus kicks in, the track evolves and explodes with grand instrumentation that feels purposely made for the cavernous expanse of the venues he'll soon be headlining.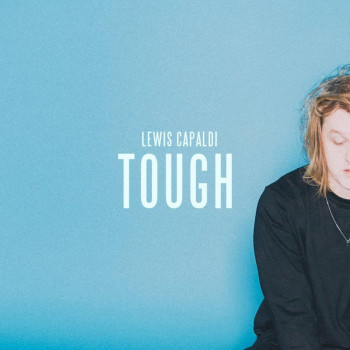 Lewis Capaldi's innovatively honest lyricism combined with his overwhelmingly emotive voice makes for a killer combination. The level of raw, unfiltered emotion conveyed throughout (and especially on the track's bridge) is breathtakingly beautiful and unparalleled.
And every day I'm reminded of the way I let it come undone
I feel like the only one, the only one with time worth wasting
Guess I just can't stop chasing
The track's pre-choruses serve as effective pre-cursors to the track's monumental heart-breaking chorus. While the almost abrupt ending to the song makes you yearn for more. With "Tough," Lewis Capaldi has effectively and energetically completed a transition to grand, anthemic tracks while retaining the very essence of what made millions fall in love with him in the first place.
After playing a frankly ridiculously amazing number of festivals this summer, Lewis Capaldi kicks off his 24-date UK and European Tour in October with special guest Nina Nesbitt. While on tour he'll be playing iconic venues such as London's Shepherd's Bush Empire and Amsterdam's Paradiso, an impressive feat for an artist yet to release an album.
In person, Capaldi is effortlessly likeable and humble. While on social media he connects with fans in a way that feels genuine, driven by not by a desire to advance his career, but by a sense of immense gratitude.
This release will certainly heighten fan's eager anticipation for a debut album. Like on all on his other tracks, every single word Lewis Capaldi sings feels informed by boundless heart-breaking desperation. "Tough" provides a confident vision from an artist maintaining his streak of beautifully compelling songwriting while energising his work by infusing beautifully magnificent production.
— —
— — — —
photo © Alexandra Gavillet


:: Lewis Capaldi ::
---
:: TOUR DATES ::
06/15 Hunter, NY Mountain Jam Festival
06/16 Washington, DC DC9
06/19 Philadelphia, PA World Café Live
06/20 Allston, MA Great Scott
06/21 New York, NY Bowery Ballroom
08/03 Chicago, IL Lollapalooza
10/05 Austin, TX Austin City Limits Festival