A chilled, jazzy acoustic immersion of intimate wonder and wandering, Pure Intruders' debut EP 'No Hard Feelings' is a fresh and exciting collection of stirring sound ready to whisk us away: A record to soundtrack our daydreams and night visions.
Stream: "Canoe" – Pure Intruders
---
The record really focuses on different degrees of self-criticism. All of the songs begin with the idea of, "This is an issue you need to work on to become a better person, so how do you get there?"
There's nothing like a cathartic breath of jazzy, soulful serenades to channel our innermost reflections and existential explorations: It takes a very special kind of music to help us sit back, relax, and sink into ourselves – and yet the beauty of Pure Intruders' debut EP is that it does all that, and so much more: A chilled acoustic indie pop immersion of intimate wonder and wandering, No Hard Feelings is a fresh and exciting collection of stirring sound ready to whisk us away. Pure Intruders' informal introduction is a record to soundtrack our daydreams and night visions – not to mention a welcome first look at a band we can't wait to hear more from soon.
We could try
Harder than last time
Or we could stay awake
Waiting for it to change
It's on me, I take everything
Too seriously
Why can't we agree
Or answer it gracefully
There's a drift in the sea
If you float too carelessly
Why don't you talk to me
When you're feeling this empty
Oh it's alright, we get high
And low sometimes
It's alright despite how it seems
It's a smile that knows what it means
– "Soy Un Triste Payaso," Pure Intruders
Independently released March 30, 2021, Pure Intruders' No Hard Feelings is fifteen minutes of introspective gold. The Chicago-based trio of Madeline Julia Smith, Brandon Suarez, and Jonathan Noel, Pure Intruders formed "in the peak of 2020 Quarantine" (winter 2020); they self-describe their music as "bringing to life the sounds of isolation and contemplation," and cite "70s Disco infused with modern indie pop" as some of their inspirations. After releasing three songs in 2020 ("It's Chic," "New Tricks," and "Water Balloon,") the band's new EP serves as their first material of 2021 and a brand new slate of four deeply resonant, gorgeously arranged tunes.
"We originally talked about releasing a lengthy twelve song LP, however I was very much against it," lyricist and vocalist Madeline Julia Smith tells Atwood Magazine. "I joked that it would be more like a 'Pure Intruders Greatest Hits' album because of all the varying songs. We have a lot of impending demos ranging from genre to genre, all very voluminous dance songs that set an evening scene. It just didn't feel right to release a large body of work while we're still trying to establish ourselves as an emerging project. There were a few acoustic/jazzy songs that stuck out from the bunch that had an introspective, confronting tone that felt fitting to release as the cap off to a reflective year. Those songs became No Hard Feelings."
"Madeline is the one with actual hindsight and sort-of holds the reins on releasing too much material (for the better)," keyboardist and percussionist Brandon Suarez adds. "I think a lot of musicians want to immediately share something they've just written based on pure excitement and naive optimism, myself included. We work hard and we're just constantly writing, so we built up a repertoire of very versatile demos. That almost resulted in putting out a full-length LP, but in retrospect it was like a recipe with too many conflicting ingredients. I do love how we approach writing; sort-of letting the song decide where it wants to go. But it was nice to have a clear direction on this E.P. and to organize it around this acoustic-centric collection of songs. I never would've thought our first release would even contain an acoustic guitar, honestly. But there's an undeniable chemistry that Madeline's voice shares with a guitar, and that's the direction we went. But I still very much love our Disco-oriented songs and can't wait to share them in the future. "
"Once we knew this wasn't a full-length LP and started focusing on the acoustic tracks, everything was like clockwork. In fact, we incidentally wrote "Soy Un Triste Payaso" in the process of working on the other three. Jon had this acoustic progression I saw a lot of potential in, and we decided to work it at the very last minute. It was very close to being a three song EP. Now I can't imagine the EP without it."
Pure Intruders don't fit into any single mold: Their collective style is diverse and wide-reaching, incorporating everything from disco grooves to jazz guitar progressions, retrowave synth pads, bossa nova rhythms and beats, and much more. Perhaps it's in part due to each member's own unique musical inspirations – all three say they're currently listening to an array of artists:
Madeline Smith: Natalia Lafourcade, Labi Siffre, Margo Guryan, Large Print, Walter Wanderley
Brandon Suarez: Spencer Krug, Evans Pyramid, Jens Lekman, Dorothy Ashby, MF Doom (RIP)
Jonathan Noel: Kainalu, Michael Nau, of Montreal, Kadhja Bonet, Rita Payes, Marias
I think 'No Hard Feelings' shows we're not trying to force songs into a certain mold or genre. As long as we unanimously enjoy something, it will probably get released even if it's 'different.'
– Jonathan Noel
Deeply introspective lyrics and an irresistible coffeehouse-ready vibe are just the tip of the iceberg when it comes to this promising new group.
Smith notes the significance of the EP's title No Hard Feelings in speaking to the sentiments born out within.
"The record really focuses on different degrees of self-criticism," she says. "All of the songs begin with the idea of, "This is an issue you need to work on to become a better person, so how do you get there?" So the title No Hard Feelings references the notion of forgiveness without bitterness. It's a phrase that usually infers an argument that was resolved, or a conclusive mutual understanding between two people that care about each other. So after finishing all the songs and thinking about a title that wrapped up the tone of the EP, No Hard Feelings came to mind. That in order to do better, you have to know and accept your faults, but at the same time, don't be too hard on yourself in the process. You forgive, you accept and you move on with a better understanding of yourself and those around you."
"We released three very different singles throughout the year of 2020, all representative of our sound as a whole. But I felt our next release needed to be a bundle of songs that shared a similar sonic environment to invite listeners into our soundscape. While I don't think No Hard Feelings is going to be the prototype of our sound moving forward, I do think it showcases a different angle to our songwriting that's important for our future releases. I think this is going to be the record that warms our listeners up to our musical chemistry and our intent to capture multiple genres in one distinctive sound. I'm not as concerned with fitting into a 'genre' box, I just want people to hear our songs and think, 'That sounds like a Pure Intruders song.'"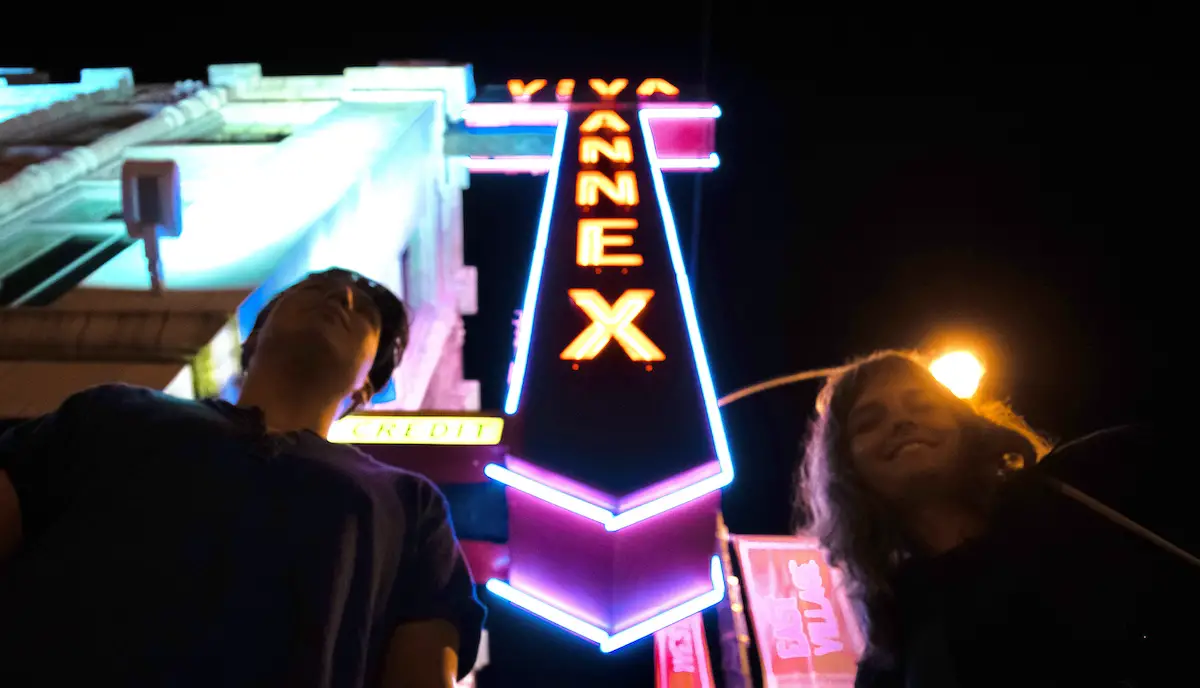 Go ahead and savor it
It's clear that you're made for this
But this time it's different
We're still the same person
Oh baby
A part from all shit I talk
You say I never say I'm wrong
But how else am I supposed to front
But I will never lose my heart
The way I lose my head when you're not around
Oh I'm trying
To find the part that's always missing
Just like how it started
Every new house needs furnishing
Oh my god
I think I've found the act of love
It's not who we are
It's giving what we want in spite of it
– "Canoe," Pure Intruders
Lyrics play a special role in Madeline Smith's songwriting – especially as she often subverts traditional verse-chorus expectations (EP opener "Canoe," part of which is teased out above, is a particularly good example of this). Smith's voice is soft, yet emboldened and strong – think Tennis' Alaina Moore and Lorde; set against a jazzy assortment of drums, guitars, and keys, she soars – her words ringing out into the light and the darkness.
"I think my favorite lyric is in 'Soy Un Triste Payaso,'" Smith shares."'I no longer acknowledge strangers passing by me.' It's an isolated line pulled from a larger poem I wrote, which may give it more context:
"I no longer acknowledge strangers on the street
We're all dead meat, standing on tired feet
But that's not true, is it"
"I like it because it confesses that sometimes people lose a sense of humanity with strangers. We think everyone we don't know is an NPC in our life, when in reality, everyone has their own world and unique story. I've always been a person to nod or smile or make eye contact with people so they know they're recognized even for a split second. However, living in a crowded city during a pandemic, my anxiety went through the roof, and so I tried to avoid people the best I could. I didn't like that I became that numb person, especially during a time where human connectivity is already lacking."
---
Smith's band mates are as much fans of her and her writing and vocal talents, as they are her equal musical co-members.
"I love being able to sit back as a fan and dive into Madeline's lyrical imagery," Brandon Suarez says. "Since Jon and I do not contribute at all in that sense, I get to appreciate the lyrics as a listener. Her lyrical content is a huge reason why I want her vocal so upfront in our mixes; I want what's being said to be heard. That being said, I could pick a line from each track that I admire. But I do love the outro of 'Sweet Nectar', where she simply states, "I wish I had more control over these emotions." It's a blunt confession, and I think anyone listening could apply it to their own feelings."
I know it seems like its all for nothing
But I rely on thoughts
That I am all you want
And that there's no one else around you
I thought about leaving
When I thought about you
Turns out I don't spin around as easy as they do
What if I felt nothing?
Let the cold world numb me
Somehow protecting everything from hurting
All we need is another reason to fall in love
I wish I had more control over these emotions
But we'll never know
where we went wrong
If we don't expose them
– "Sweet Nectar," Pure Intruders
---
Each member of Pure Intruders also has their own favorite moments off the EP – a testament to the many textures, emotions, ideas, and sounds conjured up across these four tracks. "I think collectively we all love the second half of "Canoe" where the bass, drums, and vocals come back in after the instrumental break," Smith notes. "It's a nice release from the beginning of the song where it's very tranquil and vocally blasé. I think each of the songs have their own moment with me, that moment of "ahhh, this feels good", like sipping a cold, carbonated beverage on a hot day. But overall, 'Sweet Nectar' is the one I'm most happy listening to. I wouldn't change anything about it."
Suarez prefers the first track: "Canoe" is probably my favorite, mostly because the result was exactly how I'd heard it in my head initially. Sometimes you think you know where a song is heading, but then the writing process directs you somewhere else entirely. But writing "Canoe" was almost like reading from a manual. The first time Jon played it for us, the result was already in my head and it was just fun to approach it already knowing what its potential was."
Meanwhile, Jonathan Noel cites the smoldering "Dorothy" as his own highlight of the moment. "When Madeline sings the higher octave in the last verse of 'Canoe' it's dirt-nasty."
---
Maybe Pure Intruders should have gone ahead with that twelve song LP – and perhaps they still will, but for now we're grateful to have this EP lighting up our lives.
No Hard Feelings is an immersive, enduring experience full of feeling – a relaxed record that dives deep without acting like it dives deep. It's timely, yet timeless at once – a stunning, promising chapter one for the Chicago trio.
"My hope is that listeners feel relaxed and rejuvenated while listening," Smith says of the EP. "I do feel like this is a morning record. Something to put on while you're getting dressed or making coffee/tea; it doesn't gloss over the tribulations of daily life, but it does (hopefully) inspire you to stay in tune with the world and people around you. To think critically about your actions and how those actions can affect your future and your relationships. In retrospect, I realize I will never 'outgrow' the concepts behind these songs. They are hurdles I will face again in my future, whether it be reoccurring insecurities, or guilt that I'm not working hard enough, or getting older and not seizing all opportunities due to self-doubt. I will always return to these songs to remind myself that self-improvement is an ongoing task.
Listen to the full record via our below stream, and peek inside Pure Intruders' No Hard Feelings EP with Atwood Magazine as the band goes track-by-track through the music and lyrics of their debut EP!
— —
Stream: 'No Hard Feelings' – Pure Intruders
:: Inside No Hard Feelings ::
— —
Canoe
 The image of a canoe in water helped guide the writing process of this song. I knew I wanted it to sound like these sections were floating into each other. There's an actual audio sample of a canoe right from the intro. This was also one of the first sketches Jon played for us on guitar, so it was a fun opportunity to complete a song instead of initializing it. It felt like coloring in someone else's sketch. A lot of what you hear on keys are actually first takes that I had no intention in keeping, but over time they naturally found their place in the mix. But I had immediately heard a hip-hop type drum beat in my head the first time Jon ever played it for us. And Madeline has this amazing, almost envious ability to find the melody that a song yearns for. Hearing what "Canoe" eventually became is what helped us pursue this sound in the first place.
Soy Un Triste Payaso
"Soy Un Triste Payaso" was the last song we'd written and added to the EP. It was another track that developed from a chord progression Jon had written, and we built it all together in our apartment adding percussion and keys. This was also another fun one to sculpt from a bare acoustic demo, because it had almost endless avenues to pursue. It ended up naturally forming into this Latin-influenced sound. The line "Soy Un Triste Payaso" is a line from an old Mariachi song by Mexican artist, Javier Solis. The image of a sad clown is almost cliche now, but sometimes our songs feel like upbeat, optimistic tunes with sad lyrical content.
Dorothy
I initially didn't want "Dorothy" on this EP. It felt out of place, it doesn't have any guitar, and it was a previously existing demo that wasn't deliberately intended for this EP. It has a cool groove, but it felt a little dark to me. But Jon and Madeline affirmed to me that it belonged here. And from its reception so far I couldn't be happier to be wrong. People seem to love it and some even claim its their favorite track on the EP. Dorothy Ashby was an incredible composer that deserves more recognition for her story as well as her music. Being a female, African-American harpist trying to incorporate a classical instrument into jazz music meant she had mountainous obstacles to overcome. Her overall determination to approach music differently is a huge influence on how we approach our own work.
Sweet Nectar
"Sweet Nectar" may very well be the reason we're a band. A couple of years ago, before Pure Intruders even existed, Jon was visiting us in Chicago and we wrote a song one day out of pure boredom. No one will ever hear the demo because it's so terrible, but we had so much fun essentially writing a song for the day with no real intention of ever releasing it anywhere. It was a slow realization that the three of us belonged together writing, but we're here now and it's very possible it's because of "Sweet Nectar."
— —
— — — —
? © 2021
:: Stream Pure Intruders ::
---