Every other week, Anthony Kozlowski pens the Atwood Magazine column Tunes & Tumblers, pairing new and classic albums with cocktail recipes. He quickly found however that drinking alone is a sad business. So he invited his friends Pedro Isaac Chairez and Ryan James into a recording booth to aid in mixing delicious drinks and to discuss the music that they all love. Strap on your headphones and enjoy a cold one on us. 
 
On a very spooky episode of Tunes & Tumblers, the gang discuss the origins of goth rock over a bloody, frightful, and delicious beer-based cocktail. Don your favorite costume and get ready for a night of frights and delights.
   
Something boozy this way comes. To commemorate the most frightful of holidays (next to the awkward torture of your family's Thanksgiving dinner), the Tunes & Tumblers crew draw the curtains, don their blackest cloaks, and turn back the clocks to the birth of the moody, angsty, and the dreary. Broadcasting live from a haunted, dilapidated building in Boyle Heights, the gang dust off their old gramophone and drop a record that helped usher in an era of black-garbed, disaffected teens dying to read you their morose poetry.
Bauhaus isn't a name that rolls off the tongue with the immediate recognition of the Cure or Joy Division, but they also forms the cornerstone of what would become goth rock. To fans, they are no less than the Godfathers of Goth, the Sultans of Sadism, the pioneers that would make vampirism look cool before Twilight steamrolled the whole production.
Childhood friends Daniel Ash and David J. Haskins shared an affinity for the dark and the macabre, and influenced by the brash DIY ethos of the burgeoning punk movement, decided to form a band of their own. They convinced their friend Peter Murphy to join them even though he had limited to no experience as a musician. In their words, he simply had the right look.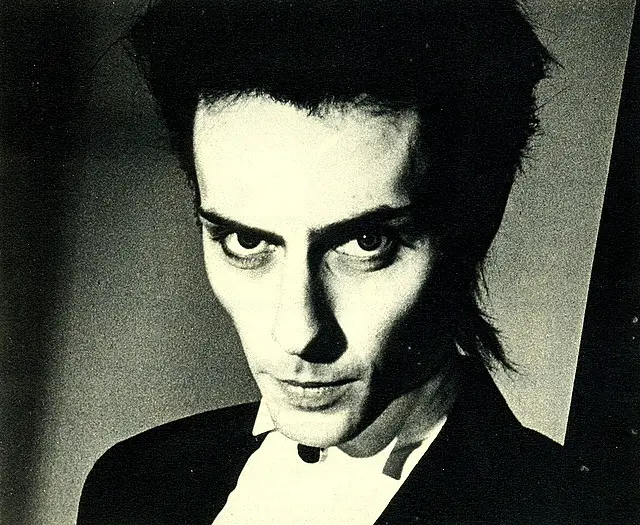 They originally took the name Bauhaus 1919 after the famous German art movement and the year of its inception, adopting the school's black and white logo as their own. For the uninitiated, the Bauhaus school of thought popularized the idea that form and function in art should be in harmony. The band took that to heart, adopting an aesthetic that was equal parts punk abrasiveness, Glam theatricality, and 30's creature feature. Their shows oozed with a gloomy energy that would have made Edgar Alan Poe salivate. A flurry of dirgy guitars, tribal drums, and possessed vocals brought appearance and sound into perfect synergy. The only thing missing is taste. Luckily, that's the Tunes & Tumblers specialty.
THE ALBUM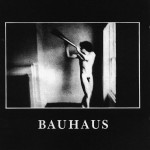 In the Flat Field
an album by Bauhaus
---
It's hard to understate how much the goth, emo, and post-punk movements owe to Bauhaus' relatively short tenure as a band (the group disbanded in 1983). From the time they recorded their debut single "Bela Lugosi's Dead" – a brooding 9-minute tribute to the late Hungarian-America actor who famously portrayed Dracula – they've become synonymous with the darkness. This is a group so committed to their theme, that they toured in a hearse which they dubbed the Bauhearse mobile.
After the success of "Bela," which postpunk.com fondly likened to "Free Bird" or "Stairway to Heaven" for goths, the group went to work on their debut In the Flat Field. At first blush, this album is an amalgam of disparate and dissonant sounds. It combines influences of dub, reggae, German expressionism, and the Velvet Underground into a package approximating rock only in the faintest sense. But it sparked a movement that still lumbers along in black-garbed angst today. Ned Ragget of Allmusic wrote: "In the Flat Field practically single-handedly invented what remains for many as the stereotype of goth music – wracked, at times spindly vocals about despair and desolation of many kinds, sung over mysterious and moody music."
Music critics at the time were far less charitable. NME described it as "nine meaningless moans and flails bereft of even the most cursory contour of interest," while Andy Gill dismissed Bauhaus as "a hip Black Sabbath." But the longevity of music is hardly ever decided by squawking of critics (much as I know that flays my own profession). In the Flat Field is a classic haunt, the one that took Gothic atmosphere from the yellowed tomes of Poe and Shelley and thrust it onto the pop charts.
Halloween is a perfect occasion to celebrate this genesis of vampiric delights, but an equally spooky cocktail is sorely needed. Please enjoy these "Dark Entries" responsibly.
THE DRINK
A Bloody Martyr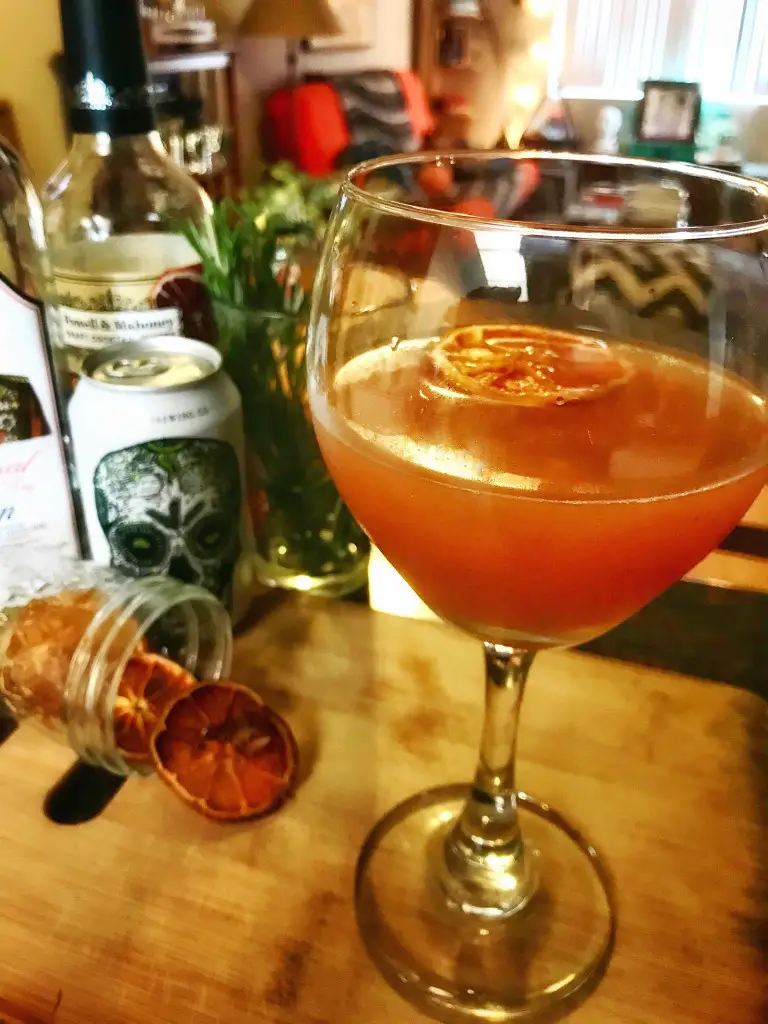 2oz dry gin
5oz blood orange juice
2oz Gose
2 sprigs of rosemary
Dried orange slice (for garnish)
Instructions
Muddle the rosemary very well in a cocktail shaker
Add ice, gin, and blood orange juice. Stir. Double strain into a glass.
Add Gose. Garnish with dried orange slice.
Light a cigarette and write poetry about how no one understands you.
Cheers, Lovelies!
Our guest this week has credentials that put ours to shame. Jess Keller Poole hails from the Seattle beer industry and brainstormed with Pedro on creating the ultimate beertail for the gothic soul in all of us.
Bauhaus themselves are appropriate for this time of year, but they demand a ghoulish sort of drink that you can down before taking the kids on their Trick-or-Treating romp through the neighborhood. Pedro may be the best mixologist on our North Hollywood block, but we decided to mix incorporate Jess' specialty and his like a liquored-up Dr. Frankenstein. The result is a veritable monster mash for your bar cart.
The hardest thing about incorporating beer into a cocktail is carbonation. You don't shake beer. You don't mix it a lot. And you want something light enough not to interfere with the body of the cocktail, but robust enough to bring a unique flavor profile to the table. After much discussion, they settled on a Gose, which is a German-style sour beer made with sea salt and coriander to give it some complexity.
For those less familiar with the wonderful world of beer, sours are exactly what they sound like. They're sour. But they also top out at low ABV of 3-4%, making them perfect for slamming one after the other on a long summer day.
The Gose gives our cocktail a nice acidic touch without being overbearing. Complemented with the blood orange juice, it's light and fragrant, but with a sour bite that keeps one going back for more. A winter citrus, blood orange is just now starting to come into season, perfect for a little Halloween spirit (in both sense of the word). Bloody and juicy can describe more than your favorite creature feature.
The addition of dry gin lends the cocktail some delectable, herbal undertones further heightened by muddled rosemary. And since dry gin is synonymous with London, Bauhaus' home turf, it brings the production full circle.
In a nod to the grim trappings of goth, they dubbed it a "Bloody Martyr" after one of the songs on In the Flat Field and a wink at this most ghoulish of holidays. It's bloody for the color, bloody for the British colloquialism, and bloody for the orange, dry and decaying in the glass. The goths would be proud.
THE SHOW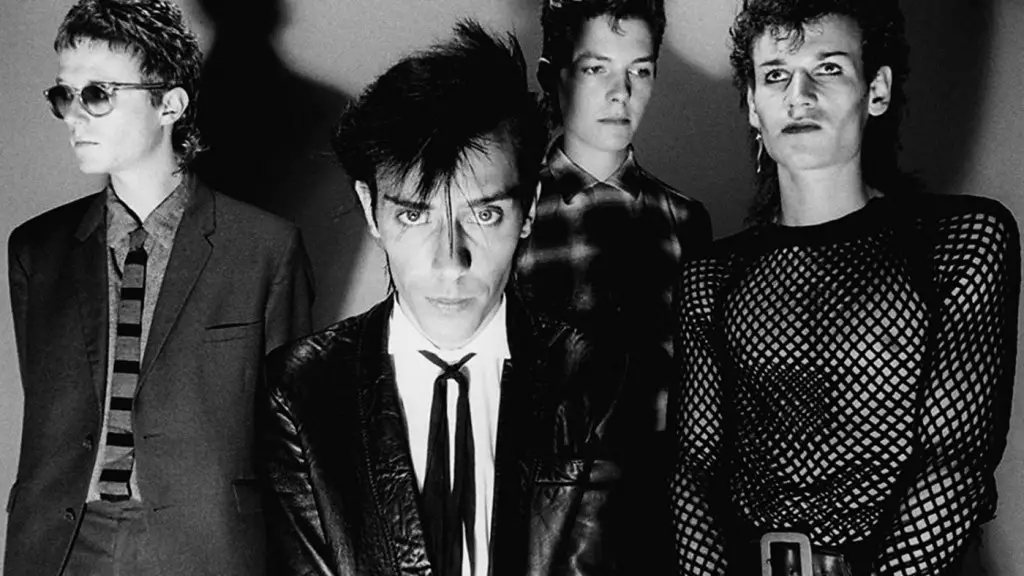 Recorded on the first rainy day of the season in LA, the stage couldn't have been better set for an afternoon of dreary and spooky delights. Jess, a Seattle resident, is no stranger to the grey, and took to the subject matter like a sponge. She assumed the role of a tour guide of sorts. In a land where the sun barely shines, the gloom hangs like a shroud. Perhaps Bauhaus found themselves in a similar scenario when recording their opus.
When rattling off a shortlist of pivotal goth bands, the same few pop up (the Cure, Joy Division, New Order, etc.), all residents of that overcast island across the pond. Correlation doesn't apply causation, but when the Vitamin D is low and the gloom hangs heavy, thoughts turn to that space of haunting insecurity. Our demons rise and we sway in apathetic melancholy.
A whole generation exorcised their torments to tracks like the creeping, atmospheric "Nerves" and the on-the-nose "Small Talk Stinks." This album raises cobweb studded walls around it, traipsing through the haunted corridors of our minds. The dark pageantry decorates it like the halls of Hill House, frights around every corner. When it comes down to it, there's hardly a more terrifying place than the phantoms conjured by our own insecurities.
Light the candelabra, place jack-o-lanterns on the front porch and whip yourself up a Bloody Martyr. The season of gothic terror is in full swing. Cheers to the darkness, lovelies.
Tunes & Tumblers 011: Halloween Special!
Bauhaus and a Bloody Martyr
---
Catch up on Tunes & Tumblers wherever you listen to your podcasts!
If you want to add any of the music discussed to your library, check out the full episode playlist below:
Have your own idea for a Tunes & Tumblers pairing? Let us know in the comments, or hit us up on Twitter.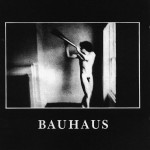 © Pedro Isaac Chairez