On "Declaration", Cailin Russo comes clean about past mistakes and admits her flaws, atoning for what she's done wrong and disarming critics.
Listen: "Declaration" – Cailin Russo
[soundcloud url="https://api.soundcloud.com/tracks/701077213″ params="color=ff5500&auto_play=true&visual=true&hide_related=false&show_comments=true&show_user=true&show_reposts=false" width="100%" height="300″ iframe="true" /]




---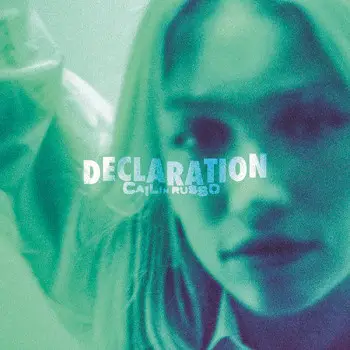 If you point out the worst thing about yourself, no one else can hold it against you, right? At least that's the philosophy behind Cailin Russo's newest single, "Declaration", a pop, guitar-led track in which Russo, with her smokey vocals, comes clean about mistakes she's made in the past.
"Have you ever done something really bad?" Cailin Russo asks at the start of the music video for the song. What comes next is an addictive guitar introduction paired with dreamy, layered vocals and Russo in a bathroom that's bathed in green light. Russo is returning to music, and she's making her comeback with a confession, an admission of guilt, a request for a clean slate.
Like a dog with his tail between his legs
I'll sleep in the bed I know I've made
I knew things could get complicated
Oh oh I am ashamed
I don't know her face or where she came from
I don't even know her name
The mirror's clean I scream again
Oh oh I am ashamed
On an Instagram post announcing the song, Cailin Russo opened up: "Last year was the most emotionally exhausting year of my life ~ I guess we start here" and also called "Declaration" "Part 1 of the drama". "Declaration", the first chapter of the story Russo's telling us, starts with her taking responsibility for whatever she's done – "I'll sleep in the bed I know I've made". She refers to a she, who might be herself or someone else, and admits to not recognising whoever that person is – it's uncharted territory, but she's aware of the role she played on how it all went down.
So I run
Can't escape the fate of judgement day
For the things I've done 
This is a declaration of a fuck up
A product of how I was raised
And I don't expect a single teardrop
Oh oh I am ashamed
This a declaration of a fuck up
And in the end I don't know how to change
And I don't expect a single teardrop
Oh oh I am ashamed
Russo recognises that being faced with her actions is inevitable, and so she decides to be direct: "This is a declaration of a fuck up". It doesn't get simpler than that. At the same time that she admits her mistake, Russo also recognises that her actions are a result of a nature that's deeply rooted inside her, and that even though this might provoke apathy on her part, she doesn't know how to change something that's so fundamentally her.
Speaking about "Declaration", Russo has said it's "a fierce proclamation of a mistake from which I couldn't seem to escape. The song comes from that feeling where you almost reach the bottom and you have nothing to do but accept it, own it and let it run its course".
Watch: "Declaration" – Cailin Russo
---
Oh oh I am ashamed
Oh oh I am deranged
Oh oh I am insane
Oh oh I'm inhumane
Oh oh I am ashamed
The song ends with Russo's repeated declarations about herself. Shame is intertwined with insanity and inhumanity, and these are the last words we're left with. Atoning for her mistakes, Russo holds a mirror up to herself – maybe a version of herself she'd rather not see – and is forced to reconcile with her reflection. The words she uses to describe herself are harsh, but they never feel disingenuous. This is a moment of reckoning for Russo: accepting her mistakes and these flaws of hers is the first step in correcting what she's wronged.
There's very little one can do that's more vulnerable than admitting their own mistakes and confessing to feeling ashamed of themselves. In an age of eternal posturing with social media, one is either always happy or always sad, too real or not real enough, the next big thing or an industry plant – everyone is exposed to criticism all day long. And it can hurt. When you're a public person like Russo, the voices that are ready to point fingers at you and hide behind comments are multiplied and even more vicious.
With "Declaration", Russo is disarming everyone who criticises her and everyone she's ever wronged: she's saying "Hi, I made a mistake, I fucked up, I'm human". Pair this sentiment with a great song and you're left with something irresistible.
— —
Listen: "Declaration" – Cailin Russo
— — — —
? © Rebecca Hearn
:: Today's Song(s) ::
---
:: Stream Cailin Russo ::
---