OutKast's current state may still be deemed a "musical hiatus," but it's doubtful how much longer the long-dormant duo may be worthy of that free pass of a term. After all, it has now been 15 years since the two rap superstars actually recorded an album together. Andre 3000, who only somewhat deservedly became considered the group's frontman in the wake of his 2003 solo smash, "Hey Ya!," has now gone close to a decade without appearing on a Top 40 single and has never released a solo album of his own.
Instead, Andre's recording colleague Big Boi has been central to the bulk of OutKast's creative productivity throughout its lackluster post-"Hey Ya!" era. While his two solo albums may have been commercially overlooked — they sold a combined 240,000 copies and neither one managed to produce a Billboard Hot 100 single — both were applauded for their stylistic originality and skillful collaborations. Thankfully, Big Boi has kept these qualities alive with his newest musical release, the seven-track EP Big Grams (released 9/25/2015 via Epic Records).
Listen: "Lights On" – Big Grams
---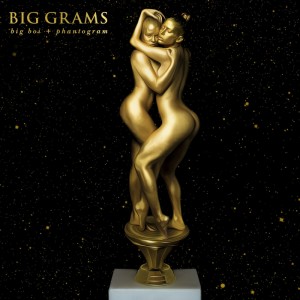 Rock and electronica have seeped their way into OutKast's music on several occasions, most notably on Stankonia (2000), the last album which Andre 3000 and Big Boi jointly produced a decade-and-a-half ago. So after Phantogram — a musical duo which, like OutKast, consists of two high school friends who turned their dreams of major-label success into reality — demonstrated their strong capacity in these genres, it wasn't long until Big Boi came calling. The rapper crafted the entire EP alongside band members Josh Carter and Sarah Barthel of Greenwich, NY, and their chemistry proves to be remarkably effective for much of the EP's fast-paced 27-minute run-time.
That much is made evident right from the record's leadoff track, "Run For Your Life."
Listen: "Run For Your Life" – Big Grams
---
Phantogram's hypnotic hooks and stunning synths combine with Big Boi's deft rhymes ("Having an attitude is counterproductive to being blissful, made me not miss you, I'm dodging bullets but I'm sending back these missiles….") to produce one of Big Grams' most energetic moments. The music remains fresh and full of character throughout the remainder of the EP, with "Lights Out" and "Goldmine Junkie" serving as some of Big Grams' most sonically rich moments.
As an MC, Big Boi is not quite the rapidfire marvel anymore that he was on OutKast classics like "Rosa Parks" and "B.O.B.," or even on more recent solo cuts like "You Ain't No DJ." Occasionally, he grapples for memorable subject matter, and tracks like "Fell In The Sun" and "Put It In Her" are overly reliant on erotic metaphors ("Talk about a Vitamin D overdose… and I do mean D….") which come across as less than spectacular. If only the more lyrical Big Boi of "Da Art of Storytellin'," among many other former-day numbers, could step up to the plate at moments like these.
Once upon a time there was a boy named Daddy Fat
Heard he grew into a man and put his family on his back
Had a master plan, Da Vinci code, nobody couldn't crack
Even though when times got difficult, he kept on slangin' rap
Servin' nothin' but that gas cause the walls are full of plaques
And not the regular unleaded or the mid, we got the pack
We extra-terrestrial, extraordinary
In the center of your solar system, shinin' on the daily
Listen: "Fell in the Sun" – Big Grams
---
Still, what the 40-year-old MC may lack in fresh subject matter, he makes up for with a crop of excellent couplets ("The darkest nights produce the brightest stars, so give me credit, I keep it A1 like biker skulls") and several quite effective guest recruits. Run the Jewels, the hip-hop group anchored by Big Boi's longtime artistic partner, Killer Mike, pump an impressive amount of momentum into "Born to Shine." Skrillex also does fine work on "Drum Machine," turning in masterful usage of the titular sound effects which fit in perfectly with Phantogram's production and allow the EP to close in quite grand style.
As far as OutKast's standards go, the bar set rocket-high by their two best records, Stankonia and 1998's Aquemini, remains out of reach. But now that hopes for a new 'Kast record appear all but obsolete, Big Boi's newest output should be more than enough to tide over fans of the group. Big Grams may not boast a wealth of brand-new thematic concepts, but Big Boi's work in the studio, both individually and alongside Andre 3000, has often blended genres not commonly paired alongside hip-hop with remarkable ease and grace. Indie electronica is no exception– therein lies the primary strength of this Phantogram-assisted EP.
Watch: "Goldmine Junkie" (live on Kimmel) – Big Grams
—
You can follow Big Grams on Facebook, Twitter, and Instagram
Big Grams