Every Friday, Atwood Magazine's staff share what they've been listening to that week – a song, an album, an artist – whatever's been having an impact on them, in the moment.
This week's weekly roundup features music by Hiatus Kaiyote, Oh Wonder, Esperanza Spalding, Jake Isaac, Miesa, Harriette, Piqued Jacks, Alex Lleo, Raye Robinson, The Sunshine State, and Bleach Lab!
•• •• •• ••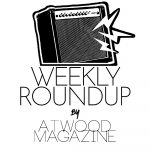 — —
—
:: Mood Valiant – Hiatus Kaiyote ::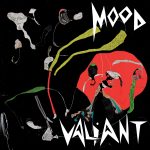 When Melbourne-based band Hiatus Kaiyote released their sophomore effort Choose Your Weapon in 2015, the album became a phenom among music nerds and more casual listeners alike. While their debut record found a dedicated but niche fanbase, Choose Your Weapon offered hooks that were simultaneously more accessible and maximalist levels of weird. But it's been six years since Choose Your Weapon was unleashed into the world, and in that time, copycats tried and failed, and the expectations for Hiatus' next album soared. Fortunately, Mood Valiant is everything and more. Nai Palm, the band's effervescent, magnetic frontwoman, and her bandmates Paul Bender, Perin Moss, and Simon Mavin, create music that seems more likely to have been produced by alchemical miracle than actual people. But Hiatus Kaiyote really are that talented.
Mood Valiant combines the familiar hallmarks of the band's writing, like slugged drum beats, Nai's unique approach to vocal runs, and heavy bass lines, with melodies and song structures that further their already impressive catalog. The album feels triumphant, not least because Nai Palm beat breast cancer since the last record was released. There is a palpable sense of joy in songs like lead single "Get Sun" and "Chivalry Is Not Dead," and a heartfelt intensity behind the ballad "Stone and Lavender." Mood Valiant, released in June, may have gotten buried underneath large mainstream releases, less visible to those who didn't know them before. If you're one of those people, Mood Valiant, and their entire catalog for that matter, is not to be missed.
:: 22 Break – Oh Wonder ::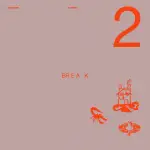 Oh Wonder's fourth studio album arrived as a surprise in late September, sending shockwaves through the hearts of all who listened: A beautifully cathartic and poignantly hopeful breakup album (released just a month after the pair's wedding this August), 22 Break finds Josephine Vander Gucht and Anthony West reckoning through their deepest feelings together on their most intimate, cinematic, and emotional release to date. Brutally honest and achingly vulnerable, 22 Break's songs are full of pain and passion as the duo abandon all pretense, drop their guard, and work through their problems: From the softly bittersweet "Baby" and the radiant, dazzling title track, to the enchanting, smoldering "Don't Let the Neighbourhood Hear" and the driving "Rollercoaster Baby," Oh Wonder do what they've always done best: Marrying melody with substance, irresistibly catchy music with deeply meaningful lyrics.
Aside from the raw, cathartic energy rippling through its every moment, perhaps the most powerful aspect of this stunning album is the fact that this is a record Oh Wonder so clearly needed to make, rather than one they wanted to make. Its lyrics come naturally from a life lived together; it's the story of their relationship, in all its wondrous ups and downs, highs and lows. "Eight years of holy descended in decay, promises slowly gave up believing in fate," they sing in the finale "Twenty Fourteen" (the year they connected, and started writing and recording together). "Opposites attract, what the hell is that? I'm not good with facts… The devil's in the deep end, and I'm about to crack." It's a song full of fire that ultimately concludes on a high and heartwarming note.
Oh Wonder survived 22 Break, and they continue on together now, stronger than ever. Their album exists as a remnant of a time of fracture and isolation, loneliness and distance, uncertainty and fear, inadequacy and insecurity; all those ingredients that so effortlessly define the lead-up to a break-up. This is a dark record, but it's also one of Oh Wonder's shining moments – not only because of the musical bright spots (of which there are many), but also because of its utter purity: Oh Wonder took listeners on a journey through the most tumultuous time in their relationship, sharing their all and truly holding nothing back. 22 Break is heart-wrenchingly honest and captivatingly beautiful – an exceptional album worth returning to time and again.
:: Songwrights Apothecary Lab – Esperanza Spalding ::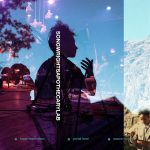 It's hard to quantify the music of Esperanza Spalding, without using pretentious words that don't really capture anything: ephemeral, esoteric, cosmic. These words aren't necessarily wrong, but what do they tell you? Spalding's latest masterpiece, Songwrights Apothecary Lab, is experimental jazz at the outer edge, world-expanding soul that never stops challenging (and delighting) you. Her emotive falsetto and stirring bass shake your core — and therein lies the beauty of Spalding's work: It's not so much about the sound than the feeling.
It doesn't look like this album managed to secure much of a commercial audience – it only peaked so high as #11 on the Billboard Top Contemporary Jazz Albums chart and doesn't even have its own roundup on Metacritic. But for those who are acquainted with Esperanza Spalding – and there must be a fair few, given that she's been around for 15-odd years and won four Grammy Awards – it's definitely worth tuning into her most recent effort, Songwrights Apothecary Lab.
Whereas her previous album was constructed as a collection of "spells," each one correlating to a particular body part, the songs this time around are all "formwelas" designed to cast healing powers on the listener in their own special way. Spalding consulted a series of music therapists and neuroscientists for advice on how to channel therapeutic wonders into each of these records. The end results achieve these effects by a variety of means. Sometimes, it's detailed descriptions of the movement and philosophy of Harikatha that de-escalate interpersonal aggression. Other times, it's simply her nailing her signature "aah-aah-aahs" over a suave blend of jazz instruments for 11-minutes solid.
No matter what approach she goes for at the moment, her mission to create sweet, calming music is accomplished time and time again throughout her new album. This is one Lab well worth checking into.
:: Honesty – Jake Isaac ::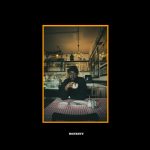 Released back in early March, Atwood artist-to-watch Jake Isaac's sophomore album is a short, sweet, and soulful overhaul: The UK singer/songwriter spills his heart on the page and in song throughout 27 minutes of unencumbered tenderness. Intimate and deeply expressive, Honesty is a rich tapestry of passion and pain, longing and devotion that is as moving as it is absolutely true to its name: From the radiant opener "Good" to the punchy closer "Promised You," Isaac compels through breathtakingly beautiful, moving moments of vulnerability. Highlights abound, with songs like the powerfully raw, confessional love song "Eyes for You," the aching "Talk About It" (featuring Yuna), and the smoldering, nostalgia-laden "Remember (featuring Samm Henshaw and Mumu Fresh) showcasing Isaac's storytelling talents, his penchant for breathtaking balladry, and his showstopping vocal talents.
Contributions from fellow artists Tertia May, Samm Henshaw, Mumu Fresh, India.Arie, Yuna, and Wildwood Kin add an extra magical layer of connection and community to many of Honesty's songs, as do the three emotional (to the point of feeling cinematic) voice notes found at the beginning, middle, and end of the album.
In late October, Isaac released a deluxe version of Honesty adding four more tracks to the mix: The slow-burn "These Fires," the gentle, soft, and loving acoustic ballad "Safe Inside," the intimate duet "Better" featuring Litening, and the groovy "Hard Place" – each of which adds more beauty to an already captivating collection. At its heart, Honesty is a record of unbridled love; of yearning for that inner sense of completion; of appreciating the life and times shared between two souls. Nostalgic and wistful at times, the album ultimately leaves us with a warm sense of wonder and good cheer – for at the end of the day, isn't it beautiful that we can feel such a powerful, incredible feeling as love?
:: "Blind"- Miesa ::
Most of us are familiar with the saying "love is blind". Miesa skillfully portrays that sentiment in her single aptly titled "Blind." Detailing the roller coaster of emotions that come with a lot of relationships, she seductively sings of those dramatic ups and downs. Through radiant synths and lush, soulful vocals the song effortlessly shines. This stirring ballad is so stunning, soaked with deep longing.
Miesa is known for her hypnotic pop/R&B sound. Her silky tone paired with honest lyrics makes for the ideal passionate pieces. This tune, produced by Viirgos (Arianna Grande, Nicki Minaj), is the perfect example of that affecting quality in full force. Miesa confides, "Blind" is one of those songs that feels like everyone's story and no one's story all at the same time. Sometimes in relationships the picture could be blurry."
:: "Wednesday" – Harriette ::
Despite her enormous following on TikTok, Texas born, Nashville based artist Harriette still remains relatively undiscovered for her music. With just two singles under her belt, the 22 year old artist is just getting started with her music career, with the hopes that it may follow suit of her growing social media presence, which has been racking up hundreds of thousands of views for her hilariously raw and relatable TikTok videos. It's her charismatic energy and honest approach that has been resonating with fans and with songs like "at least i'm pretty," it shows how the young musician isn't afraid to show her vulnerabilities. Stepping into the DIY indie pop realm, Harriette has a clear knack for crafting infectious, tongue-in-cheek tracks which will simultaneously melt your heart and put a smile on your face.
Her clever songwriting was the foundation of her latest single "wednesday" which sees Harriette imagining all the traits the weekday would have if it was a person. She shares, ​​"I was doing a series for my TikTok where I write a song everyday for a week from the weekdays perspective. I had the idea for this series because I was writing another dumb little sad song and I kept referring to myself as a Monday. It made me think about how everyone loves to hate on Mondays and praise fridays." Emitting a youthful and spirited exuberance, her music is undeniably contagious and it's obvious that 2022 will be a big year for the Texan.
:: Synchronizer – Piqued Jacks ::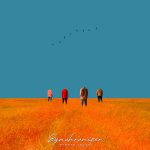 One of the indie rock albums I most enjoyed this past year– and that now is fully worth promoting in our "Hidden Gems of 2021" column– is Synchronizer by Piqued Jacks. This Italian quartet grew up together in Buggiano, a small Tuscan commune about an hour outside of Florence. The members each adopted their own musical personas– E-King on the vocals and keys, Penguinsane on the guitar, littleladle on the bass, and ThEd0g on the drums– and released their debut EP, Momo the Monkey, in 2010. Over a decade later, the group has continued to mature sonically, and that development yielded its most high-octane results to date on this past March's Synchronizer, which also marked their debut release on the Italian record label INRI.
Exciting instrumentals are a constant on this album– special shout-outs go to the soaring strings on tracks like "Every Day is Special" and "Golden Mine," courtesy of guitarist Majic-o, who replaced Penguinsane in 2019. There are also plenty of stimulating and introspective lyrics that make the album even more of a motivational listen. "Don't fight your shame, don't fight the pain," they sing on one of their singles. "Fight the flame– you're the fire brigade." Such feelings of encouragement, coupled with a rock instrumentals fueled by a decade-plus experience on its authors' part, turn Synchronizer into a record that Piqued Jacks can be proud of and rock fans far and wide are sure to gain a lot from tuning into.
:: Morning Heights – Alex Lleo ::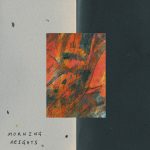 Worcestershire, UK artist Alex Lleo continued his emergence this year as the stunning singer/songwriter force we've long known him to be: Brimming with light, love, and stirring self-reflection, his 2021 EP Morning Heights is a rush of raw emotions, moving sentiments, and smoldering sounds. As tender and soothing as it is radiant and resounding, the achingly visceral record captivates and inspires, finding Lleo in his element and making music that warms the heart while stirring the soul.
There's no skips on this record: From the soulful groove "4:05" – an uplifting song full of dynamic textures and sweet rhythms that ignite a flame deep inside – to the heated jam "Easy Way," the driving "Starve," and the breathtaking "White Water," Morning Heights is as refreshing as it is cathartic: An energizing EP built on connection and self-reflection, and executed to be both catchy and moving. Lleo clearly poured his heart into these songs, and out his effort shows; we hope it's only a matter of time until a debut album comes along, but until that time comes, we'll be bopping along to this EP on repeat.
:: "Star Talk" – Raye Robinson ::
Raye Robinson is another alt/pop artist who has emerged out of 2021. Having released three singles this year, the So-Cal musician is just beginning to mark her territory in the Los Angeles music scene. Combining whimsical, charming love songs, with a hint of musical attitude and sauce, she is the epitome of sugar and spice and everything nice. Her tender vocals and delicate ukulele melodies are a juxtaposition to the deep, growling bassline and snappy beats that feature throughout her music. From the irresistible "Daisies" which plays with the old-fashioned game of "he loves me, he loves me not," to the titillating "Star Talk" which speaks of the rumble of butterflies you experience with new love, Robinson somehow manages to put a positive spin on your emotions.
We've only just uncovered the surface of this shimmering crystal and we can't wait to dig deeper and see what 2022 holds for her, with her upcoming debut EP Crushes & Love Songs set for release. So get your fill of Raye Robinson now, because she won't be a hidden gem for much longer…!
:: "Favorite Person"- The Sunshine State ::
It is never easy to come to terms with the fact that the person you care about the most may be the worst thing for you. Los Angeles indie-pop songwriter The Sunshine State knows this all too well and conveys it eloquently in her new single "Favorite Person" (feat. Hayley Gene Penner). The simple guitar backdrop builds into an anthemic chorus that simply soars. Her haunting vocals let out the kind of rare tone that stays in your mind long after you listen. The lyrics are so raw and relatable that paired with her voice you are instantly hooked.
Stayed a couple of years a little too long
Looked the other way when it wasn't working
Knew we wouldn't make it in the long run
It was hard to leave when you were
My favorite person
The visuals possess the same emotive vibes as the offering. Dancing under psychedelic lights, there is something exceptionally poignant and ethereal about the scene. The big fluffy rug and vintage blanket on top of the couch create an intoxicating retro feel. Skyler Stonestreet, the brainchild behind The Sunshine State, has seen much success throughout her musical career. Collaborating with industry giants, she has written tunes for Justin Bieber, Ariana Grande and Dua Lipa. Her songs released under her moniker have received much acclaim as well. A multi-platinum, award-winning songwriter she is deeply dedicated to perfecting her craft.
:: A Calm Sense of Surrounding – Bleach Lab ::
Everyone processes trauma differently. For some, talking helps; for others, it's physical exertion. For Bleach Lab's band members, writing music became a special form of therapy. The Buckinghamshire-born, South London-based band channeled their grief and trauma into beautiful music, the result of which is their poignant and visceral debut EP. A stirring soundtrack to inner reckoning and upheaval, A Calm Sense of Surrounding proves a breathtaking introduction to Bleach Lab's ethereal, alternative dream pop sound.
Independently released March 19, 2021, A Calm Sense of Surrounding proves an immersive and unforgettable first look at South London's Bleach Lab. Though it was already succeeded by this October's Nothing Feels Real EP (an equally compelling five-song set), Bleach Lab's first effort is exceptionally poignant and raw, and deserves mention in this "hidden gems" list: Bleach Lab blend intense emotion with fragility – the musical equivalent of a beautiful flower that is here today, and gone tomorrow.
A Calm Sense of Surrounding opens with "Old Ways," a wash of grungy guitars and nostalgic reflection. It's a representation of the first stage of grief: Anger – and it shows. Jenna Kyle's intimate vocals glow with a deep pain as she waxes poetic through haunts from the past. The following twenty minutes constitute a space of healing and emotional revival as the band capture denial ("Never Be"), bargaining ("Lighthouse"), depression ("Flood"), and ultimately acceptance ("Scars") – the latter of which resonates as a musical beacon. Turmoil and turbulence may have inspired A Calm Sense of Surrounding, but the record's music itself is a calming blend of darkness and light.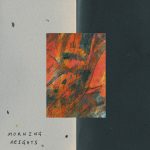 — — — —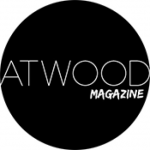 :: Weekly Roundup ::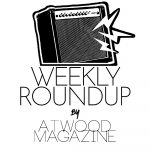 :: This Week's Features ::
---