Recommended If You Like: Sia, MØ, AlunaGeorge, Alina Baraz, Maty Noyes
You may remember ALIA from her soaringly anthemic debut single "Penthouse." An R&B singer with an electrifying twist, she sets the bar high for independent artists with her follow-up single, "Gin & Honey."
Listen: "Gin & Honey" – ALIA
---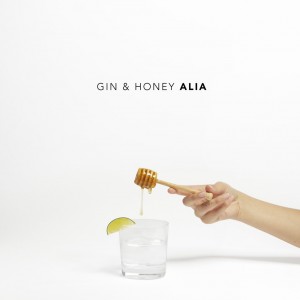 Dating back to the Prohibition era, the popular gin-and-honey concoction — notoriously called "the bees-knees" — was a dangerously jagged cocktail, falsely masked by a smooth sweetness. Though the point of Prohibition was to bar liquor from the masses, it had quite the opposite effect. Drinking in excess became a guilty pleasure, and this cocktail became one of the most desirable indulgences of the era.
ALIA sings of her own forbidden fruit, an intoxicating romance that doesn't seem to go down so smoothly.
I could never put you away
turn around and you're still dripping off me
we could be this faded for days
burn it all down, clean it up come morning
The delicately celestial keys in the background give the song a feeling of innocence that is charged with a sense of longing. While the drum programming on the track gives it an automatic groove, the vocal manipulations and tempo changes keep the song dynamic and compelling the whole way through.
The song escalates into an effortless groove with each line. ALIA has a certain edginess to her smooth-as-velvet music. It's understated, but its subtleness makes it all the more striking. Her spirit is most prevalent in the bridge following the second chorus, where she becomes engulfed in desire.
make it easy for me
when you burn like gin & honey
filthy sweet as can be
and it feel like dripping honey
baby drown me in that honey
you burn like gin and honey
With heavier R&B influences and more subdued vocals than her first single, "Gin & Honey" is a brave step in the right direction towards ALIA's genuine artistic diversity. Produced by Maro, the single's sheer production value alone sets the song apart from other works in the same genre. It sounds like a radio-ready hit, but the intricacies behind the mix give it a secret charm that just doesn't seem to wear off.
Whether it be an uplifting soulful anthem or a more infectious pop tune, ALIA's unique musical style seems to have no horizon in sight. She proves her star potential once again and is surely the one to watch in the very near future.