Scrolling through Tinder at 1 am, Brooklyn-based synth-pop artist Alyse Vellturo, better known by her artist name pronoun, was happily swiping when her screen faded to white. "There's no one new around you," read the screen. "Use passport to choose a new location."
The blank screen, while something no Tinder user likes to see, sparked an idea in dVellturo's mind. She thought the line was "actually kind of beautiful if you take it out of context," and knew she had the title of her pending EP. The line found its way into her final track, "snowed in // there's no one new around you," and finalized the collection, written solely about frustration and heartbreak, the title an irony found after the EP's documented grief.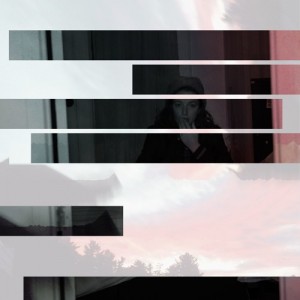 The EP, released in 2016 via Sleep Well/Rhyme and Reason, has quickly created a name for pronoun, who has pushed every musical boundary in her innovative production techniques and brutally raw lyrical exploration.
Vellturo has found her sound in haunting, full vocals layered among intricate guitar and synthetic beats. Her sound is raw and honest, yet embodies the best parts of electronic pop.  It's not forced; the structure of each track feels complete and authentic in an original way. Vellturo has crafted a new genre between pop and indie-rock, mixing in electronic influences still foreign to the latter genre.
The rhythms and daydream-like atmosphere found in pronoun's five-song repertoire could be compared to "indie" bands like The 1975 or The Japanese House, but Vellturo takes a stripped-down approach that feels relatable in a sense not explored by other artists.
Vellturo wrote and produced there's no one new around you in her Brooklyn apartment, and you can tell. While the quality keeps up with that of any competing artist, Vellturo's sincere lyricism is something beyond comparison. It's honest heartbreak that can only thrive in moments of solitude and reflection. Each track is built on an emotion, not replicable without its influence. While most artist's write on the basis of real-life reflection, it's rare to find stories so enveloping and pure.
Vellturo describes the four-song EP there's no one new around you as the product of a brutal breakup. The energy put forth into the EP reflects just that: It's the story, start to finish, of a rocky escalation in relationship intensity, describing a period of confusion and disconnect before the narrator, Vellturo, decides the relationship may not be worth the hurt. There are no holes in the story, no detours. Vellturo has created a fully exposed look into her life and inspirations and it's just as meaningful as it sounds.
It was just the process of getting over someone to me, really. And realizing why things have happened and what I deserve as a human.
Listeners can see Vellturo's real-life thought process in every corner and line of the album. "a million other things," pronoun's first single, starts the EP with a plea to a lover who has fled in order to sort out their own life. The song urges the lost-love to "come home, even though it might hurt." It's a call for reconciliation in the most vulnerable way.
"til your legs give up," follows with the promise to be a supportive partner and work through the tough times together, urging the other to "take this out on me."
"just cause you can't" is fueled by frustration in the significant other's lack of communication. It serves as a better moment of clarity for the speaker, who sings, "I haven't eaten in days. I think I'm leaving you tomorrow."
The last track,"snowed in // there's no one new around you," marks the end of the relationship, asking questions and wondering where everything went wrong. It's filled with frustration and post-breakup angst, yet delicately framed in an angelic daze of acceptance.
Listen: "snowed in // there's no one new around you." – pronoun
[soundcloud url="https://api.soundcloud.com/tracks/293482180″ params="color=ff5500&auto_play=false&hide_related=false&show_comments=true&show_user=true&show_reposts=false" width="100%" height="166″ iframe="true" /]
---
There truly isn't an insufficient moment on the album. Each song serves as its own standout and proves the true power in Vellturo's song design and writing. The collection together shows a broader concept and ability to create a working set that is both artistically and strategically organized.
Throughout the EP, Vellturo's love of music is obvious. It's heard in every line she sings and every note she plays. It's part of what makes the collection so incredible: the honest release it served her to create. The album allows listeners into the chaotic mind of the heartbroken and no emotional step or question is left unseen. It's 100 percent candid, and it's unbelievably special.
Beyond the EP, Vellturo proves this in the way she communicates with other artists and fans. Vellturo is active on her Spotify account where she creates public playlists including all of her favorite finds. From these playlists, she had the idea to let her favorite finds, via her Spotify Discover Weekly playlist, re-produce her entire EP. The collection titled "use passport to choose location," released on March 3, displays a fresh take on her creations in a variety of mismatched formats.
Atwood Magazine spoke with pronoun about creating there's no one new around you, the inspiration of Tinder in the process and where she sees her next steps.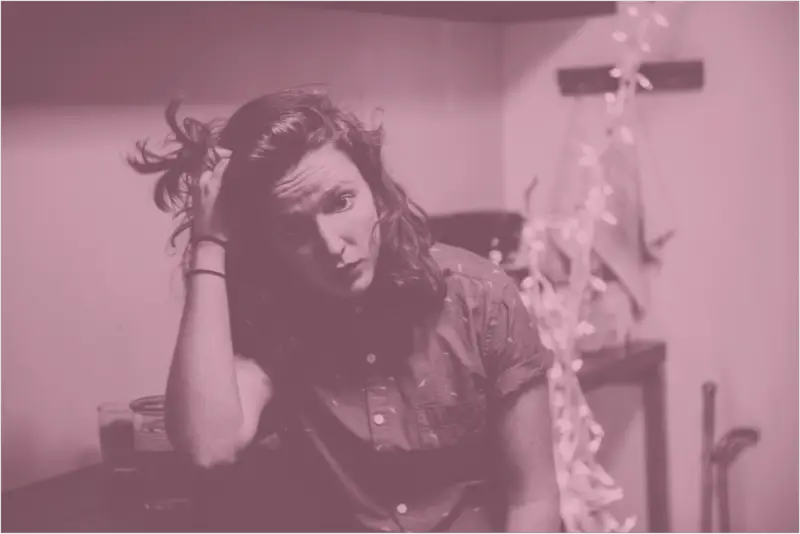 A CONVERSATION WITH PRONOUN
Atwood Magazine: My first question for you: can just tell me a little bit about when you started making music?
Pronoun: Yeah so, I started making music when I was younger, probably around like 13 or 14 and did that throughout high school and early on college and then I actually ended up going to Berklee College of Music and when I got in there, started to realize that…you get to that place and it's just…it's full of a bunch of kids that were amazing at music in high school and it's a cesspool of like you went from being the best in your high school to being mediocre which was interesting. I didn't think I fit in. I didn't think I was talented enough to make my own music anymore. Or I just found people who I thought were more talented and kind of looked at it in the point of view of "Where do I fit then? Where do I fit in the music industry?"
So I got into production and engineering and helping out other artists with their music and business and stuff. When I graduated I went straight into a business job at a management company. Then, slowly started feeling out of place again and decided to start trying to create again even if it was just for myself. It did start to make me feel a little better.
So I was working on making little beats and stuff for the past couple of years. Then I went through a really bad breakup and that's when it all kind of came pouring out into the EP, which totally caught me off guard cause I didn't…I hadn't written a full song in like five or six years. In one month, I had like five. So, that's kind of how it started and where I've ended up now I guess.
So, you mentioned your EP is about a breakup. From start to finish it's kind of the progression of a downward spiral. It starts with kind of wanting to make everything good and reconcile and then it turns into just, it's okay, just leave me alone. Did you write the album to become a concept album like that or did it just kind of happen?
Pronoun: It kind of happened. I feel like there's a couple other songs that I was gonna try to keep writing and do a full-length, and then I was just so attached to those four songs. When I took a second and looked back at all of them, I realized they make sense by themselves. I didn't want to add anything else to this. I wanted to kind of hit all of those points. It starts kind of with hope.
And then it goes into sadness, like this sucks, and then it kind of turns angry toward the end of "snowed in [/ there's no one new around you.]" I don't know. It was just the process of getting over someone to me, really. And realizing why things have happened and what I deserve as a human and what a lot of people are experiencing during breakups in general.
And you've posted pictures on Twitter of the loading screen on Tinder, which is the same as the EP title, "there's no one new around you." Was that a conscious decision?
Pronoun: It was. Yeah, kind of. When I first started making it, I don't think the EP was even done yet…no it wasn't. I hadn't finished the last song yet. And I was honestly just drunk at like one a.m. on Tinder and I ran out of…I was like this is kind of ironic, kind of sad…it's like here I am drunk at one o'clock in the morning scrolling through Tinder. I never thought I'd be doing this. I never thought I'd be using an online dating app. It came out after I was…I mean I was dating this girl for a while so I never really thought I would end up using online dating. And then it hit the end and said "There's no one new around you," and in my drunken stupor I was like "that's actually kind of beautiful if you take it out of context."
I love that!
Pronoun: And I was like "you know what, I'm gonna name my record that." And I hadn't even written "there's no one new around you" yet. I just knew that I wanted it to be the title of the EP and I wanted to incorporate it into some song in some way. I happened to be struggling with "snowed in" at the end. I didn't really know where the song was gonna…I had finished the second chorus and I didn't even know what to do now. I was like "Do we do a bridge?" That was the hardest song to write. All of the other ones kind of came out and one night I just started that *singing* "There's no one new around you." And I was like oh, holy shit, this is how it's gonna end. This is how I'm gonna put "There's no one new around you" in this record and make it all make sense. That was a very aha moment. But it was pretty conscious. I mean I truly just think it's hilarious that it's called "There's no one new around you." And that that's where it's from. And sometimes I'll just be bored and I'll be on Tinder and I'll run out of people and I'll screenshot it and be like "Just a reminder, there's no one new around me right now!"
Watch: "just cuz you can't" – pronoun
[youtube=https://youtu.be/xGz5e3vMv3g?t=0s]
---
That's awesome. Similar to the parallel in content throughout your EP, your social media is very uniform in blue and pink daydream-like colors. How do you feel the colors are reflecting your musical image?
Pronoun: So, that image I took like…a year and a half, two years ago now at my mom's Vermont house. The sunset was beautiful and I was trying to do a panoramic on my phone and I did it the wrong way. So, halfway through I ended up turning the phone and that's what the picture ended up being.
Oh, that's so cool.
Pronoun: Yeah. It's an actual one-shot photo of a failed panoramic. I remember looking at it and thinking "I'm gonna use this for something. I don't know what I'm gonna use it for." And then when I started to work on the project, about six months later I was like "Wait, I really want to get my socials in order and I want to get my branding in order." It's so hard as an artist to figure out what you want to do with that. That image came up in my head and I thought "I'm just gonna roll with this." Ever since then I've just been using it in common themes everywhere. So, I don't know. It's just…I don't know how to describe how it fits in. It just feels very…for some reason I look at it and I think of my music. I can't describe why.
Yeah. I totally understand that. And you're currently acting as a one-woman band. What are some of the advantages and disadvantages of that?
Pronoun: The advantage, and why I'm kind of still doing it, well, first, music is really personal to me. I don't really, at this point in my career, feel like collaborating with other people or producers or other songwriters and stuff. I feel like that's what made the EP so special to me. It's so honest and it was all created by me.
On the business end, it's helpful to not have to split anything with people. I dealt with that on the management side. That gets kind of overwhelming. I'm already overwhelmed in general with life. So, I was like "This will make it easier, too. I can just work on it by myself in my bedroom, record all the vocals whenever I feel like it." No one is there second guessing…or…not second guessing. I'm just not in the place where I want to collaborate with people right now. I want to keep rolling with this. For the most part, honestly, businesswise, I don't have to split anything with anybody and artistic wise…I don't really know what I'm saying actually [laughs.] Business-wise, just the splits and artistic-wise it's nice to be able to work on it wherever and whenever, whether it be one o'clock in my bedroom or a weekend. Or I take a day off work. I don't have to schedule time with anyone. It's just me.
But, the disadvantages…the biggest disadvantage I would say is it's financially a lot. I perform with a full band. When we…we're gonna go on tour. Whenever we play shows, I'm financially responsible for everything. I'm booking the rehearsal time. I'm paying them out from the show money and all of that kind of stuff. It ends up being a lot of money, but there is no other way to do it because it is all my music. They're amazing musicians taking time out of their day to rehearse with me and learn my songs and go perform with me, even travel with me. I think that's the biggest downfall: the financial burden of being a one person band starting off right now.
I'm trying to think if there's any other disadvantages. I don't think so. It used to be that production was really hard for me. And recording is really hard for me. I wouldn't say I'm good at any instruments, really. I can get by on them kind of. But, as I'm now working on new stuff, it's getting easier because you know, practice makes perfect. Originally, it was easier to get down on myself because I was just starting off and I was like "You suck. This drum sounds stupid. Why can't you record this guitar part? It's so easy." But the more I do it the more I'm like "Okay, eventually you got it. Remember last time? Just keep practicing. Just keep doing it." Sorry, that was a long answer.
No, that's okay! So, you released a collection on March 3rd called "Use Passport To Choose Location." So, you let other producers come in and kind of mess around with "there's no one new around you" correct?
Pronoun: Yeah.
Can you tell me a little bit about that?
Pronoun: Yeah. Well first off, that's the other thing that Tinder says. It says "There's no one new around you. Use passport to choose a new location." So I'm sticking with that theme for the rework EP. Basically, when I finished the record…I'm pretty business-minded because I'm doing it every day. Like, I'm at my office right now. When I finished the EP I was like, "Okay, we need more content. So maybe we'll do some remixes. When I was looking through it was like…I don't even listen to EDM. So I'm looking through trying to find remixers…obviously I can't get like Diplo and I don't know any small remixers, so I'm trying to do research and I'm listening to these tracks on hypemachine and stuff, and that type of music doesn't resonate with me. If I'm gonna put something together, why don't I just… I've always liked the idea of someone taking a song and reproducing it in their own way.
One of my favorite things is my Discover Weekly playlist on Spotify. For the past year I've been listening to it weekly and going through and favoriting my favorites and adding them to a playlist that's my favorite Discover Weekly finds. I had had it for like six months, so I reached out to like 60 artists on it that were mostly really small. They don't have marketing behind them, but they have this organic traction on Spotify through these Discover Weekly algorithms. I just reached out to them and kind of presented the idea as "I really like the way your music sounds. Would you be down to…say, if you wrote "a million other things" how would you have produced it? What instruments would be where?" And it ends up kind of sounding like their songs and their styles. So I'm super excited for that because I love every single rework that's on it. There's one for each track on the EP. I just saw Funeral Advantage actually last night because he was playing in Brooklyn. He's from Boston. And I saw him live for the first time. We talk now. Charles Fauna who did "snowed in" I see every week at least. He's playing drums with me on my way to South by Southwest and at South by Southwest. I found them all through this Discover Weekly tool. It's blowing my mind how interesting that is to me. I met all of these new friends through that.
[soundcloud url="https://api.soundcloud.com/playlists/303697336″ params="color=ff5500&auto_play=false&hide_related=false&show_comments=true&show_user=true&show_reposts=false" width="100%" height="450″ iframe="true" /]
---
That's amazing.
Pronoun: I think that's about it. It's Future Generation, Funeral Advantage, YEYEY and Charles Fauna. Each song has their spin to it.
And you also released a Donald Trump inspired track "it's the way" post-election. What does that track mean to you?
Pronoun: It was right after the results came in and I think everyone…a lot of people I knew and the whole world to me just felt really weird. There was this sadness and feeling defeated and feeling hopeless. Feeling like, can anyone make a difference if this can happen? I don't feel that way anymore; it's like trauma. The first couple weeks is always very weird. One night I ended up writing that song. I don't really remember writing it actually but there were so many people saying "There's a whole different part of America. Hillary isn't likable." It was like "I know, I understand. It's just the way it makes me feel right now. It makes me sad. I don't want people to explain it to me. It just makes me sad, and that's okay to just sit there and feel sad and talk about why you feel sad." That's what the track means to me.
It just makes me sad, and that's okay to just sit there and feel sad and talk about why you feel sad.
And you've been an influential voice for women since the election from speaking out on Twitter about things like that to attending the Women's March in New York. It's a universal fact that there's may more male producers than female producers. Have you found this to be a problem in the music industry so far?
Pronoun: I don't know. I feel like that's a bigger overarching music industry question. There totally are. I can't really decide why. On my own front, I just notice it when everyone asks "Oh, who produced your record?" Which is fine. It's just like…it's weird that it's not assumed that I produced my own record. The first assumption is "You didn't do this." Then it's like "Oh, cool you did this. Amazing." Then it's super cool. But I can't tell if it's super cool because I'm a girl. It's confusing. I think…there just needs to be more access for women to do that. I mean, the older I get the more I see music programs shutting down in public schools and I'm sure it's just getting worse now.
It's weird. There's so many distractions like cellphones and the internet…all these things. You could go on YouTube and you could learn how to produce your own song easily or you can go on YouTube and watch Teen Mom. There is no right or wrong. It's what you want to do and what you choose to do with it. So, I think it would be great if there were more women in front of the scenes. But it's always an uphill battle when you're a girl in any aspect of the music industry and any industry in general.
And on Twitter you also said that your new music is going to be more emo that what we've heard so far. What can we expect to hear from you next?
Pronoun: [laughs] Yeah, I can't decide if it will be. I'm thinking more melodically it's sounding a lot more melodically emo than pop. But the production is still…it's like…it's all in that realm. It's a little heavier. I feel like that EP is quiet, whispery, blankets around you, like wah.
Definitely.
Pronoun: And this stuff is more aggressive. Not like metal, and not like rock. But it's a little more aggressive, a little less quiet. It kind of picks up where "snowed in" left off. It's getting more…I don't know. I'm hitting the next phase. Or I did when I was writing this stuff a few months ago. I feel like the next phase is you start to get angry. It's a little more like that, but it's still…there's still all of the vocal layers and harmonies and everything. It's just figuring out where to take it stylistically next I guess. It's definitely not like All Time Low. It's more Jimmy Eat World-ish. Old Jimmy Eat World
— — — —
cover © Cory Ingram
:: There's no one new around you. ::
an EP by pronoun