Dive into Dallas synthwave duo PRIZM, whose radiant songs like "All Night" & "L.O.V.E." offer not merely an escape from the now, but an invigorating indulgence of intimacy, desire, and belonging.
---
We wanted people to feel free, and wanted, and desired as they explore the movement that the music gives them.
PRIZM's charged music is so very befitting of the "retropop" name. The Dallas duo inject a euphoric energy into their passion-fueled songs, whether they're basking in the throes of the moment, singing about L-O-V-E, or trying to figure out what lies down the road ahead. Nowhere does PRIZM's music shine brighter than on the effervescent "All Night," a radiant synth-glazed indulgence of intimacy, desire, and belonging.
I wanna be the one to
stand out in the crowd with you
Every night is young when you
hold me like I want you to do
Hands reach in between all of the
spaces we leave, closing in on us
We come alive, giving everything
away into the night
Let it go now, come on baby let it go
All night, feels right, come on baby
They got nothing on you,
the way you make your body move
All night, tonight now baby
Give your body to the rhythm
and let's move all night
Atwood Magazine is proud to be premiering the music video for "All Night," taken from PRIZM's self-titled 2019 debut EP PRIZM (FiXT Neon). Formerly of folk-pop duo Danni & Kris (who released a single debut album in 2017), Texans Krisluv and Danni James threw themselves into the deep end of shiny, '80s-influenced sound and styles in 2018. The result is PRIZM, a new duo that introduced itself just one year ago, and whose music is as sweet as it is seductive.
Much like Carly Rae Jepsen's content, PRIZM's songs seem nestled in life's in-between area where youth and adulthood meet, clash, and intermingle. You won't find politically-charged anthems here, nor will you be provoked into considering questions of socioeconomic stress, racial tension, prejudice, or inequality.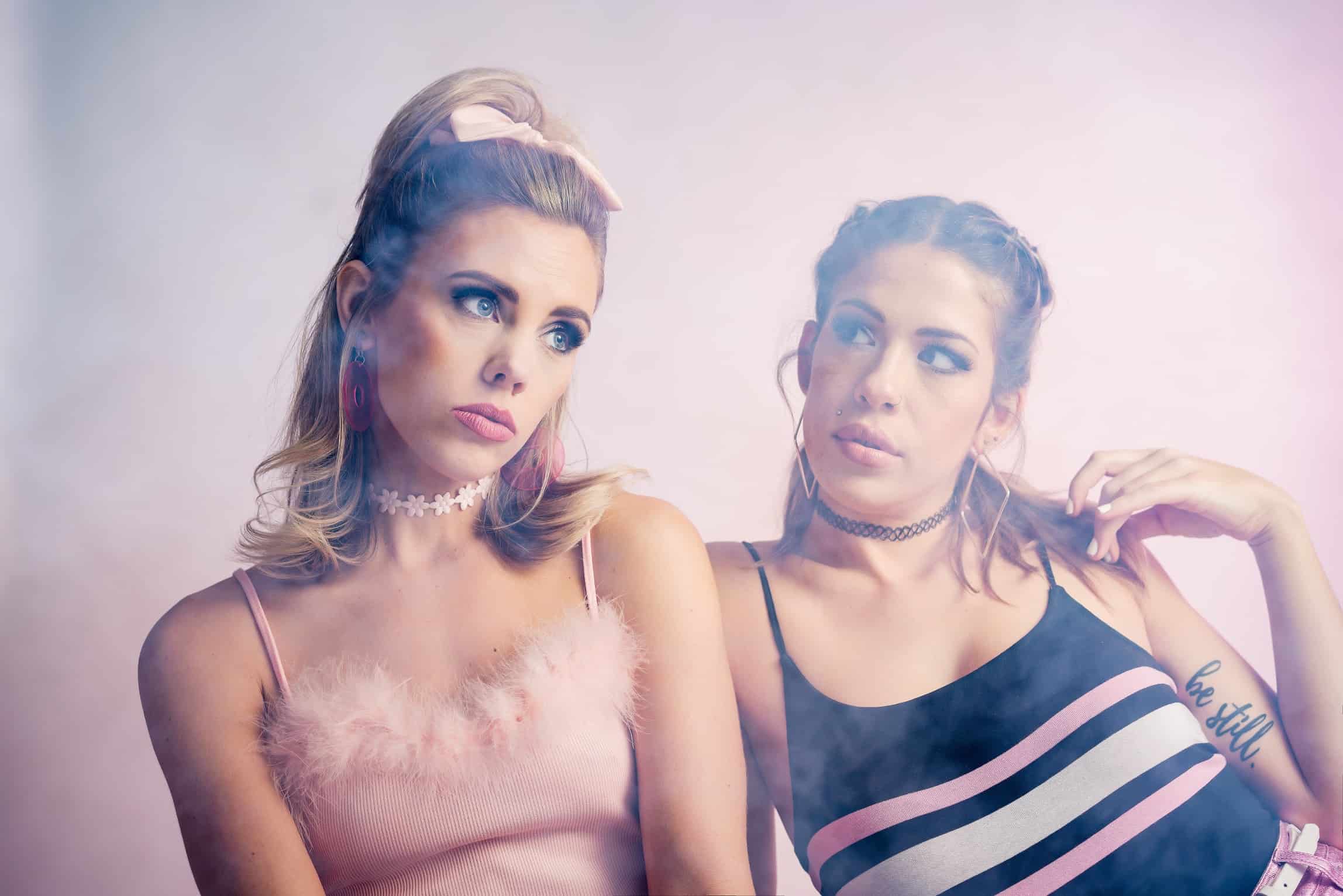 Rather, PRIZM's music seems to offer an escape from life's everyday stressors – the constant reminders that all is not well, and of how much work there is still to be done in making our world a more perfect union. Songs like "You Know That You Love Me" and "L.O.V.E." wrestle with much more confined, yet nonetheless meaningful issues of emotional connection and support – the kind of things we're looking for right now, in our everyday lives.
Priding theirselves in combining "classic songwriting touches with modern production and contemporary pop styles," PRIZM's music is tailor-made to suit the present moment, when so many of us are looking for little patches of sun-kissed escapism that we can relate to, and perhaps dwell in for a little while. Consider the band's most popular single to date, "All Night," whose lyrics depict a tantalizing burning-the-midnight-candle evening of intimacy and exploration:
Blue lights touch you right
You don't know it but the room is
captivated by your dark eyes, wild inside
Your silhouette in my mind,
my fingers tracing your lines
I wanna be the one (yeah) to experience
so serious I'm feeling us
You and I don't deny this
And the feeling is right,
I know you feel it too, all night
If just reading the lyrics raises the hairs on your neck, then the full song is sure to delight. "We wanted people to feel free, and wanted, and desired as they explore the movement that the music gives them," PRIZM recently told Atwood Magazine. Their sound may homage the past, but Krisluv and Danni James are focused squarely on the present with every step they make – tapping into feelings and experiences that are happening right here, right now in our lives.
Whether you're happily married or hopelessly single, "All Night" invites listeners to join PRIZM in a buoyant embrace of the now. Watch PRIZM's new music video exclusively on Atwood Magazine, and get to know the synthwave duo via our feature interview below!
At the time there were periods of euphoria followed by feeling completely overwhelmed, but we managed.
Stream: "All Night" – PRIZM
MEET PRIZM
Atwood Magazine: What does the "retropop" term mean to you?
PRIZM: A beautiful modernized ode to pop music from the '80s. Sometimes nostalgic, sometimes completely fresh, but always with a nod to the synth sounds of the '80s.
How did you start making music, and what attracted you to your current sound?
PRIZM: We kind of stumbled into PRIZM after agreeing to get into the studio with our producer and hear him out on an idea he had. We're so glad we did.
2019 was an incredibly busy release year for you. How did it feel in the moment, and what are you feeling now that we've passed into 2020?
PRIZM: It all came on so suddenly. We honestly weren't ready for the response we got. At the time there were periods of euphoria followed by feeling completely overwhelmed. But we managed. There have been a lot of unique and rewarding opportunities from the start, and we aren't slowing down anytime soon. We don't want to.
Your 2019 self-titled ep is a powerful introduction. What went into it - is it the sort of thing you were writing your whole life, or just a few months' worth of songwriting?
PRIZM: Every song on the EP was strategically written and came together quickly, as opposed to something that has been in us for years and years. Once we started working together it just clicked. We're all very organized for musicians, haha. We have our set schedule of coming in on a Friday at 10am, writing a song, then coming back the following week at 10am and recording all our vocals. Only a few times have we strayed away from that particular schedule. We're total freaks, we know. 😉
Also…all we drink in the studio is coffee and all we eat is candy and that keeps us going.
What are some of your favorite songs off the EP?
PRIZM: "We Were Young"! We had so much fun writing that one and challenging ourselves vocally. We were proud of ourselves after we released that one.
If you could choose just one song of yours for people to listen to, in order to lure them into PRIZM, what song would it be and why?
PRIZM: "All Night." Because it's shown itself as a crowd favorite. It really sums up our sound better than any song, as well!
Your music is so pristine; do you self-produce everything, or did you work with any specific set of producers in crafting what we hear?
PRIZM: Geoff Rockwell – the third part of Prizm – is the genius behind the tracks and the production. Working with him is an absolutely breeze. He is a great ear for ideas and creative liberty is always invited. Geoff is responsible for 100% of the sounds you hear. Anything similar out there is just a rip off!
Seven months out from your debut release, how would you say your relationship with your first EP has matured or changed? Do you still look at these songs the same way as you did on release day, or are things starting to change?
PRIZM: We love the songs even more today, if that's possible. They've molded us and helped shape us into who we are today and continue to give us inspiration for new tracks. We couldn't be more proud of those songs and the way people have related to them also.
"All Night" has an infectious electric energy that extends from the music through the body. What is this song about, and were you consciously looking to make a high-energy pop song when you wrote it?
PRIZM: Honestly, it was one of those magical moments where the song just flowed and we all loved and reveled in it every step of the way. The track created by Geoff was incredible, melodies and lyrics easily followed. We wanted people to feel free, and wanted, and desired as they explore the movement that the music gives them.
What's on PRIZM's schedule for 2020? Will we be seeing you in NYC any time soon, and is there any new music coming down the pipeline?
PRIZM: We aren't sure but if we had a chance to go to NYC, we'd be there yesterday! Up next we're doing Fortress Festival in our hometown Fort Worth in April, and the lineup is ridiculous so were thrilled to be a part of that. We both want to tour and look forward to the opportunity of traveling to new places and meeting new faces. Look out for lots of new content, new songs, and some exciting, fun content!
Lastly, who are you listening to right now? What under the radar acts do you recommend to our editors and readers?
PRIZM: We love a good pop/disco track. Daebull is a great band we love listening to right now. We also love to get down to Ariana Grande and Fleetwood Mac as well, but they aren't as "under the radar" 😉
— —
Stream: "All Night" – PRIZM
— — — —
? © PRIZM 2020
:: Stream PRIZM ::
---