RIYL: The Royal Concept, The 1975, Prince, Tears for Fears, Passion Pit
What a wonderful thing it is to have anthems. Music is (and always will be) mysterious, but the effect of the anthem is particularly awesome. These songs have the supernatural ability to lift one off one's feet and beyond the clouds; to swell one's emotional core with unadulterated bliss; to make one feel superhuman. Feeding off hope, nostalgia, love and tension, The Northcoast's new song "Reach Into The Stars" is the quintessential anthem.
Listen: "Reach Into The Stars" – The Northcoast
---
Readers of Atwood Magazine will remember The Northcoast from their (b)romantic debut music video "With You," previously described as "the perfect musical mix of dance, synthpop and indie sheen." Through "With You," The Northcoast introduced themselves as a pop-savvy outfit with a preference for big '80s grooves and catchy, lyrical licks. The debut set a high bar for the relatively unknown act – their follow-up would have to show that same level of finesse.
And it does. "Reach Into The Stars," which Atwood Magazine is proud to be premiering today, finds the band digging deeper into themselves as they hone in on that which is The Northcoast. Driven by a slow, pulsing bass synth that swells like the ocean, "Reach Into The Stars" finds melodies and harmonies working in tandem: An introduction for the ages finds cascading synthesized arpeggios neatly supporting a joyous series of vocal "ohs" before a tense, restrained verse. "Love is not in the heart to stay," sings the band. "It's not love 'less you give it away." Without being overly explicit about a particular experience, The Northcoast explore the intricacies of relationships – the push and pull of two people as they go through life, and the effect of those tides on the respective players.
Love is not in the heart to stay
It's not love 'less you give it away
You came to me and you led the way
You showed up and you saved the day, yeah
We can touch the stars tonight 
Reach up reach up
I swear everything's alright
Reach up reach up
A scarlet kiss on a starlit night
We're 18 and we feel so alive
I wear you on my sleeve
Cause you keep me on the edge of my seat
The words are simple, but their meaning is complex and layered in innumerable memories. The grandiosity of the music breathes fresh life into these deceptively complicated words, giving them a timelessness and surreality that transports them from the page to our hearts.
We can touch the stars tonight
Reach up reach up
The heavenly stars will forever be a symbol – of possibility; of hope; of the eternal. What is it about those twinkling lights, so very far away, that embeds these wondrous feelings? Perhaps it is their light: They are unknown, yet not foreboding; rather, their shine is warm and inviting, however small it may be. "We can touch the stars tonight" is an invitation to exist in a single space forever: It is the knowledge that life is temporal, yet individual moments can exist outside the timeline. We are all motivated out of fear and passion: This chorus combines those factors, playing off our deepest desires to cherish that which we hold closest and dearest to ourselves.
For, at the end of the day, it is the small things that characterize who we are. "Reach up," implores The Northcoast; make this moment a moment to remember.
Once a New York-and-Seattle based duo consisting of Charlie Grey and Daniel Faith, The Northcoast recently expanded, adding two more members to complete the band. With an EP completed and out soon and a full-length album in the works, The Northcoast are setting up for a very big year. Already a "2016 Artist to Watch," The Northcoast have solidified their standing with "Reach Into The Stars," a truly anthemic tune that is as engaging as it is dreamy. The world is full of possibility – anything can happen – so pump up your chest, tilt your head back and belt out these words of love and hope.
In celebration of this premiere, Atwood Magazine dug a little deeper into The Northcoast: Read our full interview below to explore the intricacies of an independent act that has truly nowhere to go, but up.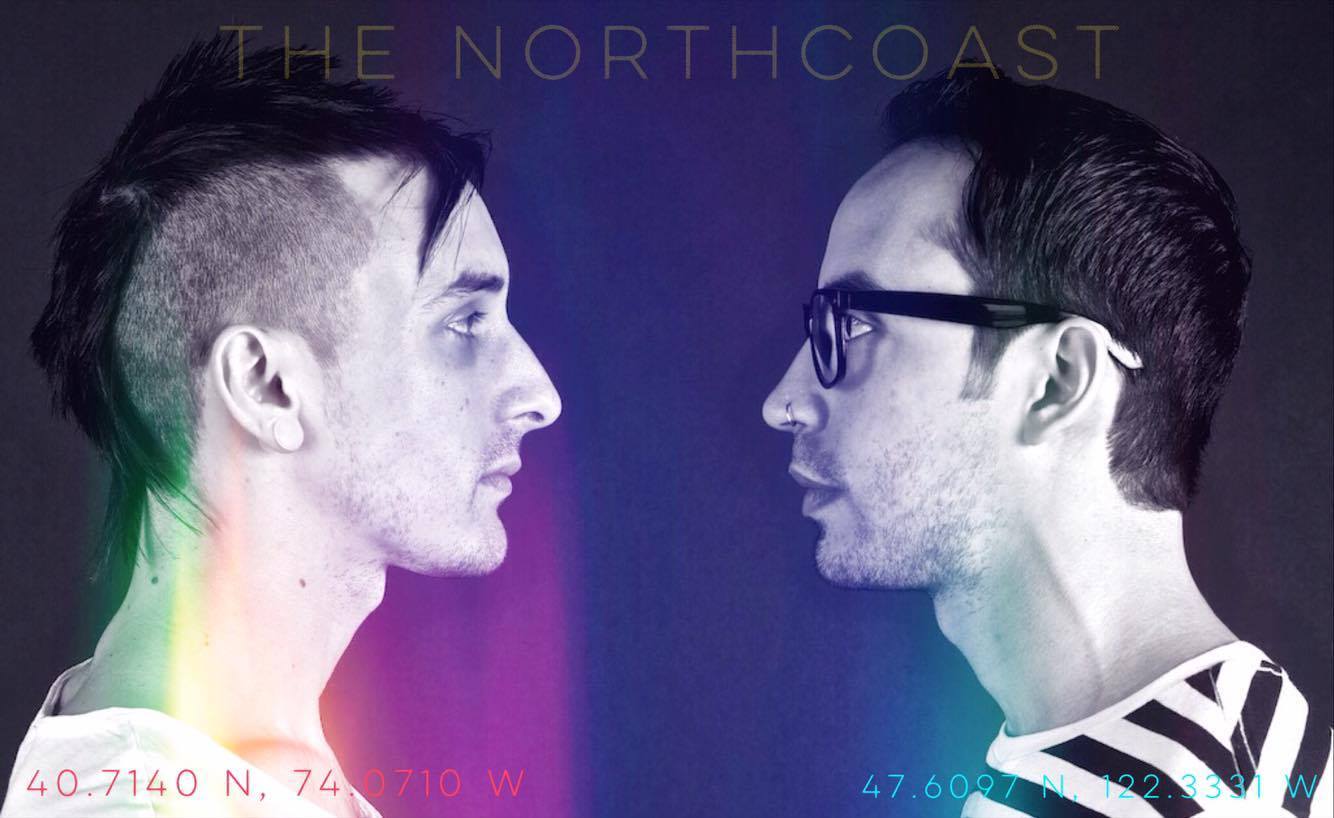 A CONVERSATION WITH THE NORTHCOAST
Atwood Magazine: As you've been going about the process of writing your debut album, have you thought about who is the northcoast?
The Northcoast: It's something I think any band asks themselves. We asked ourselves this question many times in the last two years before we came up with anything that resembles an answer. But I think we've figured it out, and once you are able to do that it makes the song writing process that much easier.
And who, exactly, is The Northcoast?
The Northcoast: At the core it's just two friends doing music they love. We've been making music together for over 10 years and have always had an enormous respect for each other's work, even if we haven't always been friends. (Laughs)
Do you ever butt heads in figuring out your direction?
Daniel Faith: Constantly. We sort of come from different musical backgrounds, though we meet somewhere along the way. He has a more funk and disco upbringing whereas I listened to a lot of soundtracks and music my dad would get me which was mostly classic rock. Though we both really had an affinity toward 80's synthpop and its sounds, and always wanted to make something similar.
Charlie Grey: It took us a long time to get where we are. Probably like four genres, 10 years and 30-something songs later we finally found our sound.
Four genres, 10 years and 30-something songs later we finally found our sound.
Where have been some of your biggest trials, to-date?
The Northcoast: Probably the fact that we are working on this cross-country. Not being in the same room as we write a song really complicates things. Though as time goes on we've gotten used to it and have found little ways to make it less stressful. We've also started to make this a full band. One of our good friends from back home, Lou, just move up to play synth and bass with us and we've been working on translating them to play acoustically. Unlike most bands that jam out ideas, our songs are completely done before getting played as a band. So there's a bit of a struggle there since none of us have ever made music in this manner.
How does "Reach into the Stars" differ from your debut "With You?"
The Northcoast: Well, obviously it's a different sound from the first single. I think we wanted something with heavy sidechains that we could do lots of synth work on. It's way different because it's probably the last song we wrote before doing more synth pop. That is why it has a more contemporary feel and stands out from the rest a bit. This song actually started as a remix over two years ago, but with time and all our changes it became something entirely different.
Watch: "With You" – The Northcoast
---
I really love those keyboard riffs toward the end of the solo! They almost feel Emerson, Lake and Palmer inspired... Who were your influences in creating this track, and how (at the same time) did you strive to make this song wholly 'your own'?
Daniel: Honestly, I didn't have any direct influences when I made this song, or the solo. I think many times I just absorb sounds and songs I hear and somehow rewrite them without even consciously making the decision. So, when you say Emerson, Lake and Palmer, I can relate because I used to listen to them some growing up, but they weren't at the top of my head when I was making this song. I think subconsciously I get inspired by artists or songs that I don't even remember listening to. As I mentioned though, this song started as a remix of my own, then I brought it to the band and it got made into something else and underwent countless changes until becoming what it is. The second I brought it to Charlie he made it ours and there was no struggle to make it unique or "our own".
"We're 18 and we feel so alive" - such innocent, youthful lyrics! What does it mean to you "reach up?"
Daniel: That line is actually about a relationship I was in roughly 10 years ago, and probably quite the opposite of innocent. (laughs) More specifically about one night we had where the night ended on the roof of her 20 story apartment building doing what youthful lovers do. It actually felt like we were so much closer to the stars, like we could actually reach out and grab them. So, I think when I wrote the line I was being quite literal. This song started as a love story when Charlie first wrote lyrics for it. When we changed the song (for the last time); we changed some lyrics as well, but kept his first verse because it seemed to naturally fit with the second verse and chorus.
It actually felt like we were so much closer to the stars, like we could actually reach out and grab them.
You're a young band - a fresh face. Why are you making music; where does it stem from?
The Northcoast: For the both of us I think it really stems from our fathers' love for music. You could say it percolated through the old DNA, and that's why we are both doing it now. But at the bottom of it, it's just our love for music and making music that keeps us going. Something we tell each other all the time is "you complete me," and while we say it half jokingly because of its implications, nothing could be closer to the truth. (Laughs) We can send one another a little idea with just a beat, bass and couple of synths, and we'll come back to the other with a nearly complete track. So many times during the writing process we felt out of ideas or drained, because we've been writing non-stop since 2014. Many times we felt like we couldn't make one more song, let alone 3, or 5 or 8. But then I would make something or he would make something and it almost became a cycle of trying to one up each other until we finished the album.
Atwood Magazine originally covered your bromance on "With You." How goes the Charlie/Daniel bromance today? Still as strong as ever?
The Northcoast: Like every relationship, we have our struggles. But we get stronger every day. Every day there is another obstacle or challenge we have to face, and we do it together as best as two dudes on opposite sides of the country can. I think the addition of Lou has also added another element to the bromance. He brings a balance that we lacked before and can always see things objectively when we can't. The bromance has without doubt gotten stronger and will only get stronger from here.
The bromance has without doubt gotten stronger and will only get stronger from here.
What can we look forward to about your full record?
The Northcoast: The EP has been done for about a year and has some songs that are even older than that. So, while we are excited to finally release these tracks, we have an LP that's almost done that we are even more excited to release. The EP is kind of us still finding our feet and still exploring different sounds. It won't necessarily be a far cry from the sound of the album, but it's not totally indicative of where we took it either. "With You" will be the closest track to the sound of the LP since it was the last song we made on the EP. All in all, it's a decent lead up to the album. We really feel like this LP will bring something different to the table though. It will draw many influences from many different places while still remaining unique and our own. We've been writing and perfecting it for a long time now, and we have been pretty meticulous with each track. It's been a long journey for us to make this album, as musicians and people. From the small island of Puerto Rico, to opposite sides of the United States. From ignorant teenagers, to adults with a clue (sort of). Now, over a decade later we are recording an album a million miles apart, and it's better than anything we've ever done. It is something we will be able to look back on and be proud of, because we put our all into it. I mean, at the end of the day, isn't that the point?