Khruangbin and Leon Bridges force each other to be the best versions of themselves, creating a whole new sound on 'Texas Moon'.
Stream: 'Texas Moon' – Khruangbin and Leon Bridges
---
When news broke in 2020 of a Khruangbin and Leon Bridges collaboration, it was met (at least by this reviewer) with an excited confusion. Khruangbin, the art-rock instrumental group that have prided themselves on pushing rock to its sonic edges, and Bridges, the 21st century's answer to Otis Redding, seemed strange bedfellows. They've turned out to be a perfect match. Their second EP, Texas Moon, takes the experimental approach of their debut and tinkers even more, resulting in five songs that are as melodic as they are intriguing.
What makes this collaboration work is that each artist is nurturing the best out of the others, while tempering the sonic indulges each can take. Khruangbin's quest for new frontiers can make their stuff inaccessible—or just plain weird. However, Bridges' presence forces the band to hone it in, still being experimental but without the sense it's going to fall off the rails.
Meanwhile, Bridge's experimental side is put front and centre here: His silky smooth pipes croon over rhythms and beats that would seem inconceivable on his previous work. Bridges' sound has evolved over his previous work, but never in this direction. In short, Khruangbin and Bridges force each other to be the best versions of themselves. The real winners are the listeners.
Texas Moon is roots music at its sexiest. It shuffles along at a delightful pace, never in any rush but always with a sense of purpose. There isn't a wasted note, giving it a driven sense of purpose. It's upbeat in tone, a clear indicator that the four of them enjoying getting to spread their wings play away from their main projects.
Father, Father, look at these worsts that I done
I present them to you with hopes of gettin' your attention
Father, Father, look at the mess that I made
Just a man with unclean hands, from you, I hide my faith
Father, Father, these truths cuttin' through like blades
Just a man with unclean hands, from you, I hide my faith
Album standout "Chocolate Hills" captures this wandering, uplifting sense perfectly. Khruangbin are at their best when the music seems sparse and yet closer inspection reveals swirling instruments, a flurry of activity that dances in the ear drum on its way to your heart. Bridges is at his best when he's slowly delivering a love song, his voice almost more of a pillow-whisper. Both of these are on perfect display on "Chocolate Hills."
---
Elsewhere, "B-Side" shows that Bruno Mars isn't the only one who can make people get up and shake, and "Father Father" reminds us that no-one can sentimentally bleed over a bass line quite like Bridges.
Texas Moon is an ode to the qualities that make Bridges and Khruangbin the exciting musical forces that they are. The Texas natives have offered us five more songs worthy of their impressive catalogue: Now to keep playing them back to back till they give us a full-length (hint hint.)
— —
— — — —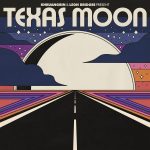 ? © Pooneh Ghana
:: Stream Khruangbin and Leon Bridges ::