Plants aren't the only beings that look to light for sustenance and survival: Humans are just as reliant, albeit in different ways. For us, light is a source of warmth and hope; of comfort and possibility; of cheer and happiness. In darkness, we are down; in the light, we rise. Carl Hauck's new single "Refraction" embraces the full spectrum of light's vibrant symbolism: A warm folk song filled with heartfelt passion and steadfast resilience, it's a testament to personal strength and individual independence as well as a reminder of our ability to overcome all obstacles.
In other words, it's full of light.
In the morning
When the sun's wet
I will surface then sink
Down there somewhere
Unrefracted
I am breathing it in
Akin to tinder
Swaddled softly
In a filmy plastic sheet
Or a trophy
Dressed in old glass britches
I am pushing it, I am pushing it
Listen: "Refraction" – Carl Hauck
---
Atwood Magazine is proud to be premiering "Refraction," the lead single off Chicago singer/songwriter Carl Hauck's upcoming solo EP Vestige (independently out December 5, 2017). A former high school English teacher and current member of alternative/indie rock band Sunjacket, Carl Hauck took gentle care in finessing his solo effort. The result is an intimate and evocative collection full of poetic grace and melodic candor, where subtle movements evoke massive emotions that both are, and are not our own.
"Vestige is in part about taking stock of what's left when the things that previously defined you are no longer part of your life," Hauck explains. "It's a sort of inventory of identity and purpose." "Refraction" is the stirring introduction to that reflective journey, like a foreward telling us that, whatever happens, there will be another chapter in our stories.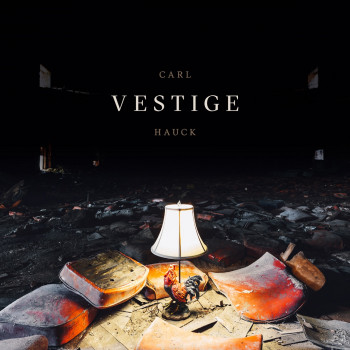 Like the neon
On a cheap marquee
I am shaking
Until mischief
With a stone in hand
Casts out mercy
So I light up
Once more
Brighter than before
And with embers tearing downward
through the cool air
I wipe my cheek
And at last I am clean
"'Refraction' is a song I wrote over seven years ago — long before my decision to leave a job that I'd go on to dedicate a quarter of my life to, and long before the end of an important relationship that would span roughly the same number of years," Hauck reflects. "With that in mind, it's interesting to me that "Refraction" is the song on this EP that resonates most with me now. It wasn't exactly a happy song when I first wrote it, but today it feels both gentle and defiant, even hopeful. To be sure, a lot of that probably stems from Bryan Kveton's gorgeous piano accompaniment."
Hauck continues: "The EP's other four songs — mostly written in the last couple years — somehow feel more "vestigial" in comparison at this point, almost as if they were penned by someone else. And I guess that's why I've been thinking of this EP, my first solo release since 2010, as a proverbial cleaning of the slate, both creatively and emotionally. While I'm certainly looking forward to sharing these songs—my first batch in far too long—I'm ultimately more excited for whatever's next."
Eyes are digging
Always digging
I am buried
In the carpet
On the window sill
I rest in shades of green
Like a fungus
Or a moldy fruit
Thriving underneath
The careful watch of present-minded people
And I rise unseen
Yeah, I rise unseen
I rise unseen
Yeah, I rise unseen
Leave it to the artist to say "this batch of songs is ok, but what's on the horizon is even better!" Yet, in a sense, that's an integral part of Hauck's message: To always have our sights forward, focused on the sunrise ahead rather than the sunset behind. "Refraction" commemorates new beginnings for the opportunity they promise. It resonates with all of us, wherever our eyes may be: Past, Present, or Future.
And it gives us a reason to smile.
Stream "Refraction" exclusively on Atwood Magazine, and stay tuned for Carl Hauck's Vestige EP – out December 5, 2017!
— —
— — — —
photo © Dylan Fischer
:: Listen to Carl Hauck ::