Soft, serene, and devastating, Maya Abee's dreamy debut EP 'Divine' is an intimately cinematic, cathartic record of reckoning and self-discovery, personal growth and change.
Stream: "Divine" – Maya Abee
---
Soft, serene, and devastating, Maya Abee's debut EP is an intimately cinematic record of reckoning and self-discovery, personal growth and change. We can't always identify important life moments and transitions when we're in the thick of them, but though stirring musicality and equally evocative, vulnerable lyricism, Abee catalogs an important period of movement, uncertainty, and imbalance in her young adulthood. A dreamy indie folk upheaval set against a warm West Coast backdrop, Divine dwells in candid coming-of-age passion and fervor. Graceful, achingly visceral, and absolutely dazzling, it proves a stunning, if not enviable introduction to a rising force out of LA.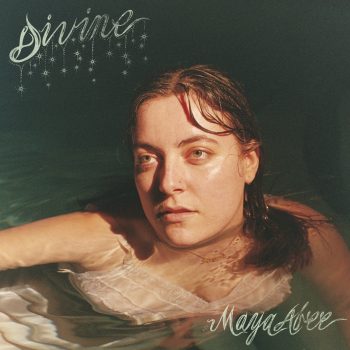 How does it feel to be a winner?
Soft guy but still a killer
You're not my darling
My darling, you're divine
And with the passing of time
I wish you peace of mind
Woke up wanting to be remembered
Sure as the spring, wont make it through the winter
You're not my darling
My darling you'll survive
And for a moment of my life
I dreamt you were divine
Independently released March 11, 2022, Divine has the tender elegance of a sweet whisper and the unapologetic weight of a hearty roar. Arriving in the wake of a smattering of singles released over the past two years, Maya Abee's five-track debut solidifies the 23-year-old singer/songwriter's place as one of LA's freshest faces on the folk / indie folk scene – and certainly one to watch moving forward.
Abee collaborated with fellow LA-based ambient musician and producer Corey Gordon to bring these songs to life. It was one of her first experiences working in that kind of collaborative setting, and the results speak for themselves.
"This was made over the course of about a year," Abee tells Atwood Magazine. "I moved back home to LA after graduating college right at the beginning of the pandemic and while I hadn't really been writing music much during school, I was getting back in the habit. I decided to take the leap and collaborate with a mutual friend of mine, Corey Gordon. I was scared of collaborating — I hadn't done it much and I thought I didn't know exactly how to. We planned to track this song I had written months before, which was 'Divine.' After that session we met again and tracked another one, and another one after that — many sessions followed by trips to Lucky Boy in Pasadena. Through this record, I discovered the beauty of collaboration: Components that would've never been in your song are there, another person's heart is there — and they believe in you. In collaboration there's accountability, motivation, vulnerability, safety, and some killer music."
"I went to an arts high school in Downtown LA and luckily some of the students I learned alongside are still musicians, still my friends, and play on this record or in my band. I loved meeting a few new people in the process as well. After recording was done, I took the EP to Omar Akrouche for mixing — the moment I met Omar I knew he was to be trusted with my songs. After some beautiful mixes came the masters by another mutual friend of mine, Alexander Wright. All of a sudden the EP was done. Of course I sat on it for a long time, never quite knowing when to release it. Now we're here. I have such an unending amount of excitement that I made something like this all because I leaned into my craft and collaboration."
For Abee, Divine is a true introduction to her as a singer, a songwriter, and a musical force. "I'd say this record really captures my vocal style and the textures I try to create with it," she says. "In addition to that, this EP introduces listeners to my songwriting style; I try to paint a picture but not overwrite. My lyrics are often autobiographical but steeped in metaphor. I've captured my lived experiences, my curiosities, my pains and, by some strange form of reverse osmosis, I've displayed them for you to hear. I also just love that a few of these songs don't have a "chorus" at all. I love playing with form like this."
"At first I didn't know I was even making a record!" she adds. "We had probably tracked two songs before it became clear that there was a collection coming. But I was able to see the abundance in our process, and it felt like I could make anything I wanted. Which kind of sounds like I didn't have a vision at all, but at that point we had an intention which vision goes hand in hand with. I pretty quickly held on to a sort of experimental dream-folk sound, having 'Divine' as our first collaboration kind of made that clear. We took it song by song and moment by moment, with the intention of bringing it all together."
The record's title is a nod to the gorgeous track that served as the foundation for Abee's project, and yet there's a greater depth to this name than meets the eye. "I was in, what I thought was, a really powerful, otherworldly love with someone prior to writing these songs," the artist explains. "I was under the influence of my own openness and loving nature (as well as some very calculated mixed messages.) In processing this ending, I was starting to see myself differently. This deceptive 'let down' to my loving nature was confusing and ultimately felt violating. People talk about a "crisis of faith," I was experiencing a "crisis of faith in love." If love is a worldview, then I was losing faith in it. The song 'Divine' was a way of coming to terms with that, "searching for something to pray for that's right." And also calling out this person for seemingly playing God. It felt right to use the title for the record as it was a benchmark in the creation of the project and it definitely informs the other tracks. I think I kept trying to ignore it as the title but Corey was always like, "Maya, It's Divine, what else can it be?" I just love that word. I didn't grow up in the church, I am not very religious, but I am someone that loves."
---
From the sweetly seductive "Lullaby" to the gut-wrenching finale "Turning Me Inside Out" (a "lowkey headbanger, as Abee calls it), Divine is full of special moments grand and small. Highlights beyond the bookends include the sun-soaked, vocally-layered groove "Motorcade" and unapologetically gutting "Divine," both of which showcase Abee's ability to build a world within her music, as well as the sheer emotional strength of her art.
"I've been really excited for people to hear 'Motorcade' – I love that song a lot; the second chorus is a proud moment," Abee says. "The climax of 'River' is also a personal favorite! I love seeing what my vocals can do and learning more about that handy dandy instrument of mine. All of Corey's synth sounds, I have no idea how any of that works, but I'm obsessed."
As for her favorite lyrics, "[It] might be Lullaby's "kissing and we're cursing death" just for the alliteration, it's really fun to sing. A standout from 'Motorcade' is: "Danger that I sow, isn't mine to owe." I tend to write in couplets — my dad's a poet, and I read a lot of poetry. The balance of a couplet feels really organic to me. But jeez, there are so many lines in 'River' that I love. That song is probably the most mindful one I've written, each lyric was really intentionally crafted."
Take back your lawn chair
Nothing lasts forever
No one likes the view here
Well if not now then never
If not now then never
If not now then never
See me tomorrow
You wanna say you caught up
On your way passed what we made
Leave it til Monday
You'll be more together
Carve out the bad days
Pretend you're a river…
---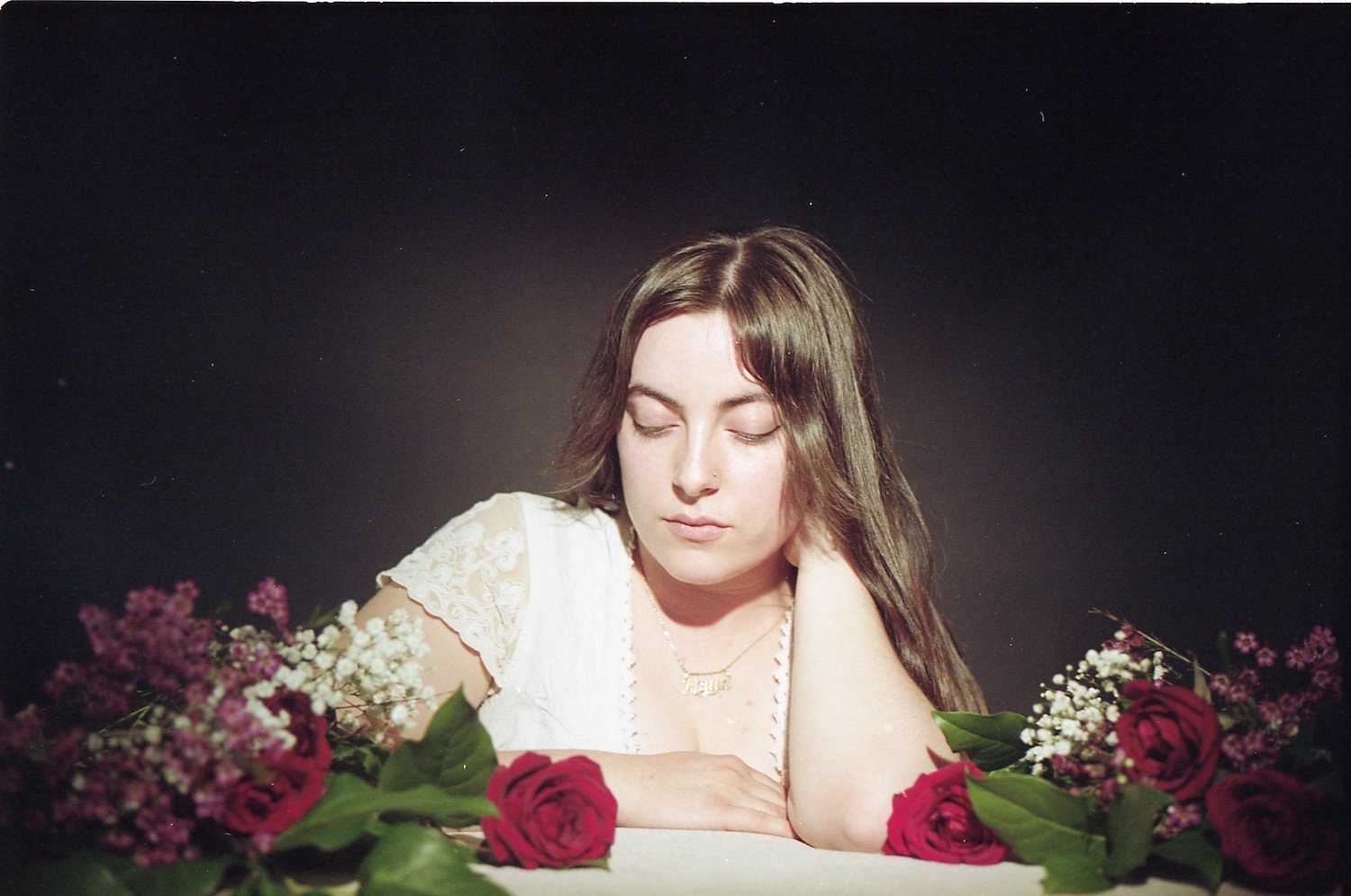 Ultimately, Maya Abee's first musical collection is utterly and absolutely disarming:
Her songs are extraordinarily tender, and yet one could confidently say that she holds nothing back from these dreamy, intimate, and emotionally charged songs. Soft yet seismic, Divine may very well be the celestial savior we've been looking for: A spiritual guide manifest in stunning song and stirring sound.
"With Divine there is also an implicit theme of rebirth and trying to find the power in the wreck," Abee shares. "I hope listeners take away the idea that we are regenerative. At least I like to remember that. Welcome the new beginnings more than mourning the endings. This project definitely helped me come into my own identity, there's no more, "I kind of write music." or, "I sing sometimes." It's, 'I am a musician and songwriter and I sculpted this.'"
"Also, putting this out has given me a new outlook on the creative process, I've never been so motivated with completing work before. I guess thats the difference between creating something from obligation and something from passion. I'm excited for these songs to belong to everyone else as they've belonged to me. I'm ready for Divine to exist in your vacuums!"
Experience the full record via our below stream, and peek inside Maya Abee's Divine with Atwood Magazine as she goes track-by-track through the music and lyrics of her debut EP!
— —
Stream: 'Divine' – Maya Abee
:: Inside Divine ::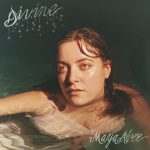 — —
Lullaby
This was actually the last one written for the EP.  I wanted an introduction moment – a thesis –but nothing too heavy. I wrote this picking pattern and played it a bit rubato; I definitely had Adrianne Lenker in mind for this one. Lullaby holds a raw and intimate atmosphere and introduces the layers of production that exists in the rest of the EP; I think there are field recordings in there, the Rhodes, and you're instantly in a new place. I equate this one with a dark and candlelit room – making that fade out moment the smoke from a blown out candle dissipating into the air.
Motorcade
I wrote Motorcade much slower than it is now but I'm so glad its become this fun folk-rock track. I distinctly remember driving on the freeway in LA with my mom — a part of the journey that had webs overpasses layering on each other. We passed by a "memorial interchange" sign and something about that was inspiring to me. As strange as it sounds, LA's urban features are definitely an inspiration to me and my work even outside of music — I was an anthropology major and nerd out about structure, why things are what they are, and human's applied meanings to things. So naturally, a memorial interchange sign becomes a catalyst for a song about a whirlwind romance that never really became anything.
River
I like the idea of 'pretending you're a river,'— a free flowing being, not letting anything or feeling hold you back. This track is the only one on the EP that I co-produced. I took some field recordings from the Alhambra Farmers Market and the LA River and that makes up the outro; My mom's voice is in there asking a vendor about some produce.
I wrote it as a B-side for another song and released it physically with Hocus Bogus Records. To me, it's the result of what really having a songwriting "practice" can do for my music. I look back on it and I'm inspired.
Divine
What can I even say about this song? It was the first one I made with Corey, the one that we made before we knew we were making an EP. I wrote this when I was in my college town right at the beginning of the pandemic. There was a lot of personal and, you know, global stuff to process at the time. 
I clocked a lot of hours listening to Beach House in college, especially Thank Your Lucky Stars. I asked Corey for some celestial, almost alien sounds to erupt around me and he definitely delivered. The cello was a later addition by Alex Mansour and I absolutely love how the instrument connects with my voice and adds a heavenly layer — pun intended. 
Turning Me Inside Out
We call this one the "lowkey headbanger." Heavily inspired by Mojave 3 and Duster. The speaker of the song is a pessimist on her most optimistic day. It's reflective, but I do think this one looks outward and into the future. The transition that Corey (and Omar) perfected is really affective — it feels like cloud cover clearing for the sun. A quick but well-deserved shout out to Cal Kevany for the guitar performance on this track (and most of the EP.)
— —
— — — —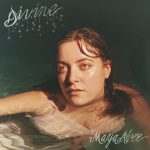 ? © Margaret Leyva
:: Stream Maya Abee ::
---