Every music act starts with a dream, but Afterlife Revival takes that sentiment quite literally. The Portland-based music, conceptual art and social practice project of Evan B. Harris was inspired, quite literally, by the subconscious. Having spent the past two decades as an illustrator, Harris was recently removed from his art by a near death experience that left him temporarily blind and unable to pursue his usual work. "A crow came to me in my dreams and said, 'get your grandfather's guitar and sing your song!'"
Thus, Afterlife Revival was born.
Listen: "Rich in Love" – Afterlife Revival
---
Atwood Magazine is proud to be premiering "Rich in Love," Afterlife Revival's debut single. A warm psych-folk song about being content with the life you have, "Rich in Love" spins a brightly-lit tapestry of cheer. Harris' lightly-effected guitar work is surrounded by a vibrant, spaced-out instrumentation that gives the debut a depth of character seldom seen in the modern age. For a newcomer to the industry, Afterlife Revival wastes no time in establishing a powerful and relatable voice.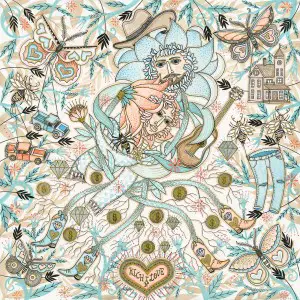 "Don't have fortune, don't have fame, no billionare left a trust fund in my name," sings Harris in the song's resilient chorus. "Show me no pity, I don't feel no shame, 'cause I'm rich in love." The singer/songwriter dons an Americana lilt, evoking Dylan and Guthrie in quaint melodies as he denies the poignancy of his situation.
"What does it mean to be rich in love? This is a question I ask myself every day as I look in the mirror, when I look at my family, when I look at my friends, when I examine the world around me," cites Harris. "I know that it has nothing to do with how much money I have in the bank or how good my credit score is. It basically comes down to my own attitude towards life. I listen to that voice of gratitude that tells me to take a breath, breathe it in slow… feel how good it is to be alive to be present to be here to be in the now."
"This is where the richness reside; I follow that feeling of inspiration. I do my best to share that emotion with those who are receptive. To get Love first, you must give love. It's more than just a word…it's an act, a way of being. Everyone has their own path, mine is to be simple. I show it in my paintings, I sing it in my songs, I taste it in my food and I give it with a touch. I'm rich in life and rich in love… this is my mantra this is my waking breath this is my way of being."
Afterlife Revival plans to release a monthly single, accompanied by digitle art and physical art prints, giving fans an option to subscribe to hear the music and receive the art first (SUBSCRIBE HERE). The group also plans to engage with local non-profits each month by donating 11% of all profits. In short, Afterlife Revival is the quintessence of art for art's sake – as opposed to art for commercial gains. "My greatest hope is that by casting a pebble of inspiration into the infinite ocean of awareness, my ripples resonate and create a beautiful pattern for the world," writes Harris.
Lush, dreamy music and a standup attitude on life, love and art make Afterlife Revival a must-have on all contemporary folk lovers' radars. Stay tuned for more from this promising upstart, and support the artist by subscribing to their Bandcamp list and connecting on social media below!
— — — —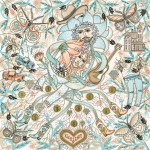 cover © 2017