Run the Jewels' rage is an explosion against a disease the US has been grappling with since time immemorial, and with 'RTJ4', that rage has only grown more precise and cutting.
•• •• •• ••
And every day on the evening news,
they feed you fear for free
And you so numb, you watch the cops
choke out a man like me
Until my voice goes
from a shriek to whisper, 'I can't breathe'
– Killer Mike, "Walking in the Snow"
RTJ3 released early, on Christmas day 2016, the eve of the Trump presidency. Despite being produced before he even took office, Killer Mike and El-P grappled with the rise of his oafish fascism better than any of our handwringing media contemporaries. You could call it prophetic that once again Mike and El dropped RTJ4 early after protests against police brutality exploded across America, during the blood curdlingly callous response to a pandemic that at time of writing has killed over 100,000 Americans – or you could call it par for the course. RTJ2 released the autumn after Michael Brown's murder at the hands of a white cop, after Eric Garner's murder at the hands of a white cop, both during Obama's presidency. And as always in America, the rich get richer and the worst, most mediocre men in history get what they want.
This is all to say that Run the Jewels' rage is an explosion against a disease the US has been grappling with since time immemorial, and with RTJ4, that rage has only grown more precise and cutting.
— —
Stream: 'RTJ4' – Run the Jewels
---
Run the Jewels have proven themselves one of the more consistent contemporary hip-hop acts. They're driven by the unstoppable engine of El-P's production and the duo's sublime lyricism, with some tracks serving equally well as instrumentals and poetry. RTJ4 brings the best and most diverse set of features to date, boasting everyone from RTJ veterans Zack de la Rocha (just join already) and Gangsta Boo to more mainstream artists like 2 Chainz and Pharrell Williams. Even Queens of the Stone Age's Josh Homme makes an appearance to provide ghostly guitars and a psychedelic banshee chorus on "pulling the pin."
RTJ4 begins with a frame, depicting Mike and El as outlaws, "yankee and the brave (ep.4)." The album doesn't delay its bombast even slightly as RTJ3 did with the somber "Down." "Back at it like a crack addict, Mr. Black Magic/Crack a bitch back, chiropractic, Craftmatic" raps Mike on the album's concussive opening lines, every syllable like a sucker punch.
El-P sounds the most agile, the most fuck you he's ever sounded on an RTJ album, outlining negative space with crafty euphemism and elusive wordplay. Moments like El's "Got a Vonne-gut punch for your Atlas shrugs" on "JU$T" are rewarding for the listener who catches it but still flow freely for those who don't. Mike's no less clever lines don't hesitate to pummel punch you with the blunt side of a verse, like his simmering words on "pulling the pin":
Why the fuck must I be miserable?
The devils, they do the despicable
And still, they move like they invincible
These filthy criminals sit at the pinnacle
Doin' the typical, keepin' us miserable
Takin' the most and providin' the minimal
Hate to sound cynical,
but shit is pitiful, times is just critical
The duo trade effortlessly, their partnership embodying their RTJ4 personas as they stand back to back against a hoard of billionaires and their legions of crooked enforcers, banana clips loaded. Their styles complement each other so well that their flows hardly need grounding from the beat, as with the drunkenly staggering "ooh la la" that sounds like a pastiche of 90s hip-hop filtered through the lens of their hardcore aesthetics.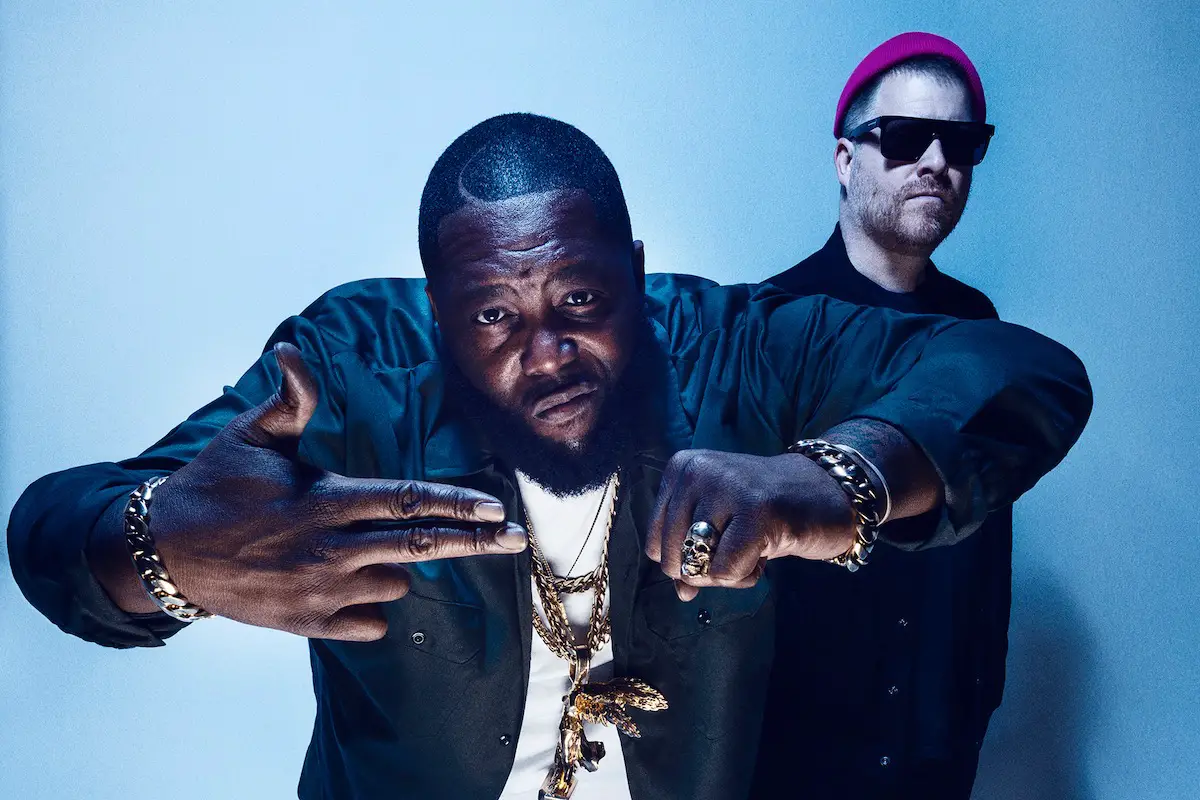 It's one of Run the Jewels' great strengths that they don't constantly affect the grave self-seriousness media critics who say words like 'bodies' and 'experiences' often expected of non-white artists, but RTJ4 nonetheless eschews some of their dick waving hijinks during the album's second half. This parallels RTJ1, 2, and 3's later tracks like "A Christmas Fucking Miracle," "Early," and "Thursday in the Danger Room," the fervent descent into sober rage.
On RTJ4 nothing exemplifies this more than "walking in the snow," in strong contention for the best track on the album. The verses themselves are worth reading all the way through with a listen. Gangsta Boo's hook cracks a whip every time it hits, skittering along before the next verse. El-P takes the reigns first, ripping into America's system of concentration camps and the heartless "pseudo Christians" that haven't learned a "scrap" from Jesus,
Funny fact about a cage, they're never built for just one group
So when that cage is done with them and you still poor, it come for you
The newest lowest on the totem, well golly gee, you have been used
You helped to fuel the death machine that down the line will kill you too (Oops)
Mike's verse on the same song is an opus in its own right, its apotheosis the lines this article features as an epigraph, "And you so numb, you watch the cops choke out a man like me, until my voice goes from a shriek to whisper, 'I can't breathe.'" Mike chokes the last words out, a chilling couplet before ramping back up into the defiant, "I'm readin' Chomsky, I read Bukowski, I'm layin' low for a week" and concluding on a Jesus reference, mirroring El's verse.
---
Despite their sobering up toward the end of the album, Mike and El never become intensely self involved. Even on the apocalyptic "a few words for the firing squad (radiation)," El-P soothes his grim attitude with loving self-deprecation,
I woke up early once again, that's four days straight
I didn't wake you, baby, I just watched you lay
In the radiation of the city sun
I am in love with you, it is my only grace (woo)
After that grim final track, we hear the TV announcer chime back in, "This is the story of a couple of small-time hustlers, framed by crooked cops and forced to make a run for their lives…I really don't think you wanna bet against Yankee and the Brave." It's half buddy action-comedy, half Mad Max armageddon as they ride off into the crimson, irradiated sun.
There are countless self-references: El's above couplet about waking early evokes RTJ2's "Early," as if all four albums take place on an exhausting, Groundhog Day continuum of four days laden with routine brutality and simmering rage. In spite of "never look back," the group can't help but reference their past selves as the same American sins rampage on and the same cries for justice and peace reverberate louder each day.
With too many pristine tracks to discuss at length, some not covered here are Zack's searing verse on the phenomenal "JU$T," demonstrating an incredible growth in his flow since RATM's days, and Mike's juggernaut verse on "goonies vs e.t."
With its early (free) release, the duo invited downloaders to donate to the National Lawyers Guild Mass Defense Program, with El-P announcing that they had raised over $50,000 in less than a day. I invite you to do the same: https://www.nlg.org/massdefenseprogram/.
https://twitter.com/therealelp/status/1268242440303136774?s=20
— —
Stream: 'RTJ4' – Run the Jewels
— — — —
? © 2020
:: Run the Jewels ::