And we'll run, run, run, right to the next life…
Life may move in one direction, but that doesn't stop the past from haunting us. You cannot escape your problems; evasion is a temporary measure at best. Such is the dark twist of Radclyffe Hall's latest single, the sinister and provocative "Run Run Run." An invitation to leave our woes behind is shrouded by the fact that, tantalizing as the offer sounds, it is a false promise and destined to fail.
When you're looking for
A good time
Just come, come for me
If you're looking
To get high
Just call on me
I'll take you through the sky
Listen: "Run Run Run" – Radclyffe Hall
---
Atwood Magazine is proud to be premiering "Run Run Run," Radclyffe Hall's bold and brash new single and their first release of 2017. Comprised of Dhy Berry on lead vocals/synth/bass, Jaqui Rae Stewart on vocals/synth/piano, and Sean Camargo on vocals/drums, Radclyffe Hall is an example of sonic exploration gone right: The band began in Boston as an "experiment in analog and digital production," and has since gone on to win over audiences throughout the Northeast. Their 2014 debut "OMG" presented dark and ominous synth-pop at the tail end of the genre's bubble, but Radclyffe Hall were never meant for such definitive entrappings: Last year's first full-length G H O S T S (Cleopatra Records) presents a wealth of musical creativity that allows Dhy Berry and co. to do what they want, when they want, without feeling tied to anything in particular. If the shoe fits, Radclyffe Hall are going to take you there – and they're going to go all the way.
The band notes that they make "noir pop anthems for the bedroom and the dance floor alike." Such a description applies perfectly to "Run Run Run," with its pulsing synths and shadowy, enticing invitation.
And we'll run, run run
Right to the next life
Leave this world behind
I'll be your guide through the stars
And we'll live
Between the heartbeats of the sun
No longer shall we run
My promise is true
The past won't get you
Like a siren, Berry's voice is crystal clear over the distorted synths and pumping percussion. We are her prey, the recipients of her seduction. She waxes poetic over our torment, telling us it's okay to run: "And we'll live between the heartbeats of the sun," she dreams, offering an illusory glimpse of heaven that is surely too good to be true.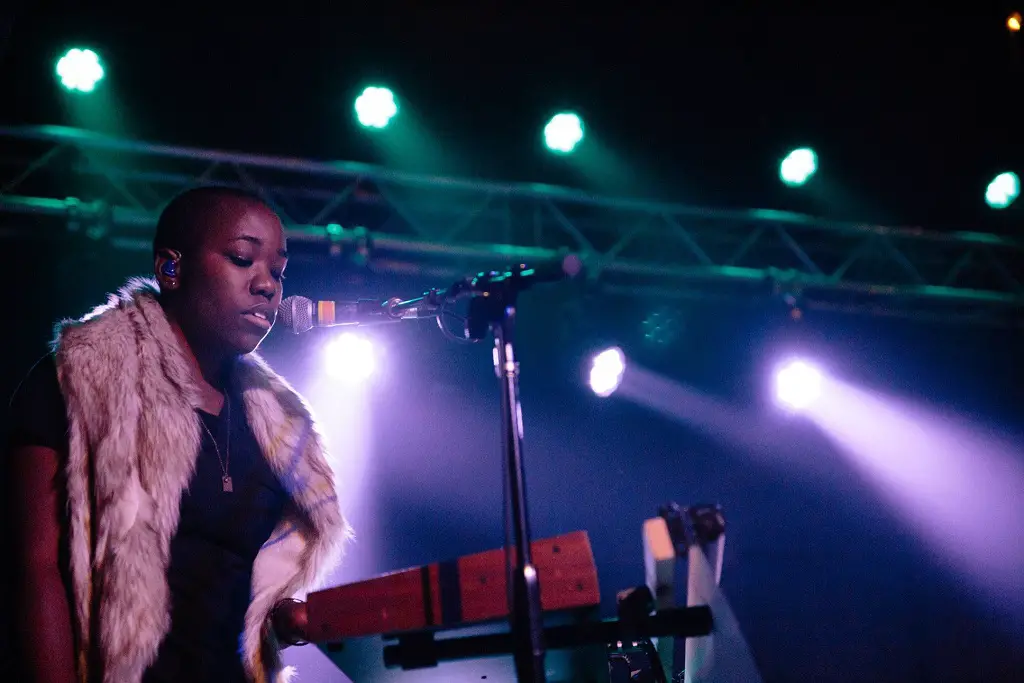 "I enjoy how driving and sinister it sounds," muses Dhy Berry. "The escapism concept of the song doesn't feel 'safe' because the harmony is so sinister. I guess eventually, we all have to deal with our shit." In embracing the devil on the shoulder, Radclyffe Hall illuminate a longstanding truth of our world:
There is no escape from the past.
Yet, Radclyffe Hall aren't trying to scare us, frighten us, or impede our happiness. "Run Run Run" is endearingly deceptive, a catchy tune that drives listeners to dance with fat, explosive synths and a pounding beat. Radclyffe Hall's message is thoroughly convincing; we genuinely want to join them on the run by the track's end. That's the magic of music: No matter a song's ultimate message, "Run Run Run" engulfs us in a fantastically colorful world, where we can indulge in the fantasy of leaving our baggage behind.
"Run Run Run" comes ahead of Radclyffe Hall's two shows in New York City and Boston. Catch the band live at Brooklyn's Knitting Factory on 3/28 (link here) and Boston's Great Scott on 4/1 (link here). And if you're looking for some escapism, run run run to Radclyffe Hall.
— — — —
:: Listen to More from Radclyffe Hall ::