Blurred vision; glowing lights; hazy memories and endless nights. Nightlife has its unique charm, an undeniable appeal that draws people out like flies. It's a live-fast-die-young lifestyle for sure – a life in the fast lane, leave your troubles at the door existence that doesn't last forever, but it's sweet and pure in the moment. Balancing the good with the bad, Philadelphia electronic duo Camp Candle's "Fogged Glass" is an ode to night life and all that it has to offer.
Dark nights behind fogged glass
Breaking with more people…

Listen: "Fogged Glass" – Camp Candle
[soundcloud url="https://api.soundcloud.com/tracks/301711395?secret_token=s-3FqwO" params="color=ff5500&auto_play=true&hide_related=false&show_comments=true&show_user=true&show_reposts=false" width="100%" height="150″ iframe="true" /]
---
Atwood Magazine is proud to be premiering "Fogged Glass," the lead single off Camp Candle's upcoming sophomore EP (February 2017 via MANIMAL). "She is Hetepsa, and he is Nu Ra," says the band of themselves; what more do you need to know? Blending the indie electronic and dance music worlds, Camp Candle's hip-hop-accented electronic-pop sounds like a bold mix of The xx and AVICII. With scattered influences and mixed musical backgrounds, Camp Candle may be best experienced without prior knowledge.
Pour ice on the city lights
And run, I'm ready to run
Ready to run
Hearts of wine
No two nights are the same
Realize we're driving me insane 
Into the wall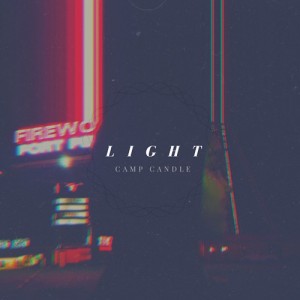 There's a distinct veil over Hetepsa's voice as she begins her journey into the night. She is driven like a moth to the flame, acting on her own volition all the while knowing the inherent risks. But hey, cigarettes kill too, don't they? Why rationalize one and not the other? You can lose yourself in the nighttime; you are not bound to any rules but your own limitations. You are who you decide to be, and that concept alone is attractive enough.
The night takes a turn in the second verse:
Crumbling inside 
I trip and fall again
The night becomes my friend
Memory surrounded by a stain
Liquid dreams that fight against the rain
The bottom of a bottle
The night becomes a friend, but at what cost? This is not the only world; no matter how engulfed one becomes in the moonlit hours, they are inherently an escape from the daytime – and not the other way around. Memory surrounded by a stain, Hetepsa sings, liquid dreams that fight against the rain… We feel the battle between two cultures, worlds that collide in quite a beautiful fashion. The chorus, "Dark nights behind fogged glass, breaking with more people," grows ever stronger in its repeatition – as if that constant practice ritualistically brings those nights to life again and again.
If I never touch a drop again 
Scream miracle I'll pretend
All's right and then
Taste loss until I win
Take shots within at me
My holy sin
The third verse is repeated, once lightly, and then with a full background of unadulterated energy. She's not giving up this hedonistic life: What else is there to live for? Night life may not be for everybody, and yes – it will get you in the end. But oh, what a way to go.
Camp Candle keep listeners entranced throughout their performance, indulging us with hypnotic synth-born soundscapes and barrages of drum kits that echo and pulse like the clubs they long for. The imagery of the fogged glass is provocative; anyone who's been out can recognize its tempting charm. Lose yourself in the seductive electronic glow of "Fogged Glass" and escape into the night. Look out for more from the Philadelphia duo coming soon; their EP is out February 2017 via MANIMAL!
— — — —
Connect to Camp Candle on FB, Twitter
cover: Camp Candle