Aglow with dreamy, intimate warmth, Rush Week's aptly-titled debut album 'Feels' indulges in an array of intoxicating emotions and irresistible sounds.
— —
Philadelphia's Rush Week could not have chosen a better name for their debut album: Released April 6, 2018 via Spanish indie label Elefant Records, the aptly-titled Feels gracefully indulges in an array of intoxicating emotions. Glowing, dreamy pop songs radiate an intimate warmth as Rush Week invite us to bask in a sea of joy and sorrow, nostalgia and doubt, passion and pain, excitement and mystery. The name "Feels" truly captures the record's essence.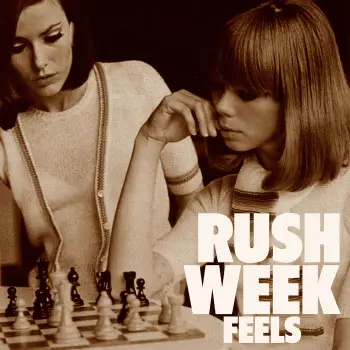 But everything doesn't hit all at once: Rush Week carefully construct evocative moods through their mellow, moving sounds. Inspired by the likes of Roxy Music and Talk Talk, the duo of Rachel K. Haines and James Benjamin Thomas sound most like Tennis, Ellie Goulding, and St. Vincent. The dazzlingly sweet "Feelings" opens their album with an intensely intimate outpouring: We listen as the narrator confesses her love to a close friend, hoping this person reciprocates her feelings despite already being involved with someone else. It's a convoluted mess of a romance – a picturesque introduction to a body of music that embraces our rawest, most vulnerable depths.
Could you leave her
Would you leave her
Our love would never end
In a moment, final moment,
did you ever wonder when
Feels like I'm dreaming
Undercovers ex lovers
Just want my feelings
Please don't object recover
We'll keep on drifting one on one
'til the other says goodbye
But it's just my feeling
just my feeling
– "Feelings," Rush Week
---
The band plunge into desire head-on in the mesmerizing "Stranger Danger," basking in sweet sensations while acknowledging that the rush won't last. The beachy "Crush" dwells in the twisted push-and-pull of fresh, young romance. Meanwhile, band favorite "Be Like Mike" creates a warm sonic canvas while begging to keep a withering flame alive. Think of Feels as a teenager on the brink of young adulthood: Fragile emotions collide with unpredictable force.
In fact, the edge of seventeen is the perfect framework through which we can appreciate, understand, and lose ourselves in Rush Week's music: "Imagine driving around your hometown with your friends, the summer before college," Rachel Haines says, setting the scene for the record. She describes it as "straight up nostalgic, fun, summer feels." Even their sad songs feel good in the end, a testament to Rush Week's songwriting and production strengths. Nostalgic yet fresh, and aching with heartfelt beauty, Feels envelops us in an irresistible dreamy glow. Rush Week offer just enough emotion and context to start each story, and our imaginations do the rest – meaning each listen to Feels is a new adventure, another jaunt down the rabbit hole.
Atwood Magazine spoke to Rush Week's Rachel Haines and James Thomas to better understand the emotions, stories, and sounds that inspire this exciting Philadelphia duo. Be sure to spend some time with Feels, out now on Elefant Records, and dive deeper into Rush Week's promising debut album with our exclusive interview!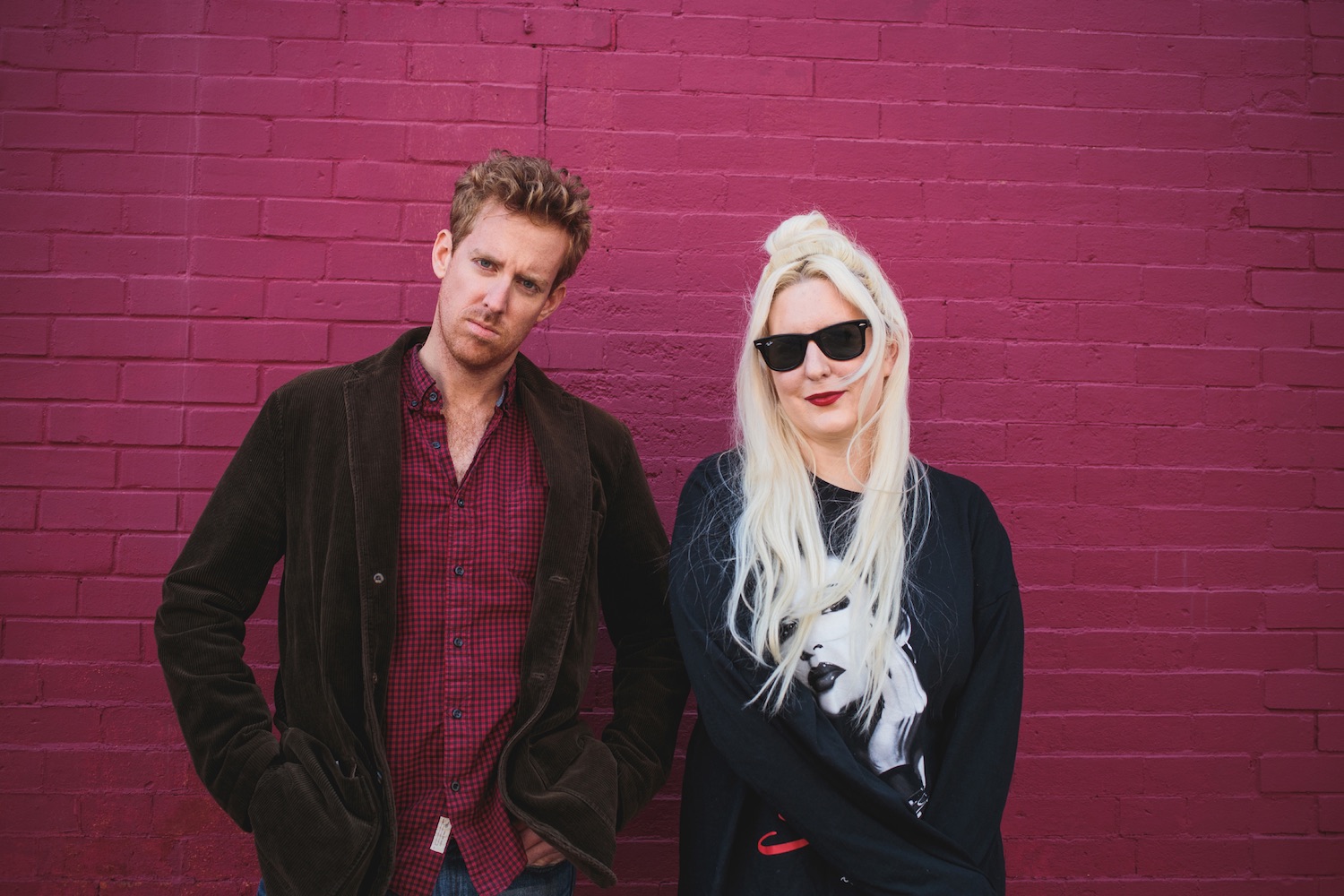 A CONVERSATION WITH RUSH WEEK
Atwood Magazine: First off, I want to talk about musical influences. Do you actively discuss your "sound" or sounds, and if so what do those conversations look like?
Rachel Haines: James and I have very similar influences and we've worked together on other projects, so I don't think we ever really needed to discuss a sound. We both love pop, indie, yacht rock, smooth jazz and every other genre you hear on Feels, so it just kind of all came together.
Feels encompasses pop, dance, trap, and more new and old musical elements that lend it this nostalgic, yet refreshing quality. Is this something you specifically had in mind when working on this record?
James Benjamin Thomas: Not really – I think we go with the school of, just hit record and see where it takes you.
They say you can spend your whole life on your debut. Are these songs specific to a certain moment in time for you, or were they developed over a longer period?
James: These were developed over the summer of 2016, but took a while to finish. We actually wrote about fifteen songs and just tried to figure out what the "voice" was going to ultimately be.
One of my favorite aspects of this record has to do with the accessibility of its emotions. Can you talk about the importance and consideration you lend to emotions during the songwriting process?
James: I think it's important to be fearless and not inhibited when recording and songwriting – I think it's helpful in getting to the emotional core of a song.
You set the scene for Feels with the aptly titled "Feelings," a poignant and personal piece. What is this song about, and why did you choose this for your album opener?
James: It is a slow burner, that we thought would be a nice opener, and in terms of why, it just honestly sequenced well for vinyl, and we went with it.  In terms of what it is about, I think it's a composite of a lot of ideas, and how we get all jumbled with relationships and how they affect our thinking about all that is around us.
Something I love about "Feelings" is how crystalline Rachel's vocals sound on this song. Rachel can you discuss your singing in this track?
Rachel: Overall, my voice is pretty soft so I try to keep my tone more woodwind-esque than anything else and James really gets that. My biggest influences, vocally, are Sade, Jamiroquai, Astrud Gilberto, and Janet Jackson. Big belting and runs are not really my thing, so when anything sounds too forced or hard, we usually move on and try to keep a more authentic take.
What are your favorite songs or proudest moments on Feels?
Rachel: My personal favorites are "Be Like Mike" and "Slide." "Slide" was the first song that I heard from this potential project, and I thought it was beautiful and right up my alley. "Be Like Mike" was the first song to get stuck in my head after the studio, and I just love the pre-chorus so much. I'm also super proud that Spanish filmmaker Juanma Carrillo agreed to direct our debut video for "Feelings." For an unknown band to get someone like him was huge, so I'm really grateful and proud of that.
I love the raw emotions underlying "Under the Gun." I feel like it's one of your most vulnerable moments across the record - what are your thoughts on this?
James: I think this tune was about trying to build out a single idea, regarding the weight and pressure we put on ourselves and how that affects our ability or inability to move forward in our lives.
James: This song was actually a little more conceptual; I was picturing a big time party at the end of the Summer Olympics 1992, at the Olympic Village, and all the athletes just having this euphoric release of energy and emotion after all their training, and then trying to unpack all those feelings and finally let go.
I feel like writing happier songs might be a bit of a challenge at times and I'm wondering why that might be?
James: I haven't found that to be the case so much, and honestly the juxtaposition of putting melancholy lyrics against an upbeat backdrop is a personal favorite of mine.
You've previously described "Be Like Mike" as a tribute to Michael and Janet Jackson. Can you discuss their influence and how this song came about?
Rachel: Vocally, I've always looked up to Janet and her chill sound.
James: Such powerful songwriting and production, and that song in particular tries to keep elevating itself throughout the verses, which I think was always done masterfully by MJ/Quincy, and Janet.
No I'm on your side I'll never break
Save your good advice for another day
Please don't give up now, we're face to face
Feeling stronger, I want your love
Trying hard to recreate love how we remember
Tired lines we refine, no we never surrender
See we're friends in the evening
But these looks are deceiving
I can't read your mind so give me just one sign
Just let fighters fight
We'll love until we die
Feel our faith potential
Our bodies move together
Got me here all night
Don't stop hold me tight
Listen to my heart
We could be like this forever
Feels ends on a somber note with "Better Off," a lush and bittersweet farewell. Why close you record in such a way?
James: Last tracks are always an opportunity to throw an extra look at listeners that always either plays crescendo to an albums overall theme or directly against it. I like the latter approach.
Why name your band Rush Week? Images of college and the "Sunday scaries" come to mind for me.
James: I like the openness of the name and the ambiguity as to why we called it that. As for now, we will leave that one a bit of a mystery…
In tune with that, why name your debut Feels? Looking back on the record now, does it still evoke the same emotions for you now as it did during its creation?
Rachel: I think we realized that the words "feel" and "feelings" were used the most throughout the record, so it just seemed appropriate. And for me, the emotions are the same. James and I recorded these songs in the summer over a couple of beers, so that's what I think of now when I'm listening to them with friends.
If you were to describe your record to someone who had never heard of you, right before their first listen, what would you tell them?
Rachel: Imagine driving around your hometown with your friends, the summer before college. Straight up nostalgic, fun, summer feels.
— —
— — — —
? © Rush Week
:: Feels – Rush Week ::