Remi Wolf's 'I'm Allergic to Dogs!' beholds as much heart as it does humor, concurrently giving listeners pure emotionality and fanciful surrealism all at once.
Stream: 'I'm Allergic to Dogs!' – Remi Wolf
---
Remi Wolf feels like an accessible pop star. Oozing the hyper-coolness and nonchalance of modern internet culture while ticking all the boxes of true musical know-how, 24-year-old Wolf makes it all seem effortless. Her latest EP release, I'm Allergic to Dogs!, released June 24th via Island Records, further proves this sentiment, showcasing Wolf as a phenomenon that transcends traditional pop norms and carving a space for her unique blend of sonic deliciousness.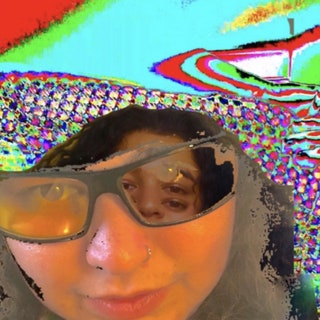 The five track EP already delineates its tongue-in-cheek affectation even simply with its title. I'm Allergic to Dogs! responds to Wolf's previous EP, 2019's You're a Dog!, blithely threading the two works together. While You're A Dog! explicated the rosy sentiments of finding and falling in love, I'm Allergic to Dogs! subsequently carries Wolf through that narrative of that love and brings about all that comes along with it. The EP is exploding with originality and deft sensibility, and while the lyricism and instrumentation may portray themselves as nonsensical at times, Wolf herself is anything but. Her artistry is impressive and matchless, fueling her fire and exemplifying a welcomed departure from stereotypical pop tropes.
The EP opens with "Down the Line," ostensibly an immediate response to all of the themes explored on You're A Dog! "Down the Line" finds Wolf crooning about moving on from a recent breakup, while acknowledging the mutual faults of both her and the former partner. The song's second and third verse echo one another, as Wolf substitutes "boys will be boys" and "girls will be girls," before subsequently delving into the misgivings. Meanwhile, the track's instrumentation plays into the silliness that categorizes Wolf as equally as her singing talents, incorporating a dog's bark and a baby's squeal. It's an opener that certainly captivates, and in a way that only Remi Wolf could properly execute.
The next track, "Woo!,"  is, according to Wolf herself per i-D, "an ADHD anthem." The song bounces from topic to topic while still maintaining the underlying theme of the rest of the EP. While simultaneously lamenting that she's running out of OxyContin and thinks she lost her wallet, she imposes beautiful nuggets of wisdom like "Love…it's not the answer it's a mindset / The question is not about who, it's how you find it." "Woo!" summates everything one should ever want to know about Remi Wolf as an artist, showcasing a dichotomy that is as admirable as it is fantastical.
Watch: "Woo!" – Remi Wolf
---
I'm Allergic to Dogs! beholds as much heart as it does humor, concurrently giving listeners pure emotionality and fanciful surrealism all at once. The middle track on the EP, "Hello, Hello, Hello," further exemplifies this, as Wolf laments about being involved in a relationship that doesn't serve her well. The person is a "certified gambler messin' with [her]," who ostensibly has another person on the side, yet still constantly checks in with Wolf to feign interest in her. While she's off pursuing a musical career, he's "makin' eggplant parmesan" with his other partner. Wolf knows she has to take control of her emotions, and not waste her energy on someone who won't reciprocate respect.
"Photo ID," the following song, serves as the EP's most energetic; Wolf's tone is pitched higher as the instrumentation bounces around with the carefree nature of the lyricism. The song's breezy nature mirrors its themes, curating a narrative that is impervious to impassivity. "Photo ID," more than any other track on the EP, makes listeners feel immune to mundanity, inviting one to dance and romp and live in the moment.
Watch: "Photo ID" – Remi Wolf
---
As the EP draws to a close, the final track, "Disco Man," completes the circle that I'm Allergic to Dogs set out to create. The song finds Wolf crooning about a romantic interest that portrays himself as more well-off than he may be. He seems to be a black-tie yuppy with "a lot of fiscal plans," when in reality he's wasted away all of his money and loves to party. There's nothing wrong with this, though; Wolf enjoys getting drunk with, dancing with, and spending time with him regardless. "Disco Man" follows the same pattern as the rest of the EP, discussing love and affection and all of the unique isms that go along with the people to whom the love and affection goes, all while truncating these experiences with a lightheartedness that doesn't allow for too much attachment.
I'm Allergic to Dogs! manifests itself as a direct representation of Remi Wolf as an artist and as a person. Wolf, as a human being, of course falls privy to ideals of love and loss and the intrinsic human experience, but does so with an air of casualty that is admirable and enviable. I'm Allergic to Dogs! reminds us to find the light in the dark, beautifully exemplifying humanity's ubiquitous motifs with laudable whimsy.
— — — —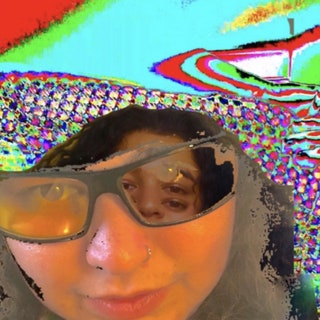 ? © Sophie Hur
I'm Allergic to Dogs!
an EP by Remi Wolf