Listeners of Rodrigo y Gabriela should always go in expecting the unexpected, a tenant in which their latest album 'In Between Thoughts…A New World ' showcases beautifully, and Atwood Magazine sat down to discuss the history behind this adventurous new sound.
•• •• •• ••
It's hard to describe the works of Rodrigo y Gabriela as anything but a gift to the music industry. With each successive album, the Mexico-based duo creates musical spectacles that defy expectations. In Between Thoughts…A New World carries the torch forward, this time with an orchestra and faint electronics adorning the acoustic balladry, making for a wholly new experience for listeners old and new to submerge themselves in.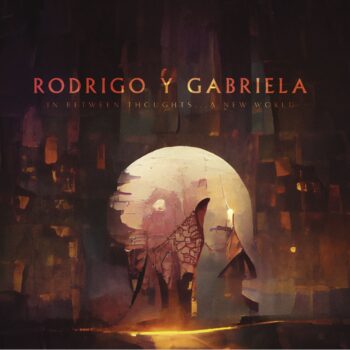 Tracks like "The Eye That Catches The Dream" contain an electricity that jolts listeners with a breath-stopping force. The classic balladry lulling fans into what seems like a soft and tender tune morphs into a mountainous display of talent where the world of electronics and symphony synergize in perfect unity. This theme is ever-present throughout the album's entire run length, giving each track a surprise factor that never dulls.
"Descending To Nowhere" and "Seeking Unreality" then provide a buoyant soundscape where swaying is a guaranteed side effect. The music will move listeners, both in their hips and hearts. Underneath these songs lies an overarching story of a character experiencing change, Gabriela Quintero explaining that during the album's creation, they "made a character that goes through this whole journey," and it started with a dive into the world of nondualism. This exploration into new realms came from a moment of peace, where the duo's lives were finally stationary due to the pandemic. Despite the isolation, they at least had music, and with it came a wave of creative liberation that spawned a musical universe, all made in one night.
Eager to learn more, Atwood Magazine chatted with Rodrigo y Gabriela's Gabriela Quintero to gain new insight into the album and how the duo keeps managing to subvert expectations in the strongest possible way.
Stream: 'In Between Thoughts…A New World' – Rodrigo y Gabriela
A CONVERSATION WITH RODRIGO Y GABRIELA
Atwood Magazine: It's been four years but after listening to the album, it was absolutely worth it as a listener. Such a grand record, and a massive congrats to you.
Gabriela: Thank you so much, Adrian! That means a lot to us. After so many years, we're very happy and so excited for it to finally be out.
I've been listening to your work since 2008, and when songs like ''The Eye That Catches The Dream'' play, I'm always taken aback by its way of defying expectations. I also shared it with some friends who haven't listened to your music yet and the reaction was the same – just a level of surprise each time. The way you craft your music is always so fresh and unexpected in the best possible way. To keep that level of freshness is something I am fascinated by. Do you consciously think about surprise or wow factors with your music?
Gabriela: Wow! I think we do, yes. We also push it with our music to also surprise ourselves. We always want to go outside those boundaries, experiment, and explore, so we always push to do it differently. But all organically because otherwise it would be forced, and we don't want to go down that route.
Speaking of music crafting, it's been quite a long time you have been in this business. I'm curious, how has your process for music evolved? What does 2023 music-making look like compared to 2002 for you?
Gabriela: To me, I think the most important element I found was that we used to be busking in the streets, and we got a good response from people. Which was shocking. They'd listen to what we were doing and even gave us money! So yeah, it was shocking and for sure different but something I learned and still do with music is… it was all about being present. A presence. To really mean every note we play, becoming your music in the moment. That has always been the same, even today. Am I being present in this music? It's a magical thing, you know? It's something that should always be there – doesn't matter that we're more musically knowledgeable 20 years later. It only matters that we keep that same essence. Even if we were playing something simple, like two notes only, people could tell when we were in the moment, and that is was drew them in.
Watch: "Descending To Nowhere" – Rodrigo y Gabriela
Honestly, each album seems to live and breath this notion, especially the new album. It very much feels like I'm listening to unfettered thoughts manifest themselves into something greater.
Gabriela: Yeah! To me, that is the most important thing because I can at least know that whatever I do, it can bring joy and happiness to people. And that is the joy I get from it too, you know? To bring these things to people and the world. We just want to bring music that will lift us all and allow to get more in touch with aspects about ourselves we may not fully know about yet.
I'd be remiss not to almost gush about the expansiveness of this record. The sound here is enormous, and the meshing of styles and instruments truly is something new. I'd love to know the mindset here. What about this album compelled you to look beyond the guitar and acoustic balladry?
Gabriela: It started with an admiration for other works and scoring for other projects. After we won our Grammy, we were in the clouds, touring the world, going back to Mexico to instantly sold out shows, and then womp womp – COVID. There wasn't much to do but Rodrigo and I were lucky because we were neighbors and had a studio. The apocalypse was here, the end of the world was at our doorstep but at least we had music. We almost felt like those Titanic musicians where the ship is sinking but here we are still playing [laughs].
But here we were, 20 years of being on the road and moving constantly to now being stationary. But that really helped in letting the music flow, remembering and appreciating other new sounds. Rodrigo and I can also be very dramatic, so we thought this is the end and now a tsunami is going to come on top of everything [laughs] so we figured let's just keep playing. We had no expectations when creating this music. We then wanted to expand into those other sounds we loved, and Rod wanted to start experimenting with electronic sounds, so we added it. After we finished, they all felt like sister tunes and I thought "what if we had an orchestra to these" to just kill time. We rang our friend Adam, who is a composer and arranger, and it was a great few months of doing it all.
He then told us the philharmonic in Bulgaria are not as strict, so maybe we can record the whole orchestra. So he went and recorded the full orchestra because we couldn't go with all the restrictions. After we heard it all, Rod said to me, "you know, if the world is not going to end, we have a new album." Knock on wood we can still go strong like that. [laughs]
That's so amazing hearing how this album came out of pure exploration. Normally I'd love to ask the process of creating tracks like "Finding Myself Leads Me To You" which had me hooked, but knowing this album was a product of free flowing creativity is astonishing to me. So I would love to know is how that day went. Was there a goal to create something that day? When did you feel it was the right time to stop, so to speak?
Gabriela: Rod would for sure remember the whole day but funny enough we have a story for that track. What I remember is that he got Covid one day, so he couldn't go to the studio for about three weeks. In that time, he found a video on nondualism. After he was cleared to come back, he started to explain it all and at first it sounded a lot like nihilism to me, so we went back and forth with some friendly debate about it all. I kind of agreed eventually but it started talking an illusion of suffering and kept think that these animals around are for sure feeling something real and going "fuck you, we are suffering" [laughs].
But we kept going and I eventually found out where this came from, and it was something I have already read about. There is a book called 'The Power of Now' that dives into non-dualism and it changed my life back in the day. So all of these topics, debates, stories – we are living in it. Rod was then also reading William Blake at the time, and a line he loved was "finding myself leads me to you." We grabbed all of this and made a character on the album that goes through this whole journey, with "Finding Myself Leads Me To You" dove into them finding themselves, and it all came from those first initial debates. But talk to Rod, he'll for sure give you a much for detailed recap [laughs].
I'm always amazed at the thought that goes into each of these elements to your album. Kudos to both of you because it's seriously impressive.
Gabriela: Oh thank you! I'm just glad you asked and noticed because not everyone notices or picks up on some of these little things but I always love sharing these pieces.
So going back to the wide array of instruments on the album, I'd love to know how this has impacted your own view on your music. Do you feel this type of variety and sound is something you'd want to keep exploring?
Gabriela: Yes, absolutely. We're making new music now that sounds different from this album already, and that's what I love about it. I feel like music is like wine where it only gets better as we get older. The older we get the more we want to experiment with. But sometimes it can get scary. It's a new territory, but sometimes you just have to explore it, you have to take the risk, to be a beginner again. So for Rod and I to make new music and collaborate with other musicians like Adam… we just were able to open up so much. Even in our own music, we both explore new ways to incorporate sound. Rod right now is in Portugal and he's been sending me new stuff that he is working on still and I'm doing the same.
What a great segue into my last question because with the album releasing soon, what's next? Will you have a much-deserved reprieve of sorts or are there other projects you're working on? Sounds like you may have already answered that for me.
Gabriela: [laughs] so we kind of already have the sequel to this album. We have around four tunes already that are quite long but with a new sound than our latest album. This album has come at the point in our lives where we are worrying less about what others think because you know when you're young and overthink too much? Nowadays I don't feel that as much. The world will keep going, all the planets will keep spinning, so we're just going to keep doing what we love to do and share more and more with our fans because we owe them that much.
Stream: "The Eye That Catches the Dream" – Rodrigo y Gabriela
— —
 © Ebru Yildiz
:: Stream Rodrigo y Gabriela ::