Dangerbird Records' latest signee, Spring Summer makes a stunning entrance on her delicate and buoyant debut single "Bow Your Head," an intimate and visceral reflection plunging into the depths of the self. 
Stream: "Bow Your Head" – Spring Summer
---
If there's one thing we could use this March, as New York City once again descends into below freezing temperatures, it's more Spring Summer. Today, that arrives in the form of Jennifer Furches' solo project – an artistry poised to spread its wings and soar through lilting vocals, intimate guitars, and sweet melodies. Dangerbird Records' latest signee makes a stunning entrance on her delicate and buoyant debut single "Bow Your Head," an intimate and visceral reflection plunging into the depths of the self.
Bow your head and say you love me in a different way
And I'll believe you when you do not turn your eyes away
I think you need to analyze the feelings that you may be hiding
in your lies
Dwell on yesterday you'll never make it through the day
Count your deeds undone they'll add up each and every one
Say a blessing for the friends who're gone, they've had their fun
It's time for you to get off your ass and move
Atwood Magazine is proud to be premiering the single and music video for "Bow Your Head," the debut single from singer/songwriter Spring Summer. The solo effort from the solo effort from California by-way-of North Carolina artist Jennifer Furches, Spring Summer is an endeavor years in the making: From playing with Cass McCombs and Sea Wolf to working as a script supervisor in movies and commercials, Furches' life has been the good kind of whirlwind for years now. Her project is the culmination of all that's come before it, as well as the realization of a longtime goal.
"One day my kids will be teenagers, adults," says Furches, mother of three (a 9, 7, and 4 year-old). "They'll maybe come across some press release that sounds like I blame them for the decade my dreams were on hold. I hope they'll know it has nothing to do with them. Ha – "It's me, not you, kids!" At the time I was so overloaded and my brain felt so mushy I couldn't begin to think of solutions – of finding balance. Now that I've had some time back on the other side I can see where I failed to take action, failed to assert myself. But I'm doing it now, and that feels good. This pandemic has forced us all into new frontiers. I am collaborating for the first time. Engineering for the first time. I no longer feel like an imposter. I'm making things every day, playing with my kids everyday. Living my one best life. And daydreaming about when we can all play shows again!"
Spring Summer's choice for her debut single couldn't feel more rejuvenating and refreshing: A poignant acoustic number, "Bow Your Head" breathes with light and verve as the artist finds her voice and thrives. She pours herself into a hauntingly bittersweet, deeply expressive chorus:
Well you don't know how it makes me feel
the way you sit there and pretend this isn't real
That you don't want me anymore
"I've always felt this conflict between playing simple, emotional songs – just me and my guitar – and that tug to collaborate with a band and make some noise!" Spring Summer tells Atwood Magazine. "This particular tune started as a letter to myself, and I'm so happy with how Patrick [Park, producer] was able to capture those two sides of me in this one song."
It's fragile, yet strong; muted, yet inarguably vivid. "Bow Your Head" captures a litany of feeling in its short two and a half minute run that leaves listeners moved and ready for more.
Bow your head and say you'll find me on another day
Then make believe you reappeared to tell me everything
I think your lies have gone too far, now are you listening?
I'm tired of your excuses
A blend of tender folk and sweeping indie rock, Spring Summer's debut is an enviable and moving introduction that has us hooked in and excited for all that's to come. Directed by Roman Coppola, her premier music video captures Furches and band in a single unbroken shot, "following Furches as she confronts herself before taking the stage with her band."
It's raw songwriting talent brought to life through compelling sounds and a beautiful visual to match. Stream "Bow Your Head" exclusively on Atwood Magazine, and stay tuned for more to come from Spring Summer as the artist debuts a slew of songs this… well, spring and summer.
Again, if there's one thing we could use right now, it's a healthy dose of some shimmering, buoyant, and beautiful Spring Summer.
— —
Stream: "Bow Your Head" – Spring Summer
— — — —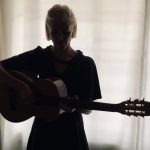 ? © Roman Coppola
:: Stream Spring Summer ::