Portland-based singer and producer Dan Vidmar may be widely recognized by his stage name, Shy Girls, but his innate ability to capture life's most intimate moments in melodic form render him as anything but timid. The artist's debut album, Salt (released 1/20/2017 via Hit City U.S.A.), is a snapshot of love and loss, piloting its listener through Vidmar's own reflections in relationships. With mellow croonings reminiscent of Prince's Purple Rain, and signature productions steeped in sensuality, Salt makes for a strong and alluring first record from Shy Girls.
At the center of the album lies a gem of its own: an angst-laced pop track titled "Say You Will." Released on January 10th, a week ahead of the album's debut, "Say You Will" speaks with urgency and unrest, highlighting the initial crumbling of a doomed romance.
Listen: "Say You Will" – Shy Girls
[soundcloud url="https://api.soundcloud.com/tracks/301702351″ params="color=ff5500&auto_play=true&hide_related=false&show_comments=true&show_user=true&show_reposts=false" width="100%" height="166″ iframe="true" /]
---
Shy Girls experiments with a simple guitar strum and a pulsing beat throughout most of the record, successfully providing an anxious backdrop for his glassy vocals. Balance is a key element in Shy Girls' success, and "Say You Will" carefully blends fast paced production with sullen soaked lyrics, developing an atmosphere of both romantic ennui and tension.
Where's the touch?
Nothing left to hit or feel
Lost your pulse
Watching the light disappear
All alone, on a stage screaming
Caged up, screaming
Echoes ain't leaving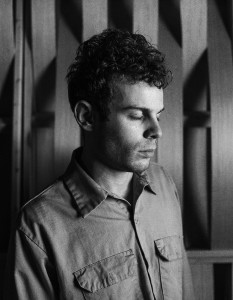 Shy Girls relates the process of becoming numb in a once thriving relationship, all while facing his fear of losing a loved one. Yet, what lies underneath the dejection is self reflection.
I can't fake it like you do
I can't sing it with a forced tongue
Always saying you will
Shy Girls is able to provide two stories to his listener: one of heartbreak, and the other of self discovery. Where the first lines of the track center around the relationship, the song quickly ascends into one about Shy Girls himself. Realizing his role in the destruction and dismay of a romance, the song becomes a contemplative look at what makes him irrevocably different from his partner. Despite loss, there is something remarkably introspective to be gained from the chaos, and Shy Girls masterfully displays this over speedy, trembling synths.
"Say You Will" presents itself as a serious of juxtapositions. Smooth vocals are methodically paired with quick, tempered beats. Themes of heartbreak and loss evolve into a complex and reflective discovery of self. Elements of pop and R&B both thrive harmoniously throughout the track. Shy Girls successfully balances these features, creating layers of dimension that allow "Say You Will" to flourish as both an essential part of his album, and as an equally satisfying and mesmerizing single.
— — — —
cover: Shy Girls © Jaclyn Campanaro
Salt – Shy Girls
:: Shy Girls 2017 Tour ::
1/24: Barboza – Seattle, WA
1/25: Doug Fir Lounge – Portland, OR
1/27: The Independent – San Francisco, CA
1/28: Teragram Ballroom – Los Angeles, CA
2/08: Rock & Roll Hotel – Washington, DC
2/09: Boot & Saddle – Philadelphia, PA
2/10: Music Hall of Williamsburg: Brooklyn, NY