Hours before she stunned Manchester Arena with her sensational live set (supporting the equally wonderful George Erza), Sigrid sat down with Atwood Magazine to discuss her acclaimed debut album 'Sucker Punch', her collaborative creative process, performing live and more!
Stream: 'Sucker Punch' – Sigrid
---
Amongst the never-ending stream of incredible emerging artists, Sigrid's self-assured approach to pop music is bewilderingly refreshing and attention-grabbing. Her intoxicatingly energetic verve is evident across both her incredible debut album Sucker Punch and her sparklingly spirited live show. Throughout her discography, in collaboration with her co-writers, she manages to effortlessly intertwine the intimate with the accessible to craft emotionally resonant songs that ravishingly represent devious duplicity of all-consuming emotions in awe-inspiringly relatable way.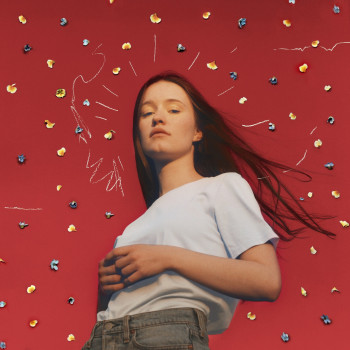 From the very start, Sigrid's debut releases showcased her alluringly dazzling vocal performances and compassionate lyricism, marking her as an exceptionally unique talent. But it's on colossal stages where Sigrid belongs, with her exhilarating songs filling the cavernous expanse of mind-bogglingly large arenas and theatres.
Throughout her live show, her effervescent free-flowing energy seemingly effortlessly enchants the enraptured audience, as she's accompanied by her band who play her much loved songs with passion and vigour. Her blazingly infectious energy typically only subsides momentarily to powerfully delivers her phenomenally affecting track "Dynamite," which encompasses an intense emotional resonance that demands to be felt.
Atwood Magazine spoke to Sigrid at the iconic Manchester Arena, ahead the last night of her support slot on George Ezra's arena tour, to discuss her boisterously bold and brilliant debut album "Sucker Punch" & more!
A CONVERSATION WITH SIGRID
Atwood Magazine: First of all, I absolutely adore the album. How does it feel to finally have it out?
Sigrid: It's super, super exciting! It's weird because when you're sharing online, you're still sitting in there in room and nothing has changed physically but on the internet it's like pow, pow, pow but it's super, super exciting.
Do you ever find that overwhelming at all?
Sigrid: Of course it is, it's only human that it's a bit overwhelming!
There's so many like fan accounts and stuff too.
Sigrid: It's mad, they're always on it. They're so fucking quick but it's great. It's been really good to be on the tour with this album out, because then I feel like I get to sing these songs every night and that makes it feel very real and great. I'm so happy to be on tour!
Sucker Punch has a really distinct sound. But I was wondering, are any artists or album that you were really inspired by while you were making it? There's so much music incredible new Norwegian music that I love at the moment!
Sigrid: Ohhh great, who do you like?
So many artists! Umm, Chain Wallet.
Sigrid: Chain Wallet! I know them from Bergen! The keyboardist works at one of my favourite coffee bars in Bergen.
Jimi Somewhere is amazing too.
Sigrid: Jimi Somewhere! He's lovely! Norway is very small, I feel like everyone knows each other in the music community.
Obviously you've been all over the past few years but how does the Norwegian music scene still inspire you?
Sigrid: Definitely, it's really fun that you know that you know more like indie acts from Norway. Have you listened to Saferio?
Oh no, I haven't.
Sigrid: Check it out, he's really really good!
What sort of music is it?
Sigrid: When I listened to the single, I called it, like for myself, happy salmon grime. I don't know if it's an expression in the UK but in Norway, it just means like just being like a super happy person. It's like happy rap music, it's really cool. He's got like very bubbly production, maybe it could be like a third cousin of "Business Dinners."
But yeah, music I've been listening to on this record. Oh my god, I listen to new music every week. For like the album, I think always like the big ones. Coldplay's always inspired me and will always inspire me.
Have you seen that Coldplay documentary?
Sigrid: No but I'm gunna see it. I need to be mentally prepared. But like for other inspirations, Joni Mitchell, Neil Young and Ariana Grande. I love her music, especially the Dangerous Woman era, that inspires me so much with the big like pop choruses.
Scandinavian pop music, of course. Like Dagny inspires me, she's great. What else inspires me? Rap music, Country Music, Pop. I don't know, like everything.
Right now, I'm listening to a lot of Nick Drake. I'm in that mood of like cosy guitar stuff.
You had so many songs I loved on tour that didn't make the album like "Credit," "Go to War," and "I Don't Buy It."
Sigrid: Yeah, sorry (laughs)
Was it difficult to sort of let go of some of those songs that were so loved and how did you decide?
Sigrid: It was like the hardest part of the whole thing. Some of the fan accounts actually had a funeral for the fallen songs that didn't make the album, which I think is incredibly funny and I felt really bad. But we had so many so many demos. We had like 70 demos to choose from, we had an insane amount of songs and I was just picking my favourite songs.
There's not like a huge theme for this record. The record's theme is like a time capsule of how I've been feeling for the past three years. It's just snippets of it, it's not everything but it's like a piece of my brain for the last few years.
I think like the choosing the songs was just coming back to show the width of the pop music I make. I think pop is such a broad genre and you can do everything in-between in it. I wanted to get all of these different snippets of that.
The record's theme is like a time capsule of how I've been feeling for the past three years.
I love how with the line "I had too much clutter in my mind" in 'Level Up" acknowledges how overwhelming life can get sometimes. How do deal with that and how do you decide what you want to do? Like I'm sure sometimes it's difficult.
Sigrid: It is difficult and yeah, sometimes you get a bit cluttered in your mind, as I said there (laughs). I think everyone does because it's a quite overwhelming, like not to go super cheesy, but it's a quite overwhelming world that we're living in and everyone is on all the time.
I guess my way of navigating through it and navigating what to do and what not to do is my gut feeling, what feels right and what doesn't feel right. It's totally okay to make the wrong choice sometimes, at least you made a choice. And all my choices are made of what I want to do and what I think is right for me and I have an incredible, incredible team; they're really amazing and they work so hard. I hate to say no to things but sometimes you have to.
I'm in this for the long-term. I don't want to like I do everything and then I'm tired. I want to go on for a long time. I'm seeing like many records and many doors.
I'm in this for the long-term. I don't want to like I do everything and then I'm tired.
One of the main reasons I love your music is that it's so vulnerable and open. Are you ever apprenshive about sharing your feelings so openly through your music? I love the Raw EP because you've got like Focus and then Schedules. Like it's sorta down but then really up!
Sigrid: Yeah, it represents me in a very good way, I think. You're not just one thing and that's been very important for me with these EPs. I think the first EP was a bit of like kind of a gentle fuck you. It was important to release the Raw EP that showed, not like a new side to me, just a side that people probably didn't know.
I think you're everything. You're never just one emotion or just one state of mind. That's always what I try to convey with my songs, getting it as realistic as possible of how a human brain is working because we're not like on one track.
I saw the most funny meme yesterday of how like, "Oh, my brain is like thinking of one thing, then some other thing, then what the fuck is this song that's going on repeat in my head." Do you have that? When you're thinking of something maybe work related and then just have a song that like pops in. I find it so fascinating with the brain that we can multi-task and do some many things at the same time. And I think you can hear that in the lyrics, that you're like multitasking all of these emotions.
Do you have a common song that like pops up in your head?
Sigrid: Ohh, I've had the "Mantra" Bring Me The Horizon hook. It's amazing, I hope that I'll get to see them at festival this summer.
It was so fun on tour because I'd been listening to the song for a while, just for myself, then one day we like talked about them and I was like, "Have you guys heard this song?" and they were like, "Oh My God, it's the best song" and we like bonded over it, it was fun.
Your music obviously has pop feel to it but there's such an emotional gravity to them. Did you encounter any sort of difficulty to sort of combing the sort of pop sound with such resonant lyricism?
Sigrid: It's a very exciting challenge. I do love a challenge when we're writing, and I think what is hard is choosing what you want to say and when it's time to be a bit like, woah. Like there's not like everything where people need to know where you're at. It's also the balance of writing something that means a lot to me and the people that I write with, because we're all like inspiring each other in the room.
And it's important that it means something to us, but also to people listening to it and finding that balance of like, is that something that people are going to relate to or is it too internal humour or something in our group?
On the album, a lot of the lyricism is quite melancholy, where there's like mixed emotion but the production is quite upbeat and radiant. How did that sort of contrast form, was quite intentional or did it just sort of happen?
Sigrid: It just happened organically. I think "Don't Kill My Vibe" is probably the first song I wrote where I was like, "Ohhh, this is exciting," because it was the first time I was in a studio with Martin Sjølie, who I've produced and co-written so many songs with, and we just bonded musically. It was just a very exciting mixing pretty classic songwriting with pretty modern production, a bit gritty production and like exciting and surprising production which was very, very cool.
I've always loved huge pop choruses and I don't know where I have it from. The first music that really hit me properly was "Clocks" by Coldplay that I had on like MP3 because I just downloaded it from my brother's iTunes.
And like The Killer's "Mr. Brightside" too. They're like big songs and like big festival tunes, live tunes and that live side has always inspired me a lot. Then "Rolling In The Deep" was the first pop chorus I heard and I think all of those three songs are very up.
But I had no idea what the songs were about until I was much older. Like "Rolling In The Deep" I had no idea what that meant but I was like, cool, and that still sticks with me; like, English is my second language. So I always listen to the melody and production first then I get into the lyrics. I think that kind of gets back to the music that I make. For instance, with "Don't Feel Like Crying," I want people to dance and get going with the strings and stabs and it's a very exciting and bubbly track.
Then you listen to the lyrics, as I would do listening to the lyrics afterwards, then saying, "Ohh, this is actually really sad."
When something impactful happens, do you feel as soon as you need to put pen to paper or do you need to internalise and take your own time before writing? Has your songwriting process and the way you collaborate with the co-writers you worked with changed over the years?
Sigrid: It's mostly like Martin, Emily and sometimes we have Odd Martin Skålnes too. There's Odd Martin and Martin Sjølie and together we call them the martinis.
How we write is usually just by sitting down by a piano, start singing, start humming, that's where I start as least. Then Emily's already like on lyrics ideas, she's a fucking machine when it comes to lyrics. I don't know where she gets it from but she's like on it always. Then Martin on production then we all collaborate on it and then we figure out what we want to say.
It's so much fun to write lyrics with Emily, I feel like we just get each other. I feel like when we write together, we just bring out the best from both sides. For instance, for Sucker Punch that's a word I think I found on Google in a writing session. Or maybe I was just randomly doing a google search and like randomly I found Sucker Punch and I thought it sounded good. I love that as title and I remember thinking SP, this is going to look really cool as like the title for a single and I was already thinking of that thing, but I had no idea what Sucker Punch meant to me. I knew what it meant as like the word but personally, what is a Sucker Punch?
And then three months later, I was in a writing session with Martin and Emily in Ocean Sound recordings and I had tried to put Sucker Punch into writing sessions before. Like "hey, guys. What do you think of this one?." Then I brought it up with Emily and Martin and they were like "Ohhh, this is interesting, we should work on it." And that's like how we could start a song with me coming with a title and then we figure out on the day, with me, Martin and Emily talking together, what does Sucker Punch mean right not.
Was most of the album still recorded in Norway?
Sigrid: Most of it, yeah. Like "In Vain" and "Basic" were both written in London but most of the others were either Oslo or Bergen or Alesund, which is my hometown. Ohh one in Stockholm actually!
Ohh, which one?
Sigrid: "Business Dinners" actually, with Patrik Berger and Noonie Bao.
Is that studio in Norway the same one where you recorded that "Known You Forever" video?
Sigrid: Yeah!
That's such a tune, by the way, I absolutely adore that song.
Sigrid: Thank you, I really appreciate it. I think you can hear that I'm still writing the same way. If you put "Known You Forever" with production that I make now, it would like slide in, I think.
You're opening for George Erza at the moment on his arena tour and you're supporting Maroon 5 soon too. Obviously, that's incredible but I guess it's quite daunting to play shows that big to people who might not be familiar with your music. How does that compare to like a headline show?
Sigrid: It's very different, but I do love it. It's so nice to be on this tour, I do love it and I'm already missing it. George and his crew, they're all wonderful people, they're so so nice to us. You never know what to expect as a support band, but it's been super lovely from day one.
I love the tour bus, I'm having such a good time on the tour bus. And performing for people is very exciting and it's really weird. It's like driving really fast and you forget that you're going super-fast. That's kind of how it feels going on these arenas because you get used to it in a weird way. But then you have like one gig in the middle where you're like, what the hell is going on? We're playing in front of all of these people because how many people they are because it's so big. It's a lot to take in. But it's very cool and I feel like people have been so welcoming to us.
For, as you a performer, does it feel quite different performing like acoustically, for a radio station or something, compared to with a full band?
Sigrid: Very different and I think they're both equally as fun. I love doing acoustic sessions, we were just practicing actually for an acoustic session we're going to this week, I'm excited!
I love the One Kiss cover you recently did on Radio One's live lounge.
Sigrid: Thank you. That was so much fun. We do acoustic covers all the time for like radio and stuff which is really fun because Christina, Martin and I love to do that stuff. But with "One Kiss," we didn't have time to practise so we were like, "Shit, what are we gonna do?" and then we just showed up an hour earlier and we practised on the day right before.
Seriously, we hadn't sung it together one time. The first time we played it was on soundcheck.
That's crazy!
Sigrid: No, that's like all on Martin and Christina. They're such professionals.
When you're listening to song, what are you most drawn
to?
Sigrid: It's changing all the time, I think. If I'm in a very concentrated mood, I guess I listen a lot to the lyrics. When I listen to Nick Drake, I listen to the lyrics and I think they're beautiful. But yeah, mostly I guess melodies. Melody is always the first thing that gets to me.
I love on the album tracks like "Sight of You" and "Business Dinners" that are so specific, in some respects, to your experiences in the industry, but their sentiment and feelings are so universal and relatable. Was it really important to have those real personal tracks on the album?
Sigrid: Yeah, I love "Sight Of You." That's one of my favourite songs on the record. Like, I love all of them, but it's one of mine. I think what I love so much about that song is again, I got something good out of, well not something bad, but touring, especially festivals in summer can be fucking mental. Just like three countries in three days. You lose your luggage, as in the second verse.
It happens all the time but it's a bit tricky when you're going to do a show and you don't have your gear. You don't have anything, it's all been sent to Nairobi.
What happened?
Sigrid: We were in a country in Europe and the airline lost our luggage. They sent it to Nairobi in Africa. We've never been there, and I don't know why they sent it there but fair enough. So we had to just pull off a gig without our proper gear, it was a very rock and roll concert.
But it was so much fun too because we had no idea if this was going to work or not. So we were like let's try and see how it goes but it was really fun.
Also, "Sight of You" is about how much I love my band, they're amazing.
They seem so cool from the band's Instagram account and stuff.
Sigrid: Yeah, have you seen the Instagram takeovers?
Yeah!
Sigrid: They're so much fun, I love it!
I feel like they're super interesting because before I started working on shows I had no idea about any of that sort of stuff.
Sigrid: I know. It really warms my heart thinking about all the people asking questions about monitoring and stuff. I think if you get more people into that, then that's great. It's really, really cool.
Headline tour, which of the new songs that you haven't performed before are you most excited to perform on your headline tour later this year?
Sigrid: Yeah since we have a pretty short set as a support, we couldn't play all the songs from the album, so we had to choose a few but I think one of the new songs I'm really excited about performing is "Sight of You," that'll be fun! Because it'll be like looking at the band and looking at the crowd, that'll be great!
Are there any venues you're really looking forward to playing on tour? Or is every single one? But like 3rena in Dublin is insane.
Sigrid: It's wild, that's one insane thought like playing all of these arenas here going, "Holy fuck, we're doing the same thing."
The video for "Sucker Punch" looks incredible. What was it like to film?
Sigrid: That was one of the most intense shoots I've had, that was two days from like early morning until like 4am. Crazy times but it was really fun. Such a great crew, they worked their asses off for that video. It was really, really fun.
It's the type of video where you just do 14 seconds shots like three/four times. Then it's like the next one, dar dar dar. It's really intense, like the whole crew has to be on point the whole time and be focused but it was really good.
At what point did you know Sucker Punch was going to the title of the album?
Sigrid: I think it was when we started choosing what tracks we wanted on the album and thinking like umm title. I remember sitting with my A&R and my manager but yeah, it all came down to what I wanted to have on the album.
But I think with the title, I just felt like "Sucker Punch" was the one song that summarized the album in a good way. The whole album is a Sucker Punch. All of the songs are really in your face and unapologetic and that's the type of music I want to make.
Did you always know that "Dynamite" was going to end the record as well?
Sigrid: I didn't know like forever that it was going to end the record. Like I've been working on this record for a long time. But then again, like, I haven't been thinking the "album" for more than like a year, of like thinking what songs do we need for this album? The whole thing has been really organic and natural and just going into the studio and writing a good song and seeing what happens.
But I think "Dynamite" I think was a nice end to the whole album. It's got very empowering lyrics but it's a bit of a low-key end. I like it.
I love the video "Don't Feel Like Crying." What was the creative process behind making it?
Sigrid: We worked with these directors called Zhang and Knight, they're wonderful, a really really cool duo. We shot in a studio in London, like a huge white toom and then we made a like little set in middle and that was really fun. It was so weird, like seeing this enormous room and then like the little room in the middle.
It's inspired by Edward Hopper paintings and we wanted to portray how portray the mood in the song. The mood in the lyrics is going from like "I'm going out with my friends on a rager and I'm having such a good time" and then later on in the song you realise you're maybe not completely finished with what you thought you were completely finished with.
That's kind of what it's about so we wanted the same mood in the video, like going from a very orange feel to a cooler blue one to reflect the mood. We did that with like people running into the set, when I was performing, and like pulling out chairs and replacing them with blue chairs and stuff like that.
So that's what we wanted to portray and then the whole set is kind of like a waiting room. It's a bit like you don't know exactly where I am but I'm going somewhere and think that's also what the lyrics are about, it's about moving on. And then I'm just doing my proper dance and it was really fun like the last thirty of the seconds I'm just dancing out. It was just me dancing for like 4 takes, just like me running around.
And then the Fish Tank scene is probably my favourite scene.
Yeah, that's a really cool scene.
Sigrid: Have you seen the "Strangers" video?
Of course.
Sigrid: You know, the rock scene. That was just like me, when I was calling with the directors, going "Ohhh I really want this." And I was like "Can I have some rocks in the video?" and they were "Uhh sure." (laughs)
Where did like the idea come from?
Sigrid: I don't know. I just wanted rocks, I thought it would be cool. And then we had them in the video, and I think it's really, really cool. And the same thing happened with the fish tank, that I really wanted a fish tank. And they're like "Yeah, cool," it was a really collaborative process.
The whole fish tank thing is inspired by Romeo and Juliet, that scene where they're looking through the glass. I just think technically it's such a beautiful scene with the light coming in and looking at a face and the mood you get from like being underwater is so cool.
Obviously you're from Norway, what was it sort of like growing up there and I'm guessing it obviously does but does it still feel like an anchor for you?
Sigrid: I feel incredibly lucky to have grown up in Norway and to still go back there and live in Norway. It's a nice place to be and it's very calm and that's good with like everything going on. My whole profession is a bit mad so it's really nice to go back to Norway.
Growing up there was really nice, and I think it was good for me that I was never close to like the music industry, which is such a fun and exciting place, but I guess it can be a lot when you're a young kid. So I'm really happy that I wasn't in that whole thing until I was like 18 properly. Like I was my own manager from like 16 to 18 but I was just dipping my toe into the Norwegian scene.
I did so many different things and music wasn't like my one thing that I did. I did piano, singing, dancing three times a week. Theatre too. But I think it was good and I think that it inspired me a lot and it was pretty chill.
Didn't you go on tour with your brother as well?
Sigrid: I did, oh my god!
I love that song "Sister" he released.
Sigrid: Thank you. I didn't write it, I was just singing a little bit on it. But yeah, it's great. He's very, very talented. We went on tour in Germany and Norway and it was the best time. It was really fun. Like imagine your older sibling saying like, "Do you want to come on tour?" I was so excited. It was great, I had such a good time!
Having already toured extensively prior to album, Sigrid's set to return to North America this fall playing Chicago's Lollapalooza alongside a string of headline dates. After a string of UK and European festival performances, she descends on her own headline tour, taking in iconic venues such as Dublin's 3arena and London's Hammersmith Apollo.
— —
— — — —
? © Francesca Allen
---
Sucker Punch
an album by Sigrid